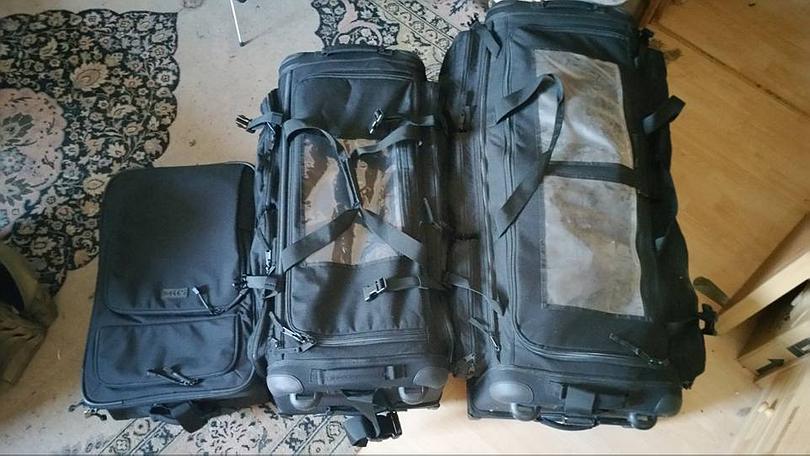 I have been travelling internationally quite extensively for the last decade or so since graduating - before that I rarely ever left the UK besides school trips to France and Belgium; my family were never immensely well off or even particularly inclined to head overseas as a unit - we were all very content with summers spent camping (or in later years renting cottages for greater convenience and flexibility) in Scotland for a good 15-20 years.
However, once I'd spent four years at uni (again, not really taking the opportunity to travel internationally like many of my peers - as I spent my summers working in aerospace factories to get a little extra money, usually to pay for airsoft guns and gear!) and had been introduced to a more diverse community and particularly started taking more of an interest in Asia, I felt the need to spread my wings a bit.
During this time I'd been exposed to more than just the international community - I was on my way to becoming a fully fledged geardo and 5.11 fanboy as a result of my forays into airsoft equipment and tactical gear as well as the desire for travel further afield.
Given the apparently ever increasing insanity of my itineraries overseas (Operation Journey to the East 2009; my first trip to China over xmas spending 3 weeks in four different cities, Operation Exodus 2012; one month in China, Eight cities, including my first trip to Hong Kong for airsoft shopping, then Operation drop the Angkor 2015; one week in Southern China in 4 cities followed by a week in Cambodia, then Operation Shanghai ShengDanJie 2016 - xmas spent over 3 weeks in China from Hong Kong to Harbin and a total of 11 cities in the process and finally Operation Mutiny on The Bounty - my scouting week in Hong Kong & Taiwan for my more permanent escape out here - as well as multiple short trips to Spain, Northern Ireland, Scotland, Germany, France, Belgium and Luxembourg (Hey, I don't see Poland on the list!—Piotr) in intervening years - sufficed to say, I put a good few air-miles under my belt, and learnt what does and doesn't work for me and travelling in general.
Through this Agoge of international trains, planes and taxis I realised one of my core philosophies had emerged;
If you're going to live out of bags; make sure they're bloody good bags!
Enter the 5.11 range of rolling duffels. At first I was looking for a reasonably hefty deployment style bag on wheels in which to keep my ever increasing core airsoft gear tidy and transportable. I spent a while researching my options - as I always do before any major purchases - in the end I whittled it down to the 5.11 Mission Ready 1.0, which I bought way back in 2009 before my first trip to China.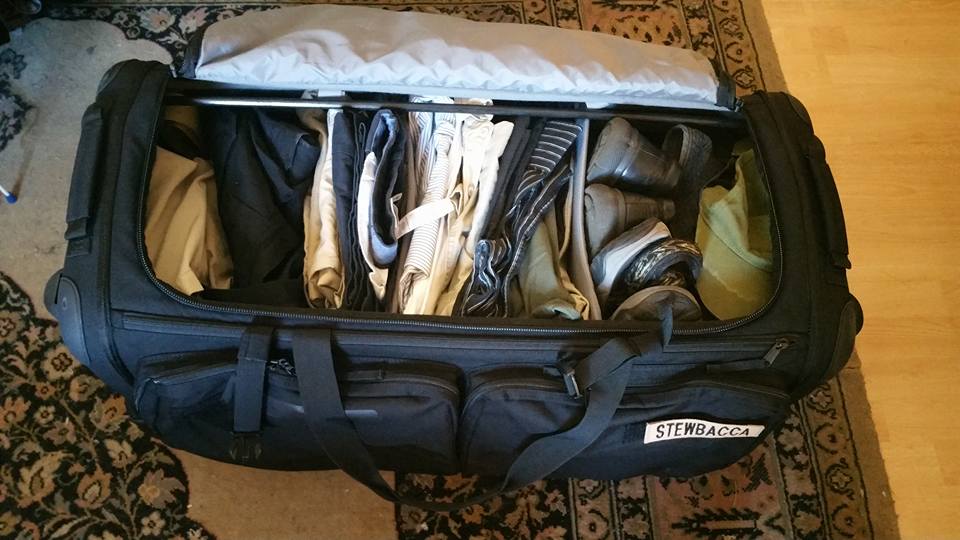 It was ideal for keeping my tactical gear, guns, consumables, camera equipment and everything else out of the way of the incumbent Ms Stewbacca and her wrath (I later built us gun and/or shoe racks for the spare room to balance the relationship dynamics), but it also doubled up well as flight luggage for our first trip abroad together… to meet her parents. Sufficed to say my luggage fared better than her Samsonite equivalent, although that is largely my fault for going a bit Basil Fawlty on it trying to force it all into a replacement bus service's hold following the 30 hours of being awake without sufficient leg room or the ability to sleep and hence highly aggravated on the way home on New Year's Eve Day.
The Mission Ready 1.0 served me very well, as well as making a trip to Japan with a flatmate later down the line, although it wasn't without its shortcomings. Currently it resides in the UK with a friend who I sold some of my remaining guns and gear to pre-Brexodus, and she uses it in a similar manner as I originally intended when I bought it - keeping all the gear in one place and transportable, however the main compartment zips have seen better days and it wouldn't be much use for travelling now, given the abuse and overloading it's seen over the years of service I'm not surprised really. Furthermore - and this is something 5.11 have listened to feedback about and since corrected in their Mission Ready 2.0 models - it lacked the stiffness of their other models and would always lean and fall over then faceplant airport terminal floors if left unattended for the slightest of moments. More than annoying when you are trying to corral all your possessions and important documents for check in and whatnot.
Enter the 5.11 CAMS 2.0 and 5.11 SOMS 2.0 - for the shorter trips I also purchased the 5.11 DC Roller 1.0 (Since superseded by the 5.11 DC Flightline) which can function as carry on luggage on the majority of airlines. The CAMS 2.0 came first - whilst the Mission Ready 1.0 still had some air-miles left in it, I decided to shift the focus of storing my gear to another dream bag I'd spent ages ogling (actually I'd been eyeing up the CAMS 1.0 online for months, but then the 2.0 was announced and I figured I'd wait for the improved model, having seen 5.11's announcement video and digested its messages of enlightenment). Besides which my airsoft gear collection was once again ballooning beyond what the 5.11 Mission Ready 1.0 could manage, and I wanted the 'bathtub' bottom compartment of the 5.11 CAMS 2.0 to protect and conceal my larger guns with.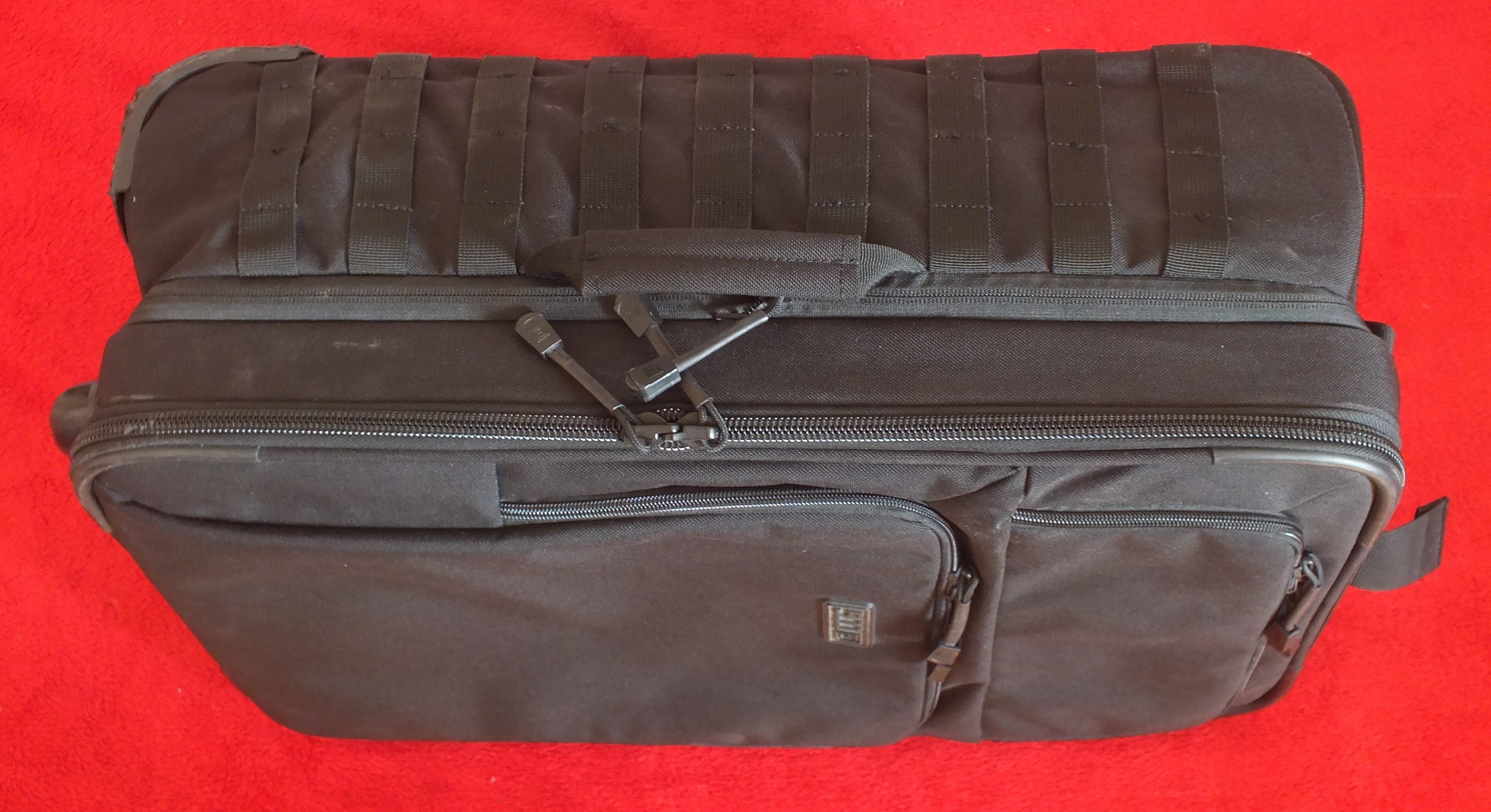 I eventually parted with the nearly £300 price tag of the 5.11 CAMS 2.0 a few years back and wrestled it home on the bus from work. as always I was immediately impressed by the build quality and attention to detail and good design - 5.11 have always impressed me with their user led/ feedback driven development which actually focuses on giving end users with experience and needs exactly what they want for the job.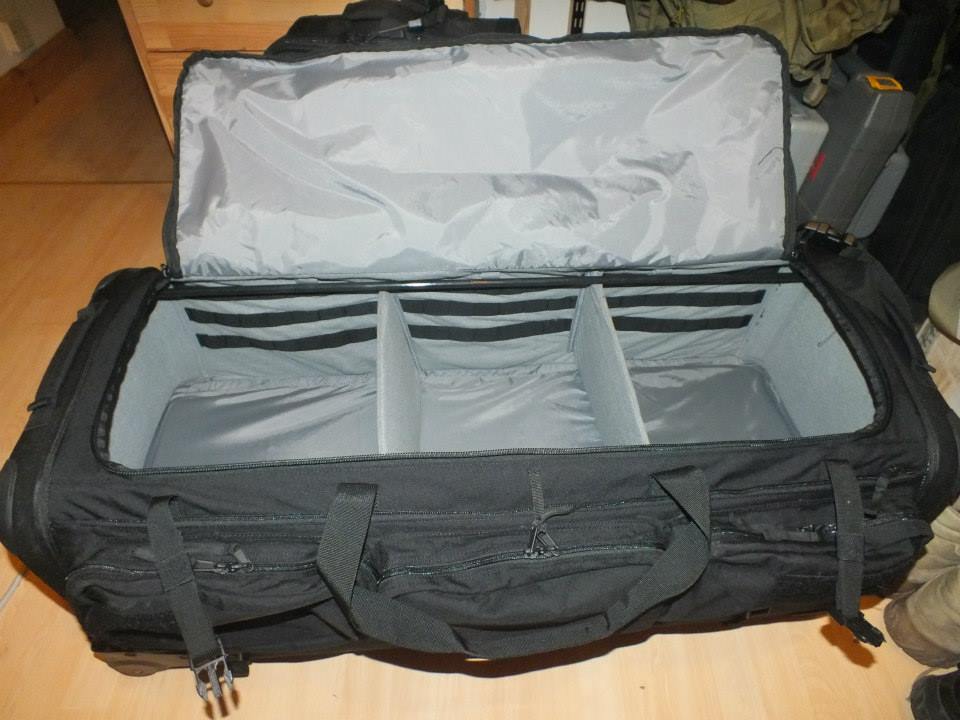 The 5.11 CAMS 2.0 is excellent and worth the price tag - loads of storage space in both the stiffened 'bathtub' compartment below, which is perfect for two large rifles or shotguns, or a combination of other guns (I stored most of mine in there besides my SVD which was obviously too long!) and the upper main compartment has dividers and MOLLE PALS clad sides to enable you to personalise or modify its storage solutions to your heart's content, coupled with the integral side pockets on both longer sides, and the grab handles, stacking and lashing hardpoints, 'window' sleeves on the main face for storing documentation in and the rigid construction in general it is perfect for storing and moving all your gear - hence CAMS - Carries All My Shit. Mine topped out at 40kg when fully loaded, so coupled with the length slightly exceeding the usual 1 metre limit, I doubt I'd use it for air travel all that often.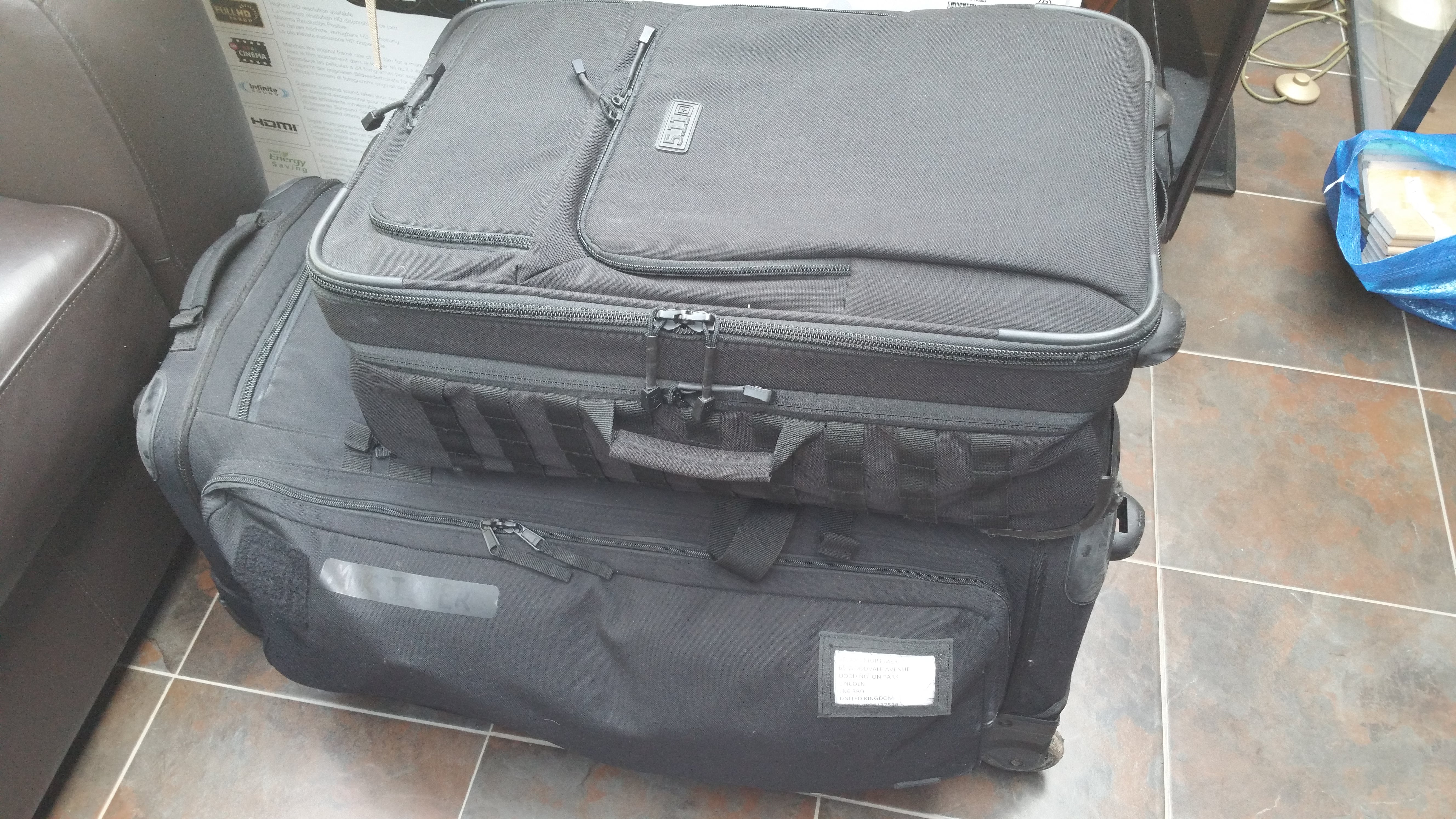 With that limitation in mind, and with an upcoming trip to Asia in late 2015, I decided I had to replace the 5.11 Mission Ready with something hard wearing, but not as over the top as the CAMS 2.0. I decided I might as well complete the set, and spent about £260 on the 5.11 SOMS 2.0 at Polimil in Leicester - back in the days when they still had a front showroom, that is. The 5.11 SOMS 2.0 (Some Of My Shit!) is perfect for air travel; the CAMS actually weighs 8 kg dry, not that people make much of an effort to mention that in their literature, because as well as being a tad long for most airlines (thus likely incurring oversized baggage charges) it has an empty weight accounts for a third of most carrier's single bag allowance (23-25kg, depending).
The 5.11 SOMS 2.0, however, is like a slightly smaller and optimised CAMS - shorter, without the 'bathtub' compartment which gives you a deeper main compartment and dividers to play with, again with MOLLE PALS on the side walls and the same rigid structure, and a more modest dry weight of 6kg, I have used it numerous times for longer trips since I bought it, and brought it with me when I emigrated to Taiwan a few months ago - I had intended to bring the CAMSas well, but didn't finalise my packing plans and look into excess baggage until it was too late and another 20kg on my allowance with Emirates would have cost me about £700, more than I paid for the one way ticket here!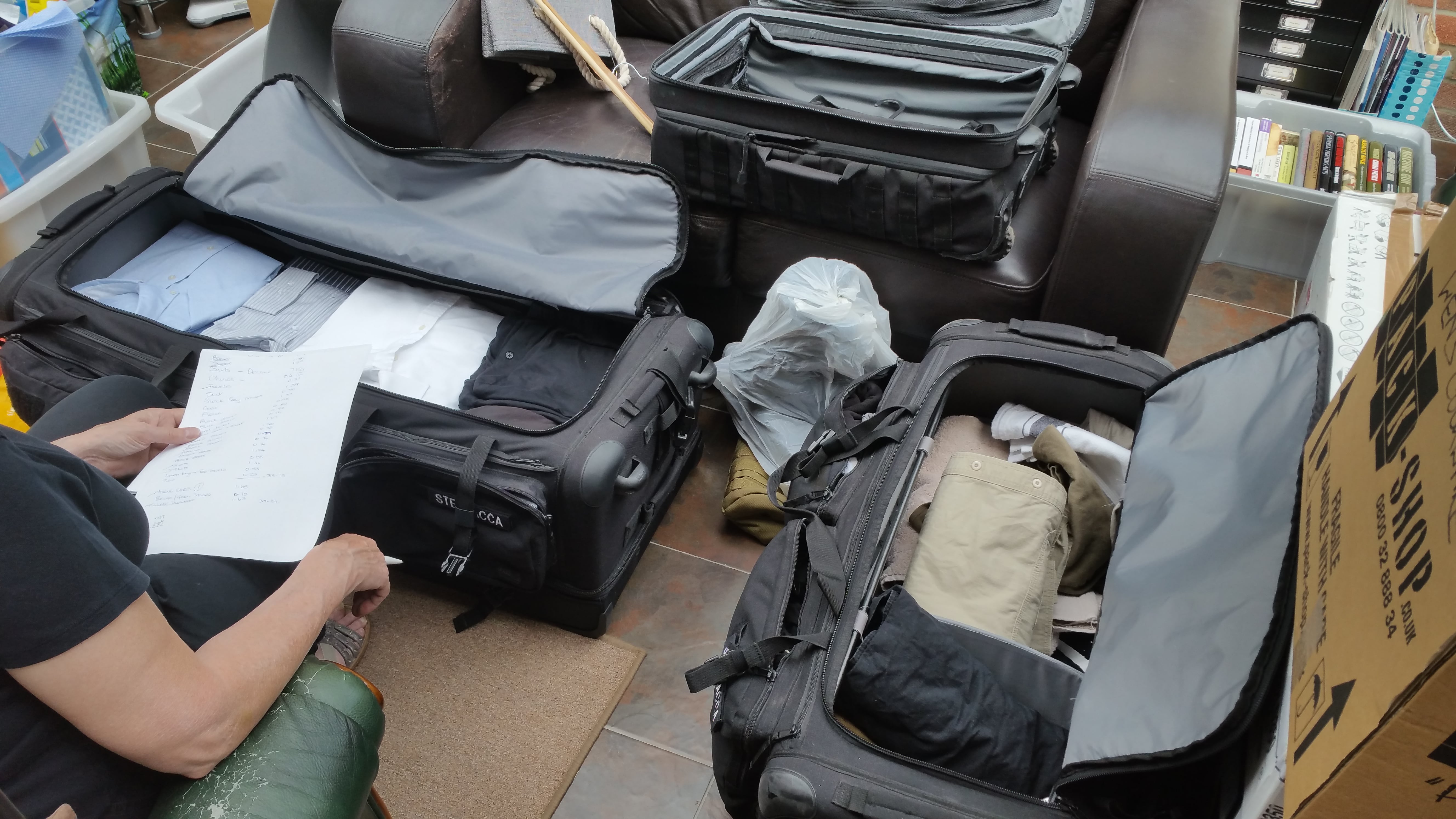 As with the larger CAMS, the SOMS retains all of the best features, just in a more compact and lightweight package, it stays stood up on end unassisted and can be attached to other rolling luggage units or easily manoeuvred with its multitude of reinforced grab handles, as well as having similar side pockets and a retractable drag handle like the Mission Ready (the CAMS actually lacks this, as it is so long that they figured it would be unnecessary, that and it would encroach on the gun storage space at the bottom).
I am certainly impressed with its hard wearing construction and ability to carry and organise a large amount of my clothing and equipment. On Op Shanghai ShengDanJie at xmas 2016 I had to deal with nearly 30 degrees above zero and planned for as bad as 30 degrees below in Harbin, but only ended up at minus 16 - sufficed to say I had to pack for a wide range of environments with all my North Face thermal under garments and socks taking up quite a bit of space just for the last leg of the journey. Nevertheless, the 5.11 SOMS 2.0 ate it all up and left space for transporting gifts to and from China as well; but most importantly it made it much easier to physically handle all my clothing and equipment - especially on the High Speed Trains as well as depositing and retrieving it from Taxis - the multiple grab handles really make it easy to lug it around and lift it in a manner convenient to each situation.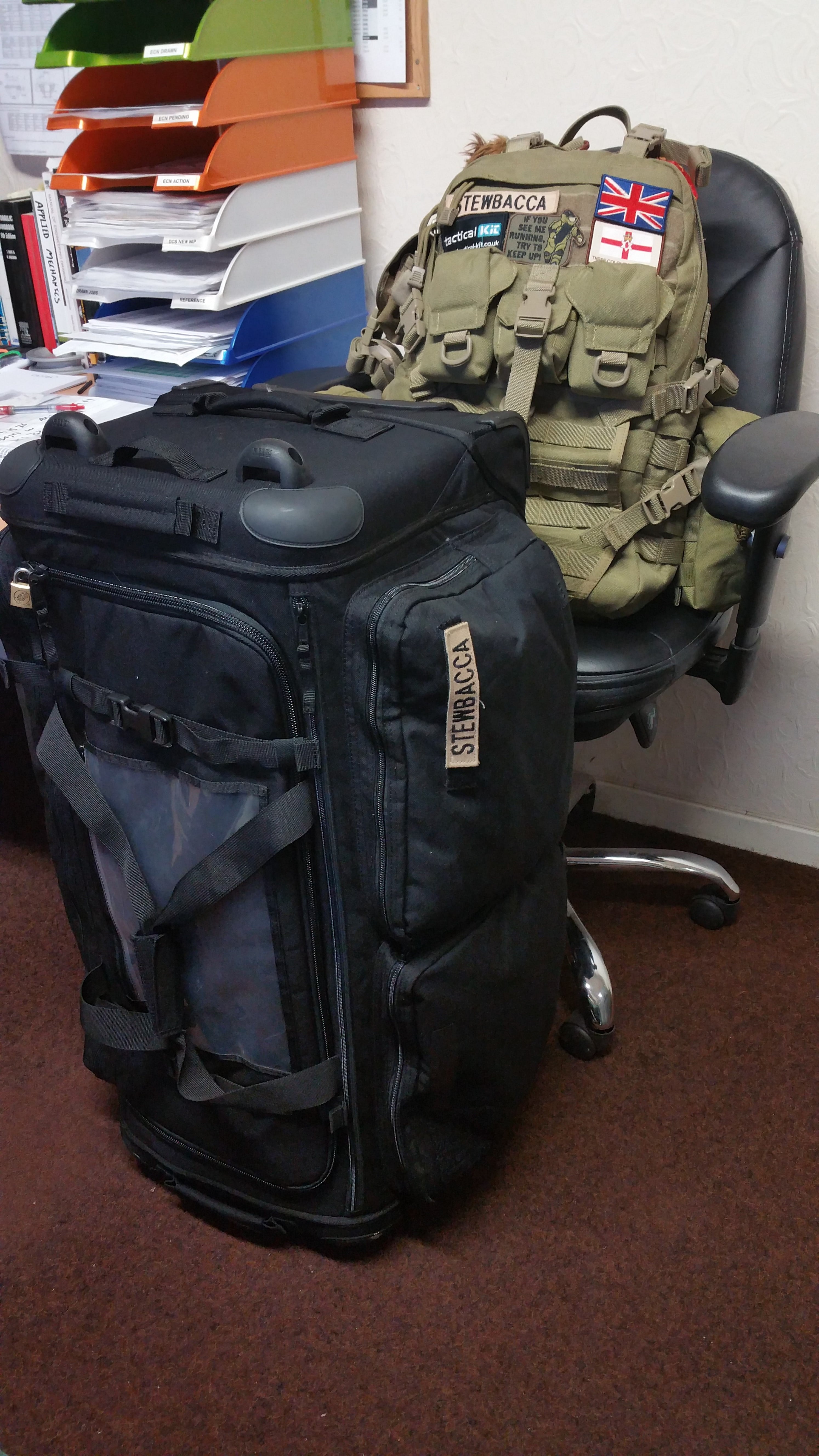 Another side benefit of all the 5.11 Range is not just the practicality, hard wearing nature, and largely airport baggage handler proof construction quality, but also the fact that flag and name-tape affixing velcro makes it easier to personalise your luggage, rather than it being another anonymous Samsonite bag on a conveyor belt of confusion. Well, that and - as yet, at least - I've never seen anyone else travelling with these luggage units on my flights, so it's made spotting mine all the more easy!