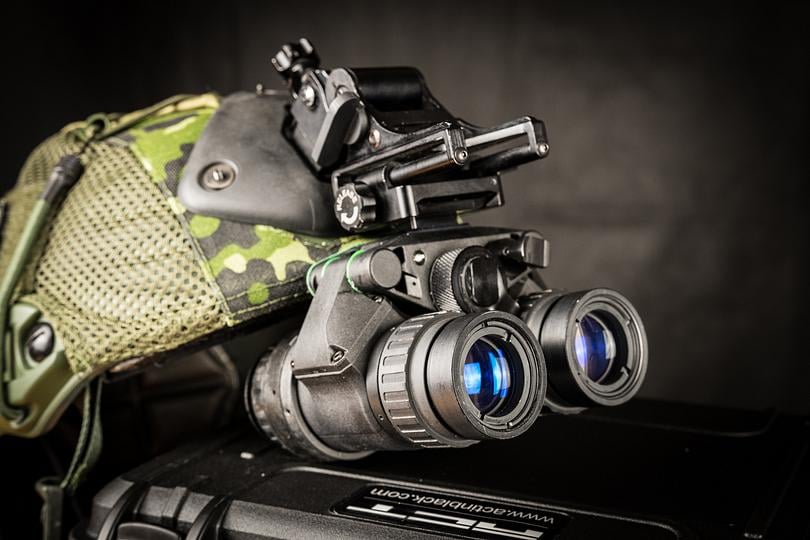 It's finally here! After many months of teasing, testing and preparations the original design of the dual tube system is available. Thanks to our friends at ActInBlack, we were able to try out and play around their near final version of the system. And boy, was it fun!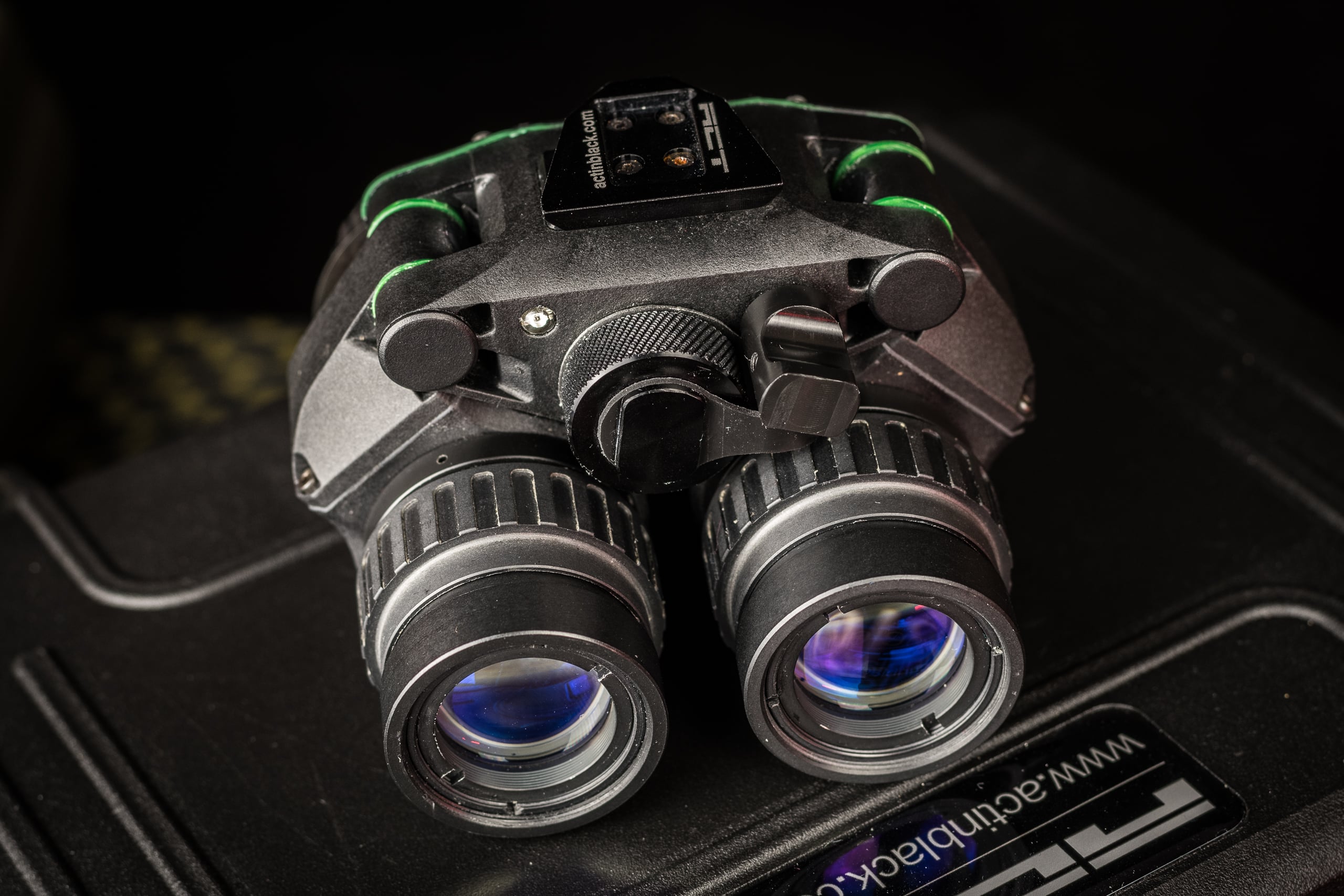 The Unit
The DTNVG is not their first original design. You might remember our review of their Lunox monocular that we liked a lot. Obviously, here, the difference is that you get a binocular–one image intensifier per eye that comes in a neat package. There are many similar systems like it, such as PVS-15, PVS-31 or BNVD but DTNVG has a lot to offer.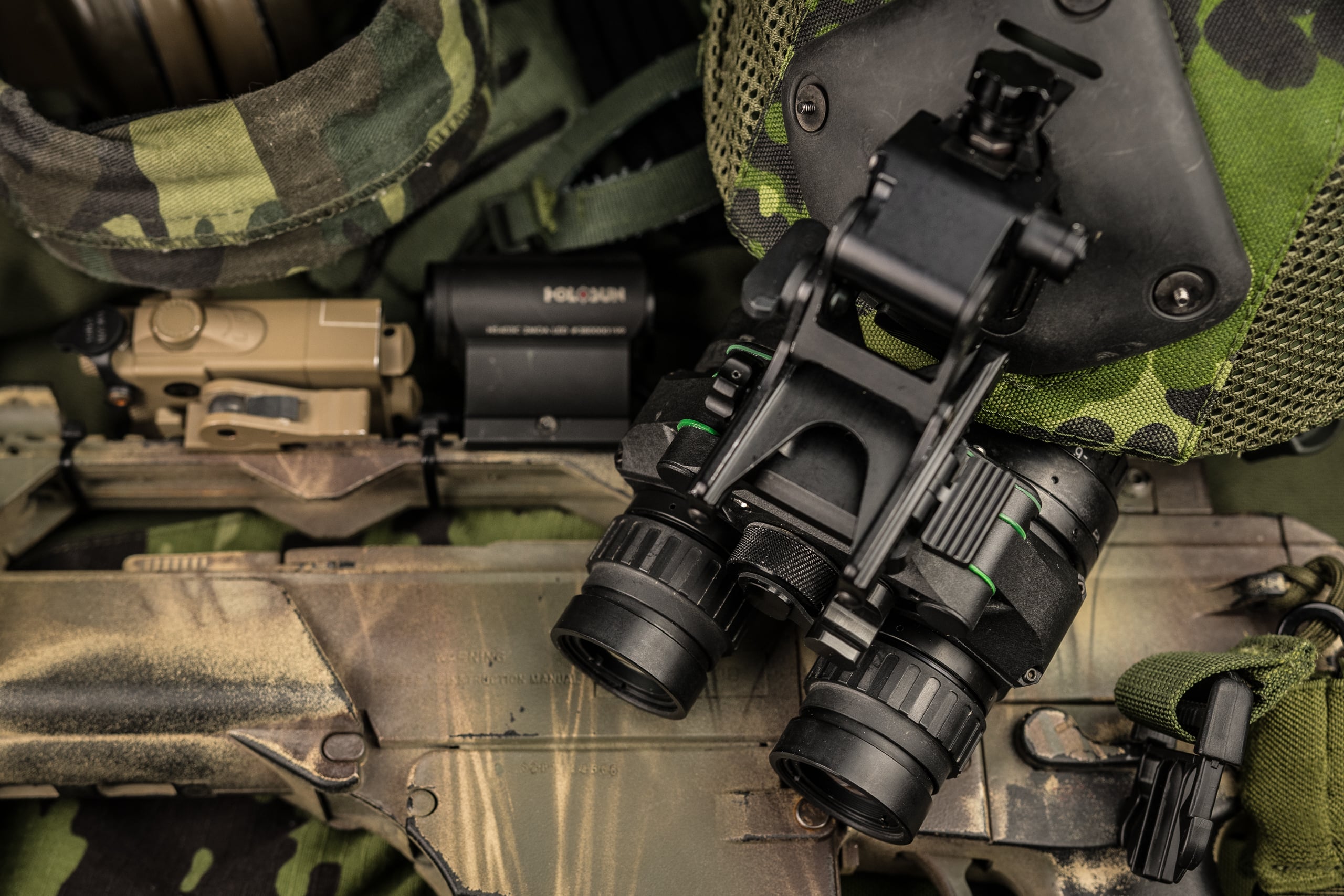 The whole body is built from a tough polymer. Compared to other systems, I think I like the construction of DTNVG the most because it's the most lightweight and most low-profile one. The unit is tiny when each monocular is folded. Unfolding is independent, and each monocular can be lifted and/or adjusted on its own. This is useful when for example the user wants to look through the image intensifier with one eye, so that the other one can be used to look directly–for example in highly dynamic or lit areas.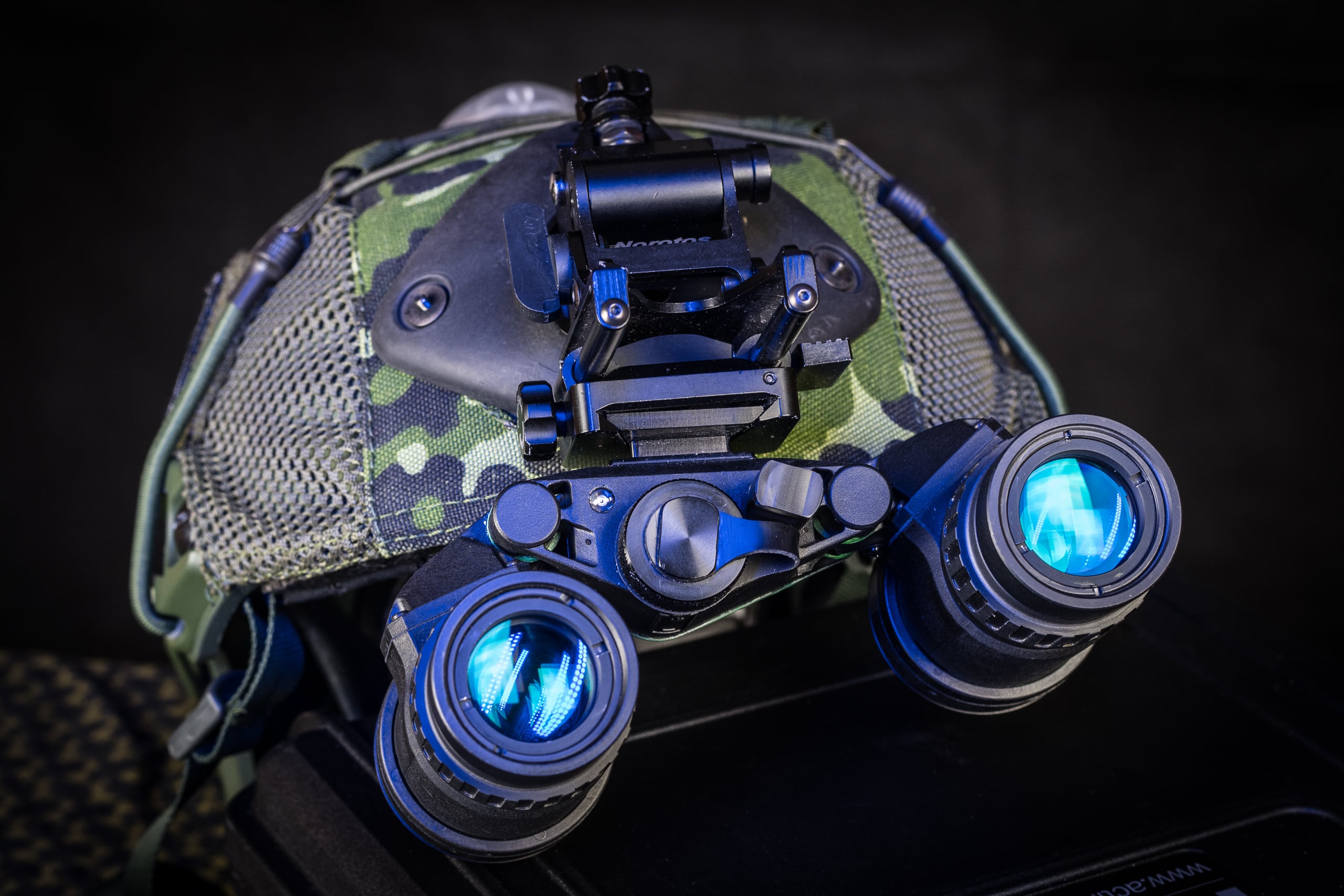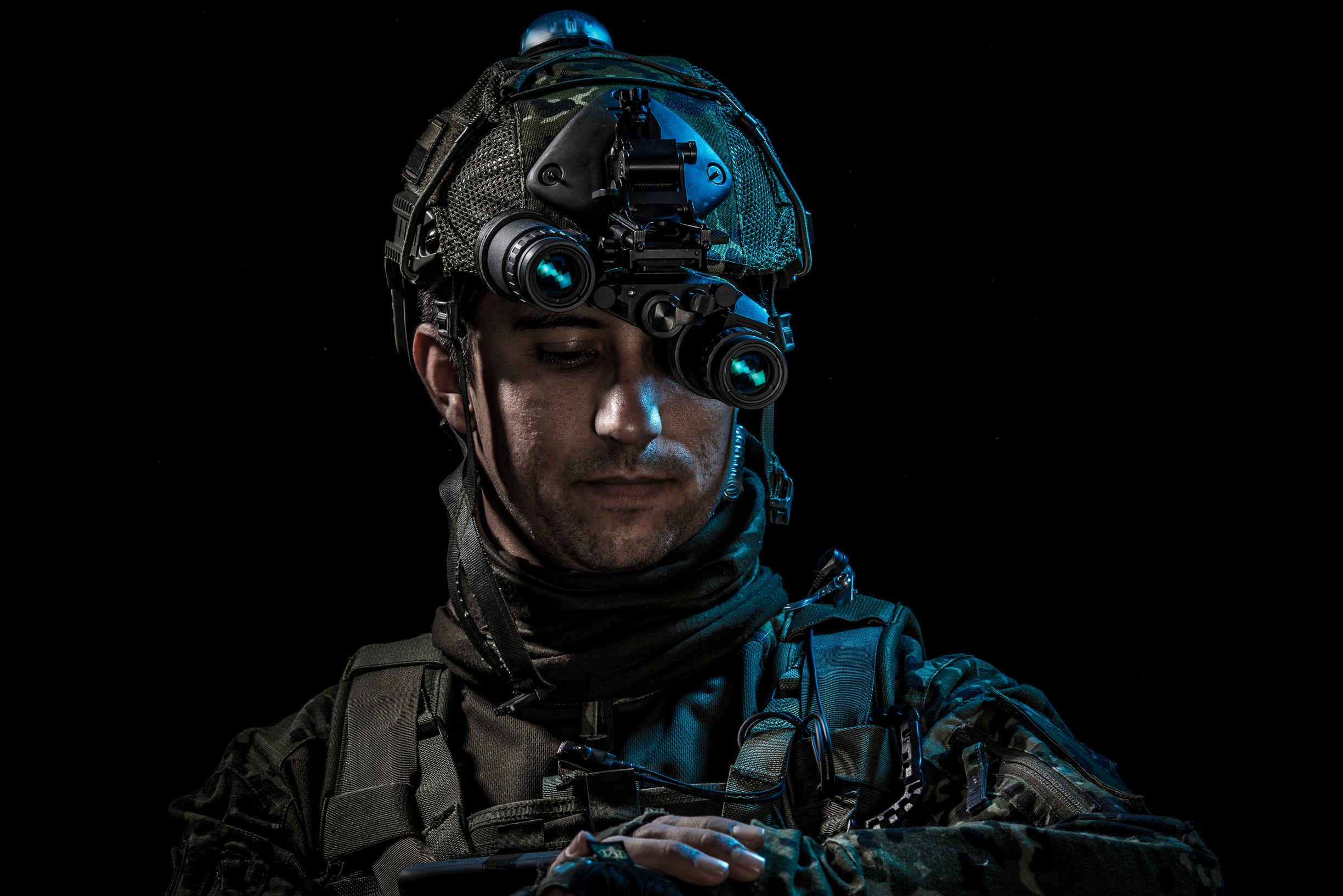 When the monocular gets lifted it also automatically turns itself off. When put back in position it comes back on. Neat feature that will make sure there's no extra light reflection coming from the tubes on the helmet.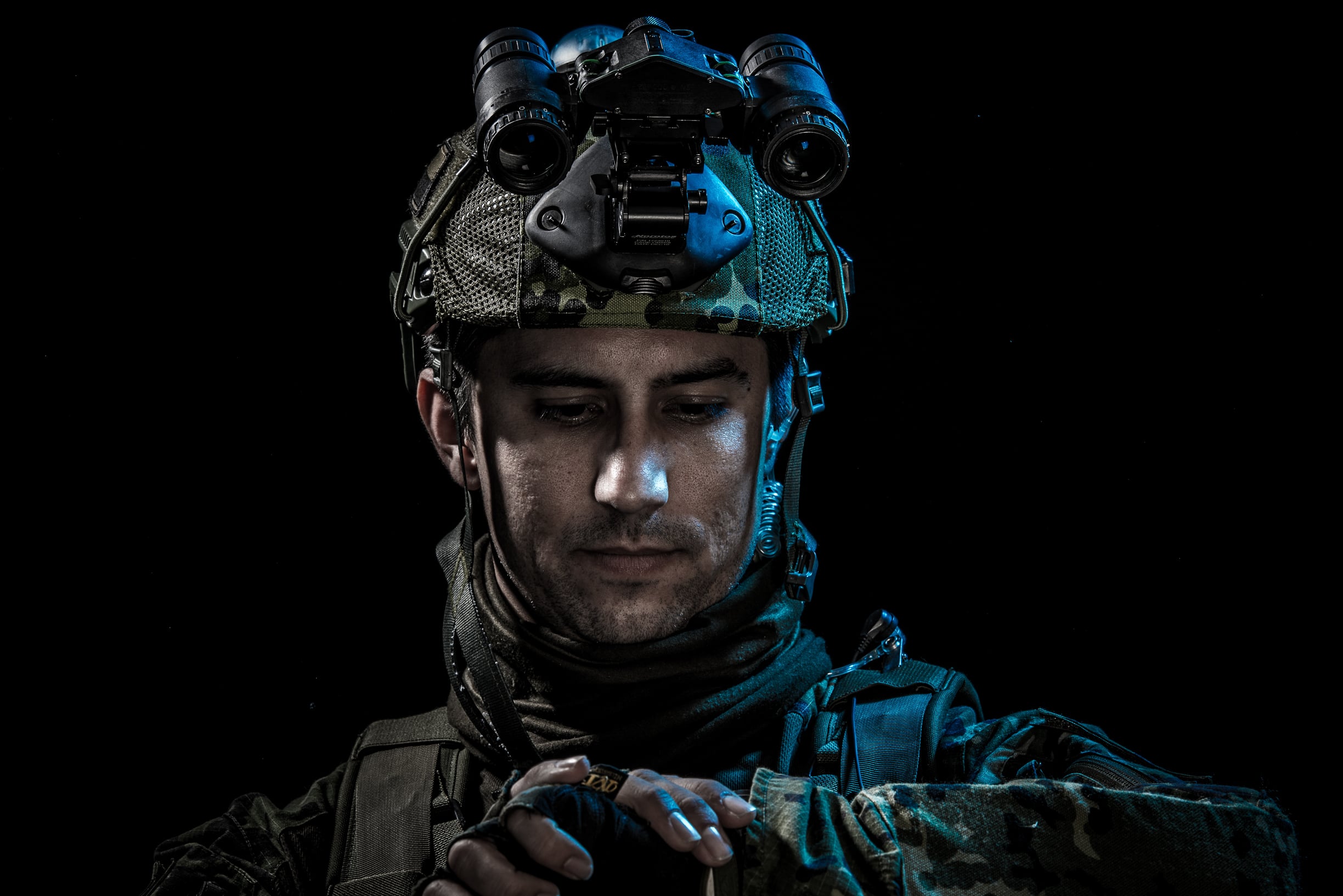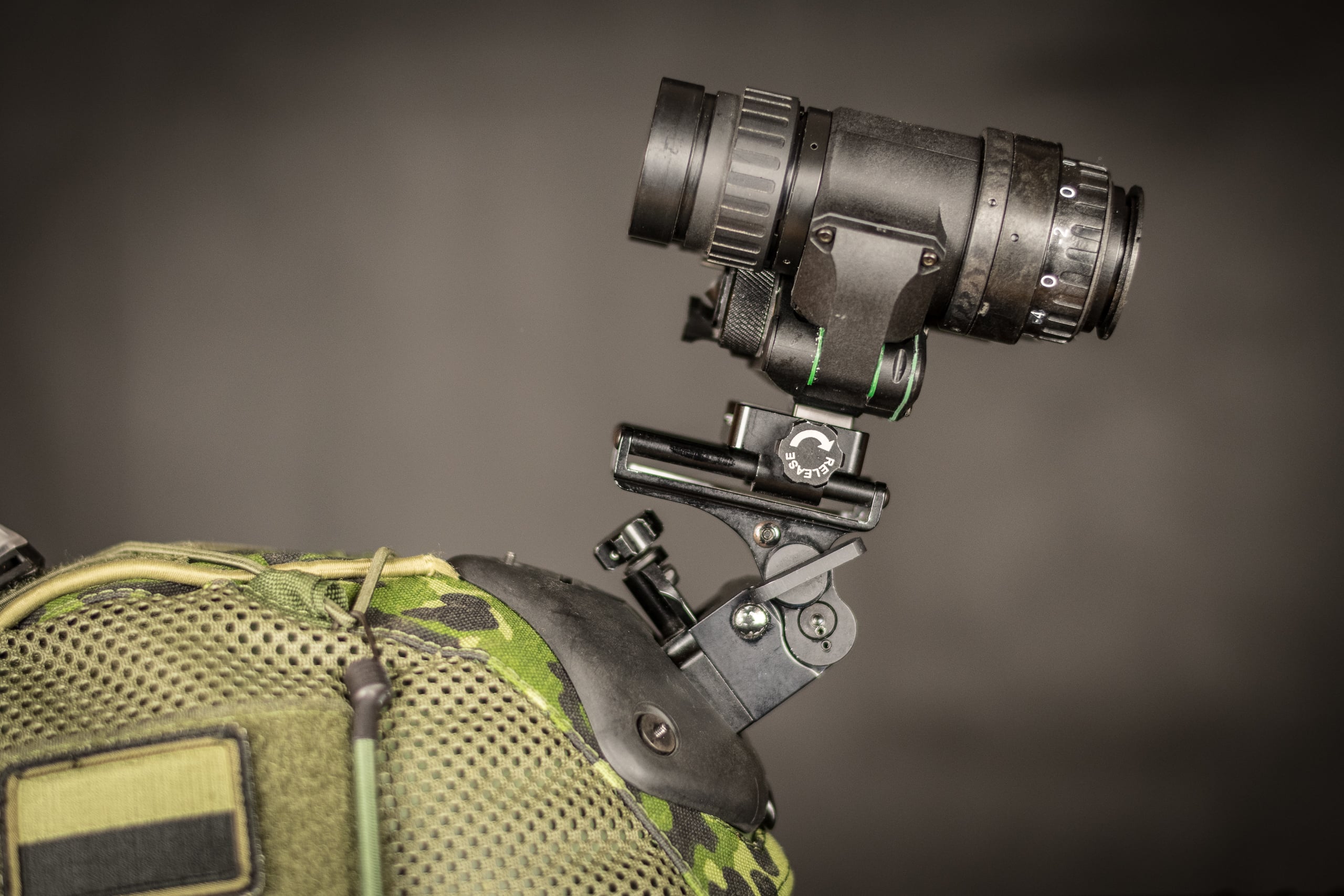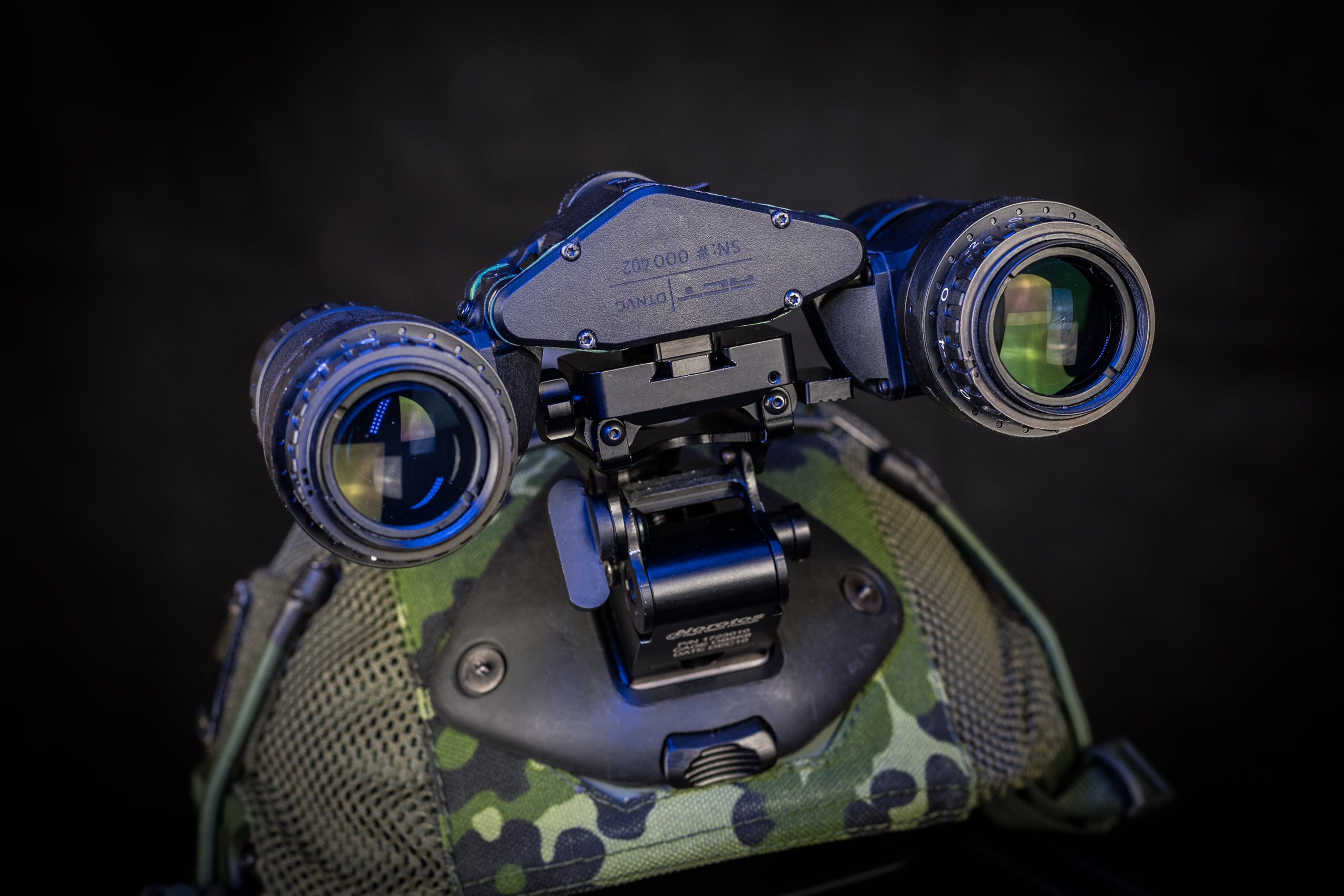 The unit is powered by a single CR123A battery and lasts up to 25 hours. It does not have an ability to attach an external power supply. As most other units, it also comes with flood IR light that can be used to illuminate near surrounding in really dark areas when there's not enough ambient light to amplify.
The main switch has 3 positions–off, on and pull-turn to switch the IR illuminator permanently. Simply twisting the switch towards IR allows for a momentary IR on option, useful for quick improvement of the lighting conditions or signalisation.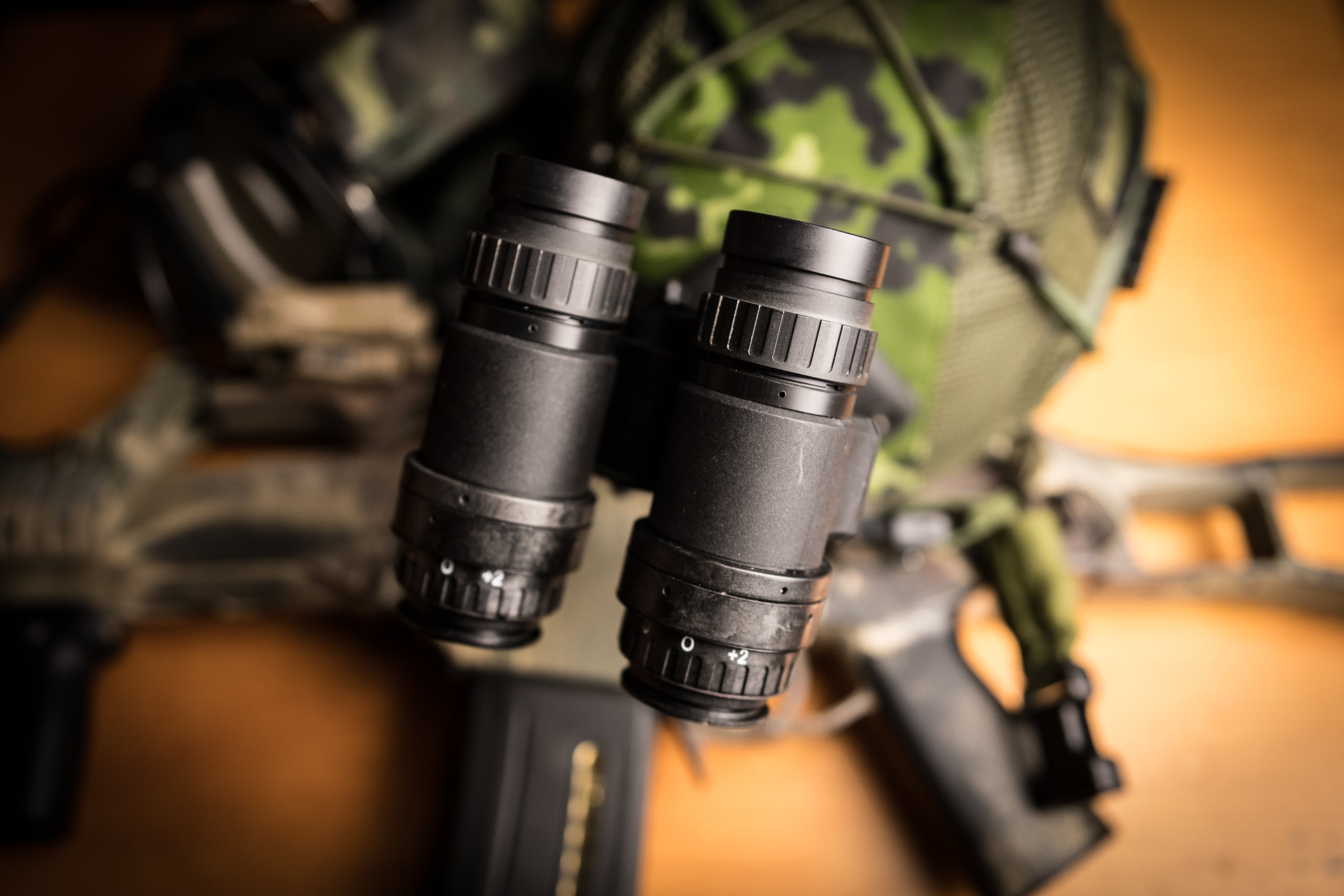 Like mentioned before, the construction is great. The hinges use wear resistant dynamic friction axes so that the movement of the monoculars is smooth and rock solid when left locked in a position. The whole unit is very low profile which makes it less bulky when mounted on the helmet. The weight is also minimised and at 528 grams it's one of the lightest dual tube systems available. Compared to a single PVS-14 that weighs around 350 grams, this is a great achievement.
Other standard features include 20m for two hours waterproofing, IR and low power indicator in the field of view or flip-up on/off which simply turns the device off when stowed.
What's interesting is that the unit can be configured with either PVS-14 style objective lens, or ANVIS style one. The unit we were testing came with the latter.
Tube configurations vary from commercial versions of the Photonis tubes, to their XR-5 grades and generation 3 Harder Digital ones also varying from commercial up to FOM2100 versions. Our unit came with the top of the range tubes.
As all other ActInBlack products, the DTNVG comes in a hard case with a battery and a standard set of accessories.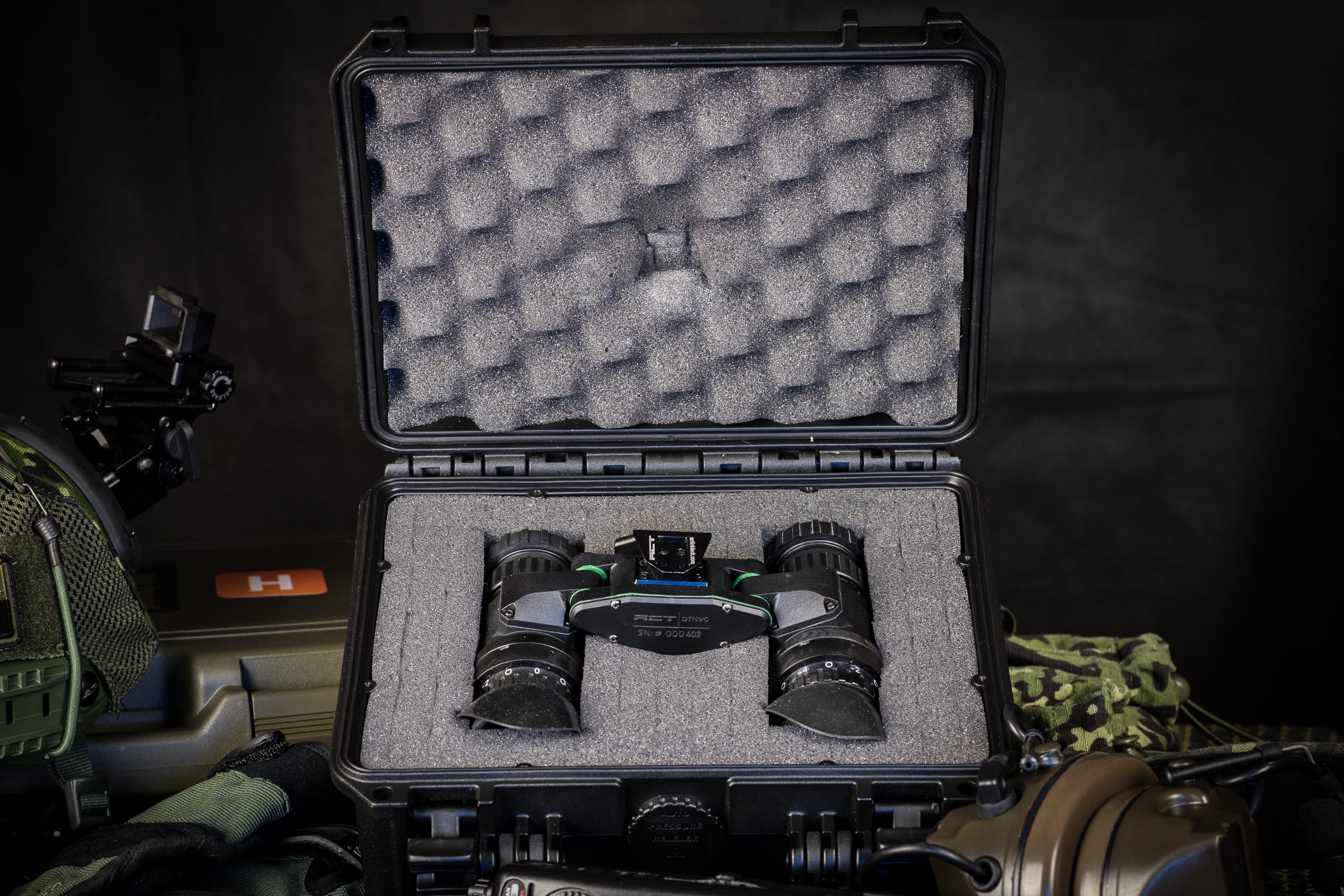 The Test
We were able to test the unit during a milsim event in Spain. It was raining all the time which gave us the opportunity to test how it performed in far from ideal circumstances.
Our squad was rocking multiple night vision devices, so we could compare it to PVS-14, PVS-18 and an older PS-14. We decided not to use the de-mist shield or sacrificial window to test the performance in heavy rain and how it directly affected it.
Most of my squad members were complaining about the steaming-up of the lenses, especially with the PS-14 system. Fortunately for me, the DTNVG performed perfectly. Rain drops were quickly leaving the objective lens thanks to the good coating. I had near zero problems with steaming up of the ocular lenses and 99% of the time I had clear vision. Obviously having two tubes helped a lot, and usually, when one of them steamed up a bit, the other one was clean. I started paying attention to the way I was breathing and after that, all the steaming problems went away.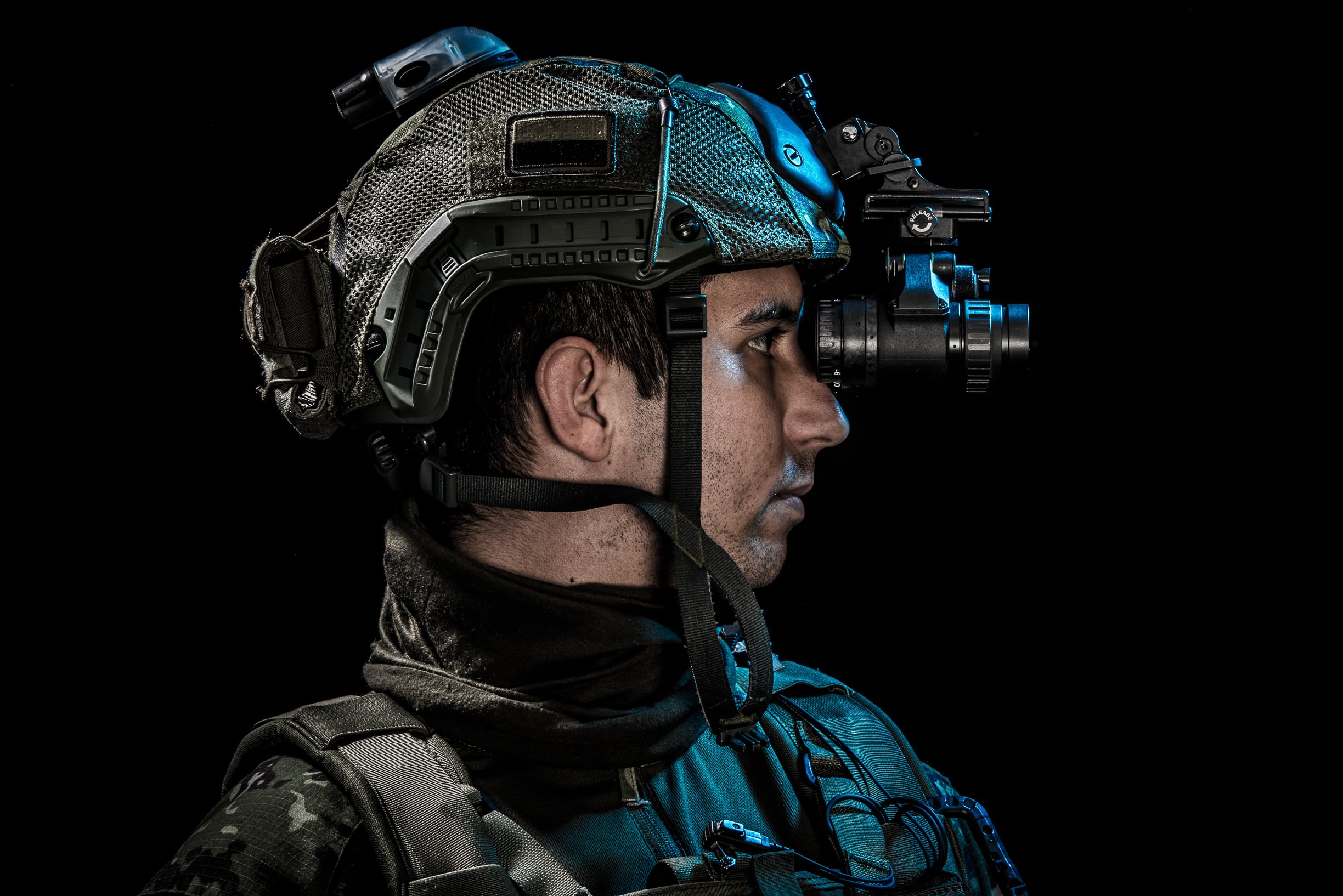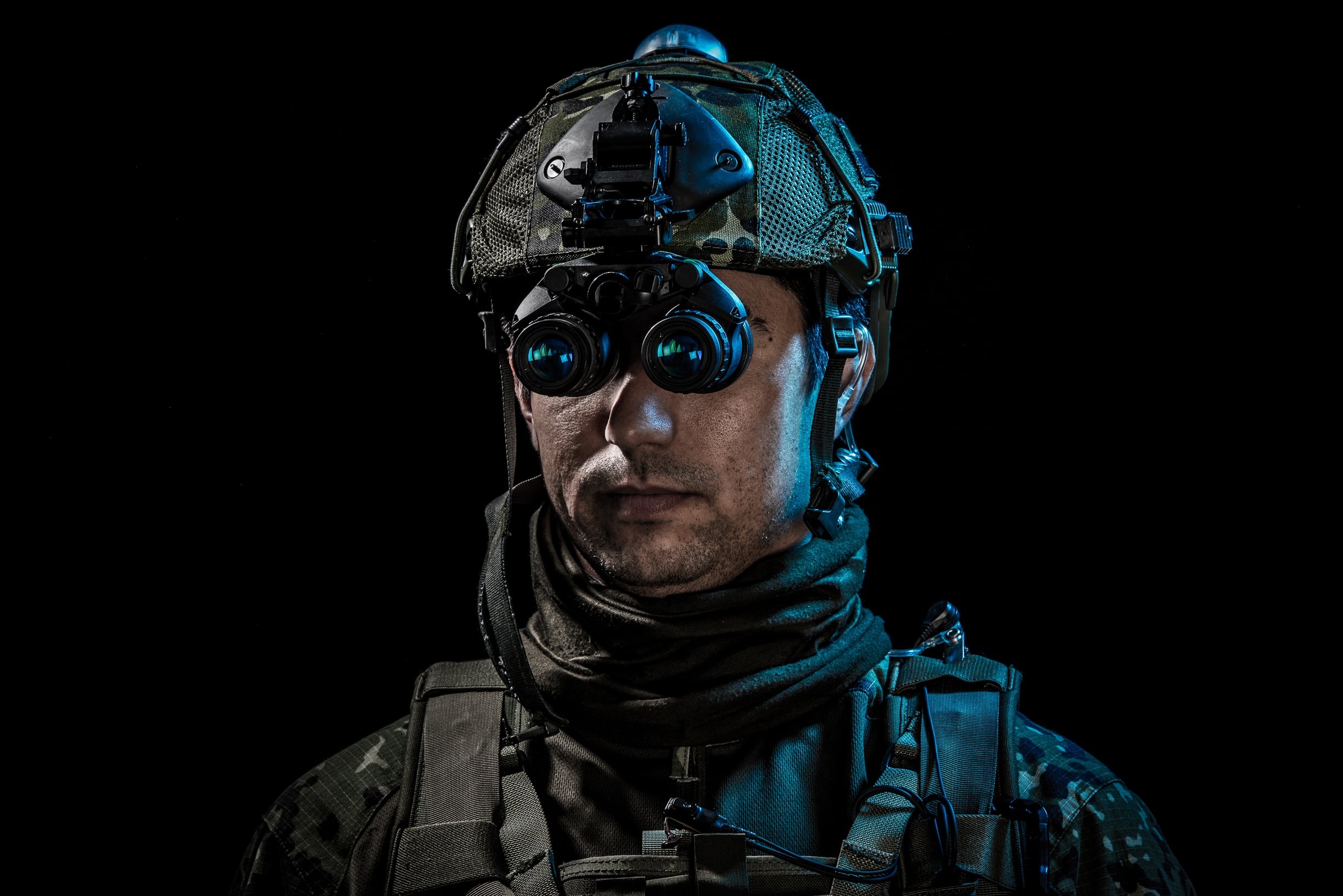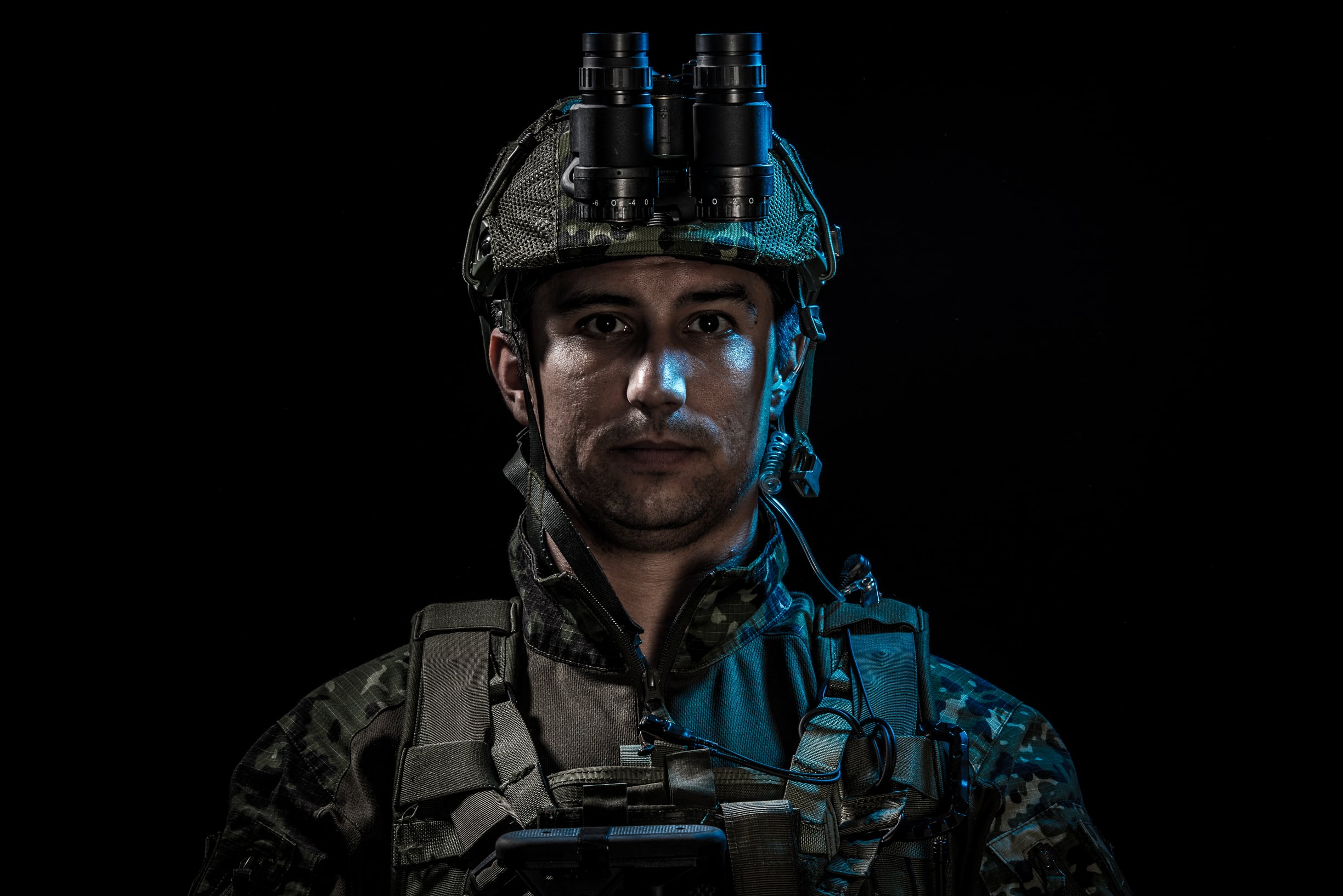 Having two tubes is a fantastic improvement over one tube. We did a lot of point-to-point navigation in the woods and I have to say that the improvement was bigger than expected. I have always been a fan of using just a monocular so that the other eye can be used for other actions. The ability to simply flip-up one of the tubes served that same purpose very well. Then again, using both tubes at the same time improves your perception of depth so in general it's much easier to walk around obstacles as you can judge precisely how far they are. Other things like using an IR-laser improved too, all thanks to the added depth perception.
The tubes themselves performed perfectly and the image quality was superb.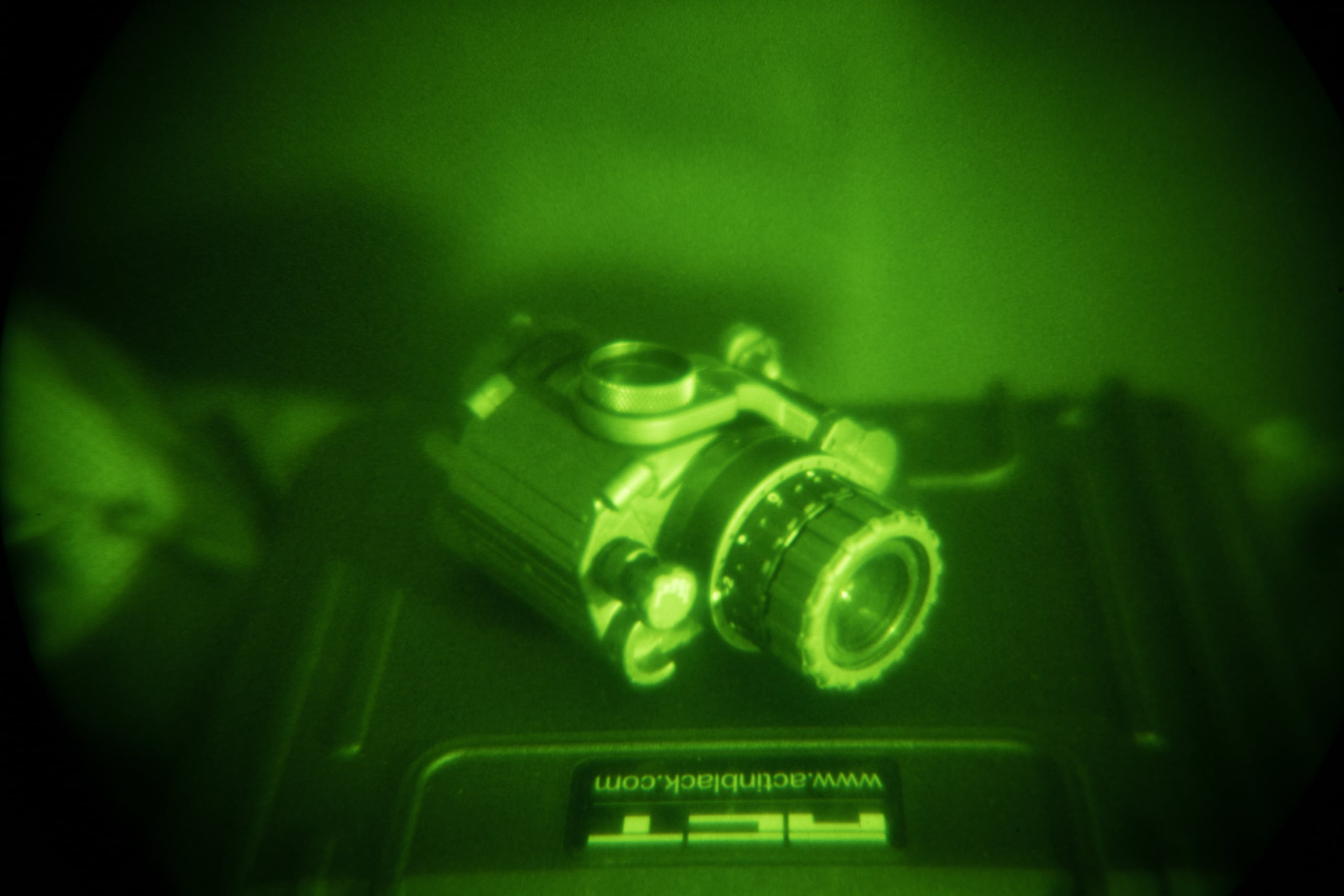 All in all, the rain did not present any issues to the performance of the whole unit–as expected. They are rated to up to 20 meters for up to two hours in water. Now we did find a bit of rust in the small screws that tie the dovetail to the body in the days after, but that can be fixed easily and does not present any major issues.
Speaking of the dovetail. It is developed by ActInBlack themselves too and is made of metal for the added durability. It can also be replaced if needs be.
The Summary
It's very easy to love this system. It's light, durable and performs brilliantly. We had a blast trying it out at night in more difficult conditions.
A lot of people ask for the conversions from their ANVIS systems to the DTNVG that ActInBlack performs which indicates how well it is perceived. The biggest issue for myself is the price that has to be paid, especially for generation 3 tubes here in Europe. Sure, there is no ITAR to worry about as the unit is ITAR-free, so that's a big plus. If you are an American citizen, you are in luck though! TNVC became a distributor and they sell DTNVG with L-3 tubes for much less compared to the European version. Hopefully, one day the price difference will vanish. Until then, with great sadness I have to say goodbye to the unit lent to us by ActInBlack.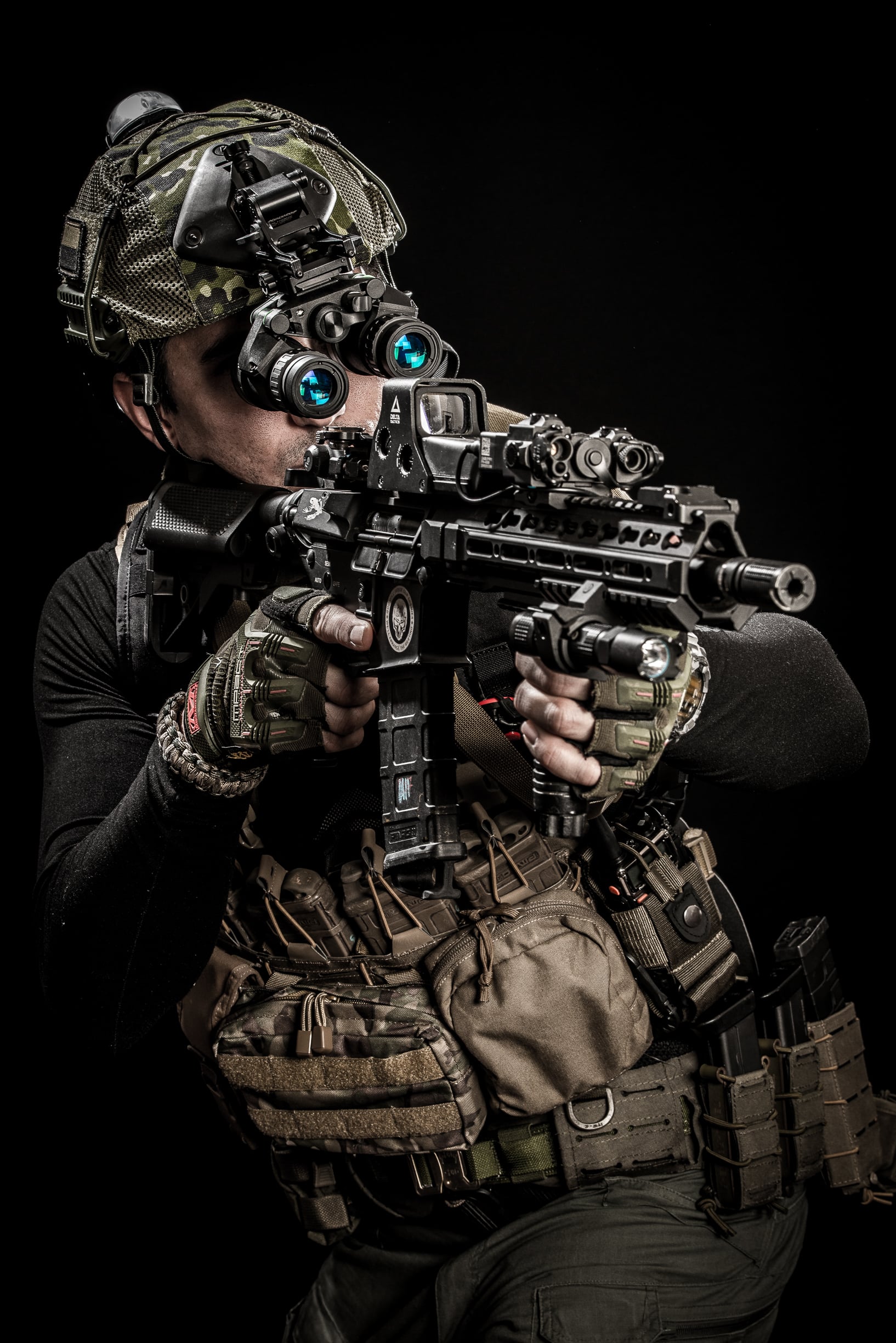 The ActInBlack DTNVG can be purchased completely ITAR-free from their online store.