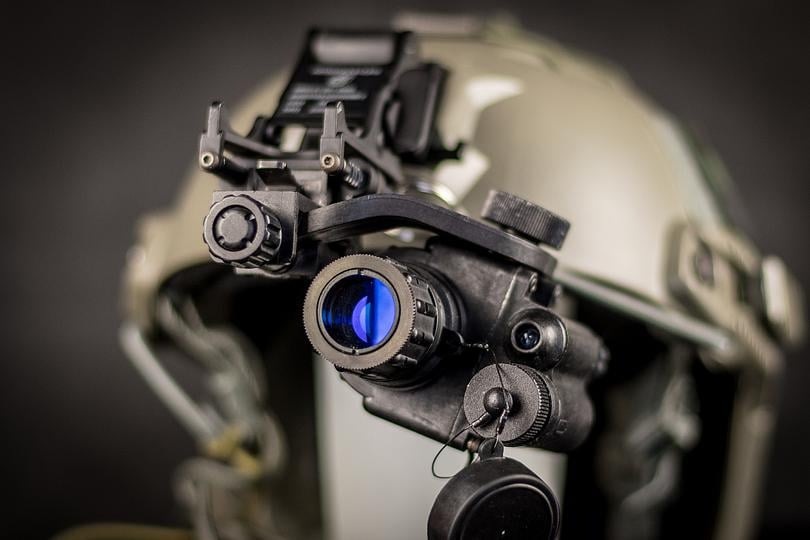 Packaging—Let's get it out the box!
Upon receiving the GT-14 you get a tasty little NVG bag that has a zipper and a buckle strap so you can attach it to your webbing or wear it like a tactical NVG handbag. Epic for the modern man. Inside you will find a main compartment, and then a small pouch inside where you can keep smaller accessories and the spares that come with the monocular. Once you open it up, you can see all the goodies inside: the NVG unit, helmet mount with strap, head mount (for the Sam Fisher Splinter Cell look), replacement rubber scope padding, sacrificial lens and a rifle mount. So if you want to use this as stand along NVG, straight out of the box you can do just that. We'll talk more about mounting options later on in this review. So, the unit itself is wrapped up in clear padded plastic, with the caps already on, and most of the accessories are also packed in the clear plastic bags. Obviously we just breezed past these bits and grabbed an AA battery, popped it in the unit and headed to a darkened room to test this little beast.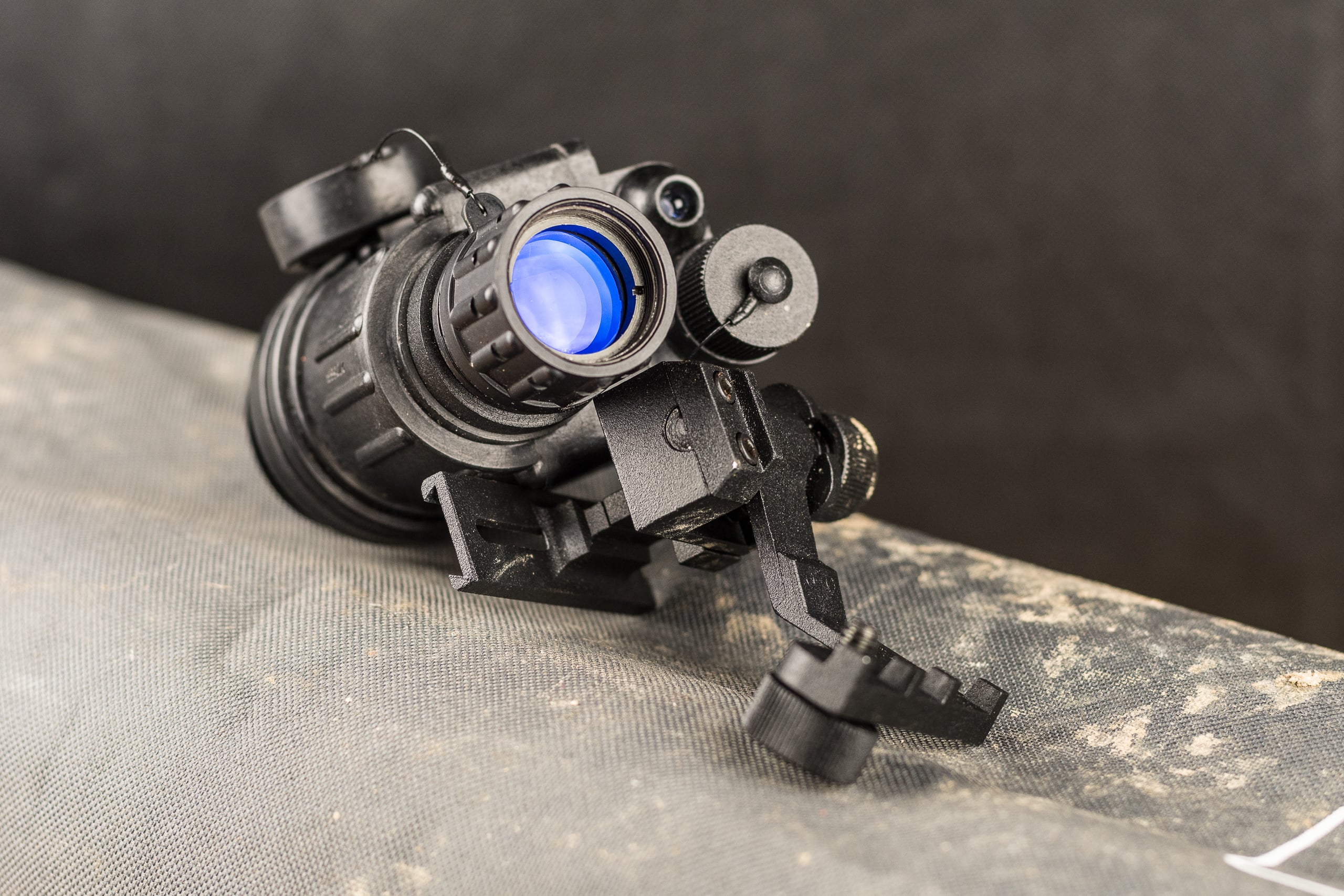 First impressions?
If you have ever tried GEN 1 night vision units, remember that feeling you have? Seeing everything in green for the first time? Followed by all the oohs and aahs as you look through it?
Well, take that feeling, and multiply it by 75. I say 75, because that leaves room for GEN 3 and white phosphor tubes. Using a monocular that is a GEN 2+, you can really see the difference straight away. Adjusting the dioptre to your eye and then the focus, we soon had it tuned in for some pretty awesome, almost crystal clear viewing in a darkened room - with only a few small specs of light coming through the shutters. Adjusting the focus to your "viewing range" makes everything uber sharp and gives you a very satisfying image quality. Obviously you need to focus your unit to the distance that you will be operating at, as it holds that focus and looking at things from up close, to then further away,
Size wise, the NV unit is pretty small, so fits nicely into your hand. Once mounted on a helmet, you don't feel like such a bobble head.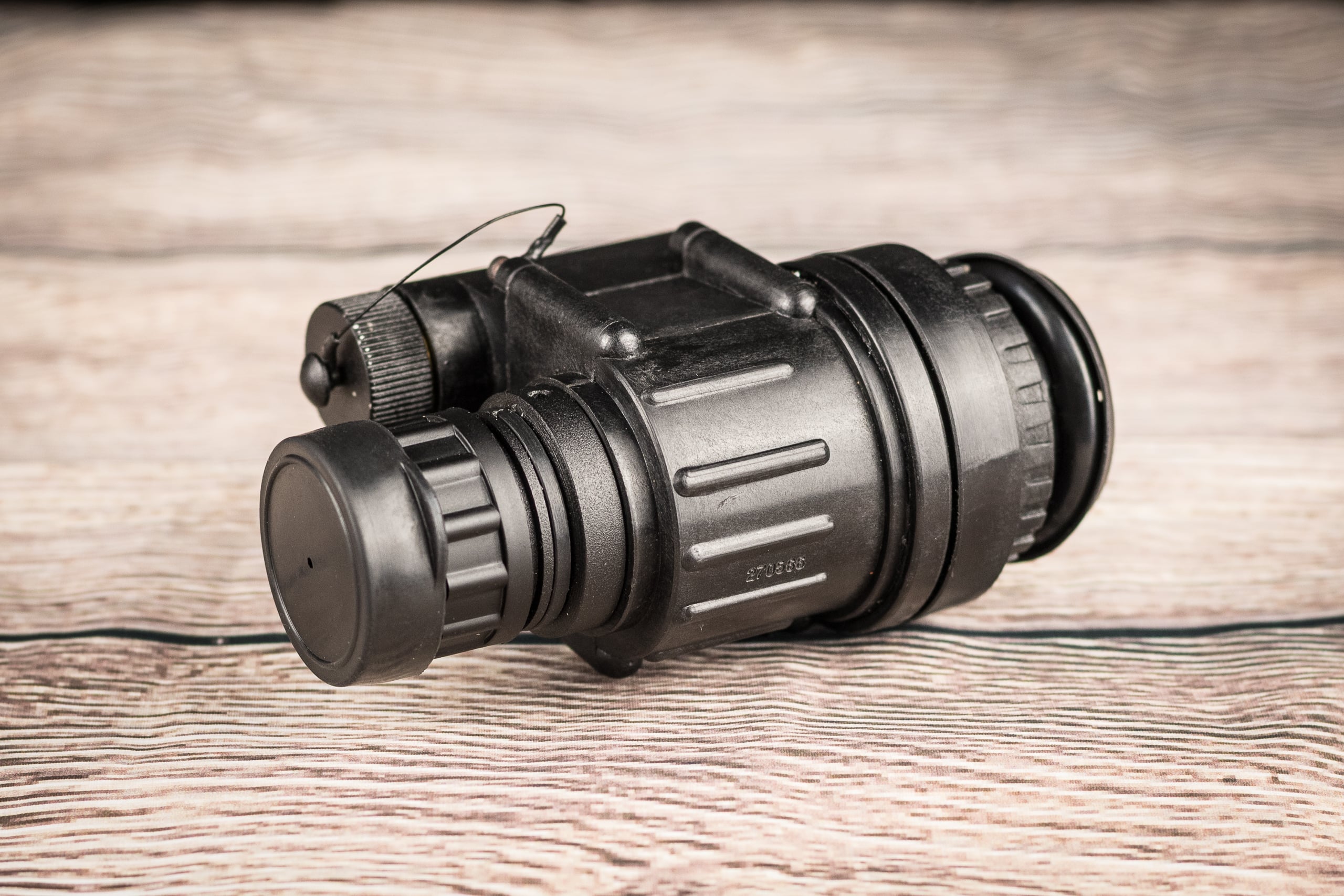 Build quality
The unit itself is very solid and lightweight. No rattle or loose pieces, apart from the lens cap once removed. When attached it fits very snugly onto the front of the sight and is held to the unit by a thin metal cord. We put an elastic band over the unit so that when you remove the cap, you can tuck the lens cap under it and avoid it dangling in front of your face. At the rear of the unit you have a smooth rubberised eye cup which can be rotated to fit comfortably to your eye/cheek, or removed completely.
All the lenses have the necessary coating and the included sacrificial lens is a great addition. Easily protects your lens from being shattered by BBs.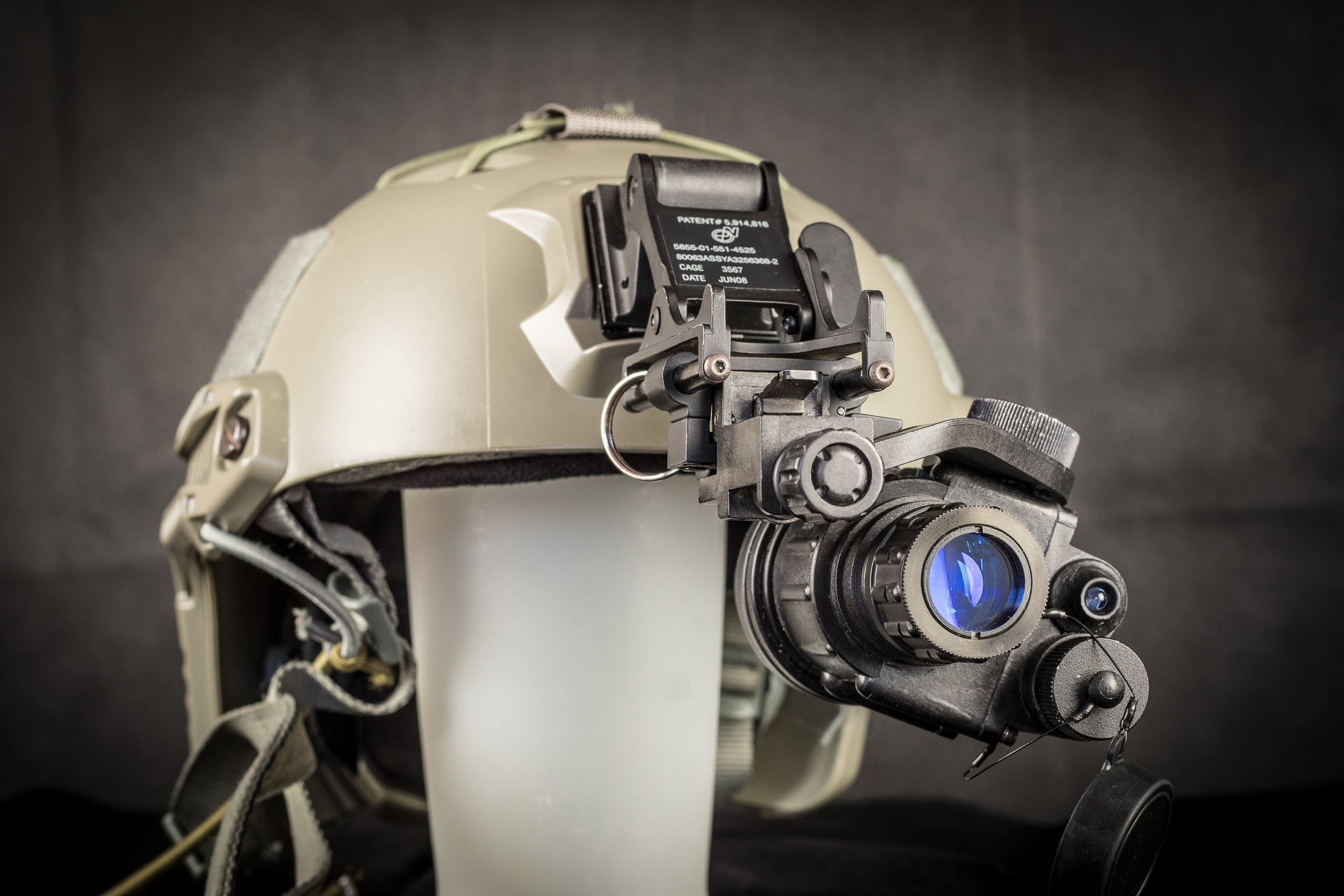 Usage/usability
So, switching this thing on is easy peasy. A twist knob at the rear, which has ridges on it so your fingers won't slip when activating. Even easier with gloves, you just need to get used to feeling it. One click and it puts the unit into normal, awesome NVG mode. As mentioned earlier, adjustment of the dioptre first and then the focus and you will be well on your way to fun NVG times.
To activate the IR illuminator you need to pull the knob out towards you and then twist again to the right. Once activated, you will have a "spot" IR light. Important to note is that it is a spotlight, not a flood light. So it will illuminate what you directly look at, as opposed to the surroundings, but will give off decent brightness.
We found that when actually using the unit, the image quality, luminous gain and resolution means that you don't really need the IR light on in most cases. Obviously this depends where you are operating. We took it to a few weekenders where we did night ops – NVGs, IR lasers and strobes – which was utterly epic. When using it in open fields, light forest, FIBUA sites, the ambient light from distant villages and towns makes everything clear. Add a clear sky with a moon to that, and you can wander the hills comfortably at night and get your operator on. No IR at all times.
However, if you go into a 100% pitch black building, you will need to have the IR light on to help with visuals. If not, put a DBAL on your rifle and use the IR laser. The "splash" will illuminate pretty much everything you point at, or for increased illumination use the IR torch. Bear in mind that the same applies even to the best GEN 3 devices. Also fun to add some airsoft tracers too, especially for distance shooting and suppressing fire.
Accessories and mounting
So, we have this awesome sight, we need to be able to use it hands free. Let's talk about mounting options.
As mentioned earlier in this review, the NV unit comes with several mounting accessories:
Rifle mount for 20mm RIS
Helmet mount (similar to the Rhino shroud mount and strap)
Stand-alone head mount
"J-arm" esque arm
Rifle mount for 20mm RIS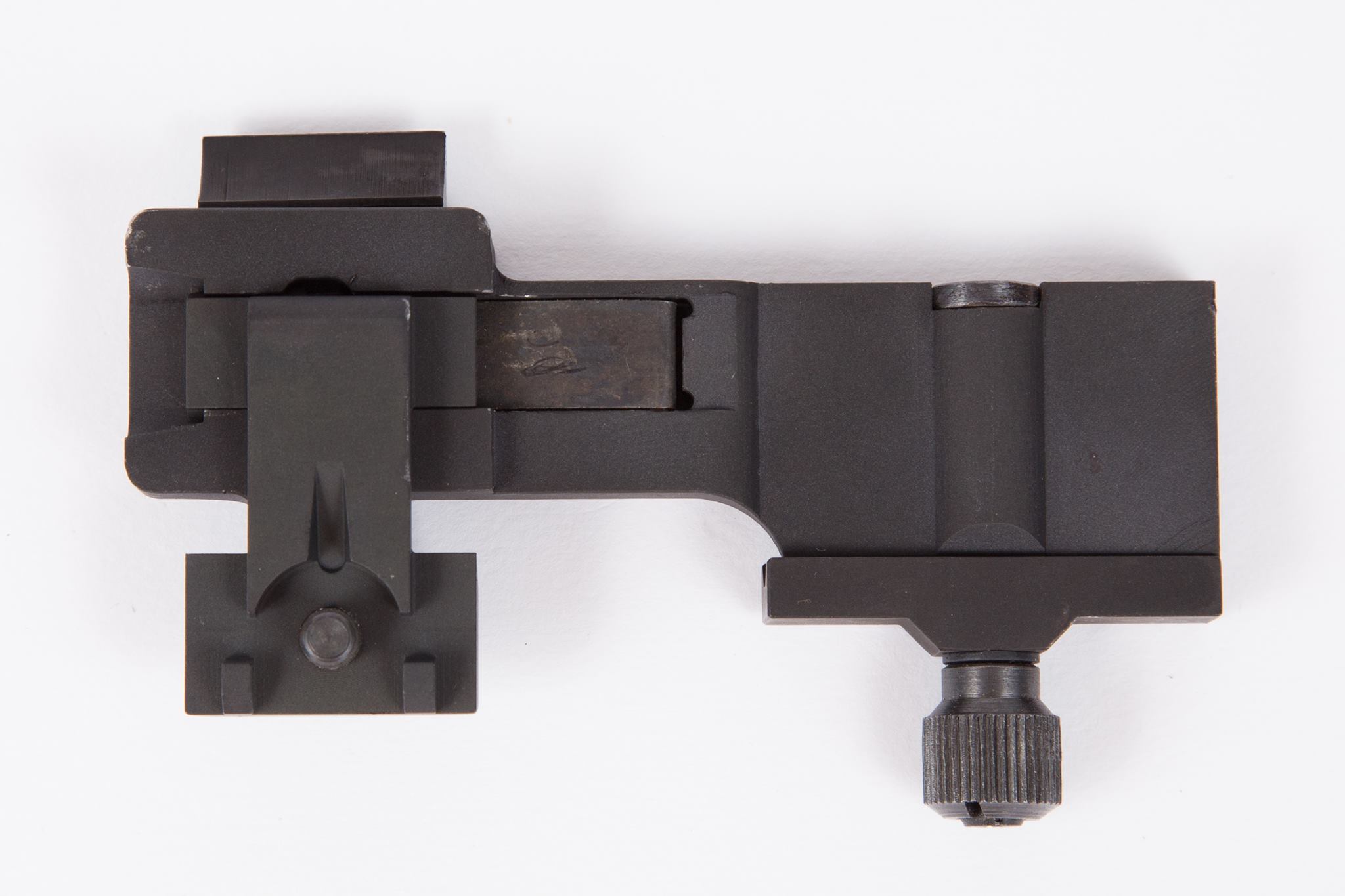 This is a very solid piece of kit. Mounted straight onto your rifle, it sits a little low for our liking. Nothing a simple RIS raiser can't sort. With this option you can have your own natural night vision and get your eyes accustomed to the dark, but when the moment arrives to take the shot, you can acquire the target through the NV sight on your rifle. Good for scanning large areas and not as much brightness stress on your eyes.
Helmet mount (similar to the Rhino shroud mount and strap)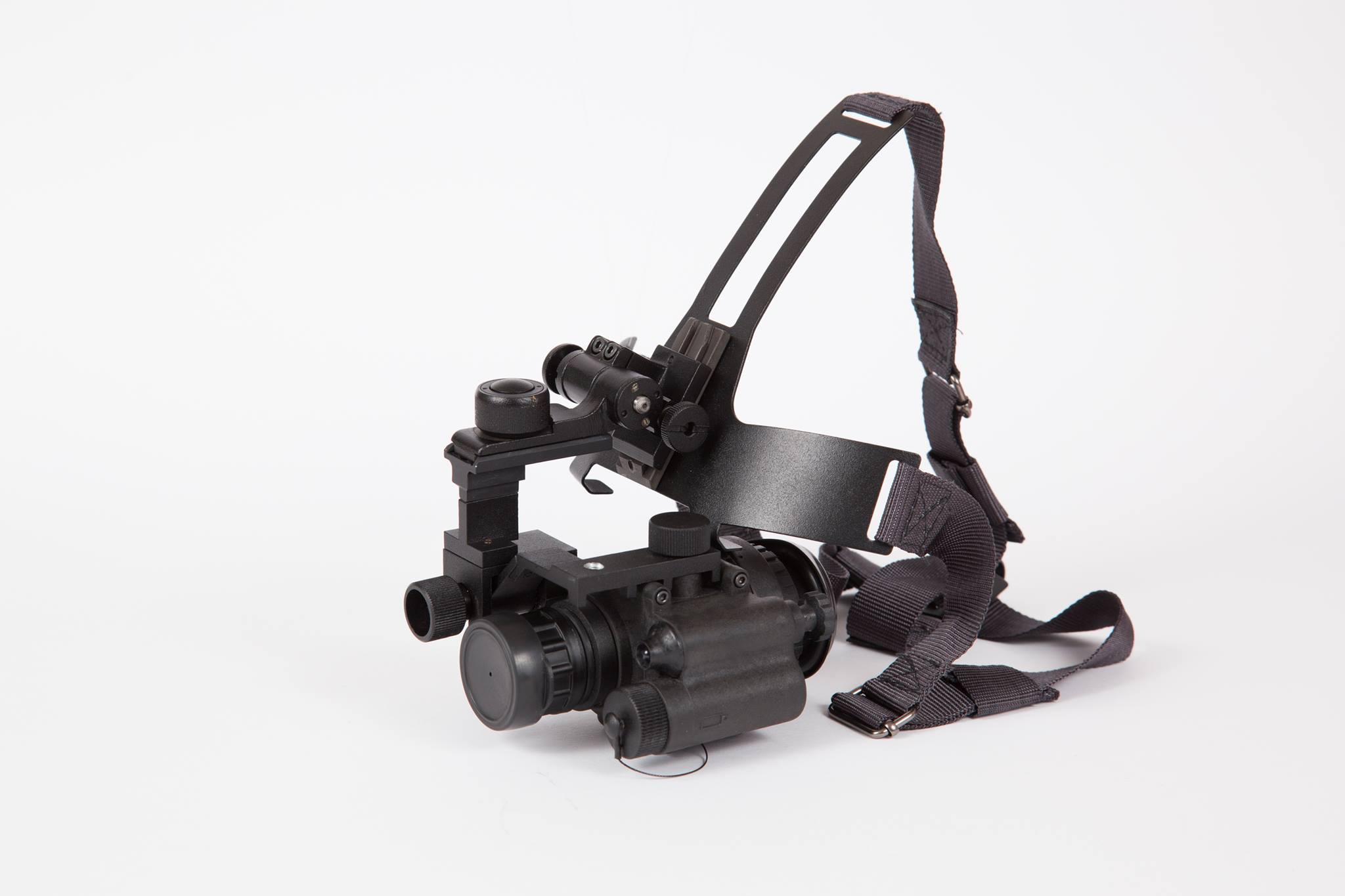 This will enable you to mount the unit on pretty much any helmet, as long as it doesn't have any existing mounting options on the front of it. This mount will fit nicely just under the front rim of your helmet, with a strap that goes over the top and held in place by a clip and a buckle. Not as secure as as the Rhino shroud mount – mainly down to the fact that you don't have a tension clip, just a buckle through which you can tension the strap.
Head mount
In the bag you will also find a head mount that allows you to secure the monocular with the included strap system. It is a bit finicky but does the job.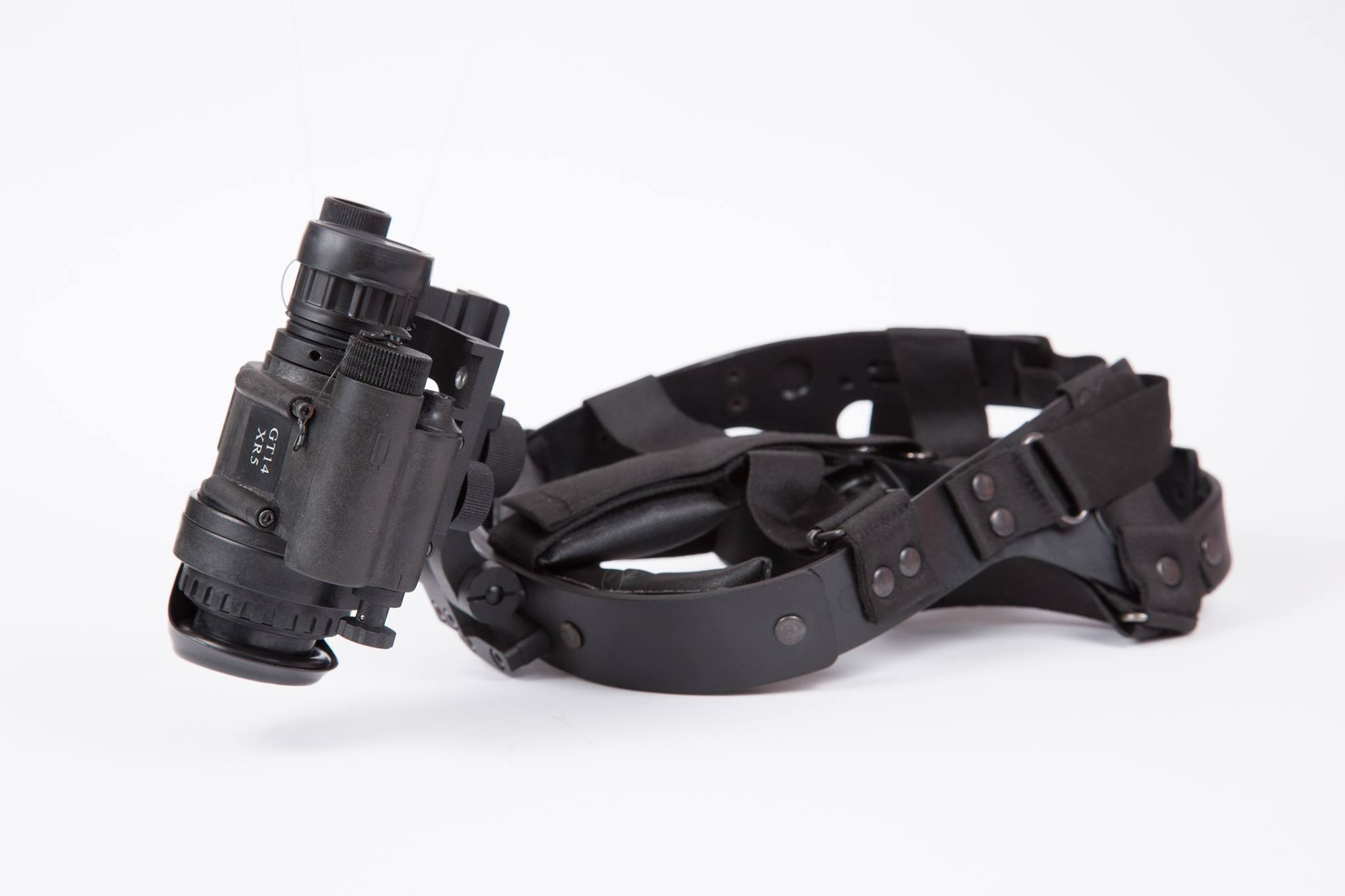 Conclusion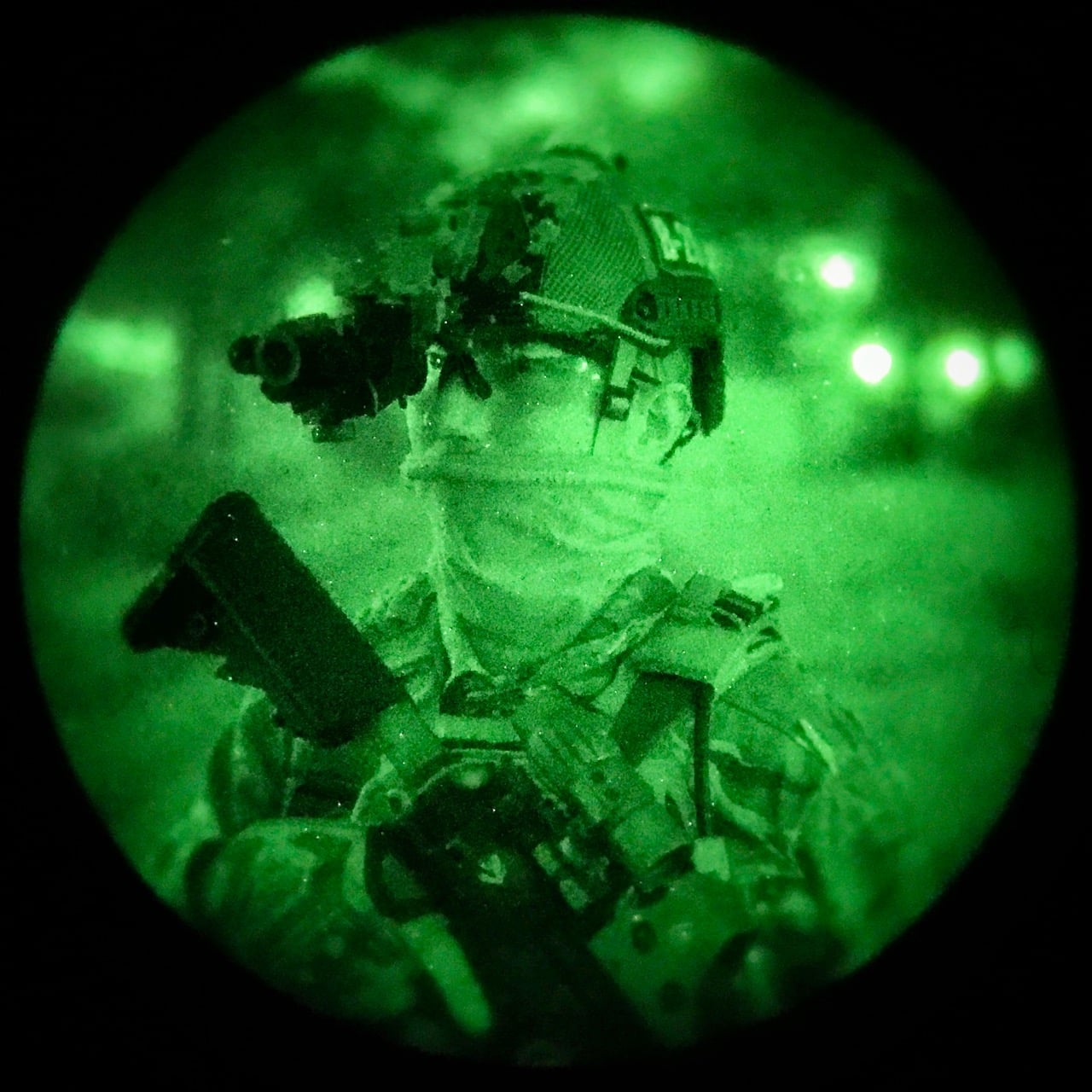 For under €1,400, this is an awesome NV monocular. Sure it's not the crispest and most Seal Team 6 night vision on the market, but for airsoft use, the ranges we play at, it more than pays for itself. The ease of focus, the size, the weight – for me – (it's taken me 11 years to get a GEN 2+ NVG) it is perfect. Obviously if you want to make some awesome NV videos, and see everything at night as if you were playing Call of Duty by pressing UP on the D-Pad, go and get a GEN 3/white phosphor unit after selling a kidney and a testicle.