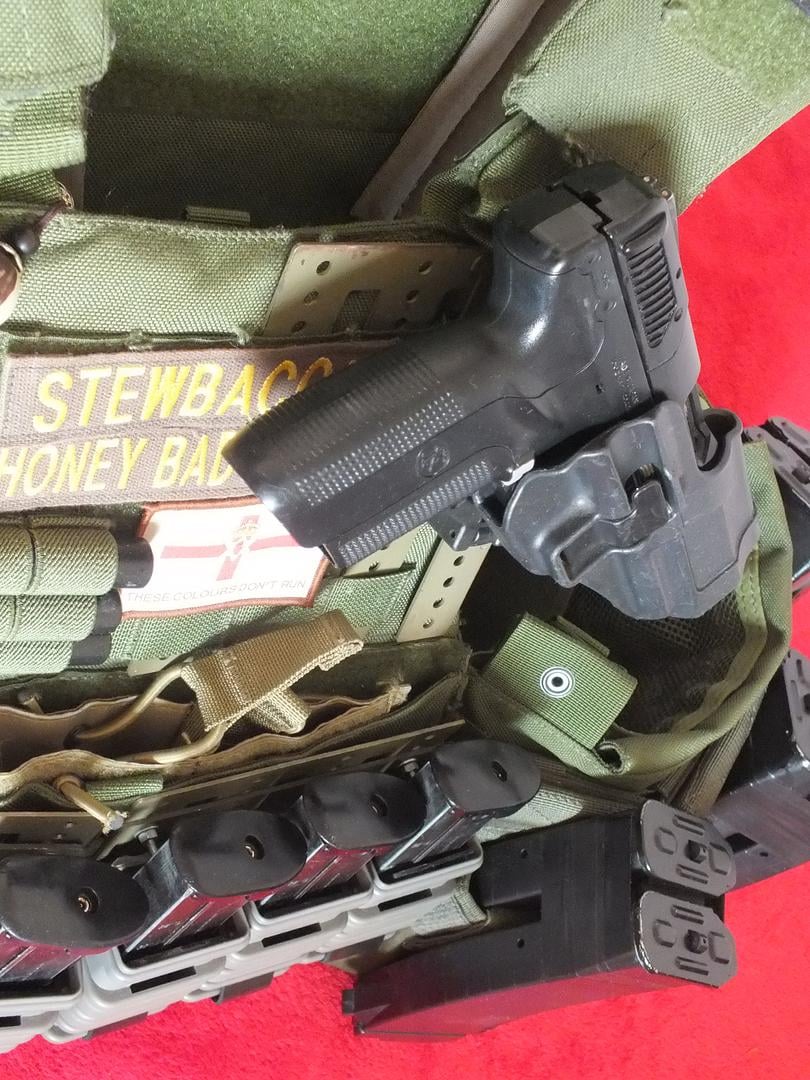 I have been using Gas Blowback Pistols in Airsoft for over a decade. I got my first Marui Glock 26 when I was still at secondary school for plinking, followed by a Marui M92F and Marui Desert Eagle.
When I joined the original NTUSAS in my second year of university I carried those three into the field and soon bought twin KWA Glock 19's to supplement them all... you know... just in case.
I was frustrated at the time by continual degassing in cold weather, dropping pistols or mags due to a variety of holsters and mag pouches, but I persevered and learnt a hell of a lot in short order about what does and does not work for me and others in general.
A few years down the line around the time of graduation I bought a Glock 18C and also repaired another a teammate had given me to play around with. At the same time I started looking for a more fluid and less annoying failure of a holstering system, having filled my Desert Eagle with mud while using a Tactical Tornado Thigh Holster, and dropping my M92F and Glock 19's out of their fabric holsters or having to mess about reclosing clasps or generally not enjoying having to deal with pistols and their related annoyances.
Enter the Blackhawk SERPA System. I splashed out on a Glock 17/18C/19 Level 1 Passive retention holster, and that, my friends, is the day I stopped buying anything else. Since then I've had a KWA USP Compact with a Level 2 SERPA, two different M92F's both with level 2 SERPAs, 4 different Marui Five-seveN pistols with both left and right handed Level 2 SERPAs for dual wielding fun times, as well as two P99 level 2 SERPA holsters for my NBB and GBB rigs.
They. Just. Work. End of story.
I can't recommend them enough to everyone I see on the field, I've never lost control of a pistol since investing in them, even dragging myself through hedges and undergrowth, I stopped using lanyards because I found they were no longer needed, my drawing and re-holstering have become a joy rather than a chore, and the level 2 release buttons conveniently index your finger to the trigger guard as you draw. It's rapid, fluid, repeatable, and comfortable and just makes you look and feel, quite frankly, bad ass.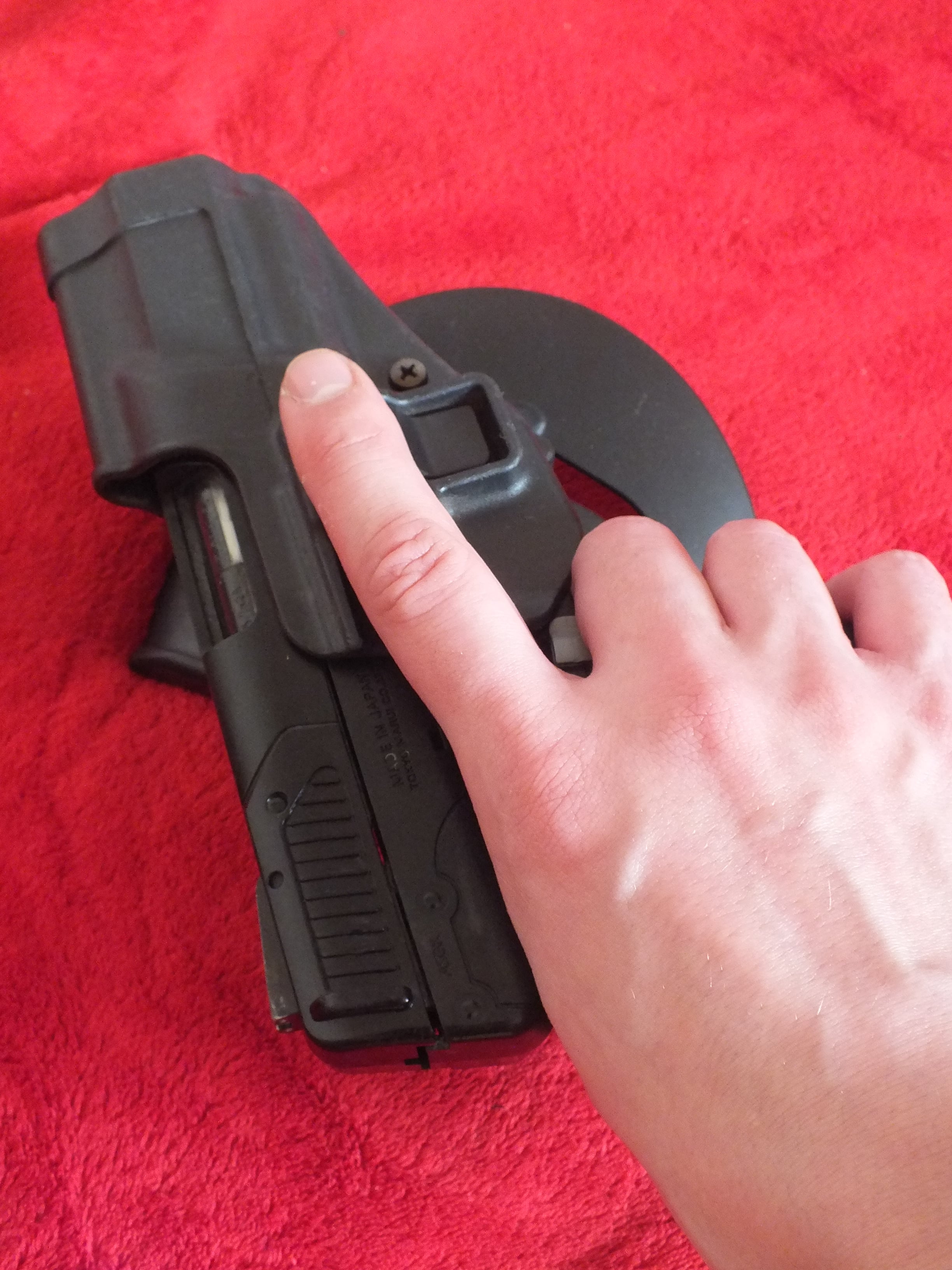 They automatically retain your pistol upon re-holstering without the need for reattaching button snaps or rolling over retainer straps as with Safariland or similar holsters. They work upside down, in enclosed spaces, at awkward angles; I've even drawn a pistol with the opposite hand and fired it with my little finger in one extreme case.
Not only are they just superb at what they do, they have a wide range of accessories. Despite moving away from thigh mounted holsters and accessories in general I have used the SERPA Thigh rig occasionally, as well as widely using the MOLLE compatible STRIKE mount plates which allow attachment to practically any chestrig or even PLB Belts or bags with sufficient MOLLE PALS. There are also narrow duty belt mounts, wider paddle standard belt mount, both of which I have used in various formats or loadouts.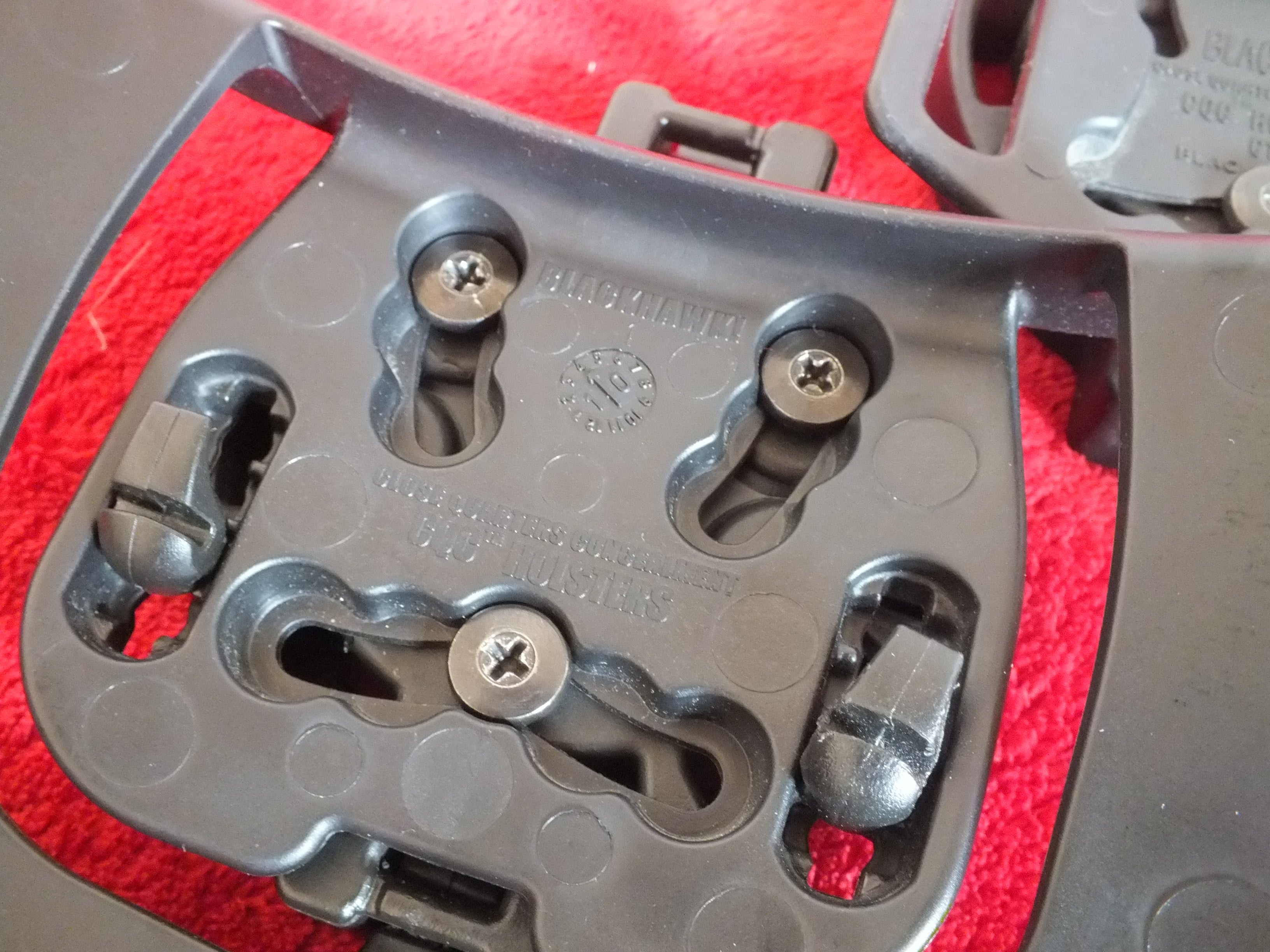 A few years back to supplement these innovations, Blackhawk released their SERPA QD system - to augment their holsters and mounting options they added rotary locking Quick Detach locking mounts with a male and two female units per pack, allowing you to rapidly detach your SERPA and switch it to a different rig with another female mount point.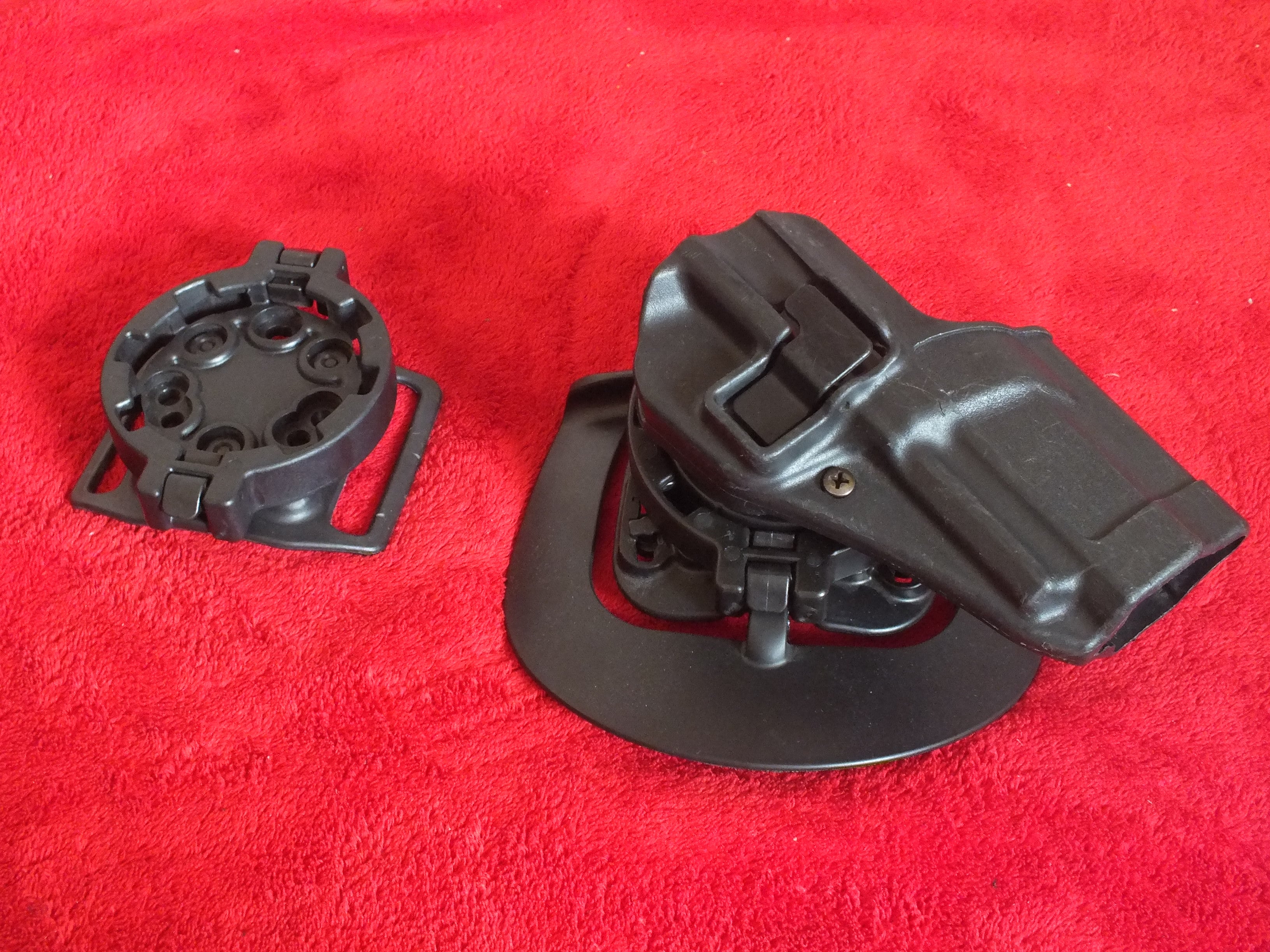 Whilst these do cost about the same as a holster unit itself, believe me it is worth it. I bought 4 of them. 8 females and 4 males, to fit my P99, M92F and dual wielded Five seveNs. The ability to rapidly move pistols around rigs or between different rigs, or to detach them for secure transport more readily is a convenience I cannot express strongly enough. Just worth every penny.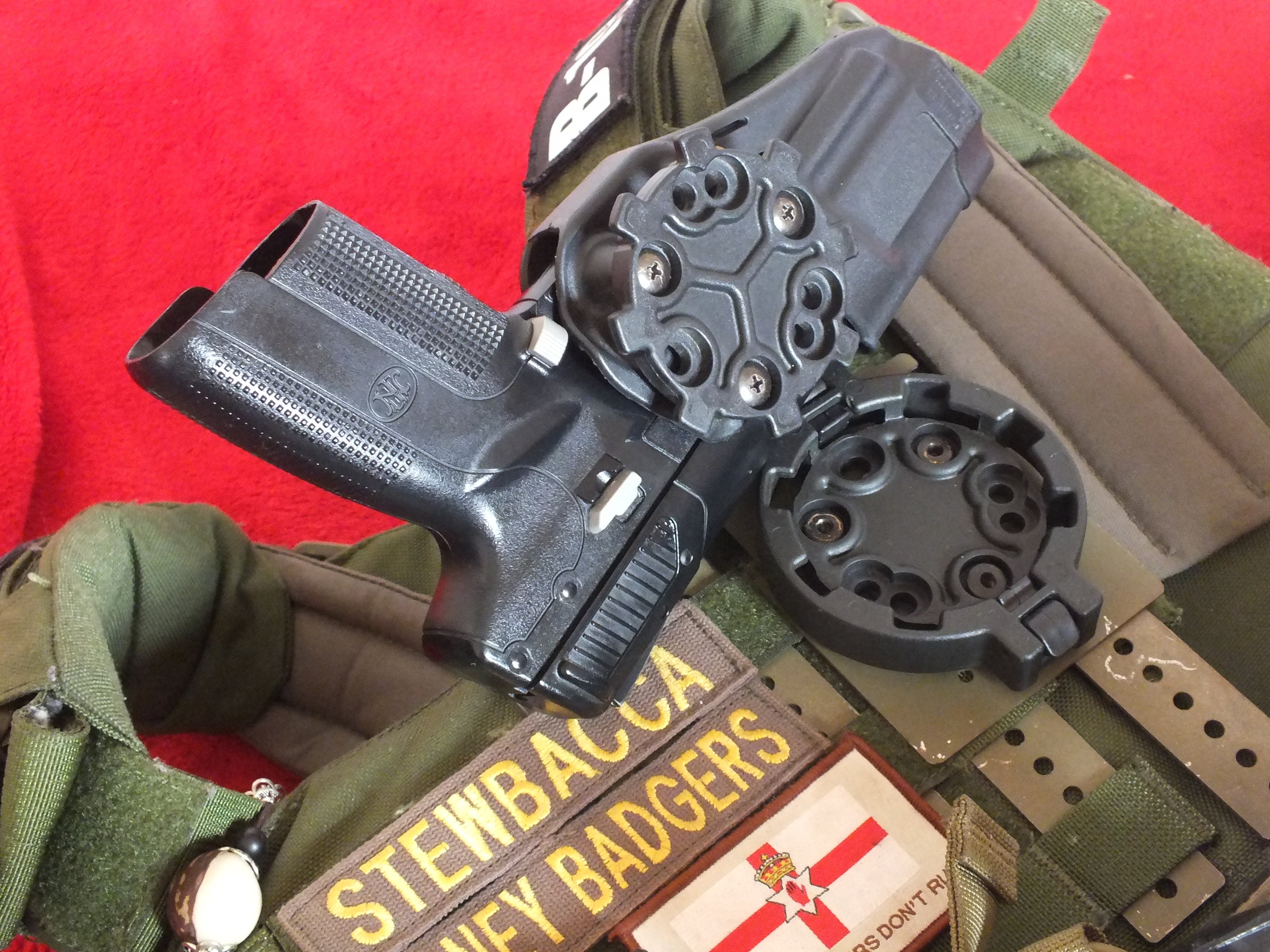 I've stuck twin narrow belt QD points on my Flyye's EDC Hydration Pack to allow both Five-seveNs to be dual wielded on cross draw, I put two points on a PLB Belt to allow dual wielding on straight draw, put them on MOLLE STRIKE plates on my chest rigs, and even made my own mounts to cantilever them off my latest plate carriers as well as making a custom impact grenade and torch holster plate to mount to them.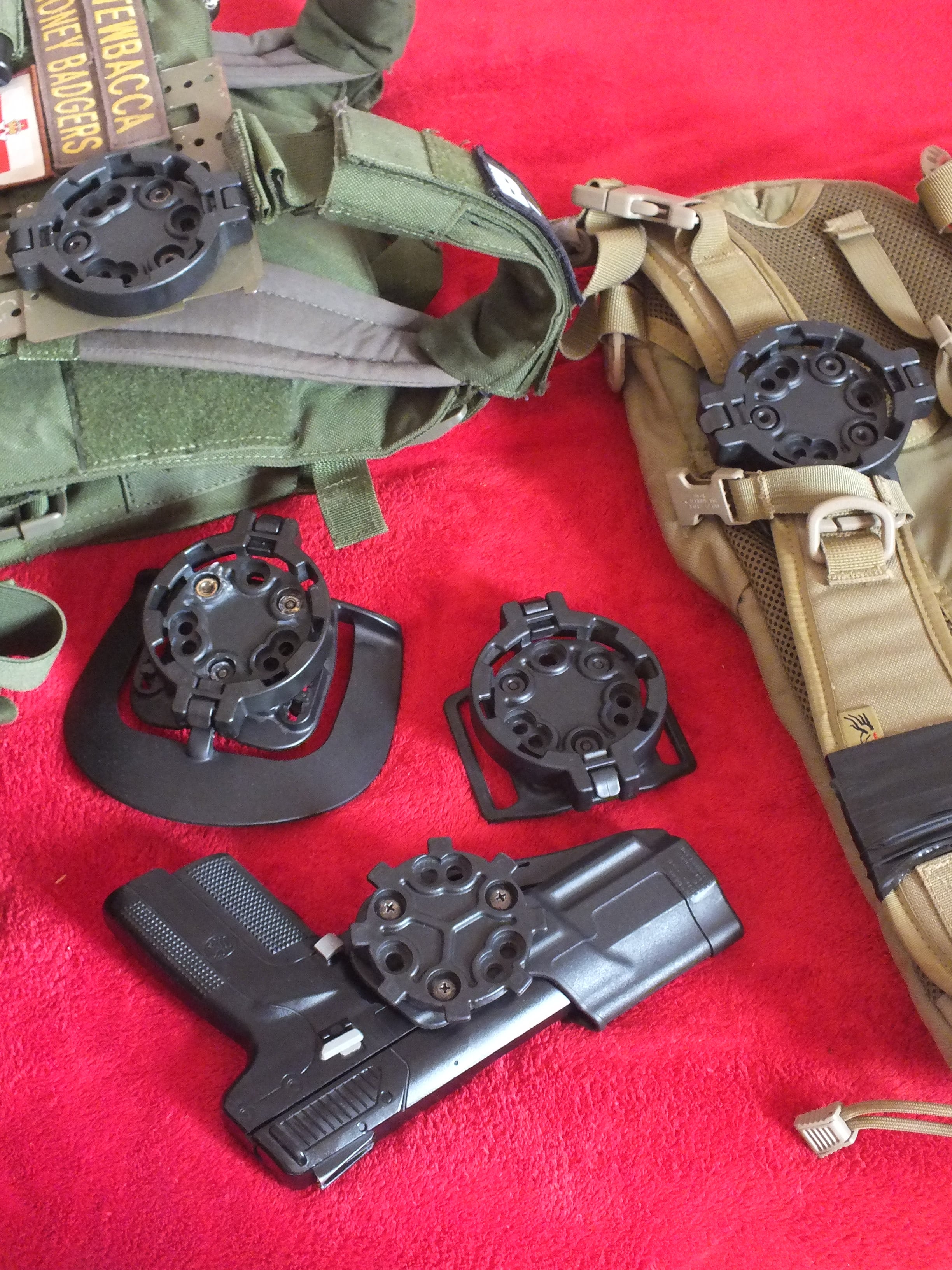 They're just versatile, durable, convenient and in my experience, flawless.
Except for one minor point. No torches or attachments.
Because of the way the retention system works the individual holsters are all moulded to a specific gun type (meaning you have to buy the appropriate left and/or right handed version of each holster to suit each individual pistol frame pattern as well) but it also means you can't have anything obstructing the trigger guard from the locking mechanism; so no torches or lasers can be mounted to the under-barrel rails you may have, and you can't obstruct the top front of the slide due to the wraparound nature of the holster's front body. This is really the only downside I can see. Some teammates have invested in similar IWI holsters direct from Israel which seem to use the same button release but do allow torches to be mounted.
Others have invested in Warrior Assault Systems fabric based thumb drive universal holsters, which also grip the trigger guard but allow torches or attachments to be used, as well as fitting different pistol frame types without the need for adjustment.
Beside this minor drawback I really wouldn't buy anything else, I like the idea of the WAS universal holster however I personally prefer the trigger finger release for its fluidity and indexing of the finger, rather than a more cumbersome thumb drive release which interrupts your grip as you move to draw then activate the release then have to shift your grip again.