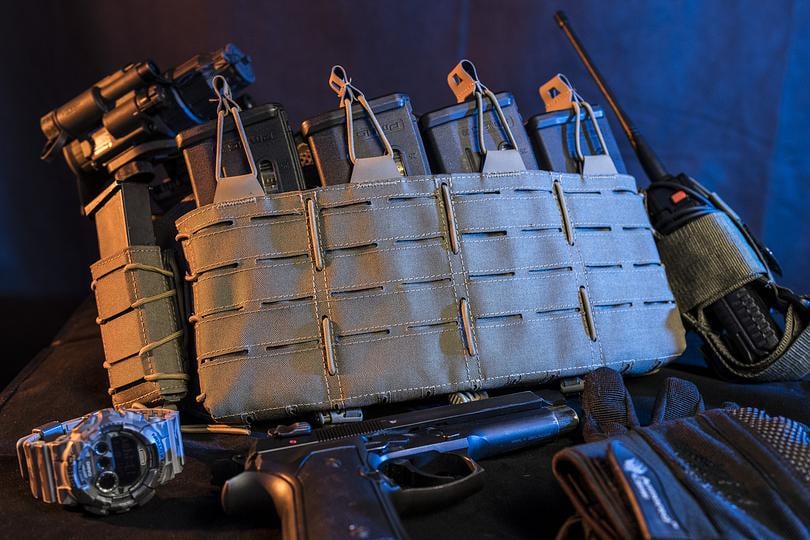 So I came across this rig because of my brother from another Polish mother, Piotr from TacticalTwo, is always showing me the latest in Polish gear like some form of gear guru/vice encourager. My bank account suffers enough already. One fateful click on a link he sent, and I had a look at the Direct Action website, product guide and realised one thing: I needed to get my hands on some of their gear.
So, with the internet at my fingertips, I set about ordering some of this, rather pricey, kit. Let's get to it and undress this product for all to see!
What's in the box?
Amazing packaging. The product in a clear plastic, resealable bag, which in turn was in an absolutely cracking Direct Action box–with company logo, an image of a soldier on the front, and a target silhouette on the back–so you can actually use the boxes constructively after opening the product up and not just throwing it away!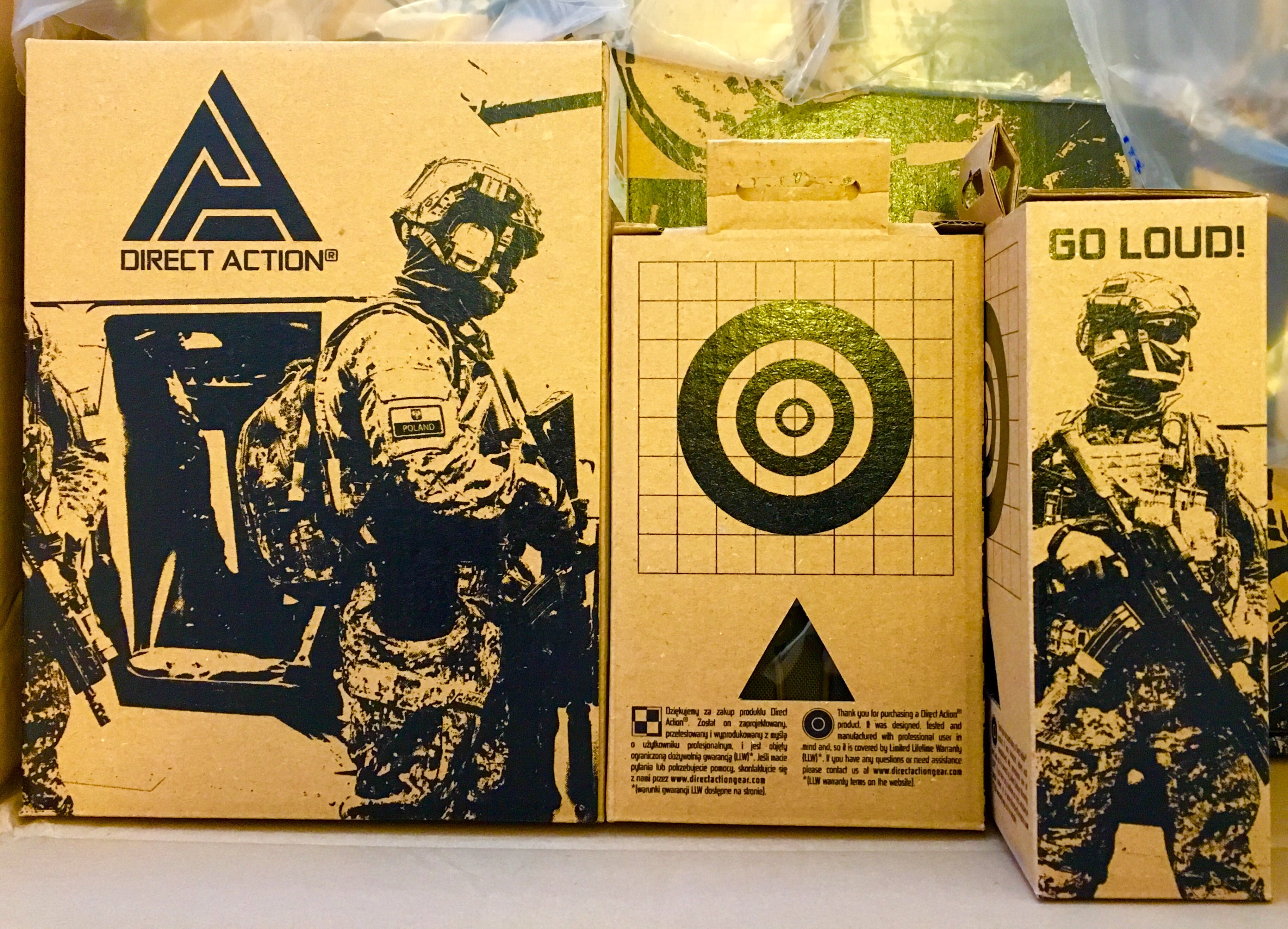 Initial reaction to product
Uber lightweight, high quality with precise workmanship on the construction of the chest rig. Very comfortable to wear and use straight away. It has become my new favourite chest rig without a shadow of a doubt. Upon first inspection of the rig, we were marvelling at all the little features it has and how much of a quality product it is.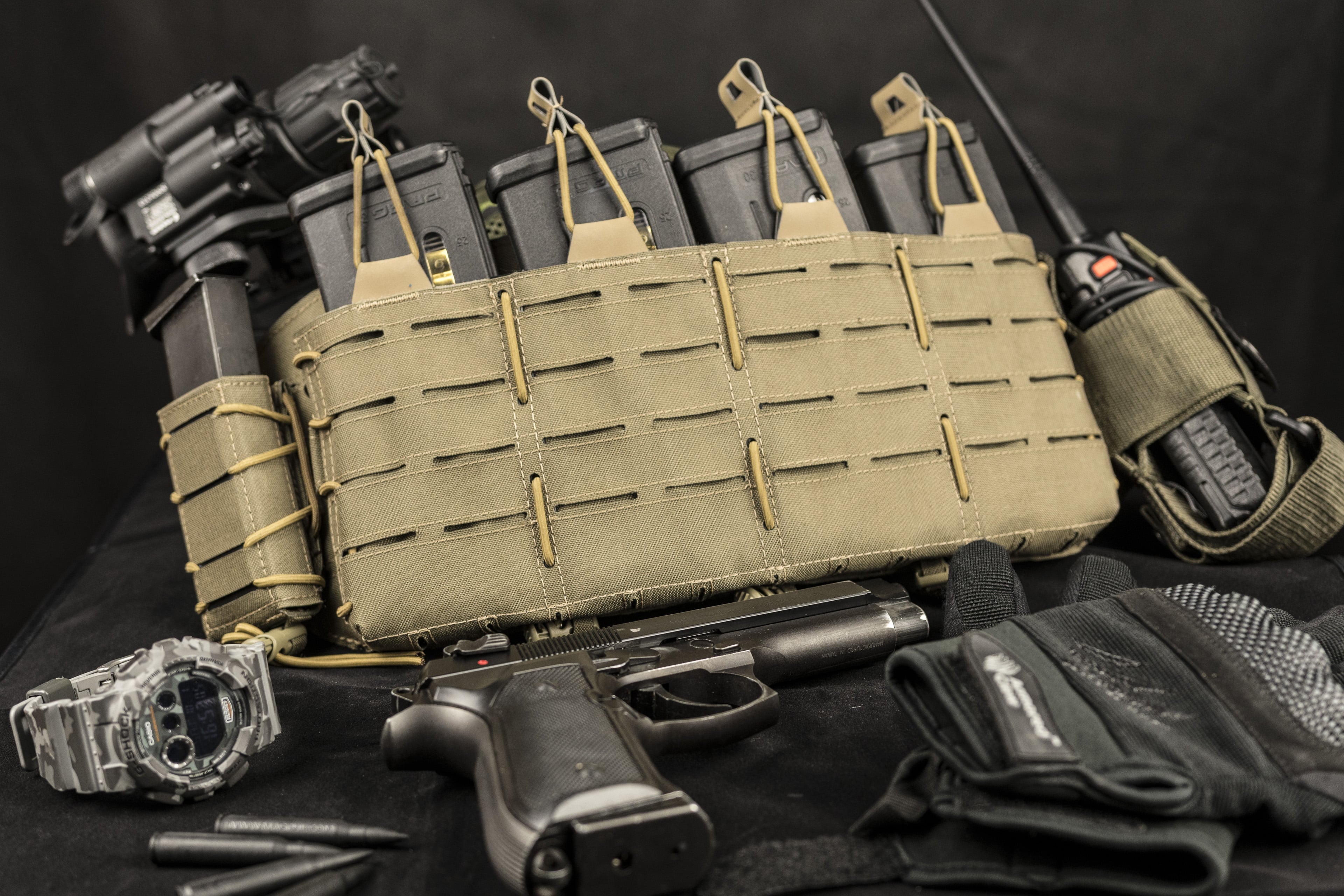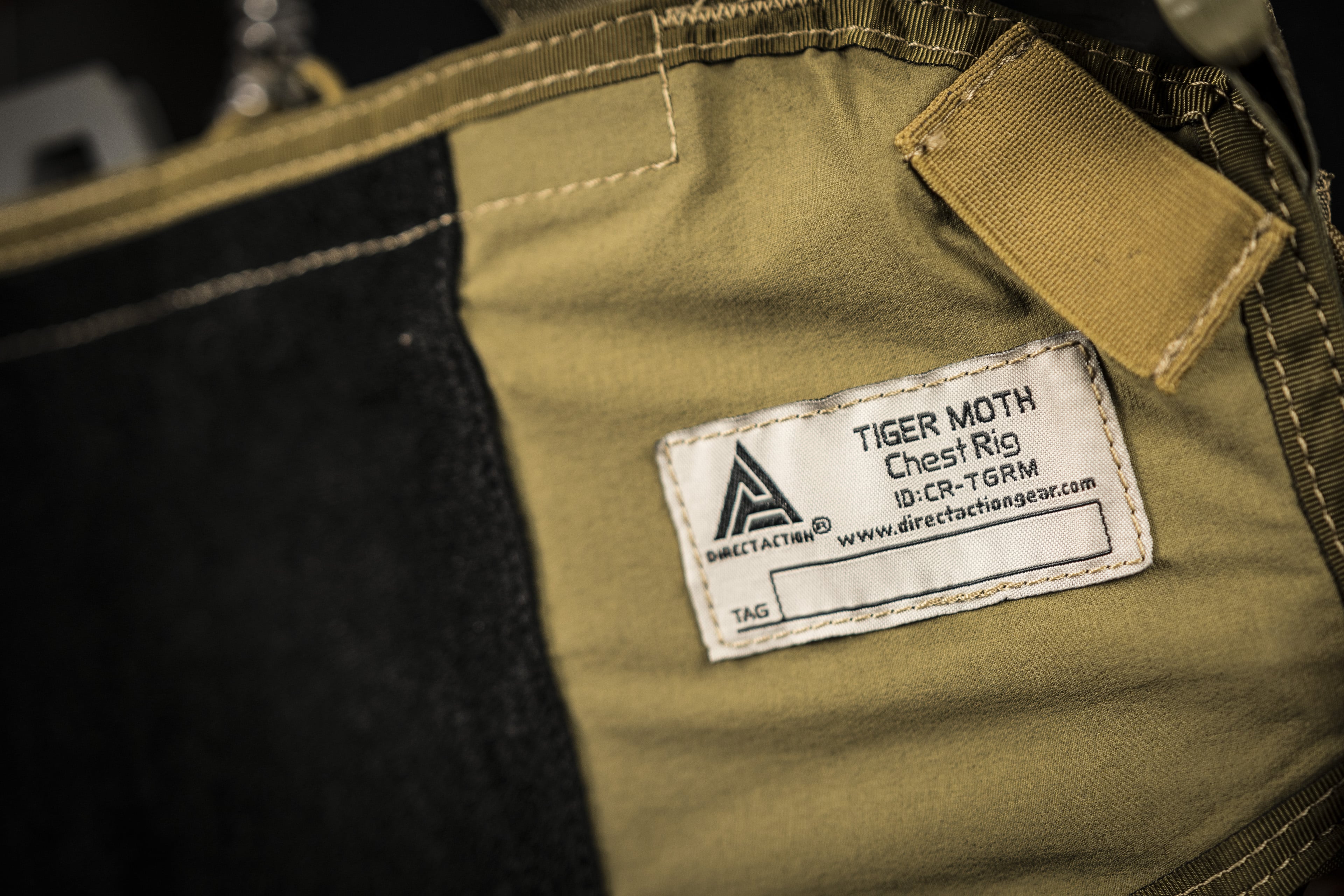 Build quality and main features
The first thing we noticed and had to comment on is the build quality. Lightweight, precise and durable. Excellent finish and handicraft. Made from laser cut Cordura 500D with a softshell construction, it's pretty damn Gucci. Now let's see what you actually get for your money.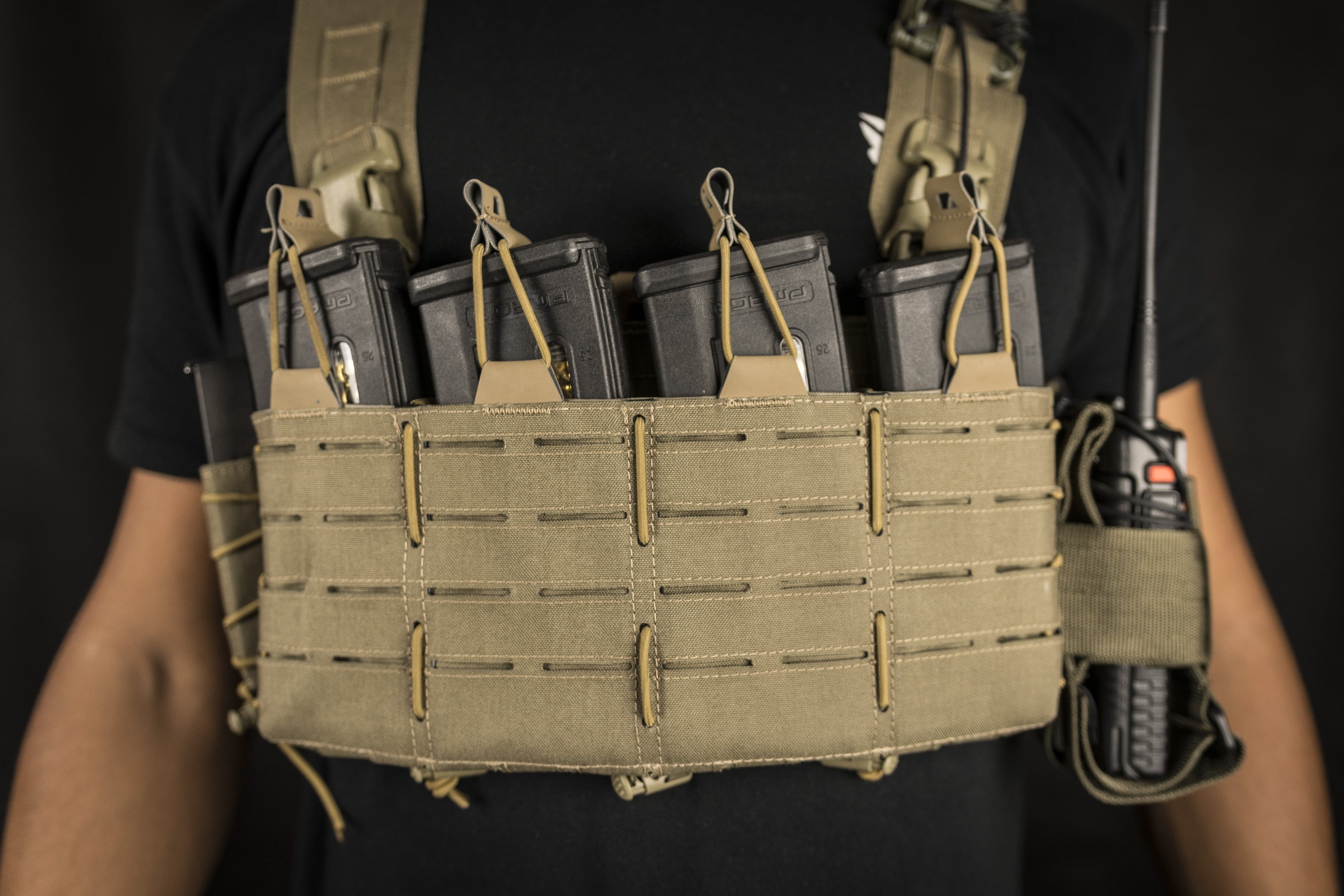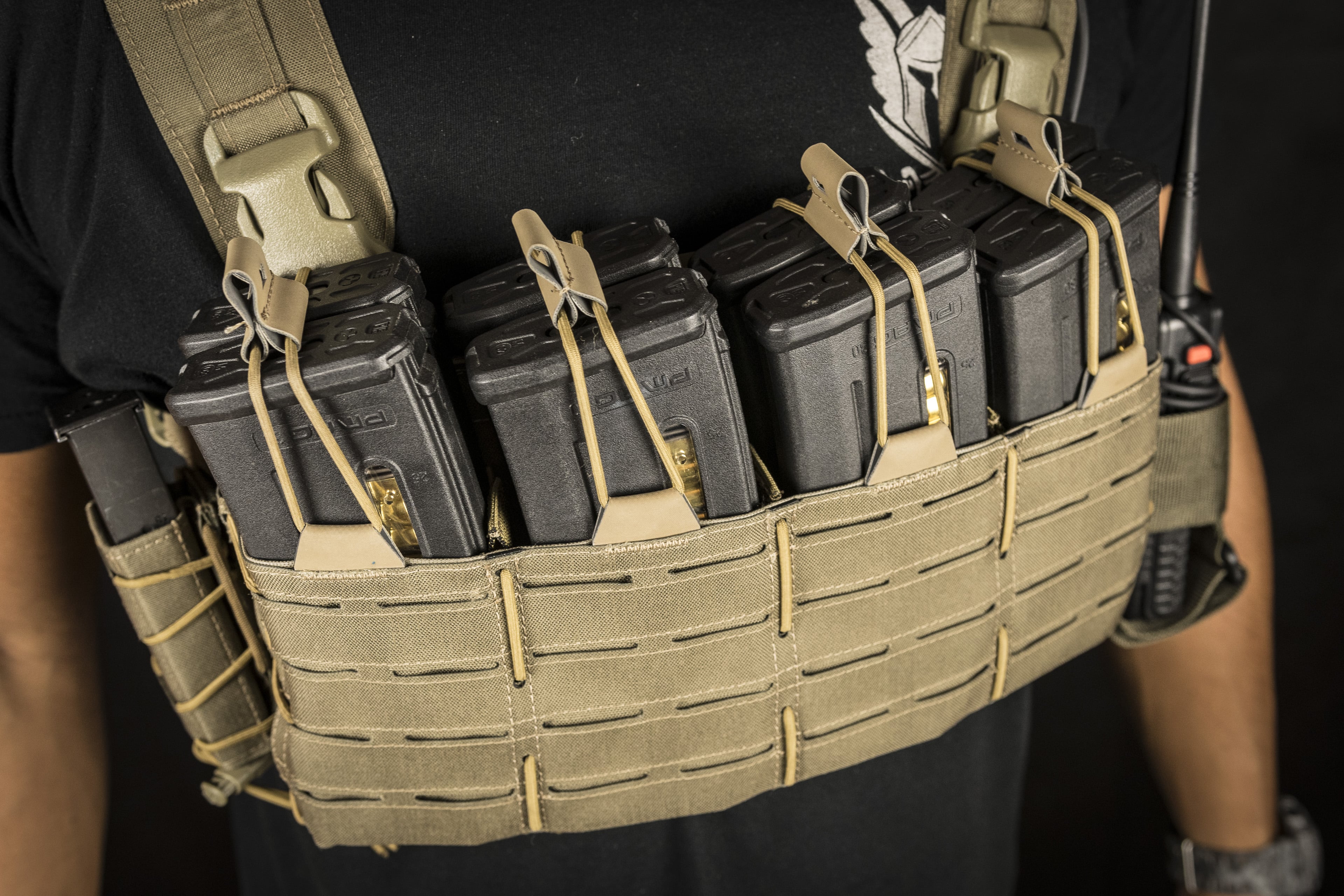 I was drawn to the 4x rifle mag pouches, pretty much immediately. One of the main reasons for purchasing this rig was for its capacity – magazine pouches can be made to be single or double mag carry ability by adjusting the bungee cords on the underside of the chest rig. Massive bonus and gives you a great choice of what you want to carry. Behind these pouches is the Velcro sealed, rubberised tab opening admin pouch. Ideal for putting a map, documents or even a key and valuables in there, keeping them safe and tight to your body.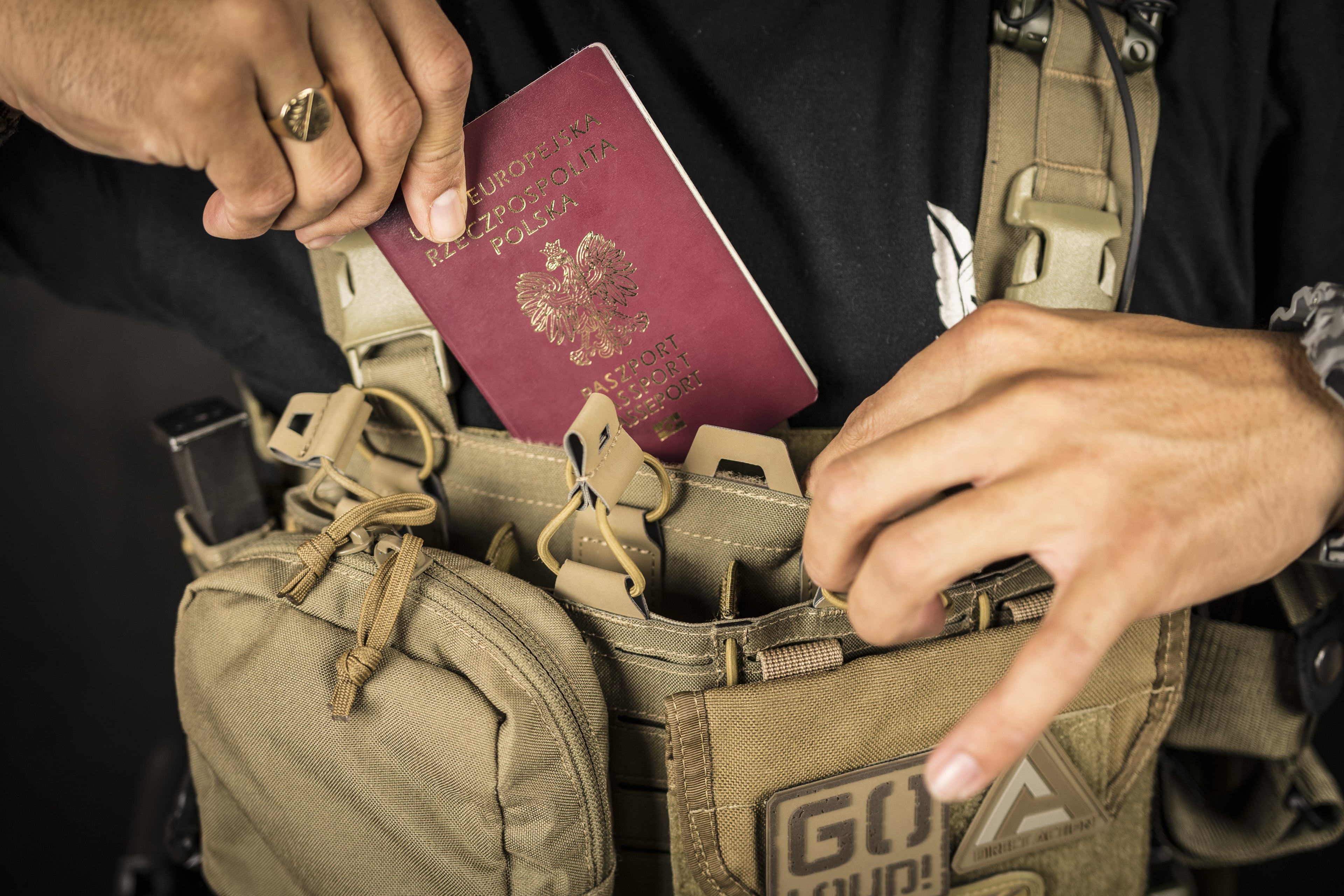 There are laser cut MOLLE loops along the front and side of the chest rig which means you can fully customise what you want to add. Be careful not to add too many pouches and make it into a heavy duty rig–the object of this rig is to keep it lightweight. The shoulder straps are easily adjustable, and the attention to detail is immense. The buckles are stitched over with material to prevent them from tapping against other plastic items you may be carrying and just another one of the little details that keeps things "tight" and makes the chest rig so great.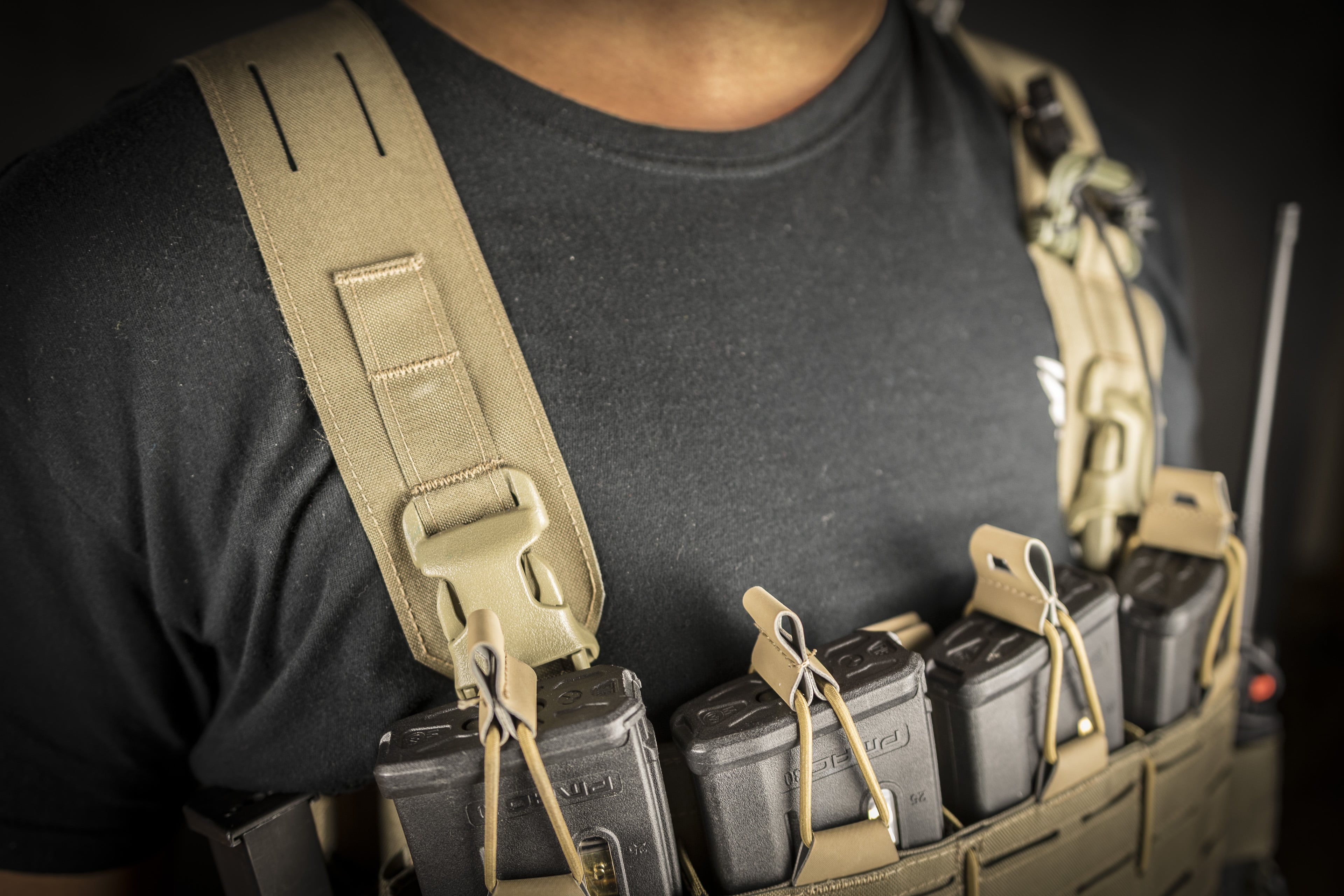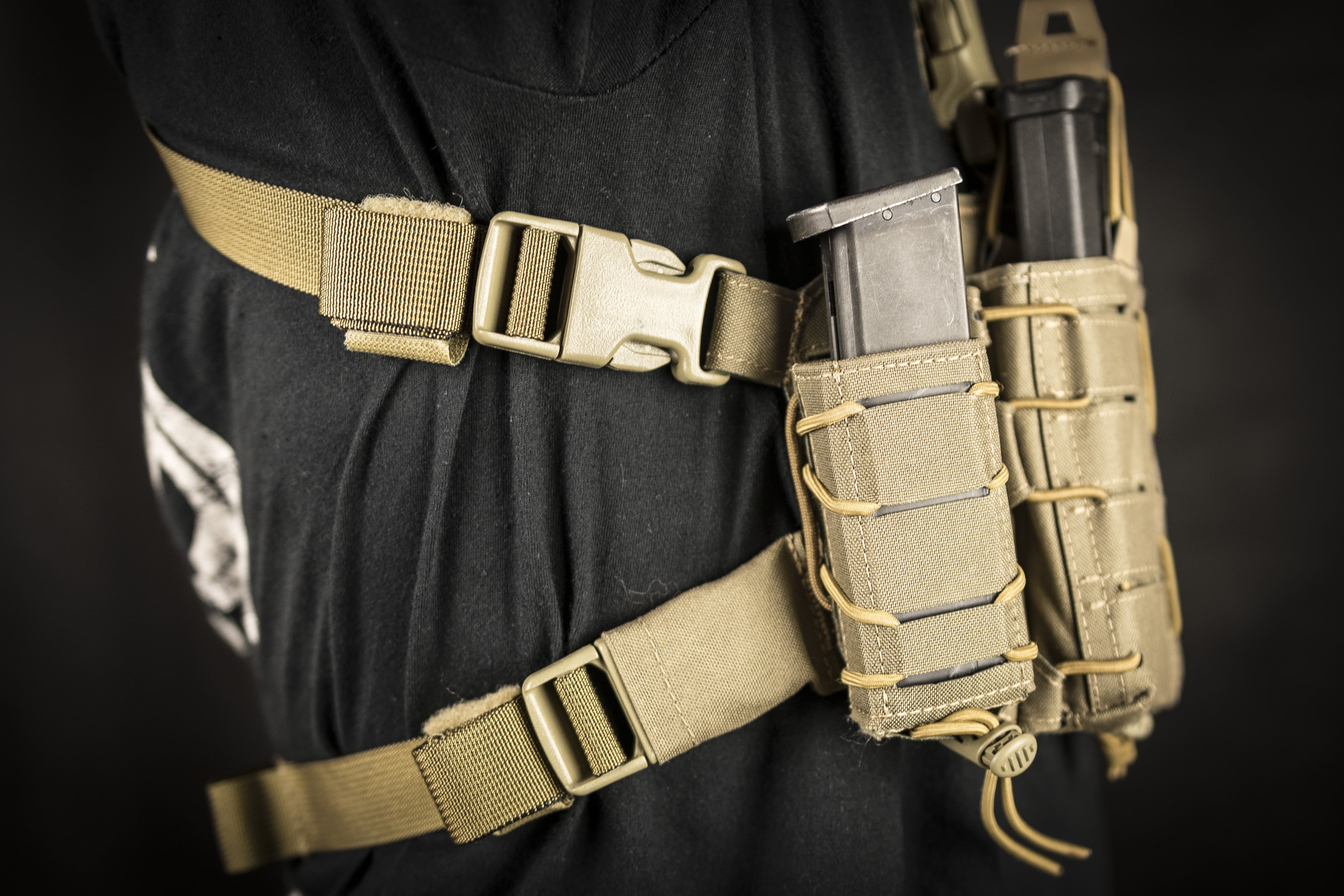 There is a high seated, H-brace that sits between your shoulder blades and holds all the straps in place and doesn't let the rig budge. There is also a row of MOLLE to enable adding a small pouch.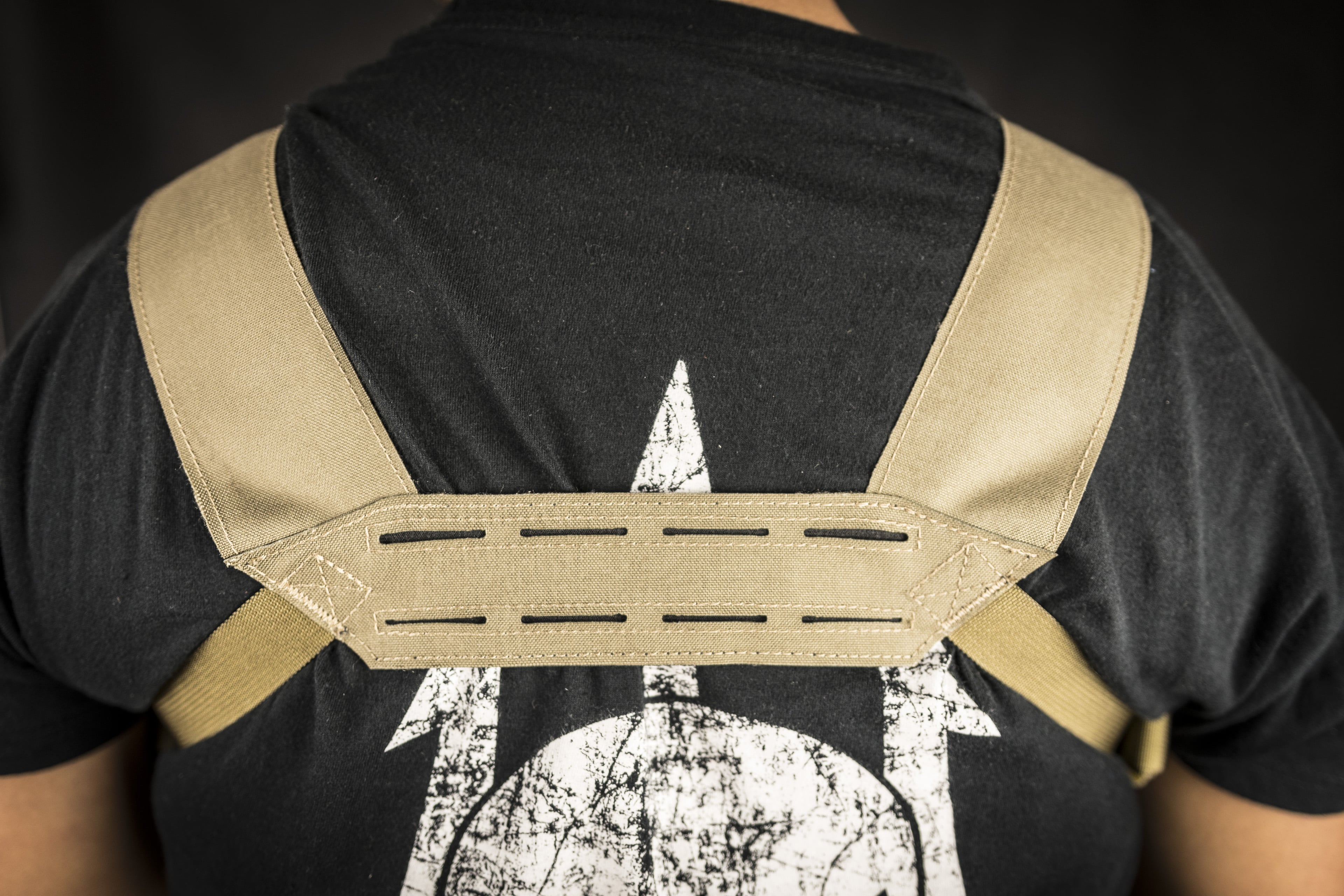 There are single MOLLE loops on either side of the mag pouches, allow you to put a single PALS pouch on the rig–in my case a single pistol mag pouch on the right (Direct Action) and a radio pouch on the left. This way I have everything I need to carry on a small, light, tough chest rig. The best thing about this rig is how it fits to your body's frame and doesn't get in the way of anything.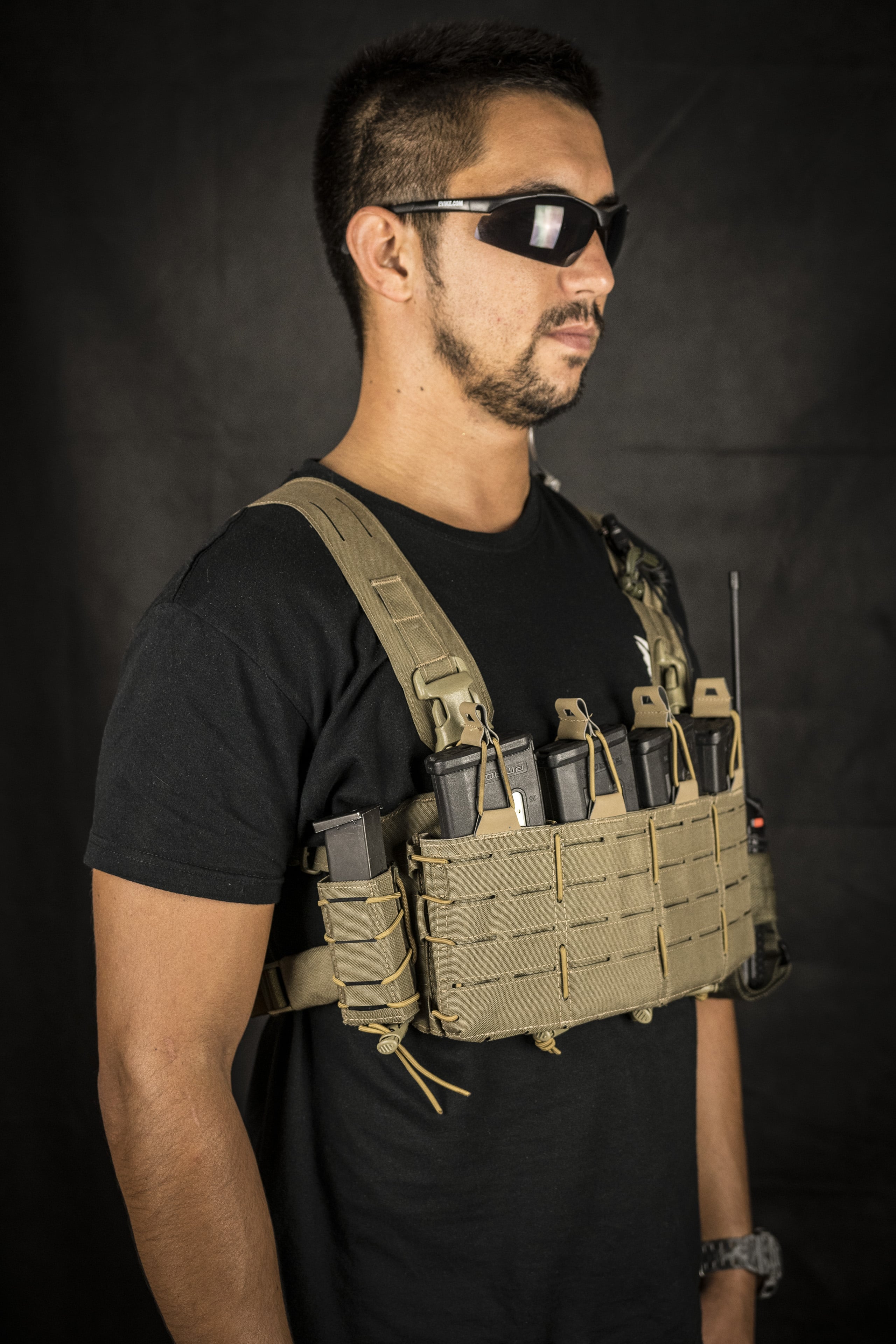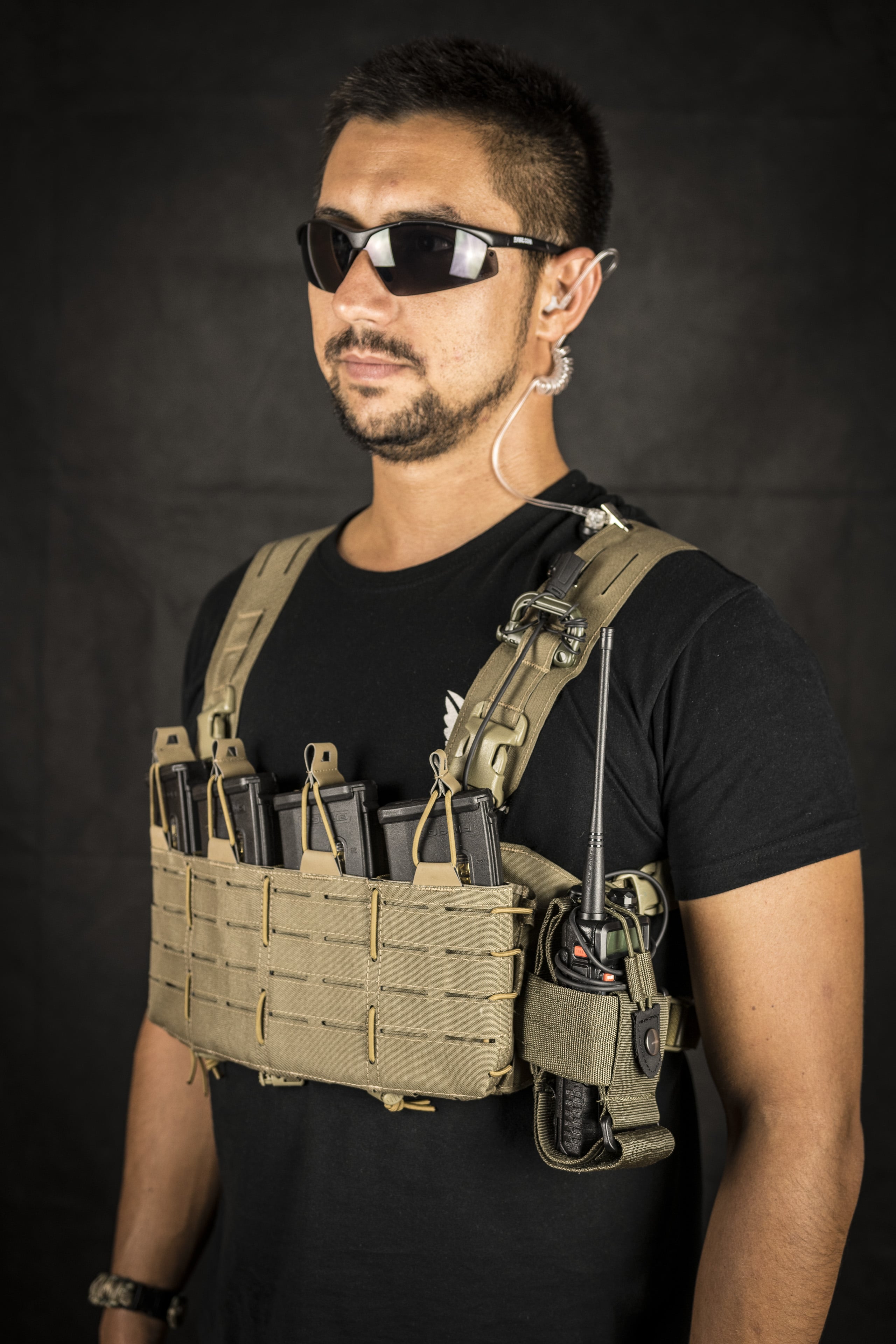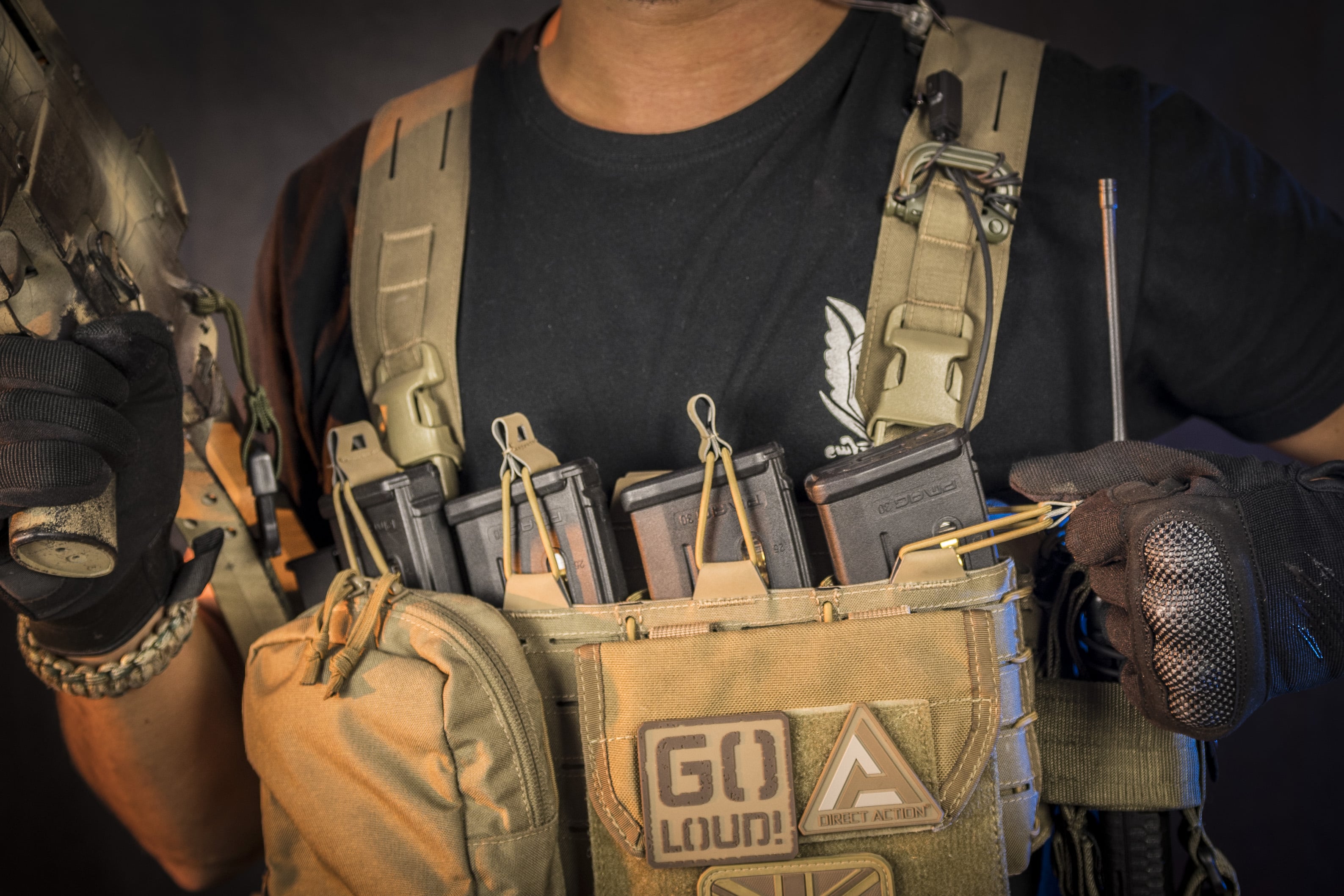 So what is great about this chest rig? I have already mentioned its lightweight, minimalistic yet varied load carrying ability, MOLLE loops everywhere for attaching extra pouches and being extremely versatile with what you want to do. The feel of this rig on the whole just gives the product a very positive and functional vibe. You can tell from just picking it up that you have an awesome piece of merchandise.
Cons
I had a hard time with this one. Not being biased or anything, but I couldn't find any major snagging points in all honesty. The only one I could really see as an inconvenience are the shoulder straps. This came from actually using the rig at one of our local sites, to test my new loadout, on a really hot day. The material for the shoulder straps is so finely cut and hard along the sides, (still perfectly wide enough for load bearing), but depending what combat shirt you are wearing under your chest rig, the straps can rub on your shoulders. Perhaps because it is brand new it hasn't been broken in yet, or I hadn't adjusted it quite right, but either way I have bought some shoulder pads to go with it. Tests to follow.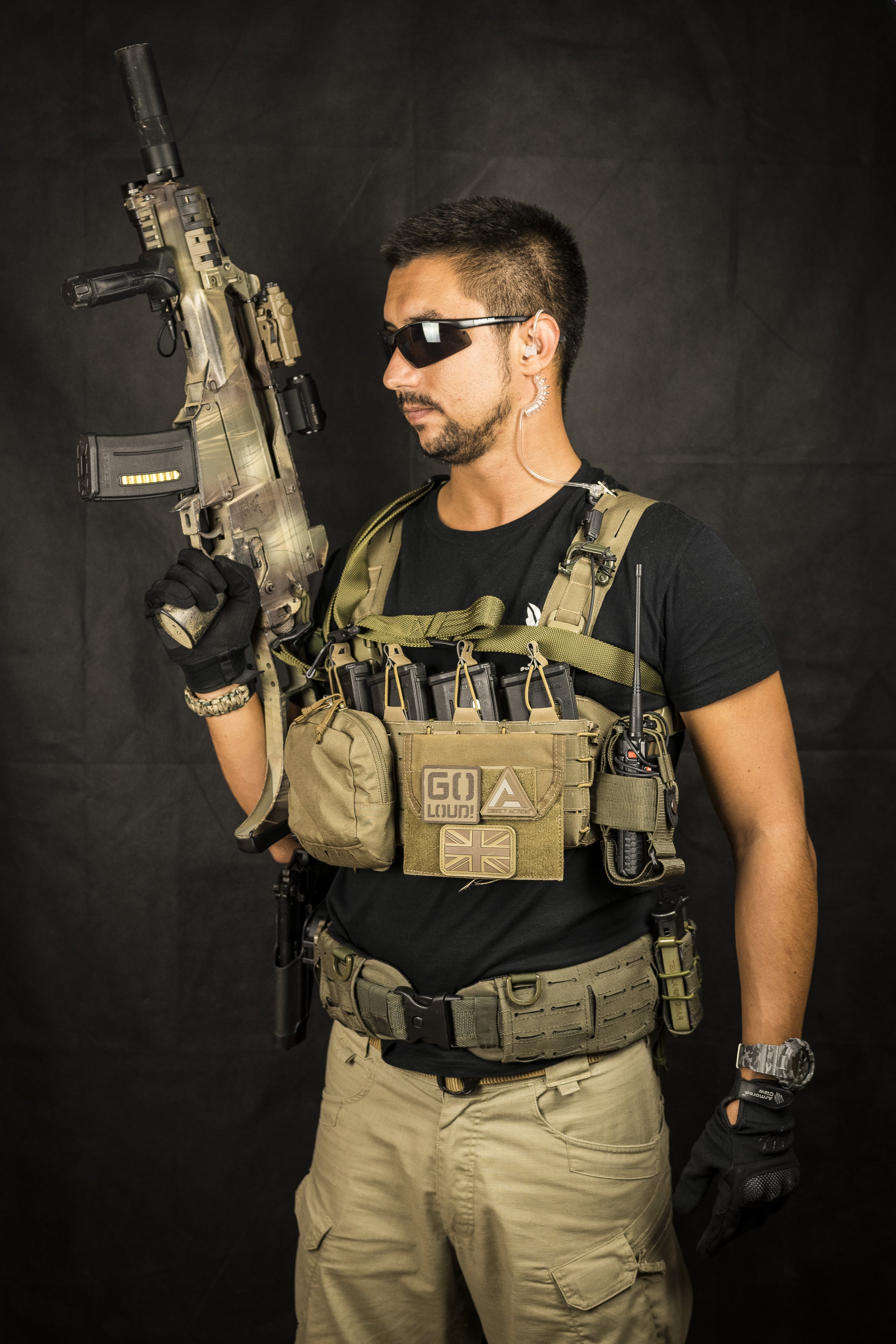 In terms of radio cable and camelback tube management, you are provided with a few straps and loops on the shoulder harness, these are a bit on small side and getting radio connectors through or camelback tube is not easy. I attached a couple D-rings and had to tidy up my cables manually and was therefore left a bit wanting. It would be good to have a few bigger loops and a couple more of them on the rig. With it being so small and light, it's actually hard to tidy your cables/tubes in place, as it is not a plate carrier that has a million and one fixing and securing options. However, there are a couple loops on the inside of the rig which do help bring cables into place. Perhaps I need to have more of a play with the cable side of things to rearrange it.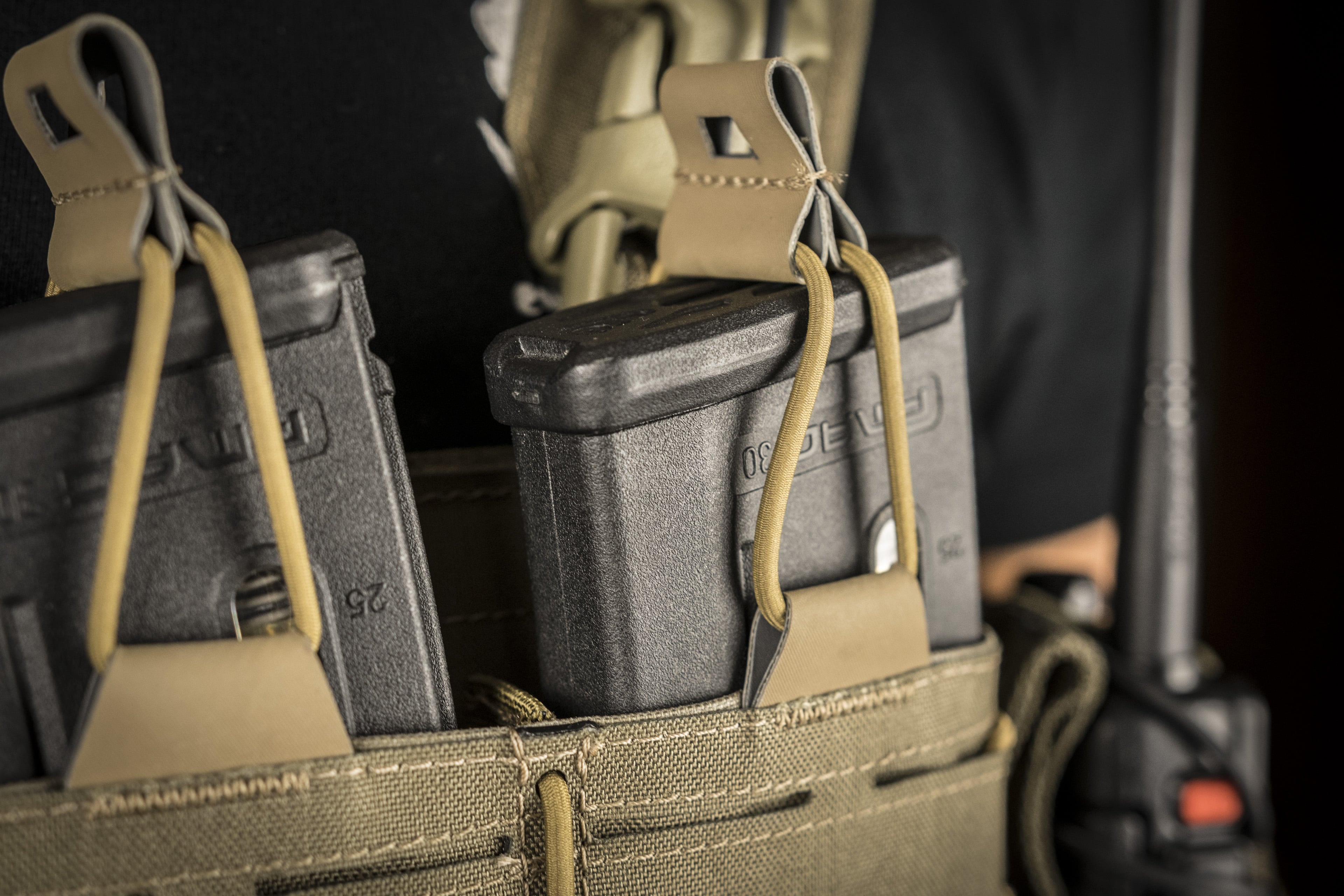 Conclusion
The lightest and toughest chest rig I have ever owned. Excellent if you are wanting to tone down the equipment you carry. Just make sure you keep it lightweight. Very usable, practical and a serious bit of kit. Ideal for contractor/PMC loadouts for airsoft days or if you plan on getting in and out of vehicles a lot. I think in the airsoft world, this is a product for people who have been airsofters for a while and are really looking to level up on their equipment quality–this gear is used for real operators, in real combat situations–not just at your local airsoft site. That's why the build quality is top notch – it is built to last. So yeah, it's not on the cheap side of things, but definitely worth the money as far as I can tell! You can get it from the Direct Action website for €174.90 including VAT. Get some!