Flyye EDC Bucket Bag is a fairly unusual but very useful individual MOLLE pouch I felt was worth mentioning; I got one in Khaki from Royal Tiger Gear in Hong Kong some years back and have found it very useful for sticking on the back of my MOLLE belt rigs or occasionally on the side of my Flyye EDC Backpack for those 'Tactical Shopping' outings – it's the perfect size for a large bottle of something, or other odd/ long objects you want to carry securely.
Particularly of use to the Airsoft community is the fact it is perfectly sized to securely carry two standard bottles of compressed blowback gun gas; at one point I took to mounting it upside down on my EDC Hydration Pack to allow for easy self-deployment and re-stowing of a can of gas from my back during longer games where I might run my GBB pistol magazines dry, however I've also used it on the rear or side of my MOLLE Belts in the normal upright configuration with similarly utilitarian results.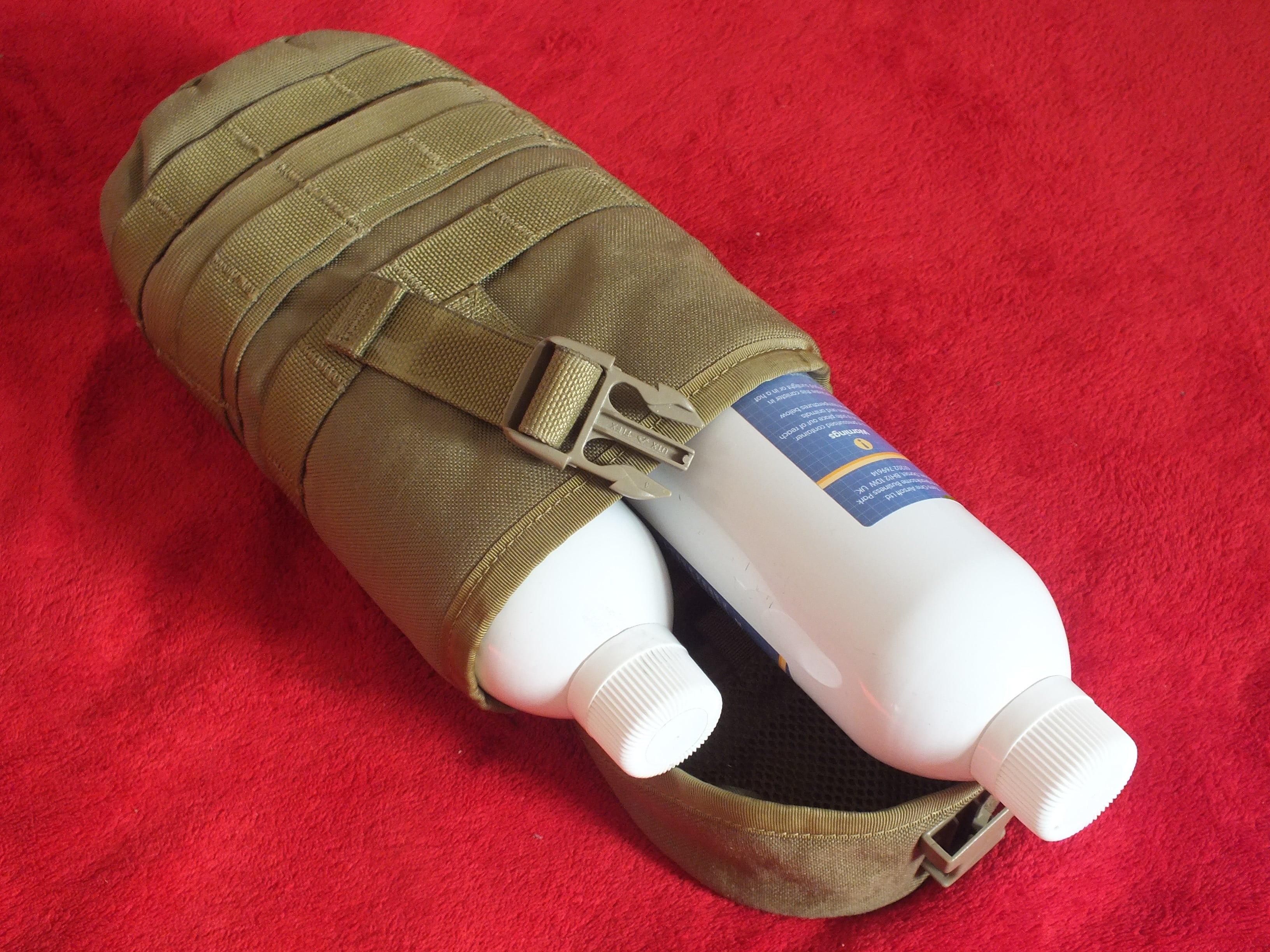 It is of typically sturdy Cordura construction with twin MOLLE straps and a single row of retainer/weave MOLLE loops on its rear for securing to a suitable belt, pack or other platform, and has a lid flap which shrouds over the top of the compartment and secures the contents by means of a single QD buckle with adjustable securing strap, allowing for some reasonably cumbersome objects to be secured given the adjustment range.
The Top of each MOLLE strap also features a plastic D-Ring which I've found useful for securing Tac-Link Karabiners to for various modular custom rigs or just attaching other loose items which I can't find a pouch or space for in other areas of my rigs. Besides that there are plentiful MOLLE PALS strips on the sides and around the front of the bag allowing attachment of other smaller pouches in various configurations – perhaps using the Bucket Bag as a central mount for grenade or similar pouches is ideal, similar to the Canteen Pouch featured on the back of Viet Nam era M56 webbing.