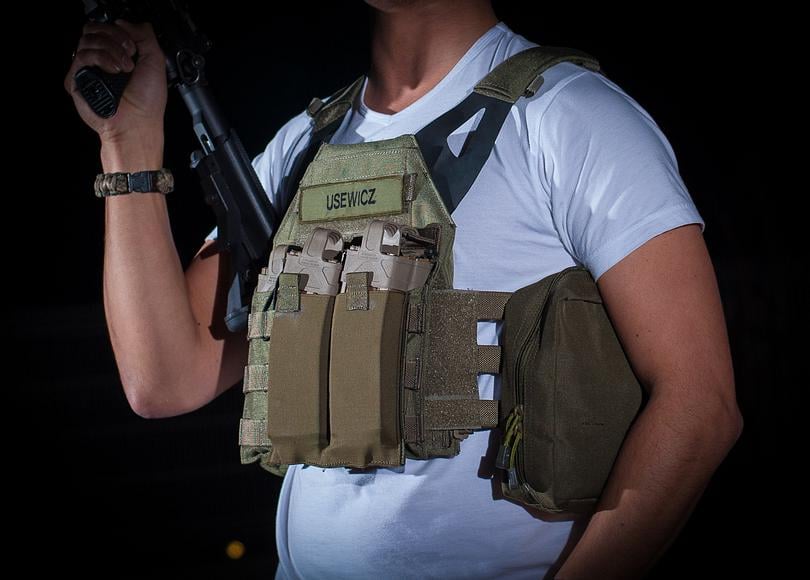 Jumpable plate carriers like Crye Precision JPC or JPC 2.0 became very popular, especially in the airsoft community. Flyye Swift is a great copy of it, and we're going to have a look at it in this review.
What's really great about these types of plate carriers is their relative light weight, minimalistic set of features and portability. They were designed to be as much out of the way as possible while providing as much value as they can.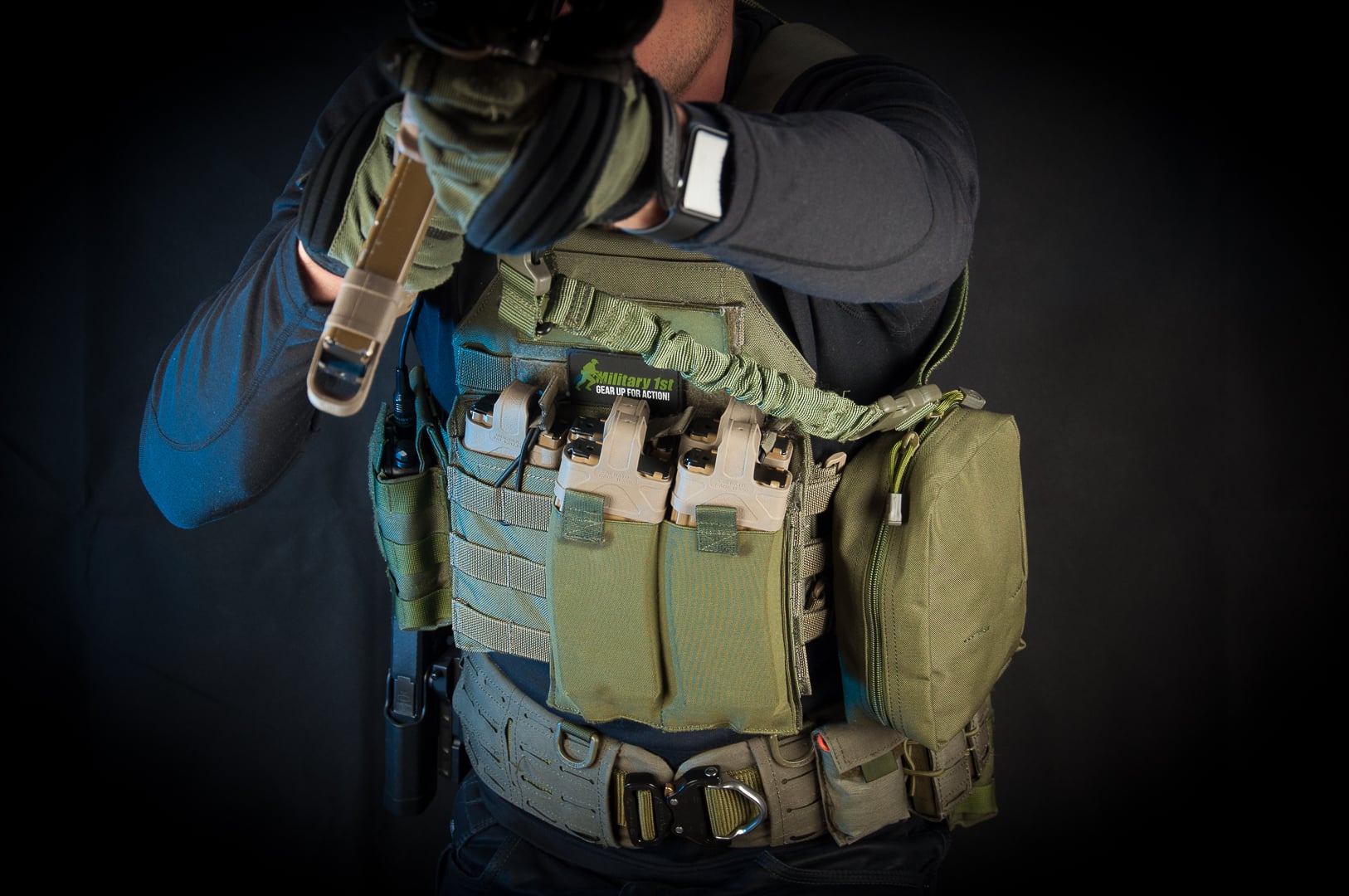 So what's the Swift about?
Flyye's product comes in 4 different sizes (from S to XL) and many colours. From black, khaki, olive drab, ranger green, coyote brown to AOR1, Crye Precision MultiCam® and A-TACS FG or AU. As most of their products it's built using Cordura 1000D nylon and accessorised with UTX Duraflex tension locks. What's really cool is that the plate carrier already comes with dummy foam plates so that saves you from actually purchasing a pair.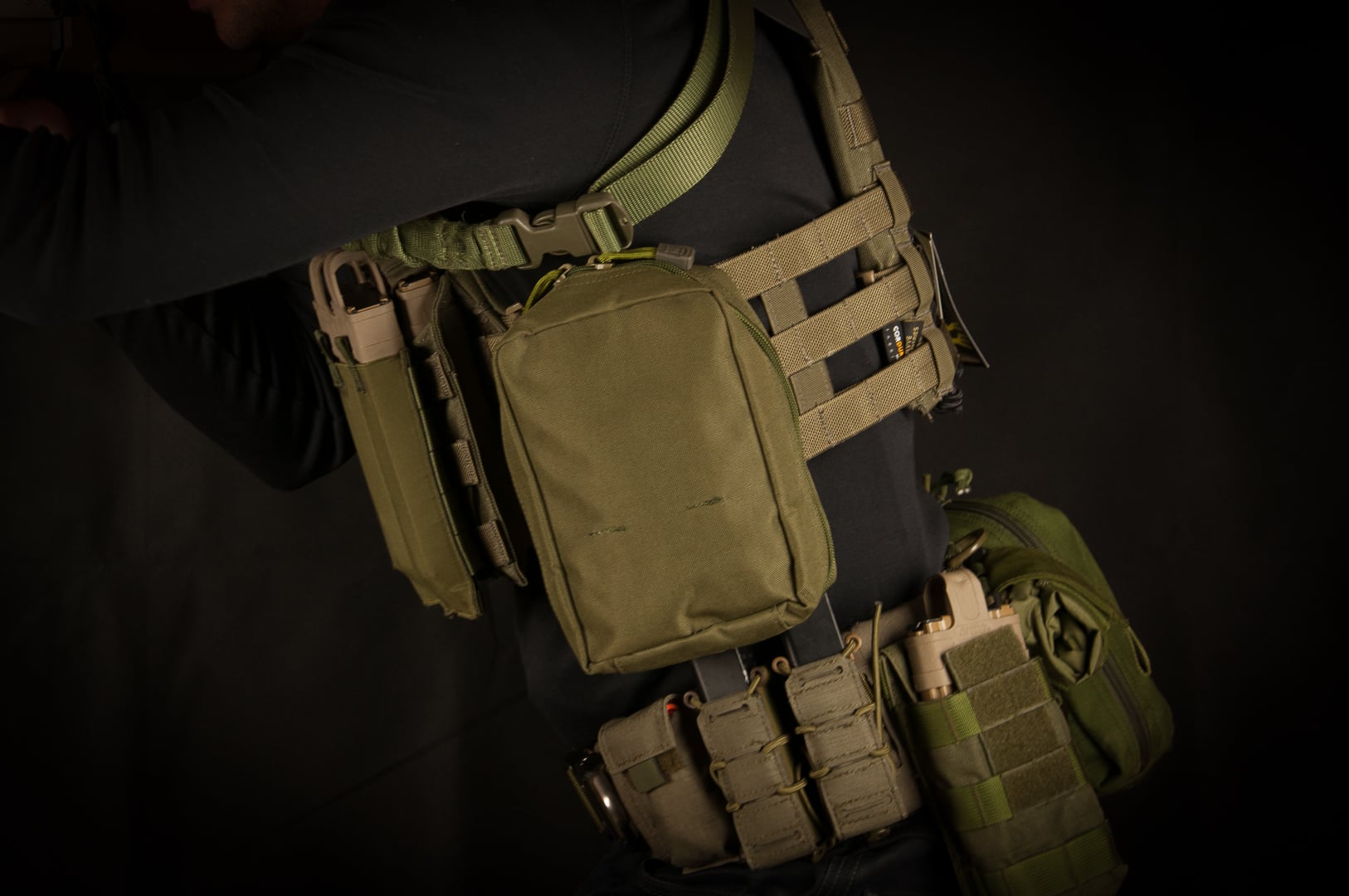 Like the original, it's got the standard build of two panels–front and back, a skeletal cummerbund and thin shoulder pads over the Hypalon shoulder straps. This synthetic rubber material is known for it's resistance to chemicals, extreme temperatures and UV light. Apart from that it's anti-slip, which helps with shouldering of the weapon.
The front panel consists of a triple kangaroo mag pouch–flap. This ensures that the plate carrier can have the lowest profile possible. The top of the panel also has Velcro area and a built-in admin pocket. The pocket is quite big, closable with hook-and-loops and features elastic straps to hold pens or similar items. The whole panel provides plenty of MOLLE webbing to attach all your favourite pouches.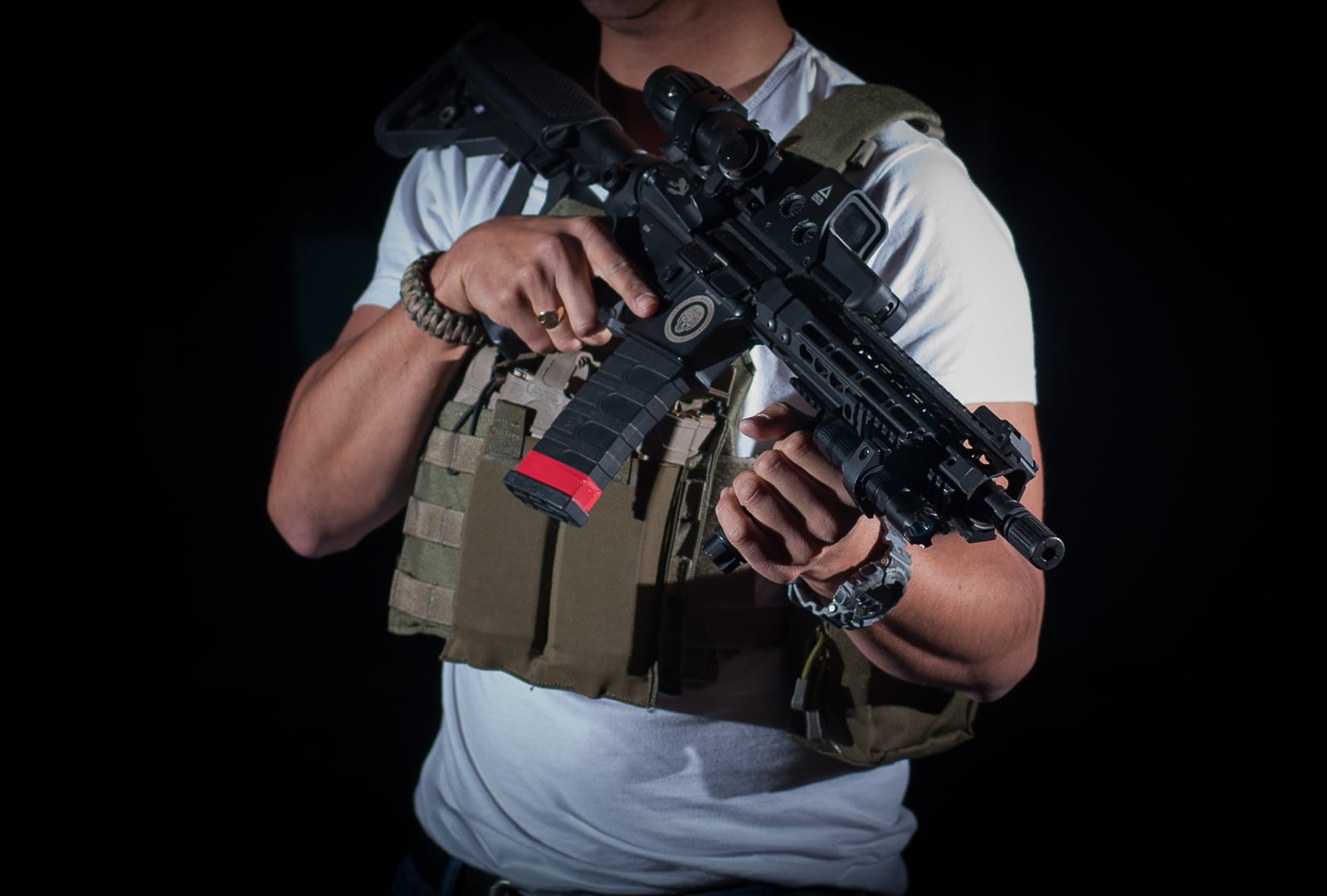 The back panel is simpler, as it only features MOLLE webbing and the cummerbund ties.
The cummerbund is light because it's skeletonized. It's basically 3 straps of reinforced MOLLE webbing. Attaching any pouches works as expected and you can't notice any movement. Attached accessories stay in place solidly.
The shoulder straps are very thin as the plate carrier is not expected to bare heavy load. Obviously nothing is stopping you to buy any after-marker padding. The shoulder pad Velcro loops allow managing of any tubes or cables which is a nice feature to have.
If the cummerbund is still too much, the included Duraflex tension locks allow the user to use even more lightweight retention system. It is possible to use only single straps of webbing to keep the plate carrier in place–think of it as of a light belt.
Wearing it
This thing is great. I've always been a fan of a LTB 6094-style of plate carriers, but I have to say that this JPC might change my mind. I think the idea of having lighter and more minimalistic plate carrier is very tempting. Wearing it even fully loaded allowed me to have much better manoeuvrability and in turn less fatigue after prolonged hours of use. Even lack of the thicker padding of the shoulder pads was not a problem as Hypalon being a rubber-like material was providing enough elasticity. One thing that I really liked about the Swift is that it comes in many sizes. Being a smaller guy, I've always found it problematic with other plate carriers that my waist area was not getting enough space, because the plate carriers would most of the time be a bit too low, reaching and covering my belly button. With Swift being able to select a smaller size was a great option and I really appreciated it. Being able to wear a size that fits your body type better can make a huge difference in the comfort aspect.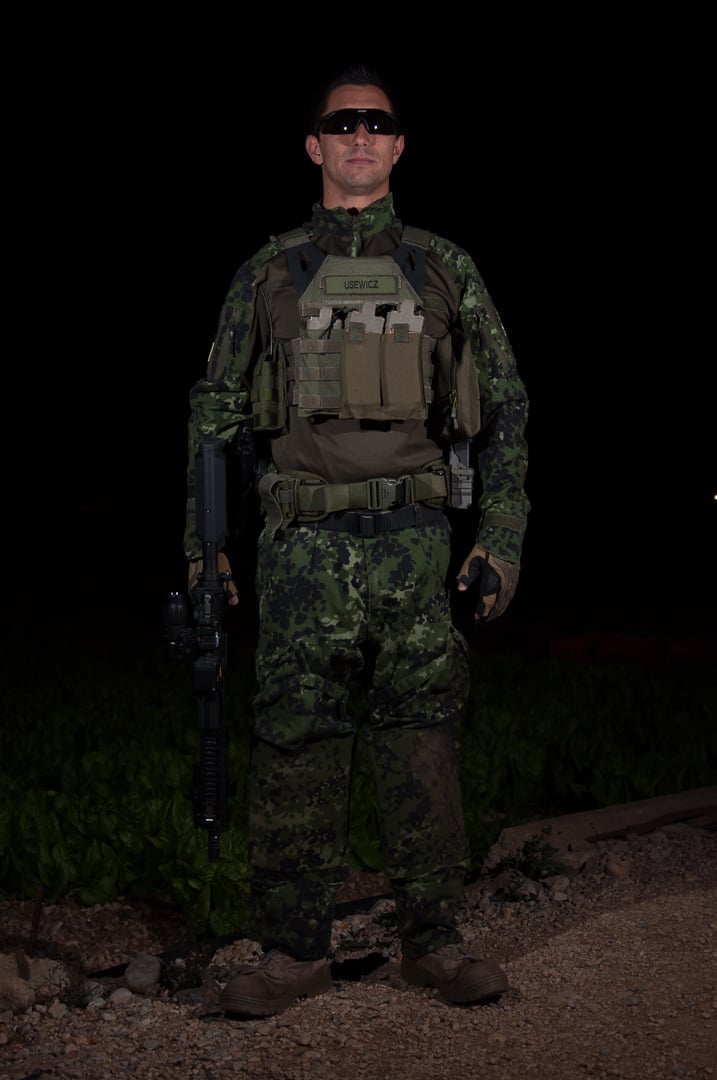 Shouldering of weapon is easy thanks to Hypalon again. It can just rest on it and the shoulder pads do not get in your way. It's a nice departure from a standard 6094-style pads.
The typical downsides of Flyee products is the webbing sizing. It's not perfect. You won't have any problems with attaching any pouches, but for me, a person paying attention to visual aesthetics, it's clearly noticeable when weaving in the attachments. Other than that, the general build quality is great and almost 1:1 compared to the original.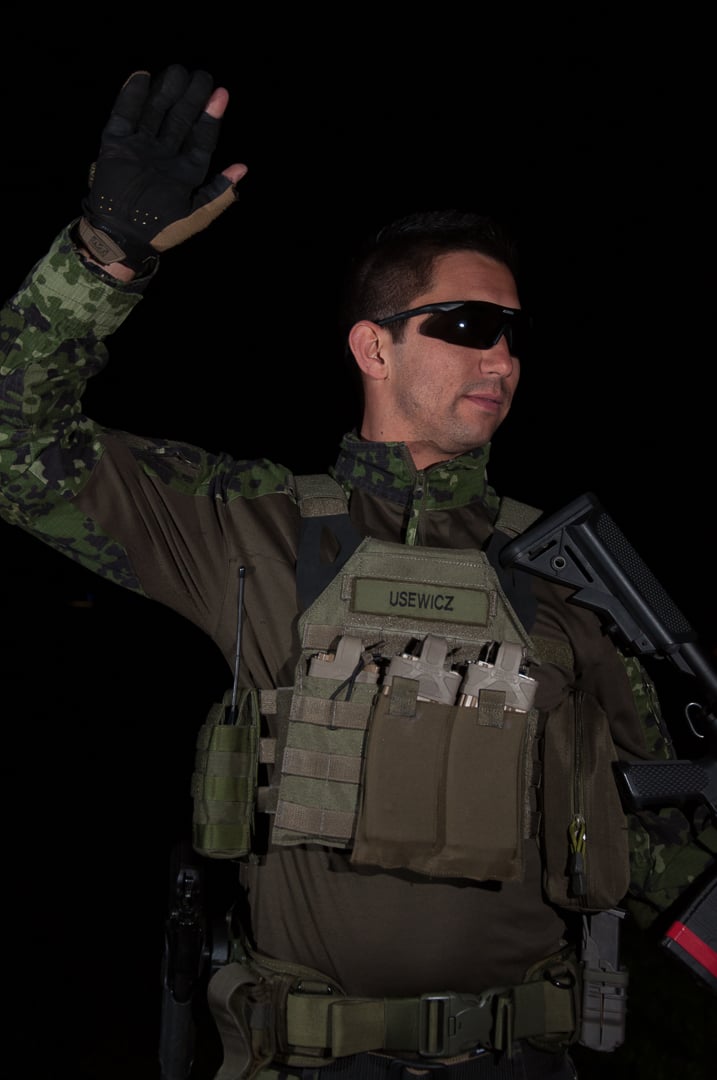 Summary
The vest is comfortable and I enjoyed using it. The price of £99.99 / €126 / $142 is very appropriate compared to the quality. It is a great product that I highly recommend.