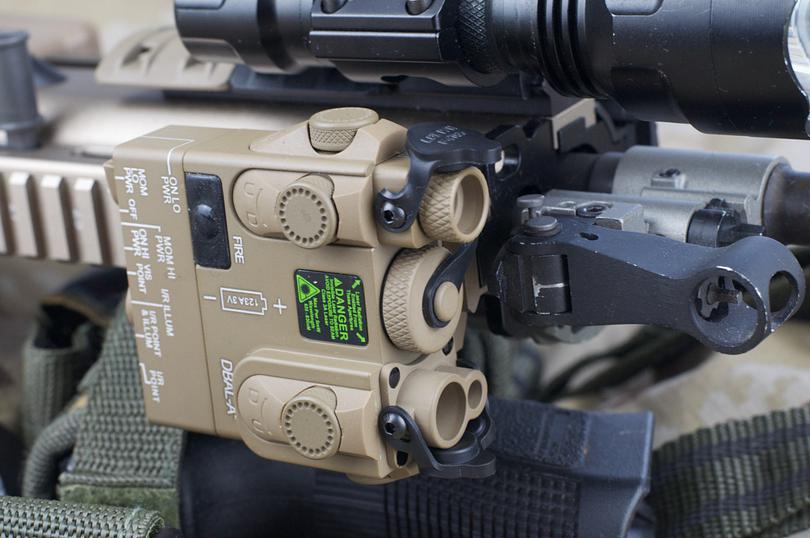 If you are shopping for a laser pointer for your rifle, there are many different options to choose from. One of them is G&P Dual Beam Aiming Laser, which we will have a look at in this review.
The device is a replica of Laser Devices' DBAL-A2 (US DoD designation AN/PEQ-15A). It is a laser pointer with night vision illuminator. It allows you to fire a visible, red laser, and infra-red visible laser with additional illumination, which is only visible with night vision gear. It comes in a sturdy, small, metal package and is available in both black and tan colours and weights around 9.6 ounces (272 grams). The device is similar to AN/PEQ-15 in function. The difference is that it's not made out of polymer and is about two thirds of the size.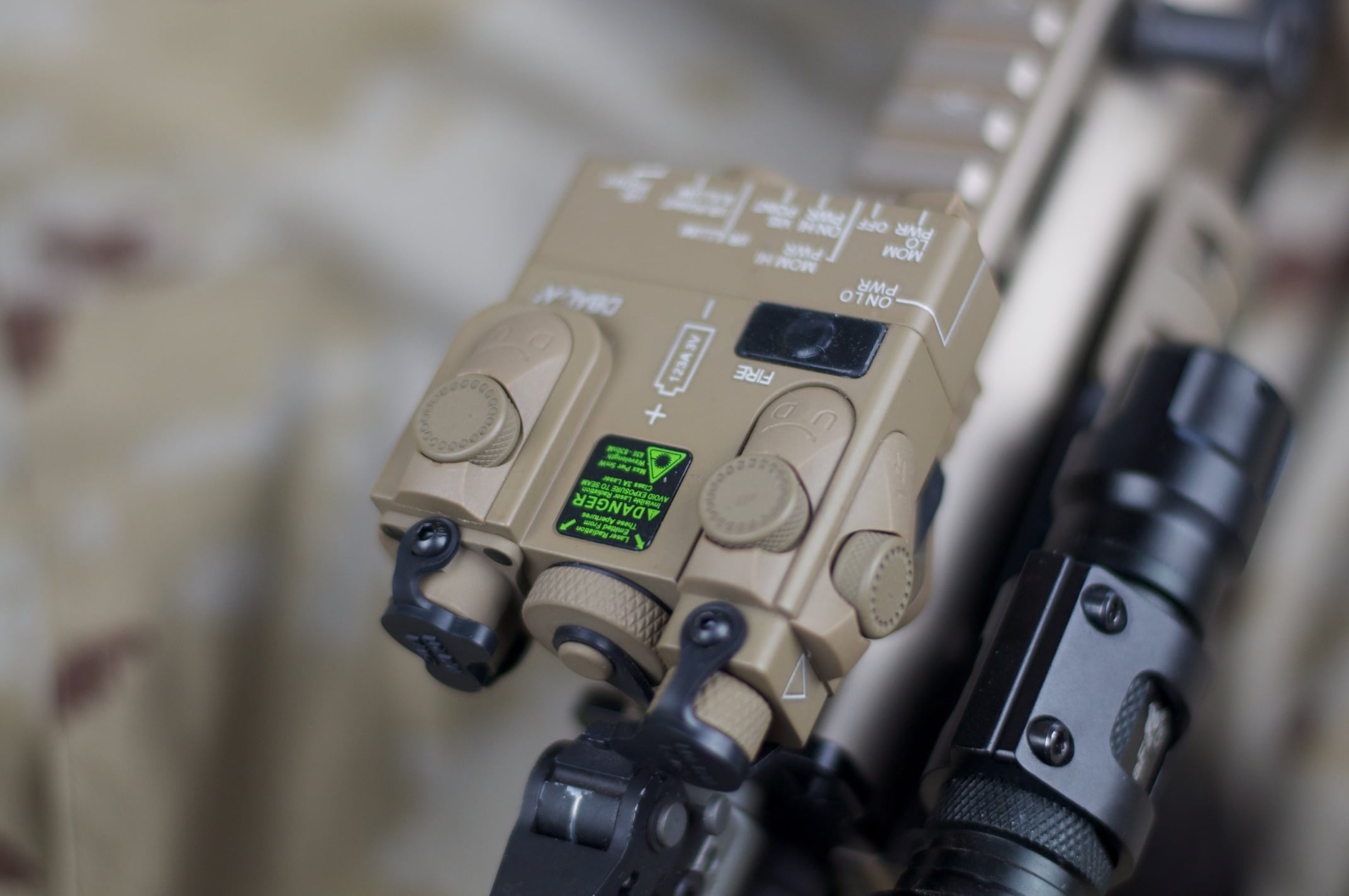 In the box, you will find the device itself, a remote switch and a basic instruction manual.
Operation
DBAL-A2 is powered by one CR123A 3V battery. At the front you will find a visible, red and infrared laser on the left, and infra-red illuminator on the right. The top and sides contain zeroing knobs and a fire button that allows you to manually fire the laser.
At the back of the device there are all the controls necessary to operate and pick different modes.
At the bottom, you will find the standard quick-detach lever compatible with the picatinny rail.
As the user, you can choose either a constant on mode, or manual, momentary mode that requires you to either press the FIRE button on the top of the case or use the provided remote.
The included mode and function switches allow you to choose from:
ON LO PWR–Low power, constant on mode
MOM LO PWR–Low power, momentary on mode
OFF–turns the device off completely
MOM HI PWT–High power, momentary on mode
ON HI PWR–High power, constant on mode
The second function switch allow you to pick which lasers are fired:
VIS POINT–Visible, red laser pointer only
I/R ILLUM–Infra-red illuminator only
I/R POINT & ILLUM–Infra-red laser pointer and indra-red illuminator
I/R POINT–Infra-red laser pointer only
Picking the mode and function is straight forward. All the markings on the device are easy to read and understand. When the device is in use, the caps covering the lasers have to be taken off. At the back there is an LED that tells you if the device is on. This is useful if you want to make sure that the infrared laser or illuminator is not on.
The illuminator contains an adjustment ring allows adjusting the size of the illumination cast on target.
If you are going to use the momentary mode, it's a good idea to plug in the included remote switch, as it makes it far more ergonomic to quickly turn the laser on or off without having to change your grip.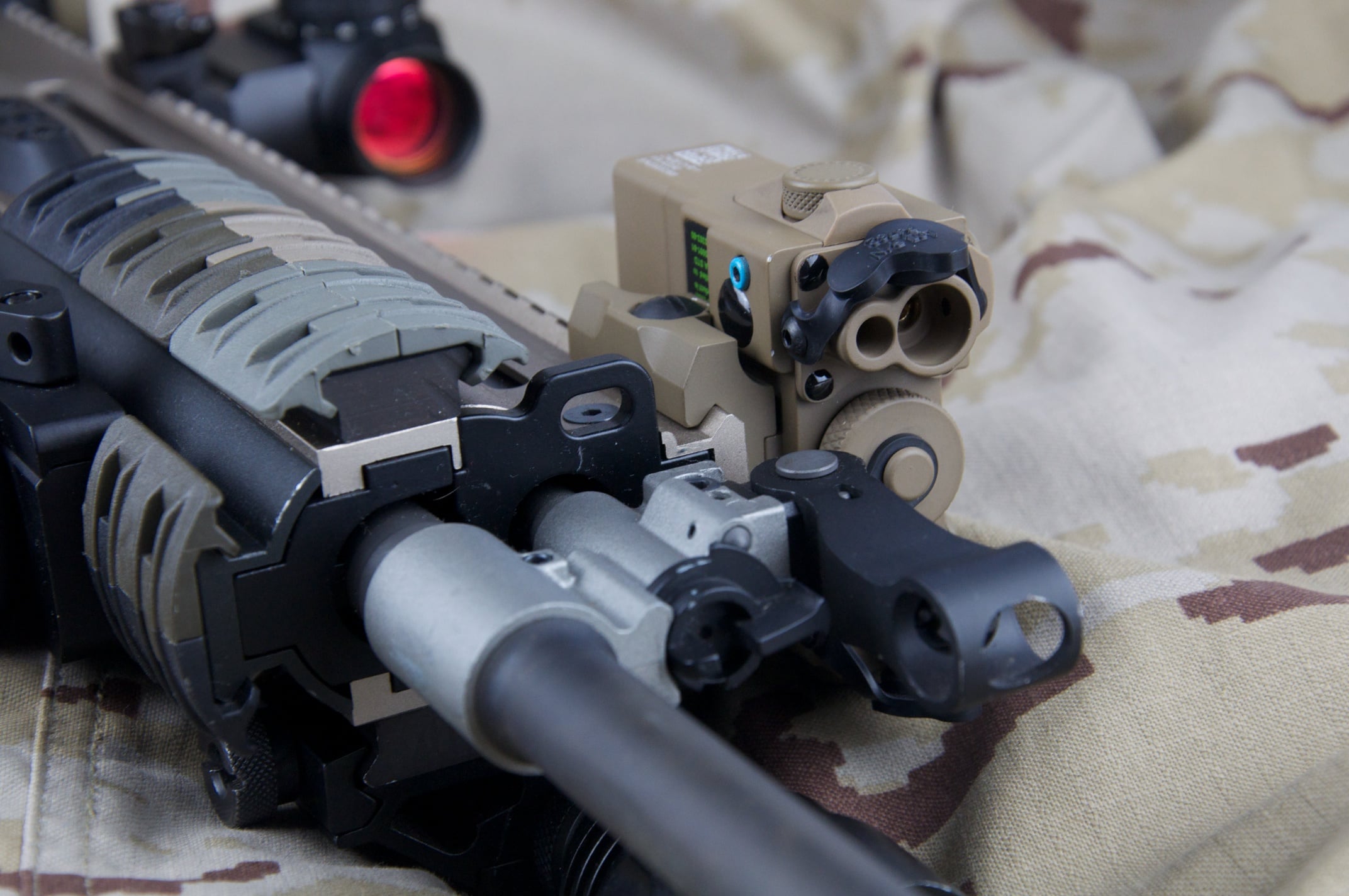 Unlike many other infra-red illuminator replicas, G&P provided a real illuminator. You can easily try it with a camera, as it is not visible to the human eye. Ideally, you would like to use it with your night vision, to point at targets or illuminate them better.
In the photo above, you can see the illuminator attached to the WE SCAR-L GBBR (Gas Blowback) rifle. It's one of their MK16 series.
Summary
G&P did a great job at building the replica. It feels very sturdy, has proper waterproof seals and looks as though it will last for a long time. It is a great addition for people looking for a device that truly resembles the original.
We highly recommend buying the G&P Dual Laser Designator and Illuminator.