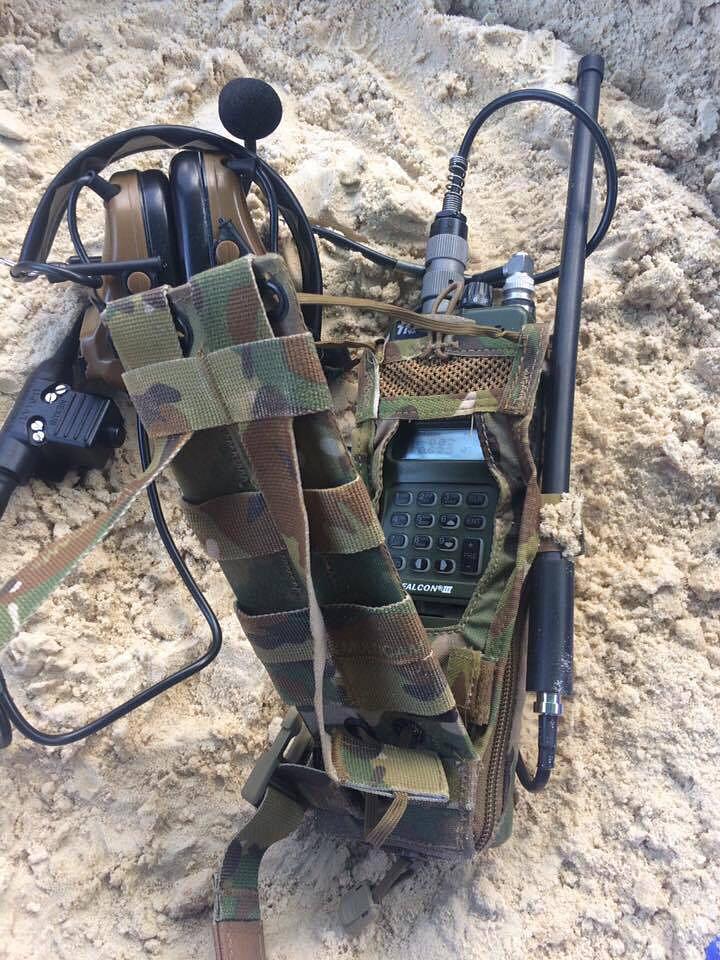 I've been sitting on this review, a long list of chores and interviews I've yet to complete. As it stood today, I'm able to cross this of the 'to do list'...
Triumph Instrument - TRI MBITR AN/PRC 152's
A few years back, I was fortunate enough to pick up what was then, a slightly more reasonably priced pair of Triumph Industries PRC 152 MBITR Radios (TRI).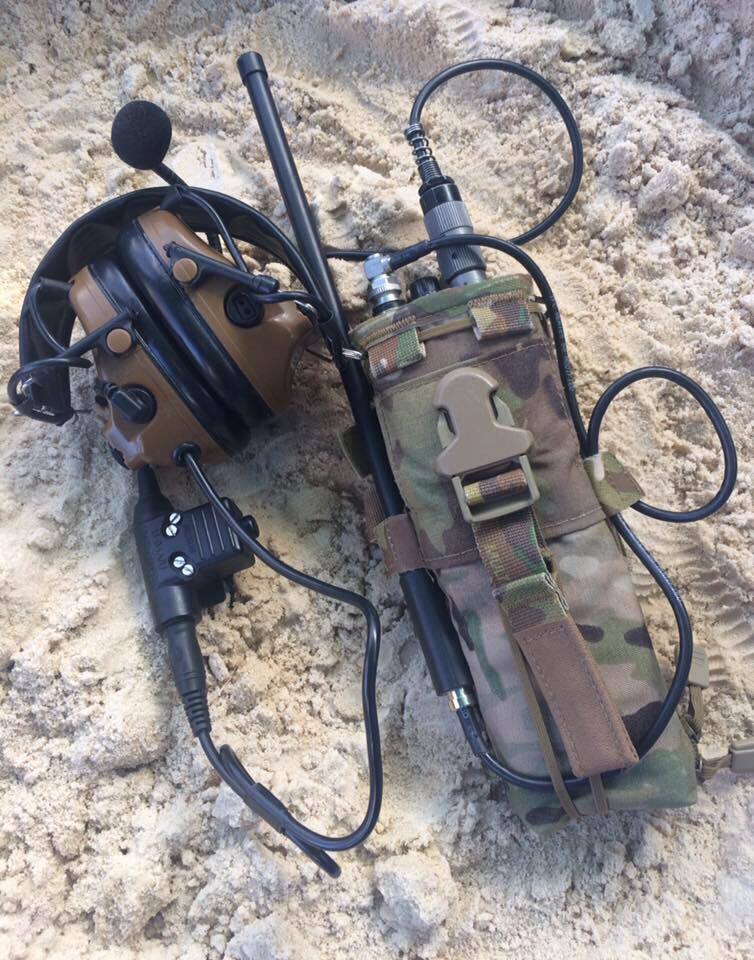 Whilst I'll defer to our more learned colleague over at the ever awesome Tactical Associates UK, these for me are a huge leap beyond the battered Motorola's of old. Durable, functional and packed with features make them one of the go to high end choices for MilSim and Plastic Deth Communications.
Originally, one sat in the MBITR wing pouch on my much missed JPC, in the OEM wing mount pouch. However, shortly thereafter acquiring the CPC, not wanting to abide with the fixed MBITR pouch already on the carrier. Neither did I want the standard MBITR pouches I'd historically used on former load outs, such as Eagle Industries RLCS or SFLCS options.
I wanted something a little more tangible, something which I could palpably manipulate and give such a stunning functional communications platform a worthy home. Additionally, that brief had not only had to include a secure protective system of carriage, but one that screamed functionality and would allow easy access to operate...
Enter High Ground Gear Single-Hand, Drop-Down MBITR / PRC-148/152 Pouch...
High Ground Gear (HGG), quite aptly and succinctly offered this product description:
"This Drop-Down MBITR Pouch embodies our philosophy of head up, eyes on the enemy. Unlike all other drop down radio pouches, this one is designed to be opened and closed with only one hand so you can keep one hand on your weapon at all times. Not only that, but it gives you unlimited access to radio screen, buttons, and battery. As always, we provide an opening in the bottom so you can change batteries on the fly without having to disconnect from cables and head-sets. Also, by routing cables through the cable retention points, you will prevent your radio from getting hung up on cables every time you want to view the screen. Basically, this is the smoothest handheld radio pouch ever made. Stop communicating, start shooting"–HGG
Additional Features/Specs:
Single-Hand Secured – keep one hand on your gun
Quite simply put, as per this pouches design brief allows you to have your blaster up in the fight, and access your radio without taking your eyes of the target.
This is achieved by simply releasing the Nexus Fastex ITW buckle, and pulling the padded/quilted pouches torso away from the rigid backing, which naturally attaches to Plate Carriers and Day Sacks via the MOLLE points on the rear.
Once open you can access the radio without removal, changing and manipulating its functions with ease and without having to disassemble your comm's to do so.
To put back in position of carriage, gently pulling the two draw strings attached to the buckle pulls the pouch, ergo the radio close to the body, simply fasten the buckle and your good to go.
Zippered Battery Access – cables/antennas stay on while you change out
Superb functionality here allows you to access your battery, switching it out in seconds without removing the radio, or removing the pouch.
Better, it saves the need to remove and disconnect comm's cables, PTT's and antennae when switching out batteries as it can now simply stay in place.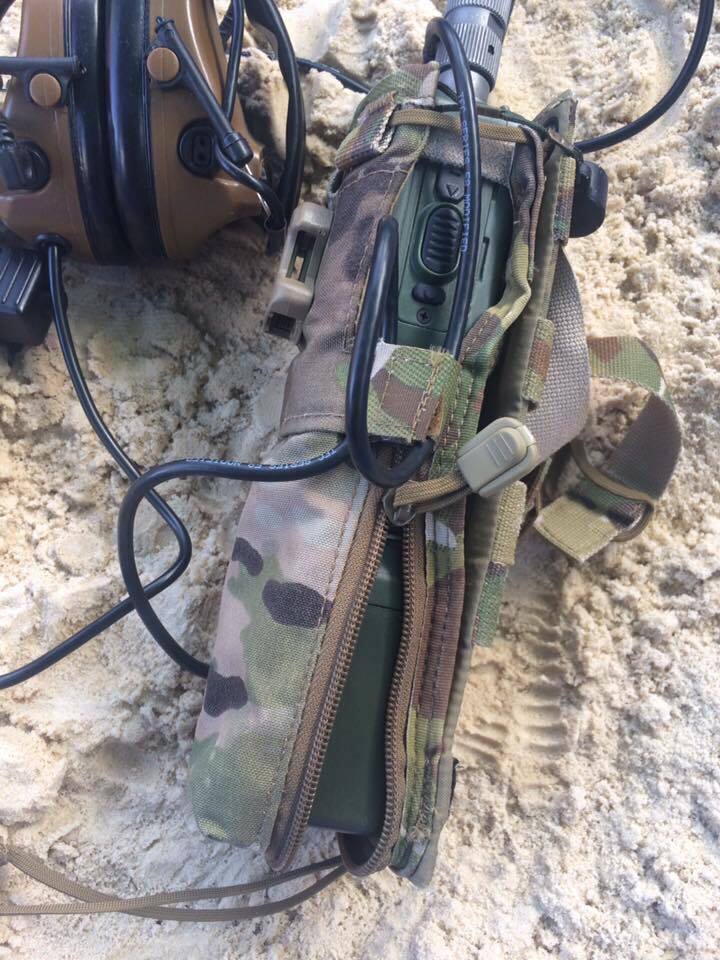 Smart Cable Retention – cables never impede drop-down access
Both internally and externally, the pouch is outfitted with four hook and loop retention points.
Allowing for easy management of excess cabling, even stowage of the antenna and as you can see here, a chem light and pen!!!
Total Port Access – side ports large enough for Silynx connectors
Two ports are cut either side, either for attachment of PTT connectors that utilize the side port pin attachment or just to press the radios PTT manually.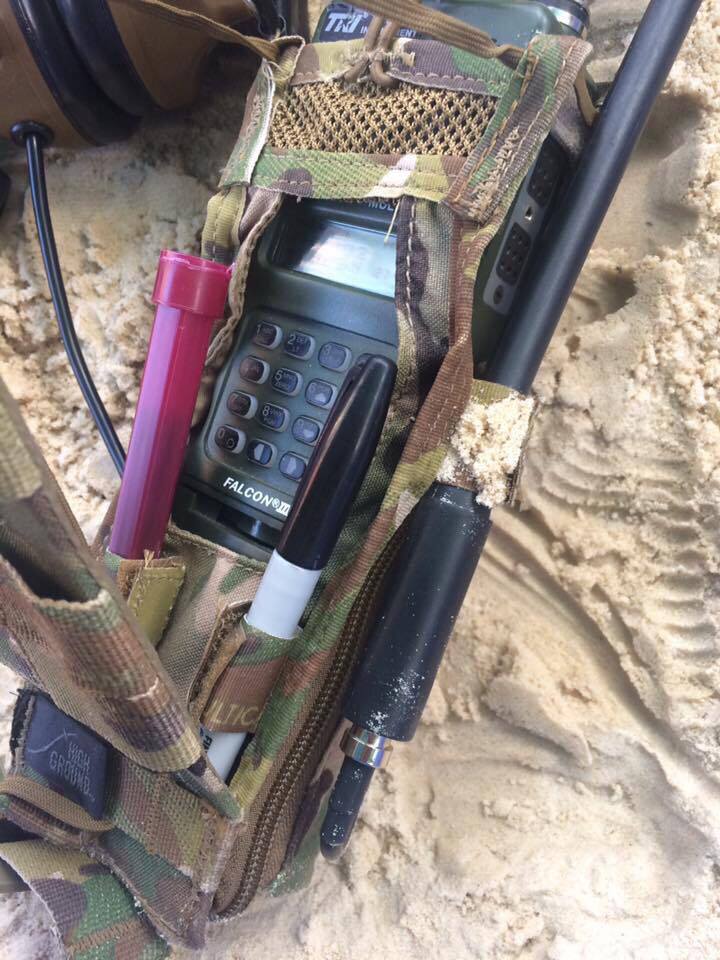 Weight: 0.34 LBs
Despite dropping in features, reinforced stitching, zippers and buckles it's a paltry 0.34 LBs, which with the minor impedement of additional weight of carrying comm's, is a warmly welcomed small mercy.
It's impressive nonetheless when considering it's plethora of features.
Materials: 500D
Made from the ever durable 500D Cordura HGG have produced possibly as it stands, one of the definitive radio pouches on the market. It's quilted outer, offering a modicum of protection and with its stiffened backing attachment point, you have confidence that your comm's are not going to be needless knocked or damaged when brushing through door ways, or exiting and entering vehicles.
It's little touches that really finish it off, such as the admin loops for policing excess cable, and even the MOLLE has laced loops for easy and speedy attachment to your chosen form of carriage.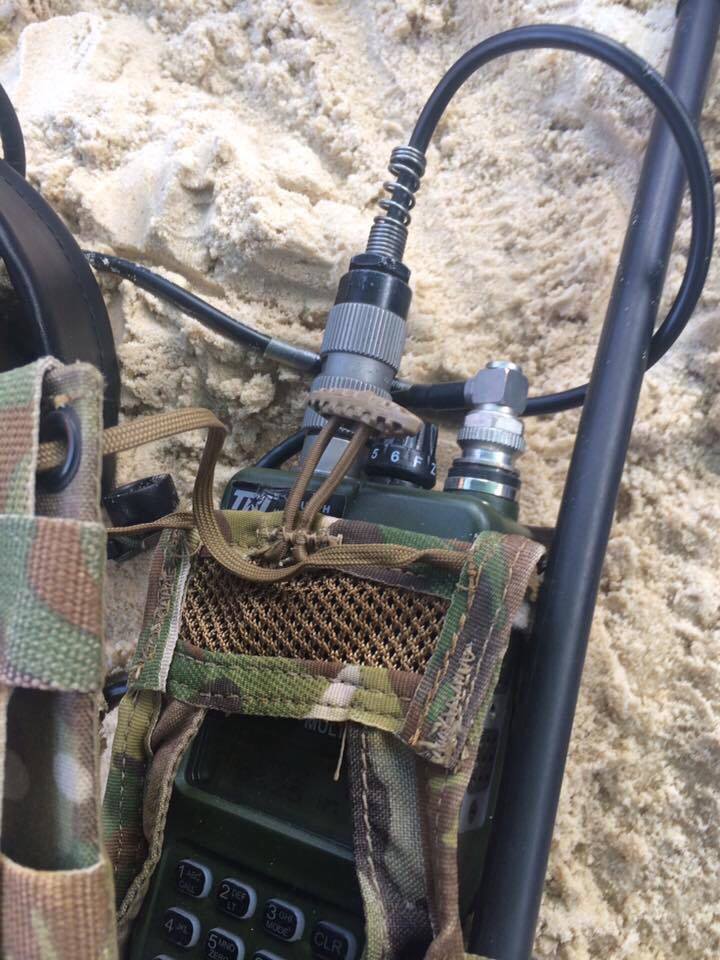 To conclude, this is a superb option to truly consider when looking not only for carriage solutions, but comm's management too. Intuitive, adaptive and easy to install - it's earned and won its place in my gear locker with ease
–S23
Check out more from High Ground Gear.