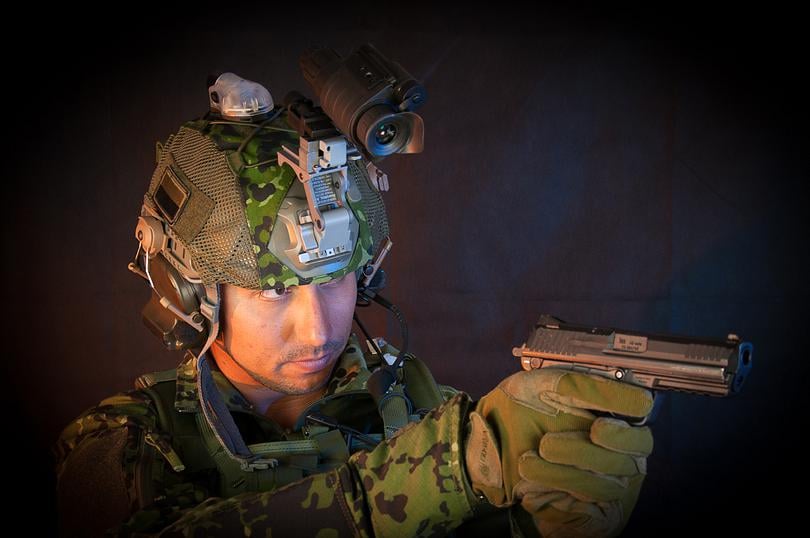 "Possibly the most solid airsoft pistol i have ever owned"
Box and initial presentation
As with all the other KWA / UMAREX pistols I have in my collection (M92 PTP and ATP), the packaging is sublime. Sleek black cardboard, in which lies the pistol with the mag in a separate compartment, a small bag of 0.20gr BBs and a few pieces like the different pistol grip back, hop adjustment key and trigger locking key.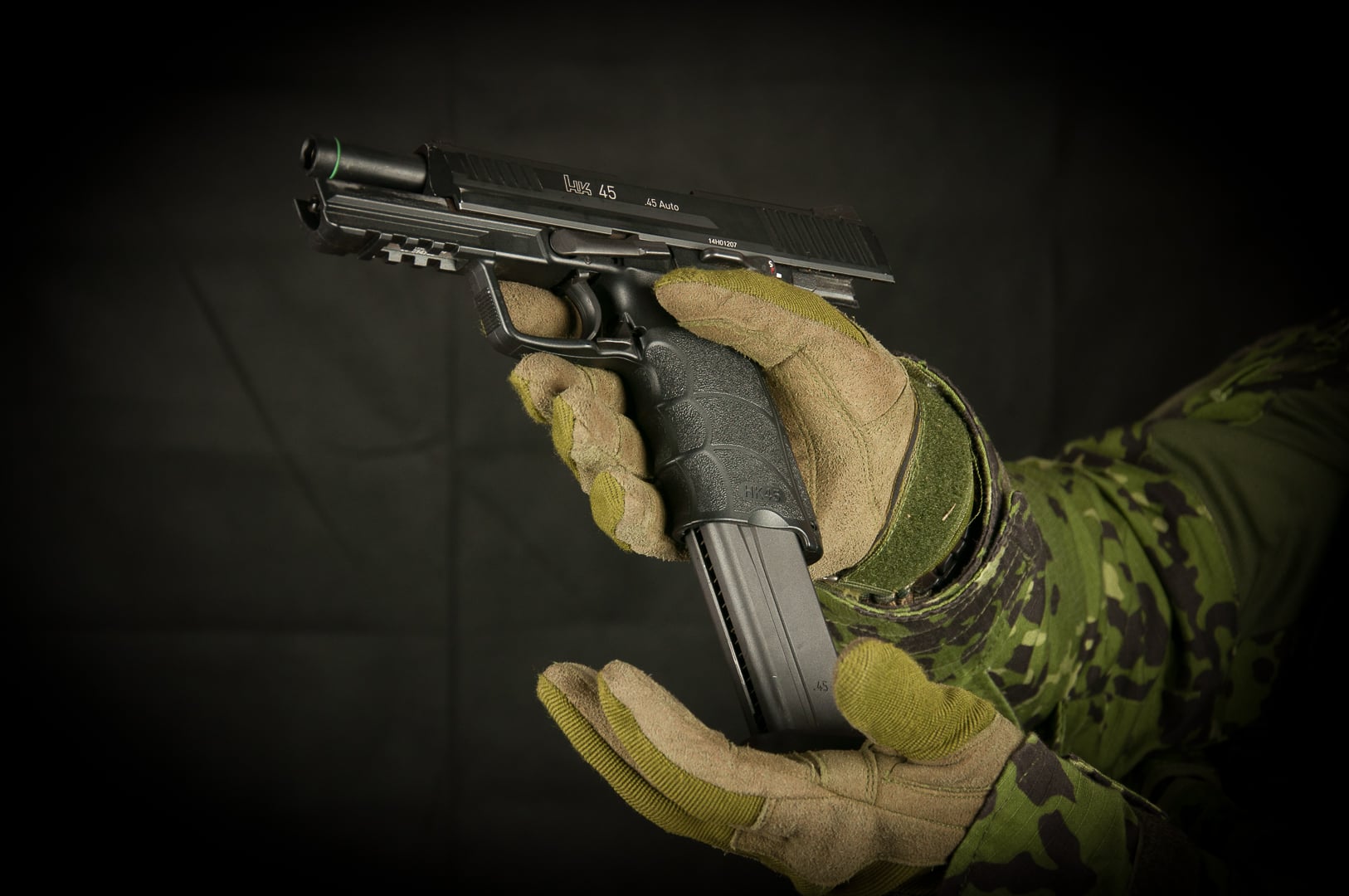 Pistol addict
So for Airsoft CQB, I am a total pistol addict. Even in woodland I use them. Extensively. That's probably why when I look at getting a new pistol, I do not even contemplate it unless I can get at least two spare magazines and a SERPA holster at the time of purchase. I did precisely that and the grand total through my local retailer was nicely below €280.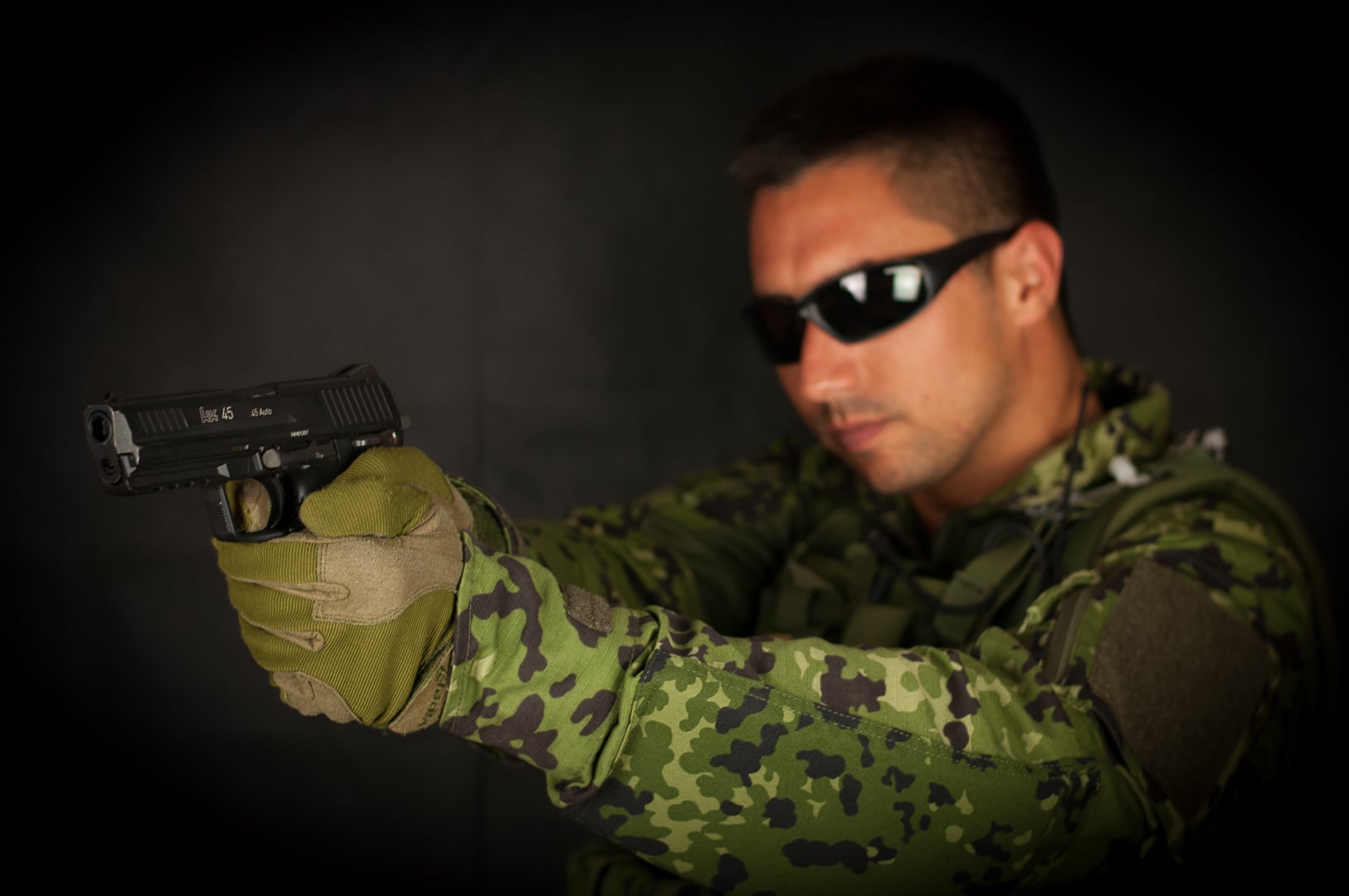 Now onto the pistol itself.
Overview upon holding this treat
When you grasp the pistol, the weight is very well balanced. Seeing as it is a double stack .45, it is also not too wide to fit in your hand. Smooth as well as textured polymer in some places on the pistol grip means it sits snugly in your hand and doesn't slide around. I don't have massive mitts but if you want to adjust the pistol grip for small or larger hands, that is easily done with the aforementioned adjustable pistol grip back. The large trigger guard means you can fire it with gloves on no problem at all.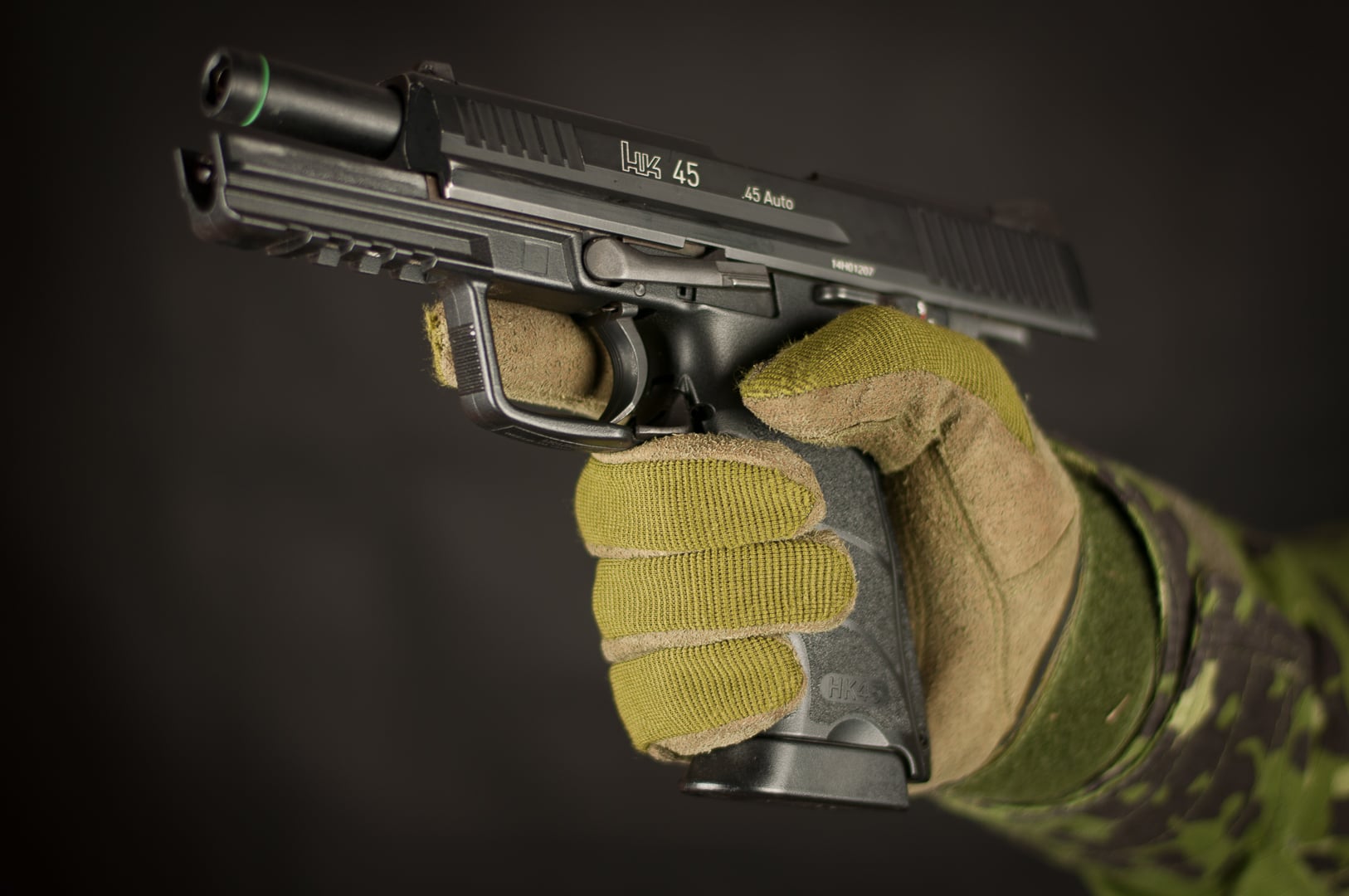 Both the mag release and slide stop operate flawlessly, the magazine being ejected with no snagging on the frame. I particularly like how the mag catch is tucked away nicely between the trigger guard and pistol grip – meaning no unwanted dropping of mags! Which has happened to me with other pistols.
Probably one of the first things you will notice (if you're an airsoft geek like me), are the fully licensed H&K trademarks and serial number. This is something that I know we all love and want to see on our replicas, no matter what the model. They stand out great with the white print down the slide – giving it even more authenticity.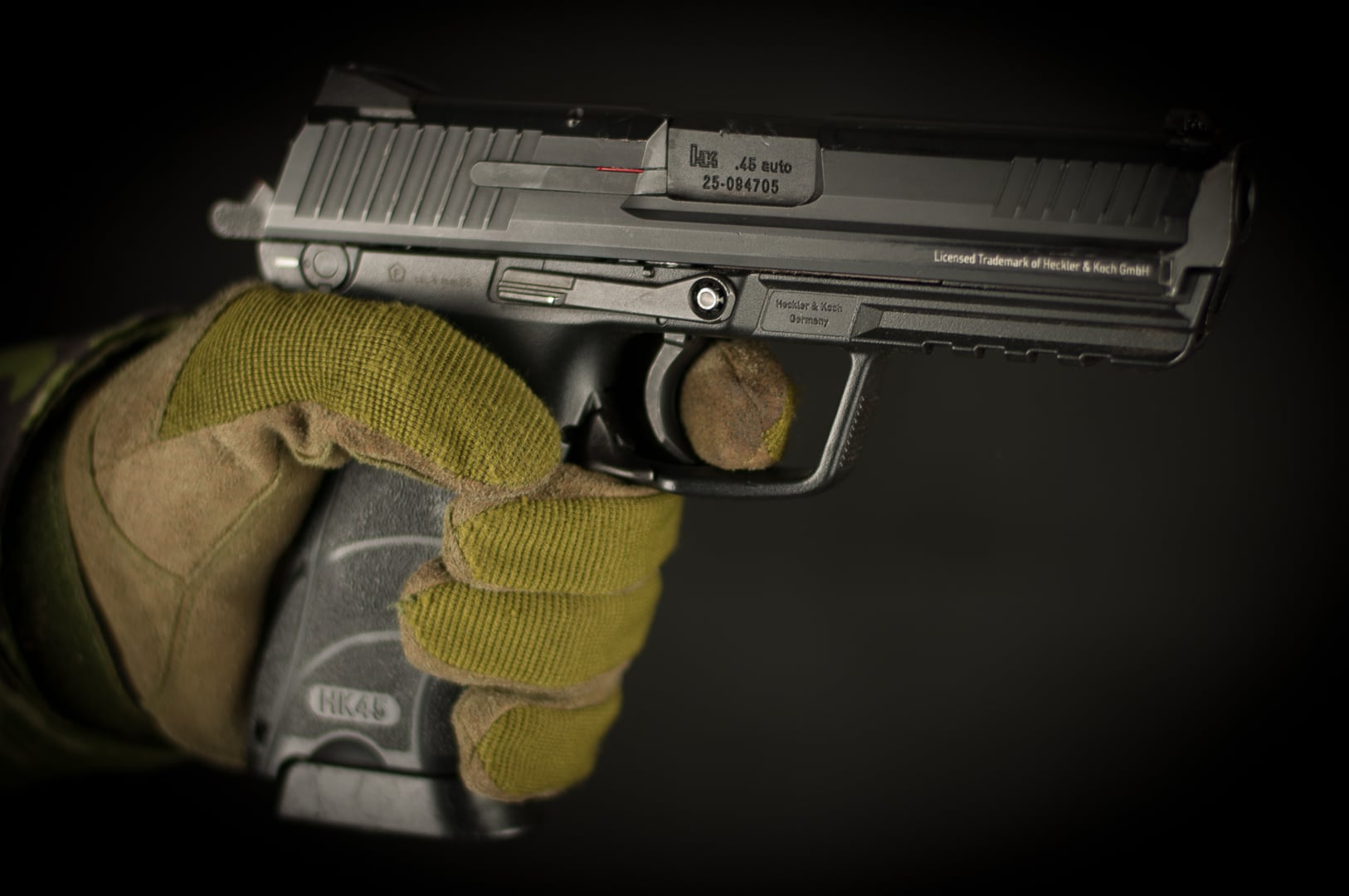 As I said before, I am a pistol enthusiast, and do a lot of pistol shooting. The full metal slide gives the HK 45 reliability of use as well as robust and durable feel to it - especially when firing. More on that later. The polymer frame helps balance it out with the magazine in it, so it's just right weight wise.
Switches and catches. Both the slide stop and mag release are ambidextrous which is awesome, providing ease of use for both left and right shooters. The only thing that isn't ambidextrous is the left sided safety, with working decocking lever. But who needs a safety on both sides when "this is my safety" – insert picture of your index finger / hooch from Blackhawk down.
White dot sights provide excellent target acquisition and make aiming easier and faster. I have looked at purchasing some real steel illuminous sights but not sure if these will fit (if anyone has any experience, please let us know!). The HK 45 also sports a nice, compact underside rail, enabling you to mount a torch and/or laser on it. Another great feature for CQB in my opinion. All those factors combined you have a very accurate tool at your disposable.
Cocking the pistol is aided at the front and the back by slide "rails", and when released it gives a nice chunky click into place so you know you're ready for action. The mag release (for either hand), could be a little far away for those with short, stubby, baby thumbs like some of my mates, but you then have the option of using your index finger to push the mag catch on the other side, without moving the position of your hand on the pistol (a nice plus to maintain accuracy).
Firing
The bit you've all been waiting for. EPIC BLOW BACK ACTION!
Trigger pull is very slick, no effort required, just a light squeeze. Adjust the hop up correctly and with some 0.23gr bbs you get quite obscene range for a pistol. The KWA NS2 Gas System means that the recoil of the blow back leaves absolutely nothing to be desired. It is loud and so crisp (similar to the KWA USP COMPACT I had a few years ago), your arm jolts and the recoil is consistent with each shot fired. Once that last round has been expelled from the pistol, the slide locks back with a cheeky twang as the recoil spring compresses. Beautiful. All you need to do then is reload and repeat. Beautiful.
The gas consumption to rounds down range ratio is also excellent: two full mags of BBs on one mag full of gas. No excess gas comes up from the front end or the ejection port, it is all controlled perfectly. The pistol does not get excessively cold with continuous fire – the effect of which remains to be seen in winter, but seeing as I live in Spain I think I will be alright. Also, having spare magazines helps you overcome this.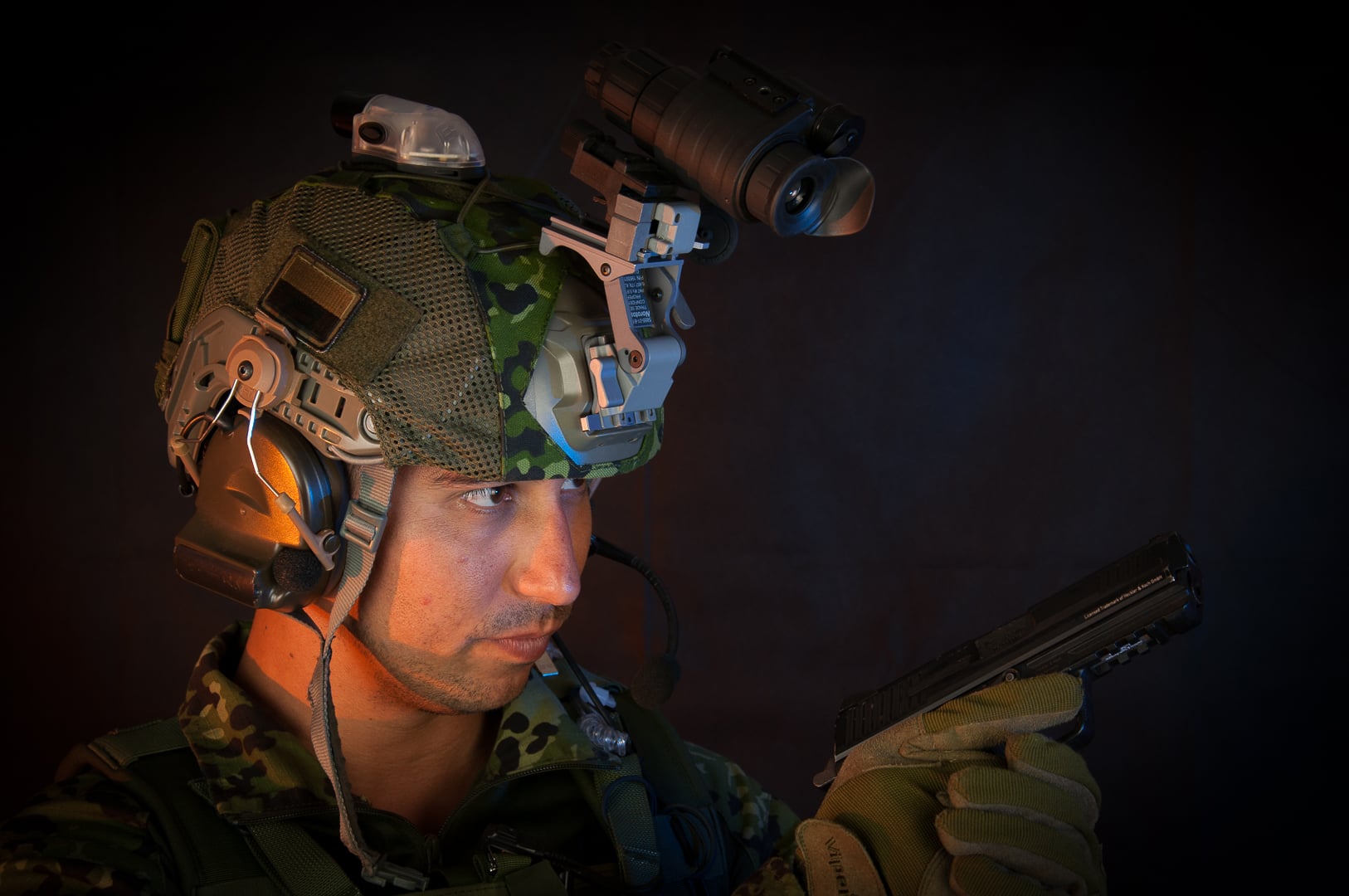 Conclusion
If you want a larger frame pistol, with some severe blow back action and bang for your buck, this is the pistol for you. Excellent range, FPS and magazine capacity in one lovely, uber efficient package. It also looks awesome and badass.
But if you have tiny girl's hands and don't want a big gun, go get a Walther PPK.
PS: Get a SERPA holster for it too!