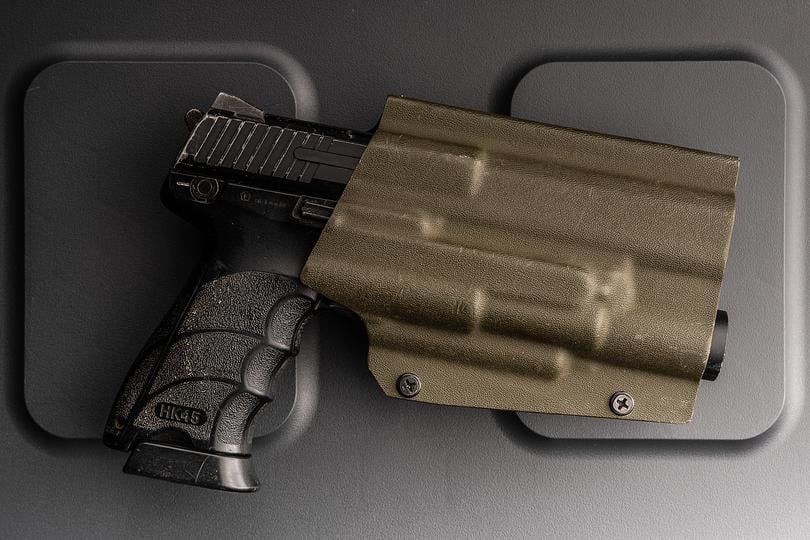 Holsters. For those of you out there who have got a sidearm, there are a myriad of options out there. You could go for fabric, leather or plastic. All shapes and sizes. We have a couple holster reviews on our site, but which one to pick? Read on and we will give you the low down on a holster we recently acquired from MILE Gear in the Netherlands.
So, just a bit of quick info on MILE Gear. It all started out in 2012, with the founder Lennart Peeters, who served in the Dutch Royal Navy, witnessing how tactical equipment for the military was lacking in quality and durability – and therefore hindering its operators. Not much further down the line, MILE Gear appeared to offer high quality, tactical and custom solutions to military and law enforcement around the world – and also us airsofters!
After being in contact with MILE Gear, they were kind enough to send us one of their holsters to test and review. We opted for a holster that would fit the HK45 with a Surefire X300 flashlight attachment. Seeing as a holster for this exact pistol and accessory combo isn't that easy to come by, we were uber excited to open the box when it arrived. And it did not disappoint.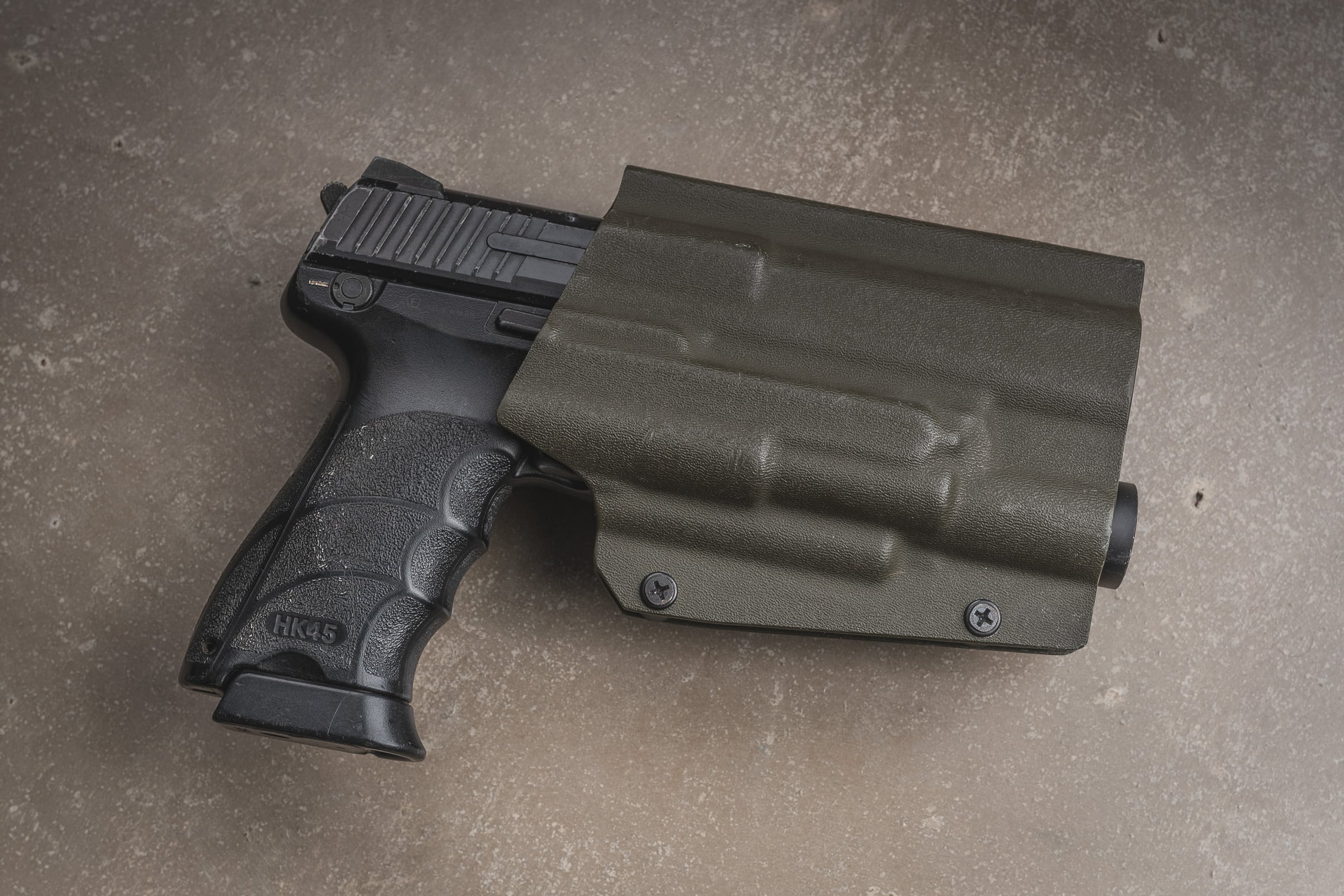 Our OD holster came with the Safariland Mid Ride UBL, already attached (with some rubber spacers – more on that later), 3 stickers, and 2 really cool patches – a tricked out helmet/comms/NVG patch and an awesome Glock pistol patch complete with an RMR and flashlight on it.
Once we were done drooling at the contents on the box, the moment of truth came. We attached our Surefire light to the HK45 and went to insert it into the holster. Lo and behold, it was a perfect fit. Zero wobble, zero rattle, total retention, 100% comfort. Looking at the actual moulds of the holster, the shape of the pistol is perfectly crafted to the holster itself.
As the holster is made of a single piece of Kydex, the only point of adjustment is once it has been folded "shut" – the join is completed by two screws, each with a rubber spacer. This can be tightened / loosened with a Phillips screwdriver easily enough to ensure the correct retention, whatever type of pistol you go for. Checking the holster all over, the texture of the product is consistent and does not leave you wanting.
So, back in the day, I started out with the "universal", large frame, fabric holster with a buckle or button clip for retention. After that, I moved to the SERPA holster range. Beretta. HK. Glock. SIG. 1911. Whatever pistol I had – I had a SERPA holster for it. Then Kydex holsters came out, but I never really tried them. Until now.
I marvel at how the retention works. I still don't really know how it works. All I know is, it works. I was sitting there for a good few minutes just inserting and removing the pistol from the holster trying to find out how it worked!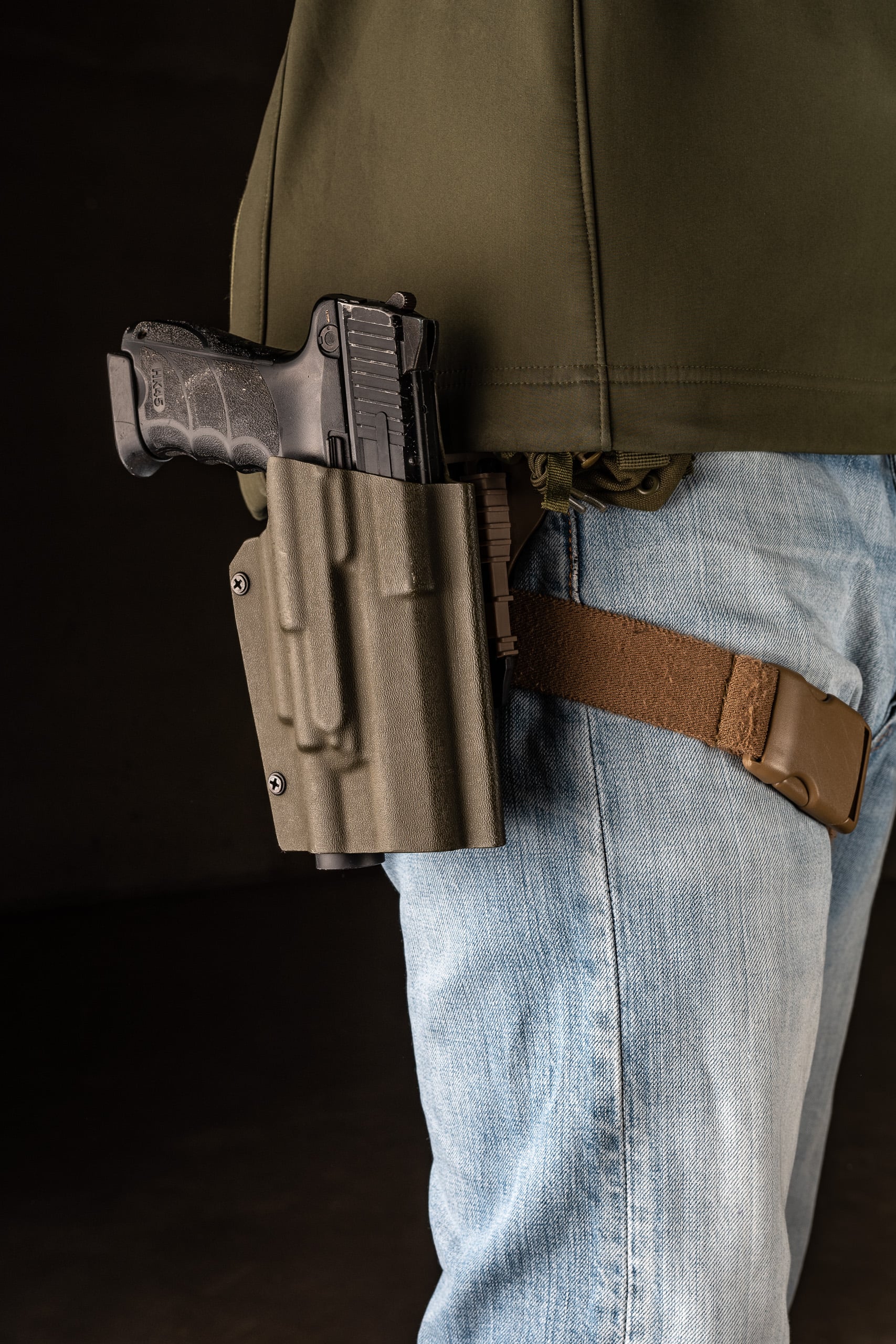 So I mounted the holster, with the UBL, onto my first line gear set up. To make sure I could swap this holster onto any of my belts (OD, Tan, and Multicam), I installed the Safariland QLS Fork. Had a bit of an issue here, as the screws that are provided with the holster itself work perfectly with the UBL – but, the screw heads were not wide enough to provide adequate surface area attachment on the QLS Fork. Out comes the toolbox, three small 10mm (ish) washers, and the problem is solved!
Now the QLS Fork was secure, holster installed on my first line, leg strap in place. I then proceeded to jump up and down like loon to try and shake the pistol out of the holster. I even removed it from my belt and shook it upside down to try and shake it lose. It didn't happen. So after bouncing around for a good 30 seconds, I then drew the pistol from the holster and popped two rounds onto a target.
Definitely the smoothest draw I have ever had. The fact I have no button to push, no strap to release is amazing. I wasn't sure how I would feel about this holster, but in the end it felt so natural and easy when drawing the pistol. A few repetitions later and then I could re-holster the weapon without looking down at the holster. 10 points to me.
In the beginning, I did struggle a bit with the re-holstering to be honest. I think it could be interesting and useful to make the top of the holster ever so slightly flared outwards, to help you re-holster the weapon quickly and smoothly. But practice makes perfect as they say. Come Sunday night after game day, walking round the house and cooking / drawing and holstering the pistol, you do get used to it soon.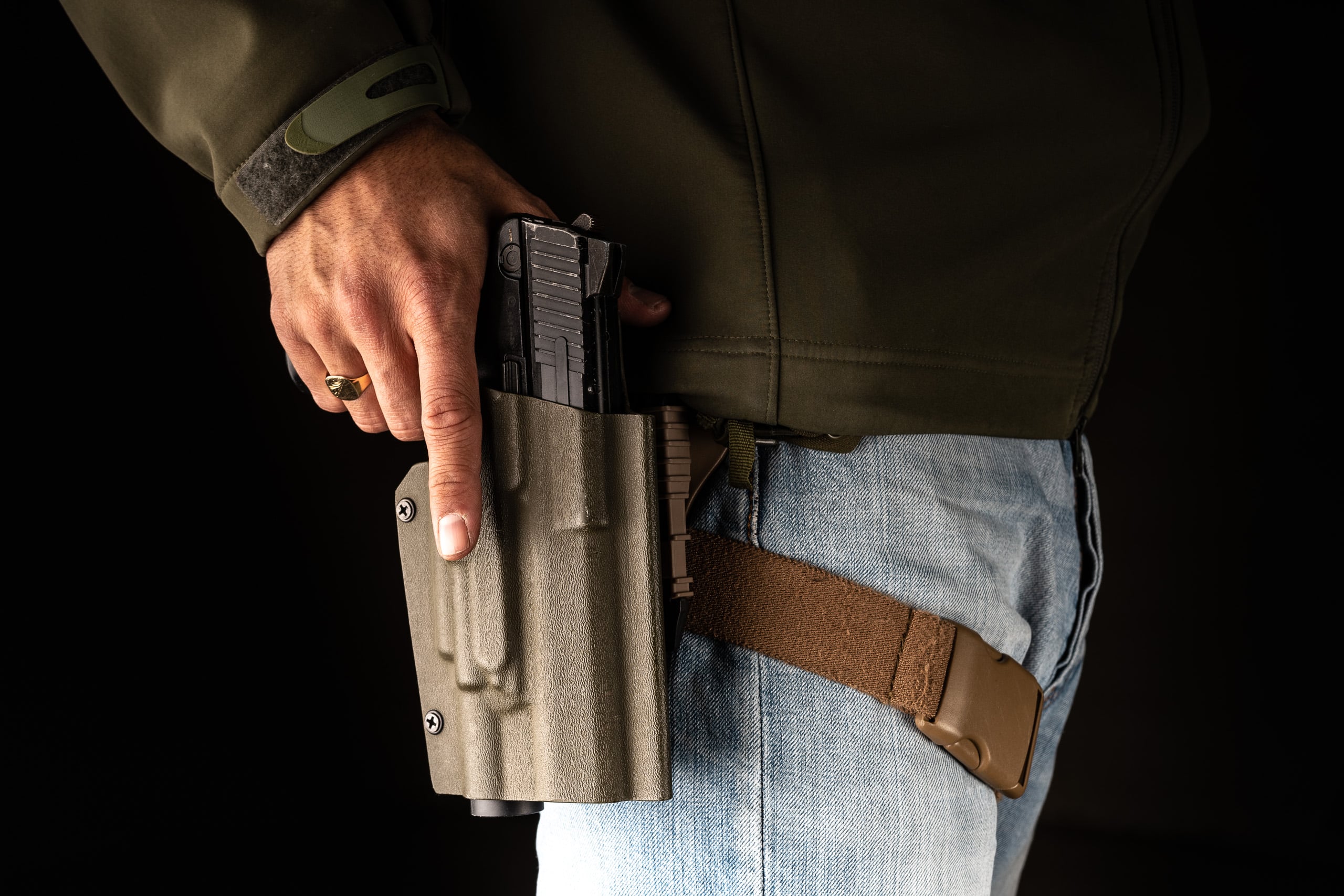 Using it on game day was a lot of fun. Transitioning from rifle to pistol was easy and snag free. Re-holstering was a slight issue under pressure, but that's mostly because I wasn't entirely used to running the holster. The fact you can transition so quickly is great, especially in CQB or when you run out of ammo. That means you can keep putting rounds down on the target quickly, enabling your team mates to come and back you up (by means of lots of shouting). I also successfully managed to bash it into some walls, scrap it along the floor, but it held strong and didn't break. Excellent! Although it doesn't look as new and shiny anymore, but that's not an issue.
Conclusion
For my first Kydex holster experience, I was very happy with how this product turned out. Great solution for my HK45 with Surefire. I now want to get another one for my M9, in tan, to match my CQB loadout. Obviously it's important to look good while operating! Quick break down as below:
Pros
Quick draw
Excellent retention
Great finish and texture
Solid and resistant
Cons
Screws that attach to the QLS are a bit small – needs washers
No additional security against someone trying to take your weapon (if law enforcement) – not too bad in airsoft, unless your mates are winding you up
Personally I would like the top of the holster ever so slightly flared outwards to help you re holster the weapon even easier (to help your muscle reflex memory)
So if you are looking for a custom Kydex holster, get in touch with MILE Gear and they will be able to sort you out.