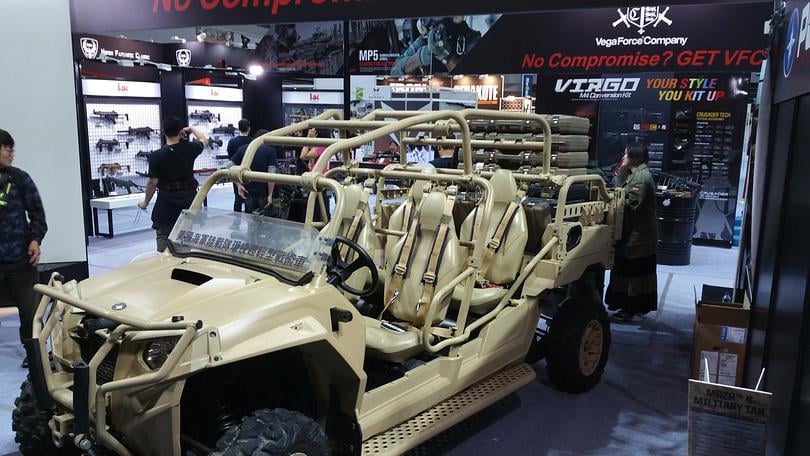 So, another month rolls round and we're nearing my first xmas here in Taiwan… even though I kind of came here specifically to escape all the 'Hallmark Holidays' of the West - I've spent the last three xmases overseas in Germany, Bruges/Luxembourg/Paris/Seville and China respectively - and they don't really do xmas the way we do back home but we have to prepare the kids to sing carols and do arts and crafts and they've already decorated the school in preparation.
Of much greater interest than such festivities, of course, was the inaugural Military, Outdoor & Airsoft Show 2017 - something my native shooting buddy John mentioned to me back when I was only just cruising around the 22nd Hooha show. He was good enough to organise me a copy of QRF magazine (which served as a discounted entry ticket - and it's also an excuse for me to practice reading traditional Chinese characters in a context I am interested in... result! it worked for me with Japanese before, after all… pisutoru gurippu!).
I awoke at 06:00 on Saturday morning and dragged myself out of my otherwise comfortable bed - because, let's face it, airsoft has motivated myself and others to get up at ungodly hours on weekends for countless years where I otherwise wouldn't have bothered - I jumped on the HSR to Banqiao (the stop before Taipei central station) and taxied it to XinZhuang gymnasium, where MOA2017 was being held.
I arrived - albeit bleary eyed and underfed - in very good time and was a whole hour and a half early before opening and John had gotten delayed, so I googled the nearest McDonald's and went and got myself a McMuffin to silence my stomach's persistent protests.
A short time later John met up with me and we started queuing (yes, they have imported that here too!) at the ground level shutters into the gymnasium, and watched as all the tooled up exhibitors wandered past through their separate entrance. Eventually they rolled up the shutters and a deluge of tacticool clad airsoft nerds swamped the ticket desk, clamouring to get our first look at all the shiny things on offer.
As per Hooha 22, there were a few major retailers with dominating stands in the prime real estate right near the entrance; this time with Vega Force Company (VFC) sporting a huge walk-through stand showcasing some of their premier ranges, separated out nicely into different stands for each of the equivalent real steel manufacturers… their GBB MP7's in various flavours caught my eye in particular - as xmas is coming - and #EverybodyLovesTheKoch. I was also quite taken with their latest HK416D A5 models which have fully ambidextrous controls and a very solid feeling construction.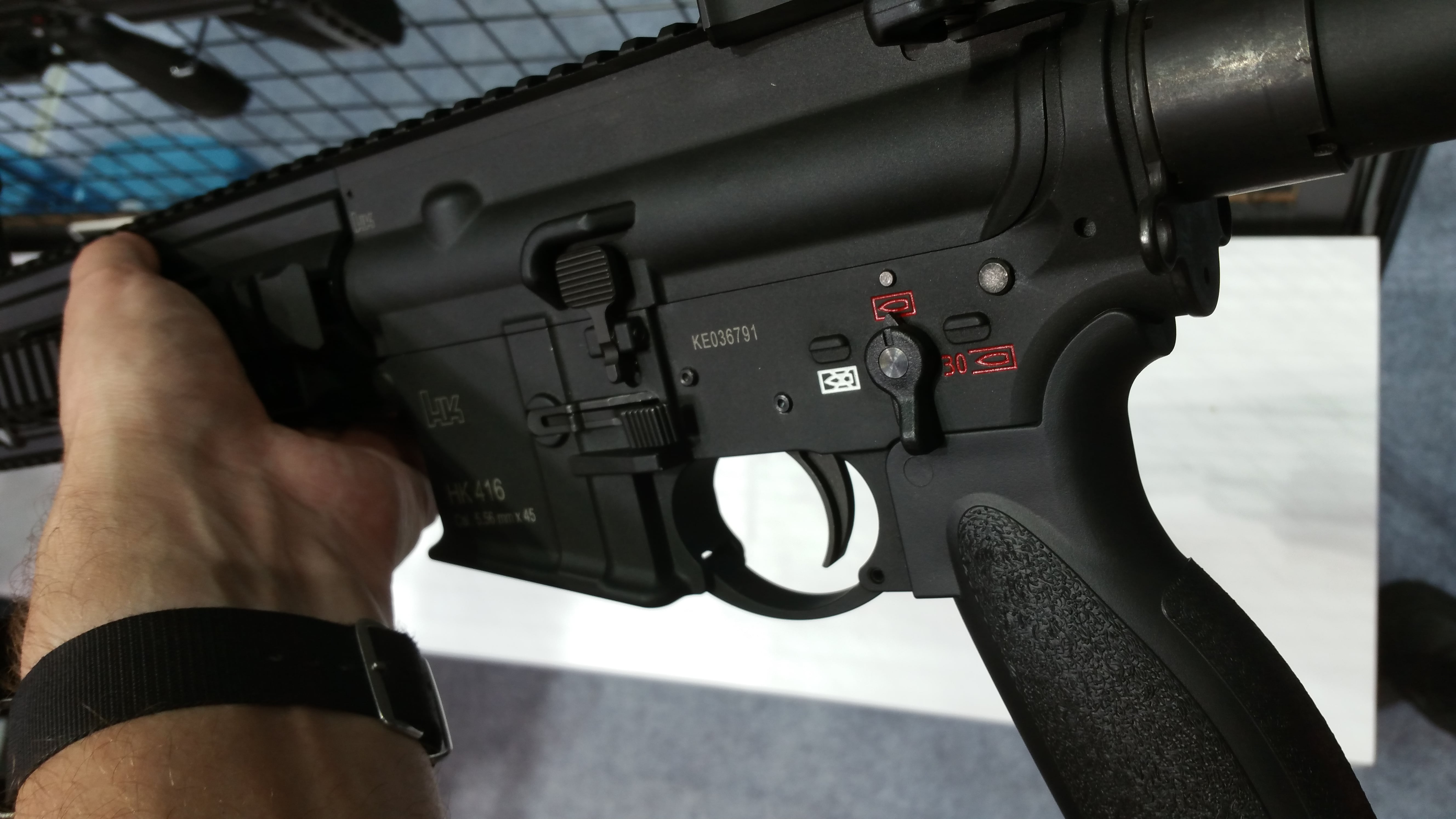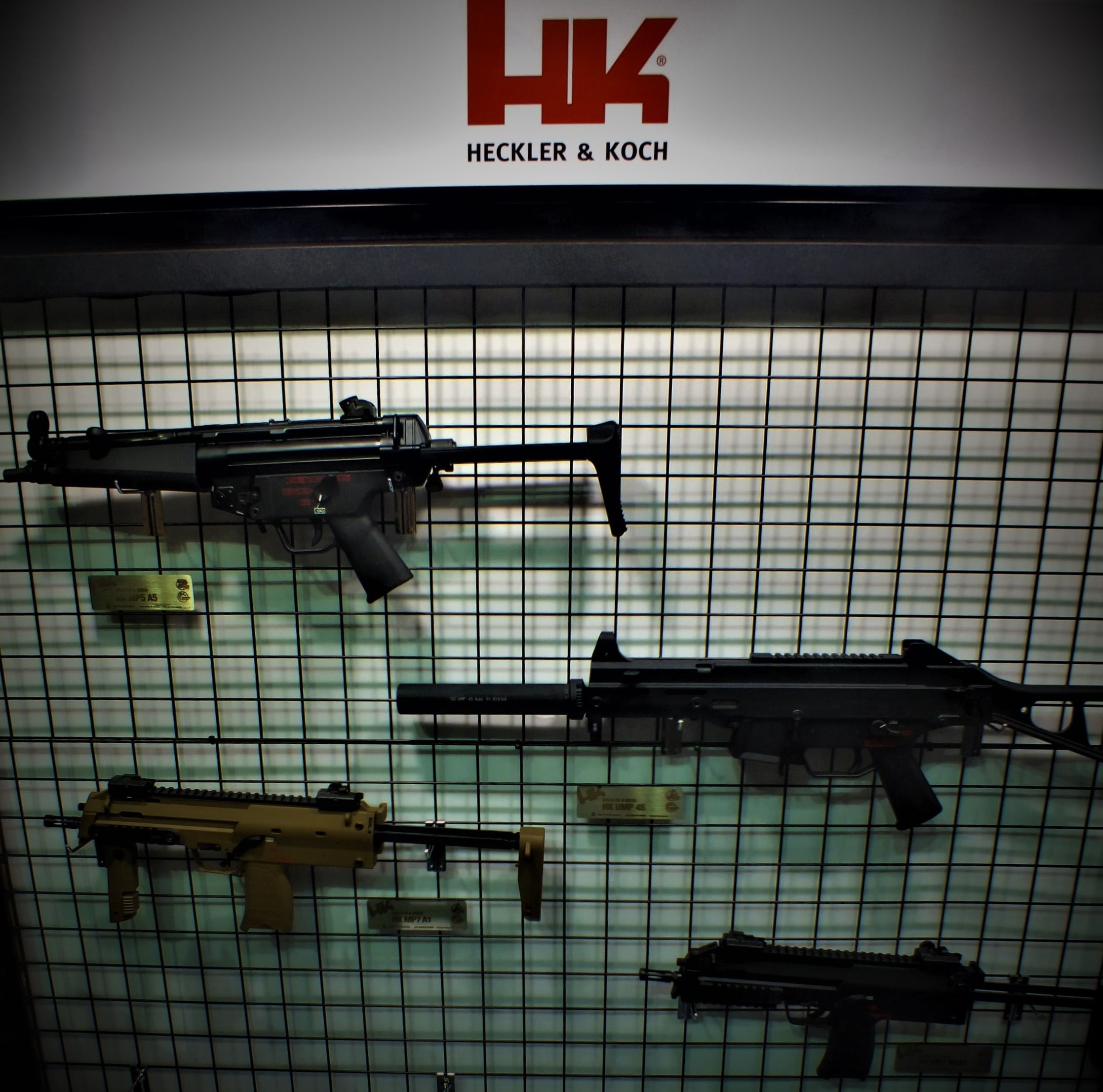 Next to VFC's dominating stands were Poseidon Airsoft displaying gas blowback pistols and related accessories along with a demonstration video, they were also making use of the extremely cynical and effective 'lovely ladies handing out freebies' ploy, which of course I tried to resist but ended up with a very nice branded drawstring bag (great for wet towels or other dank gear after skirmishes or spa baths, I have since found) and had to grab a photo with one of the petite ladies for the amusement factor. It really pays to be a 2m tall beardy white boi in this country at times. The lovely ladies. There are so many. Send help.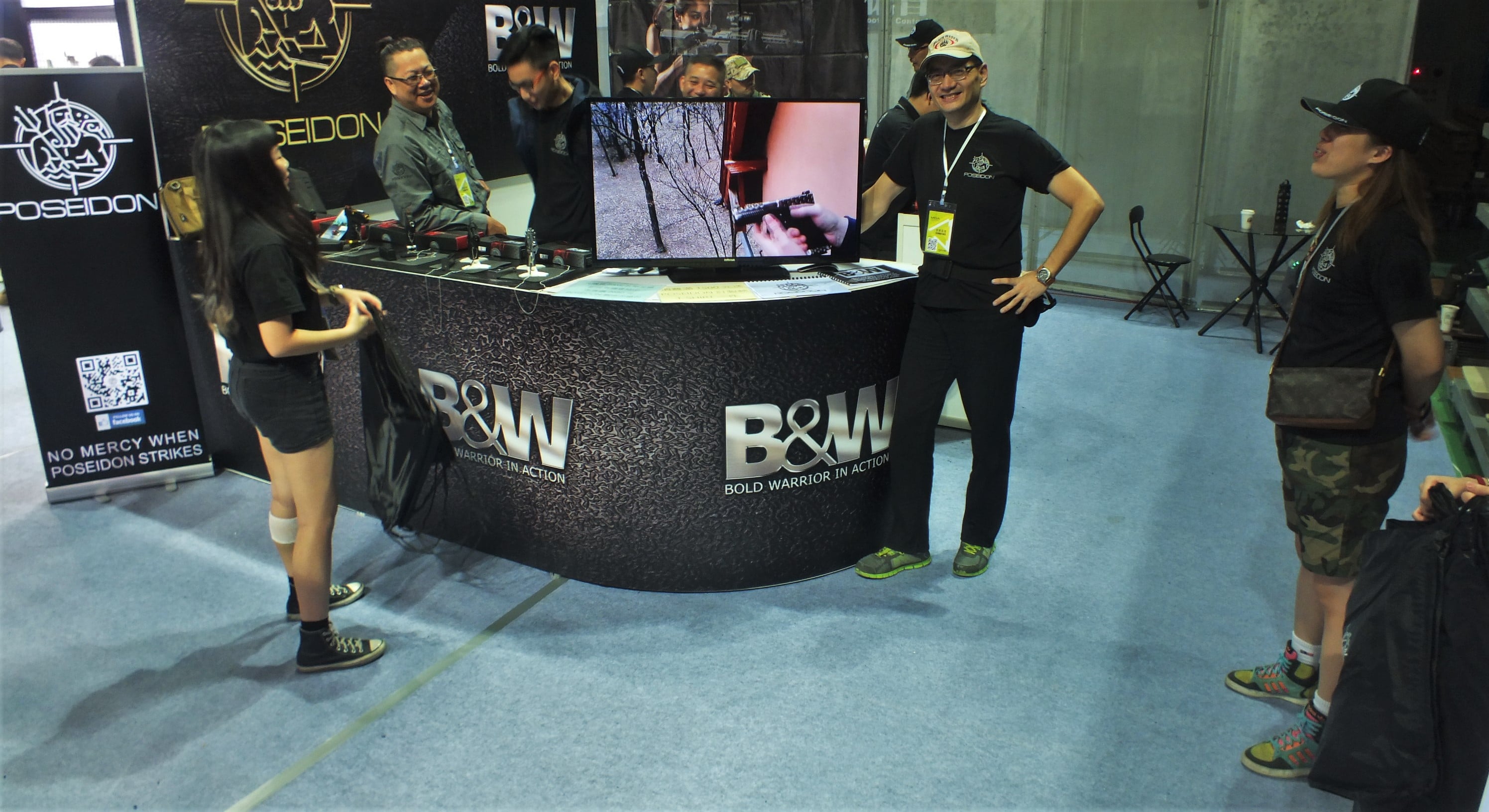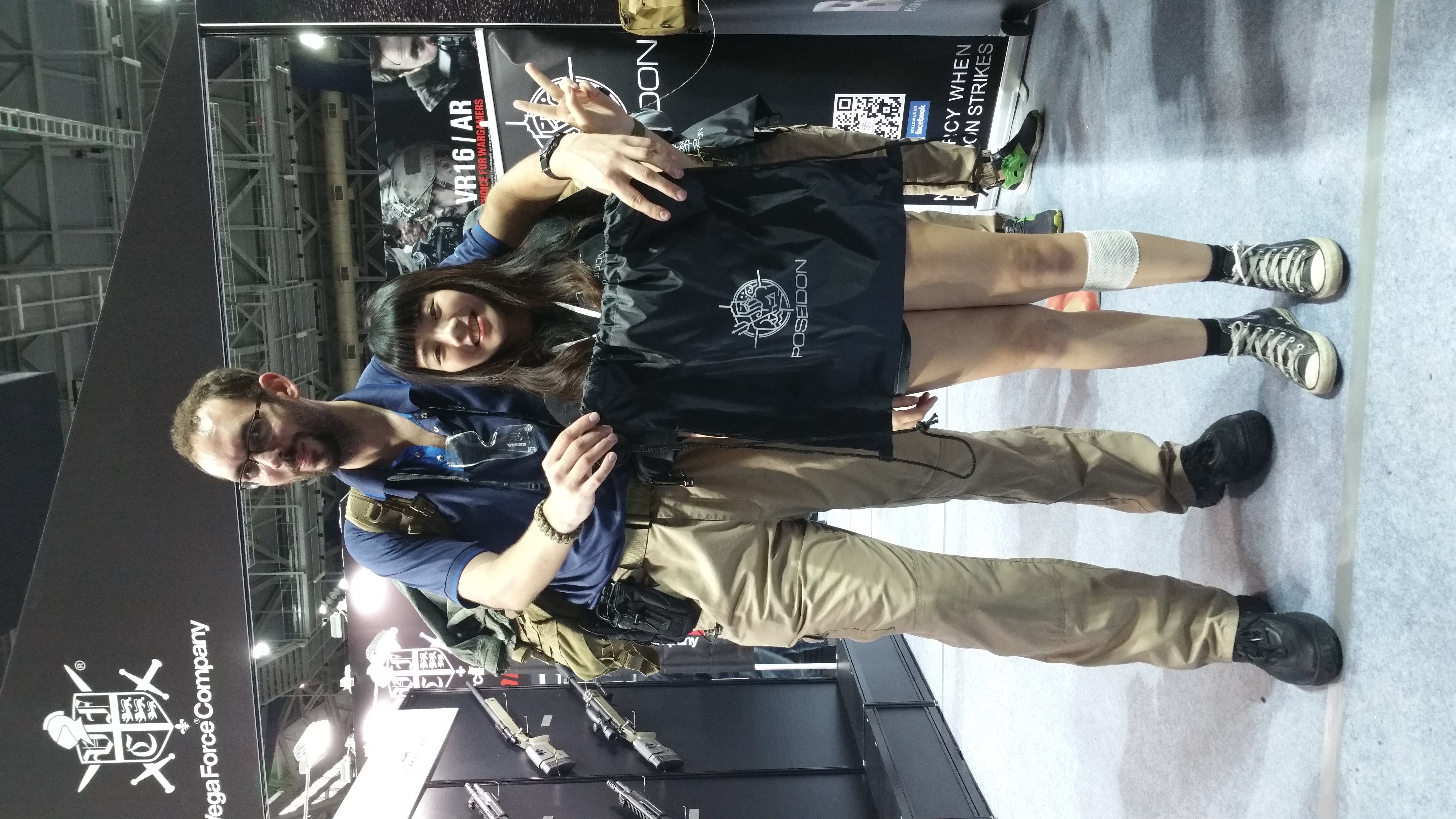 Having managed to walk through their stands without getting too awestruck too soon in the day I moved on to the right hand side of the arena towards the competition areas; Bolt airsoft had a nice open plan display set up with central plinths covered in various guns on all sides to have a gander at and pick up and play with - I dry fired their latest MP5SD5 offering and found it equally as nice as the MP5A4 I'd previously had a play with at Hooha 22 - the SD6 also has the advantage of the large foregrip/ integral suppressor which presents a very comfortable ridged cylinder to grip for my bear paws. Their MD Tomy was also introducing me to their latest bluetooth compatible apps to enable augmented reality for your smartphone to be interlinked with their AEG's gearboxes. Furthermore he introduced me to their sales manager Wilson so that I could start making inroads to a potential factory visit and photo shoot to create a feature piece to tie in with the release of their new AKSU in early 2018 - I hope we can make that happen!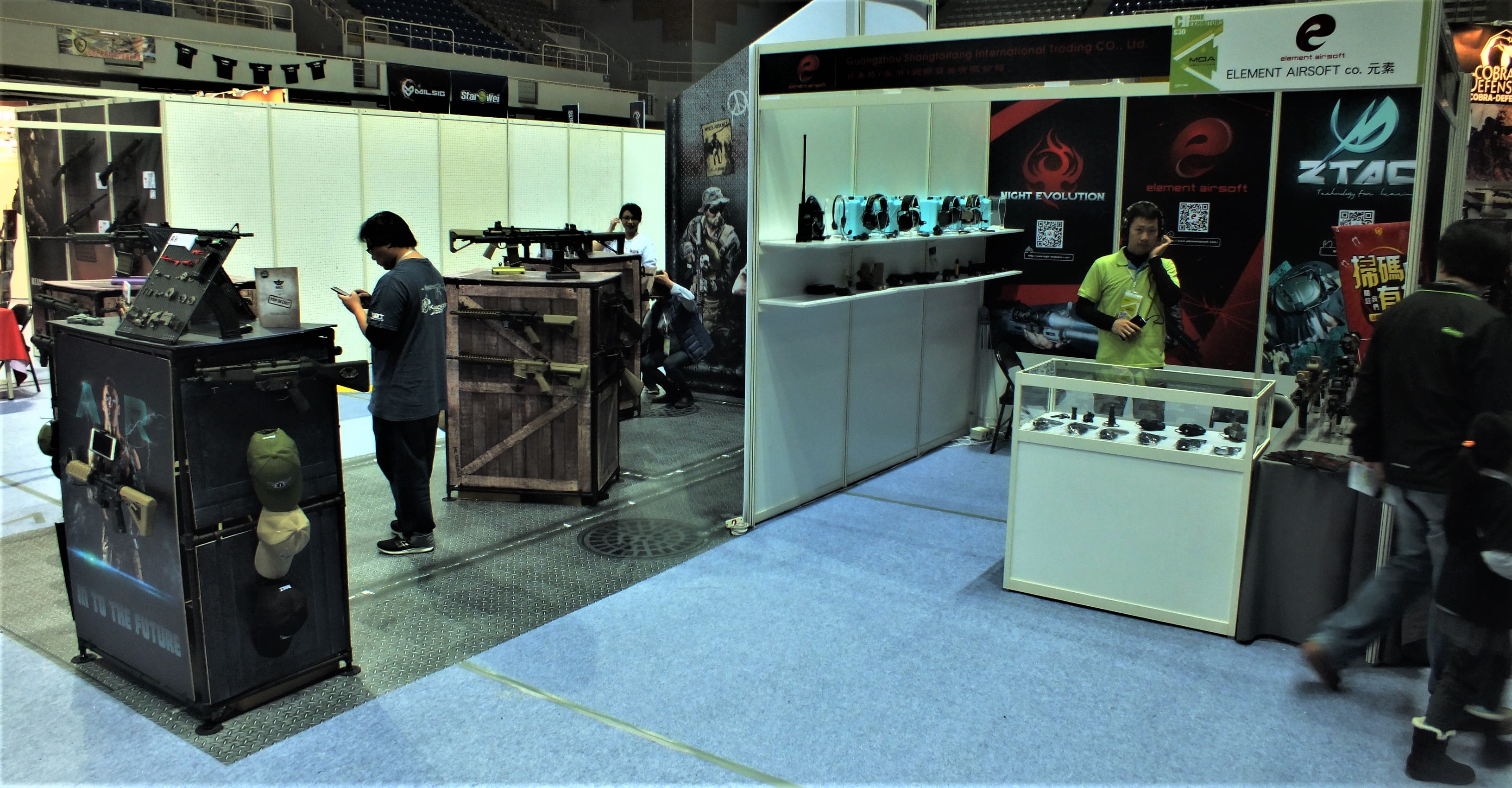 Just behind VFC were Modify, where I talked to Jane their Sales Manager about their company and history originally as a parts manufacturer who have since moved on into full gun production - no doubt best known for their collaboration with Novritsch on the production of his SSG24 sniper rifle. Hopefully I'll be talking to them more at some point soon and perhaps doing a visit and company profile feature as well.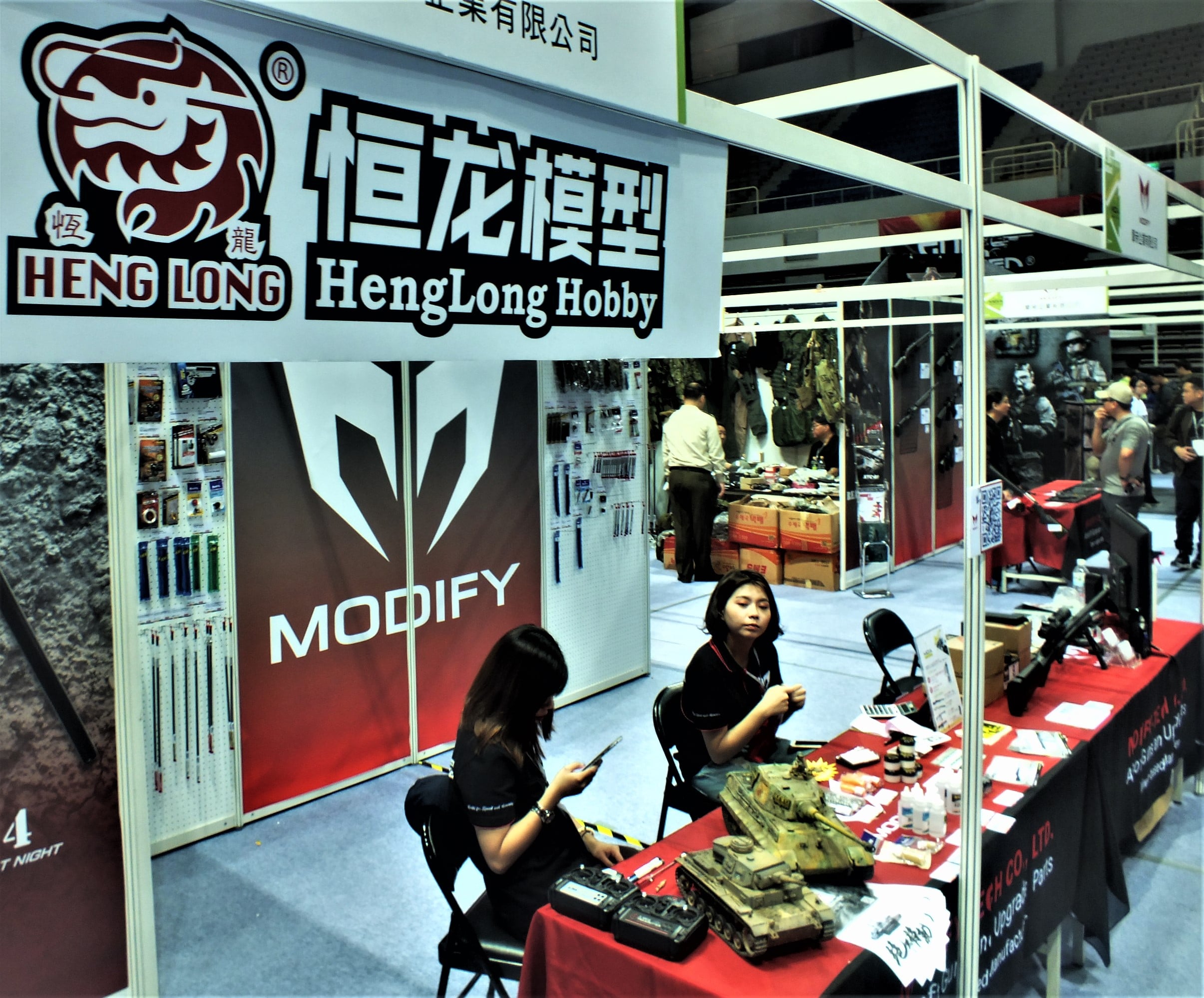 Following on from that, John had signed up to some of the competition shoots in the arenas nearby so I observed and filmed his runs doing static target shooting and dynamic entries in pairs with his other friend who had joined us. Element airsoft were just opposite displaying a range of their lights, lasers, optics and combinations thereof, as well as electronic hearing protection and communications equipment. Beyond them and to the rear of Bolt's large stand were Tactical Arms Factory (who I'd previously seen at Hooha 22) again, displaying their largely GBB pistol oriented custom machined option parts and guns, and Classic Army Taiwan/ Taiwan Weapon Industries (with their logo which obviously is intended to look as much like Israel's IWI logo as possible! because obvious badass reasons).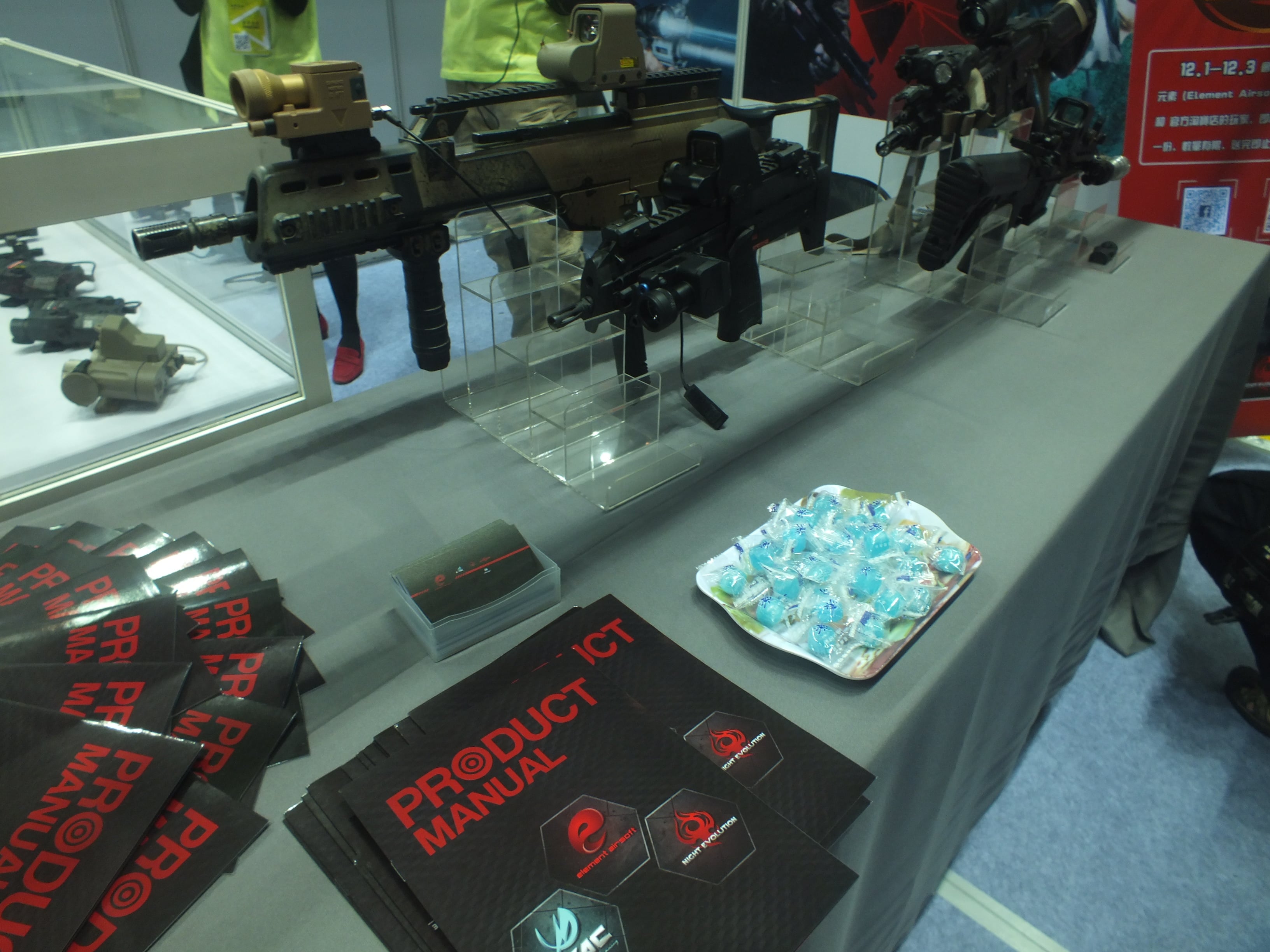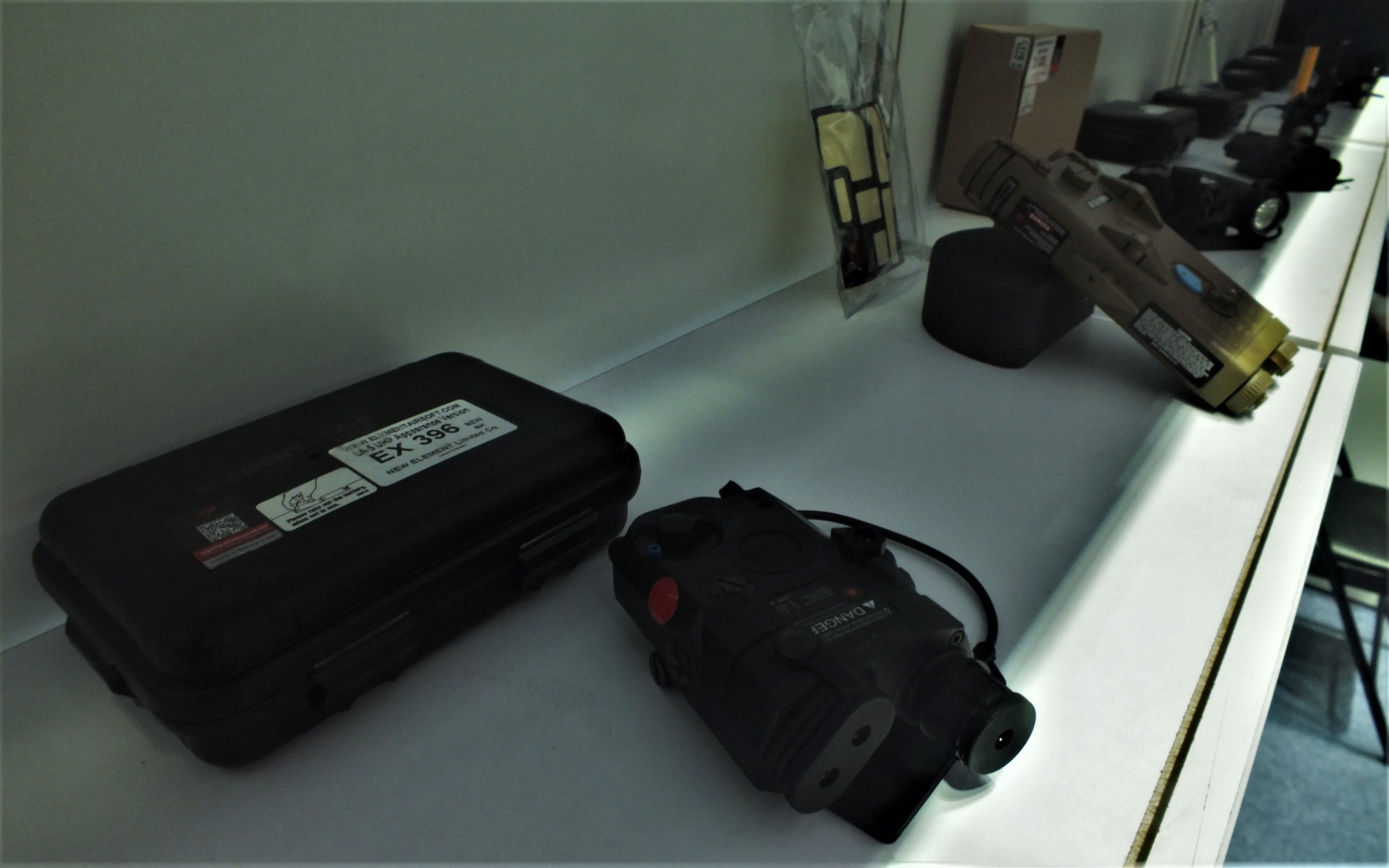 Moving further rearwards, A&K had a simple yet imposing monolith with their posters adorning the upper section and arrays of rifles lower down and around the floor space as well as a separate front desk plint showcasing some of their Armalite platforms, flanked by a tripod mounted PKM/PKP, closely followed by Star Rainbow Company (SRC) to their rear, who had a large open plan display with a back wall filled with a spectrum of AEG offerings in numerous guises as well as some front plinths showcasing their GBB pistols. Next to them I once again happened upon Cobra Airsoft with their heavy weapons options on show - again as with A&K's offerings the tripod and bipod mounted PKM/P variants were centre stage, adorned with optics and various carry handle options.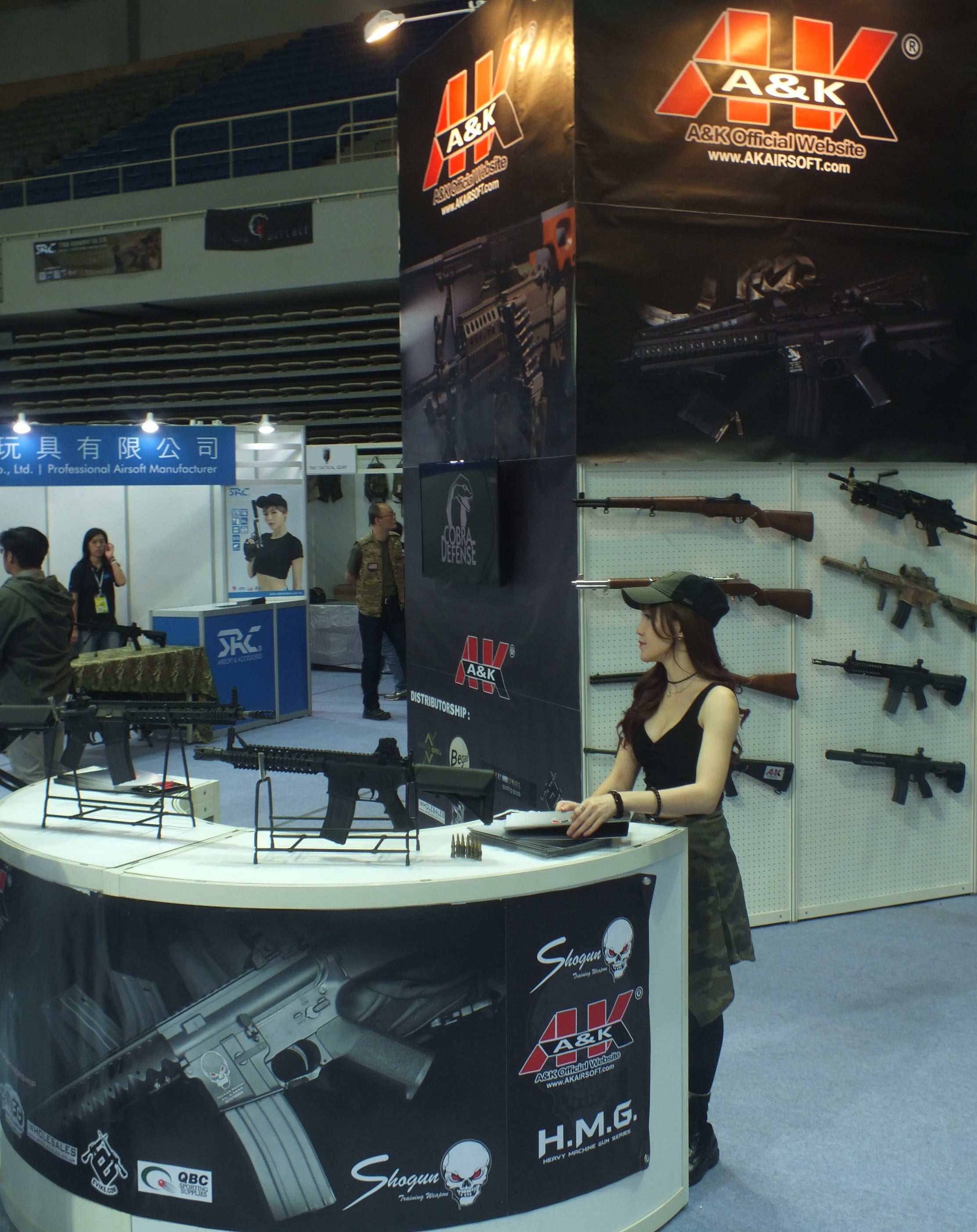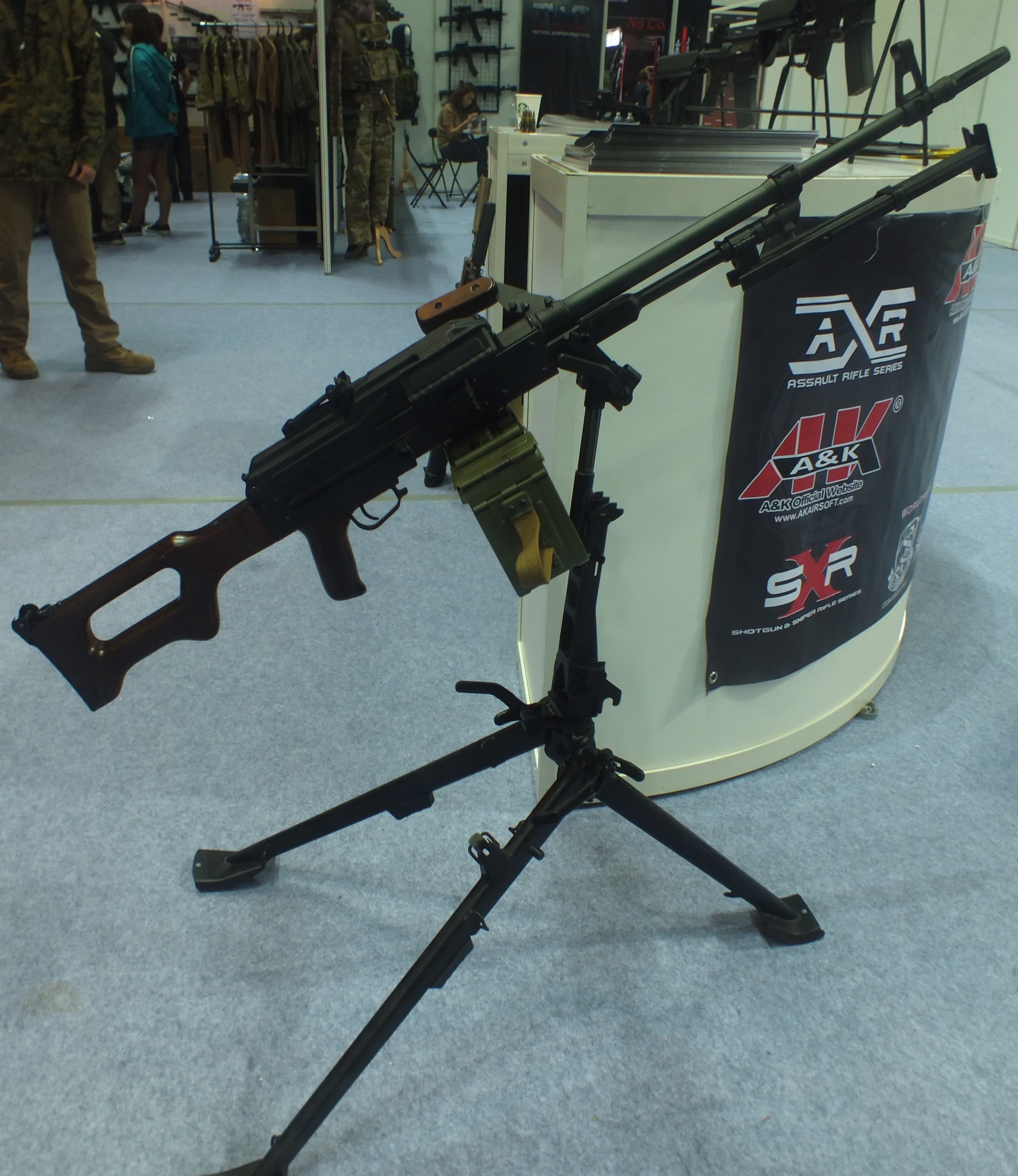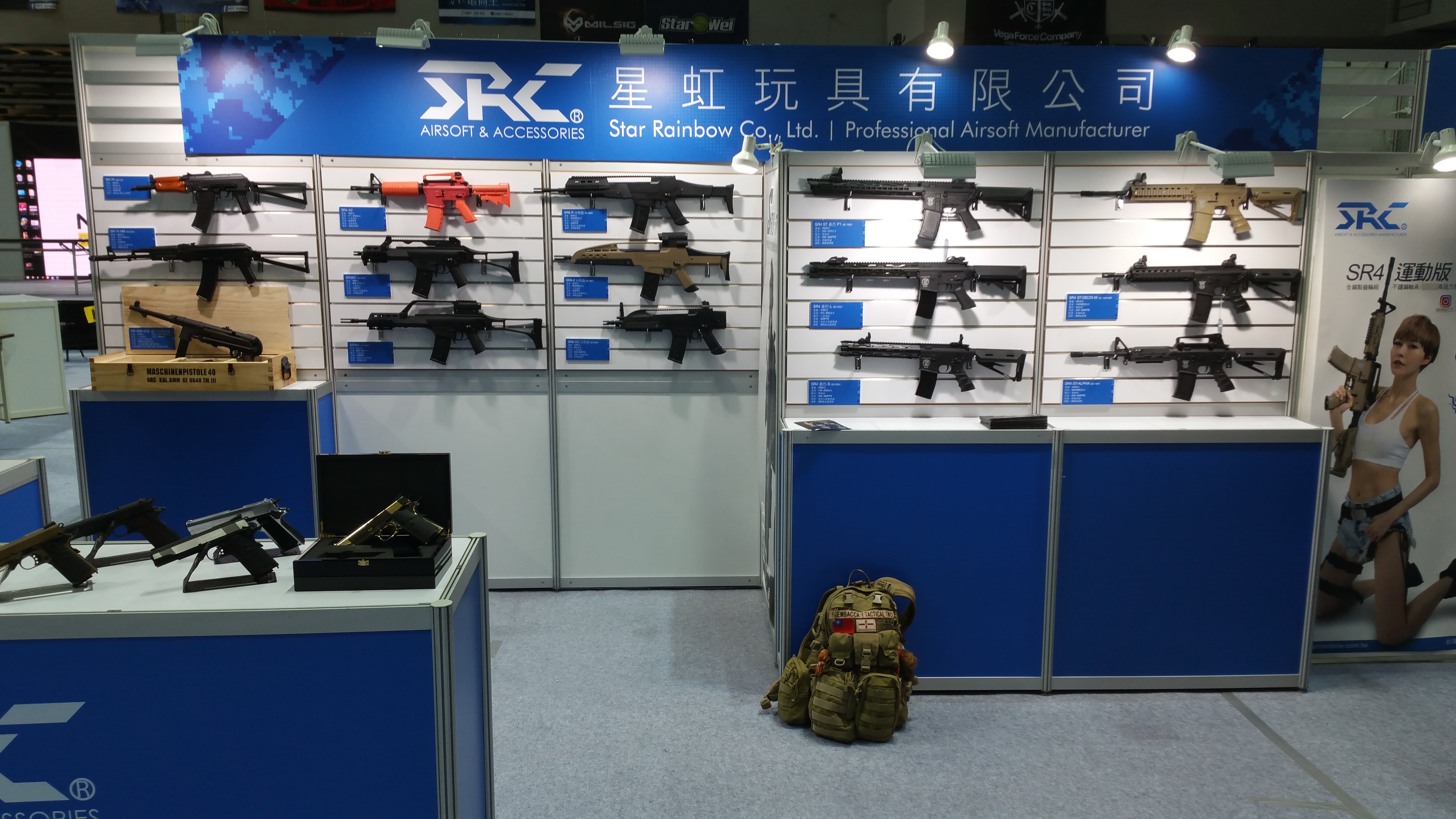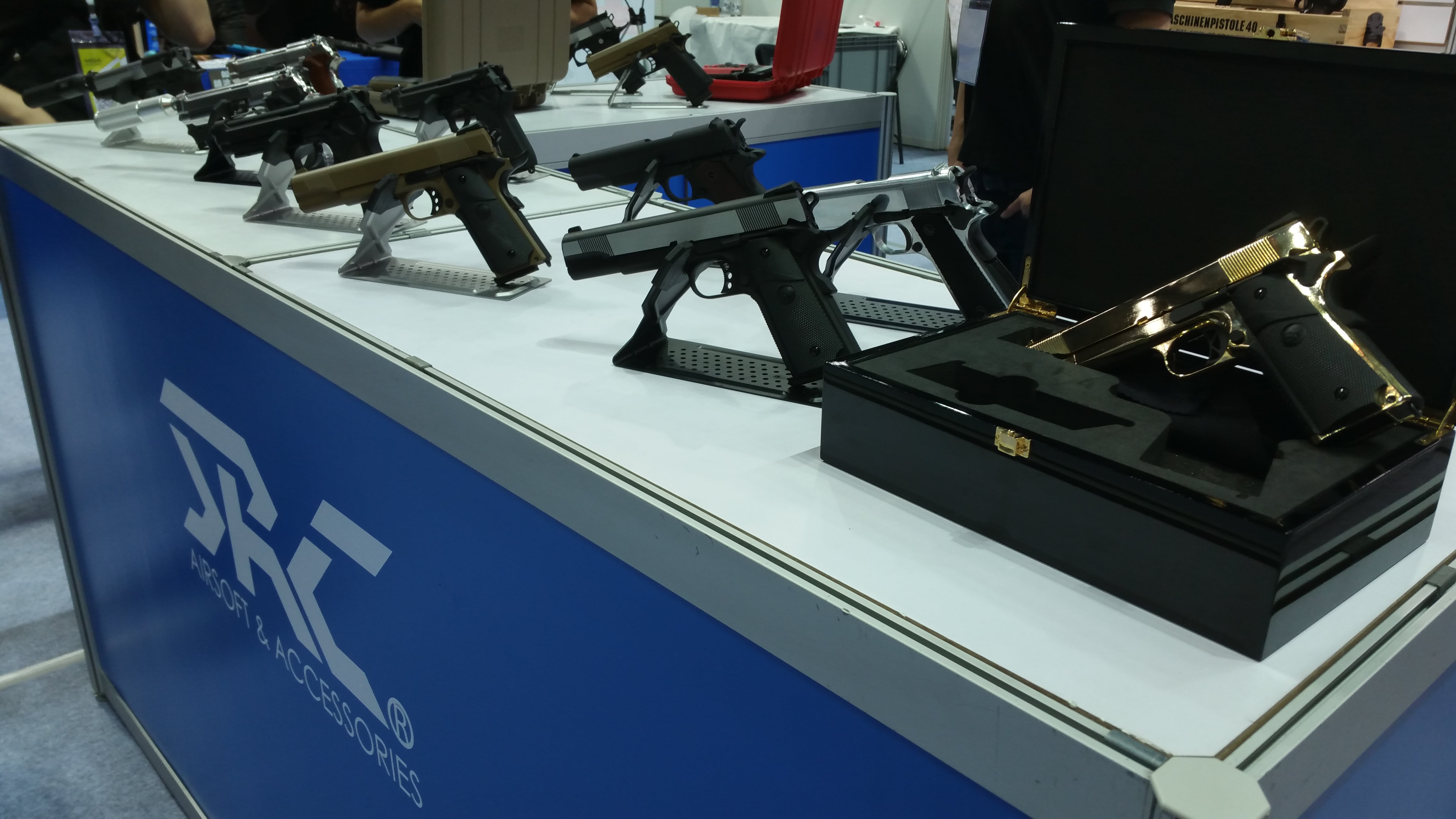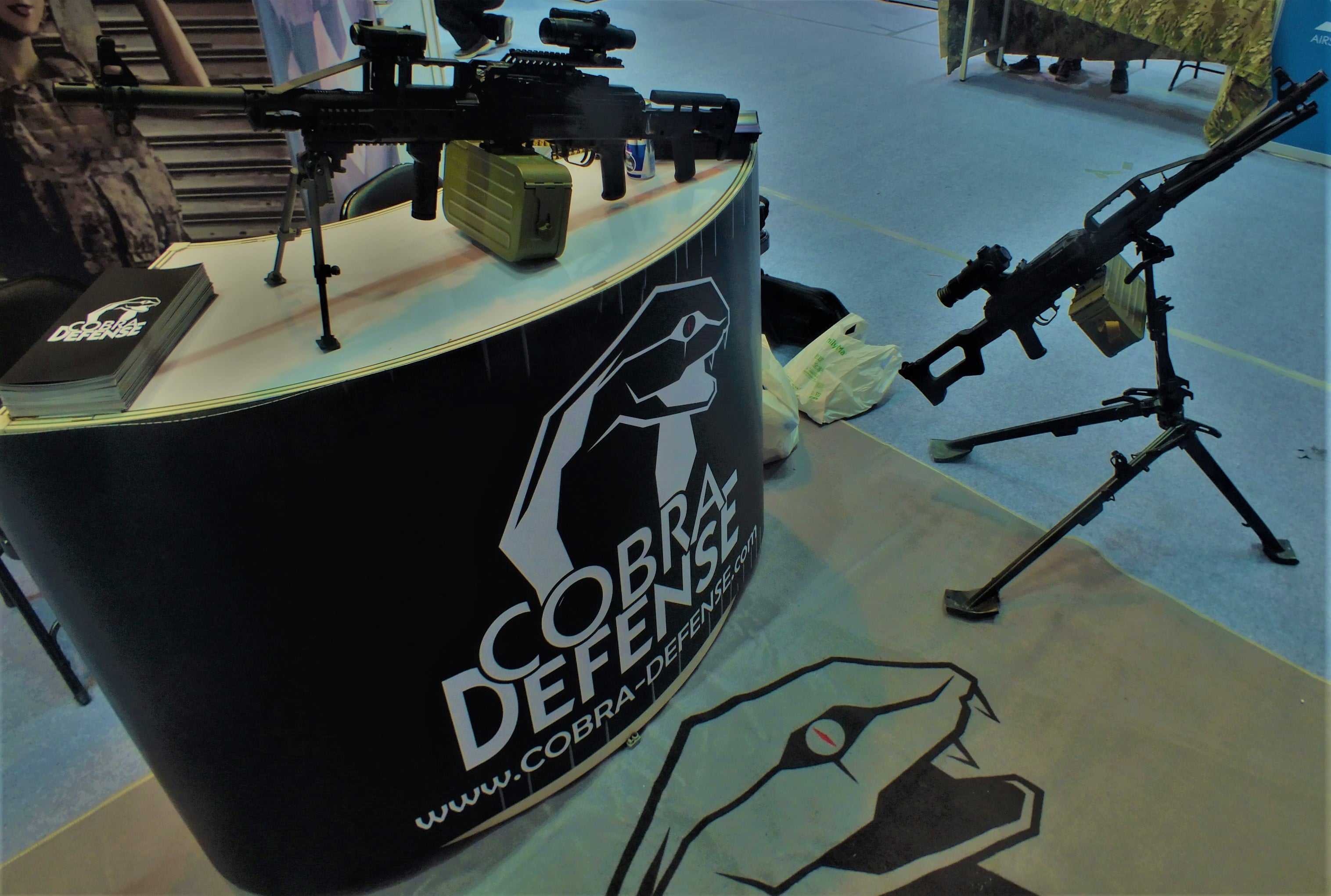 Onward towards the rear right and we happened upon the lovely Qiao Qi of Slong Airsoft (Shen Long/ 'Dragon God') who John had introduced me to at Hooha 22 and who now had fully finished injection moulded polymer production units on offer, rather than the 3D printed prototypes she had on display previously.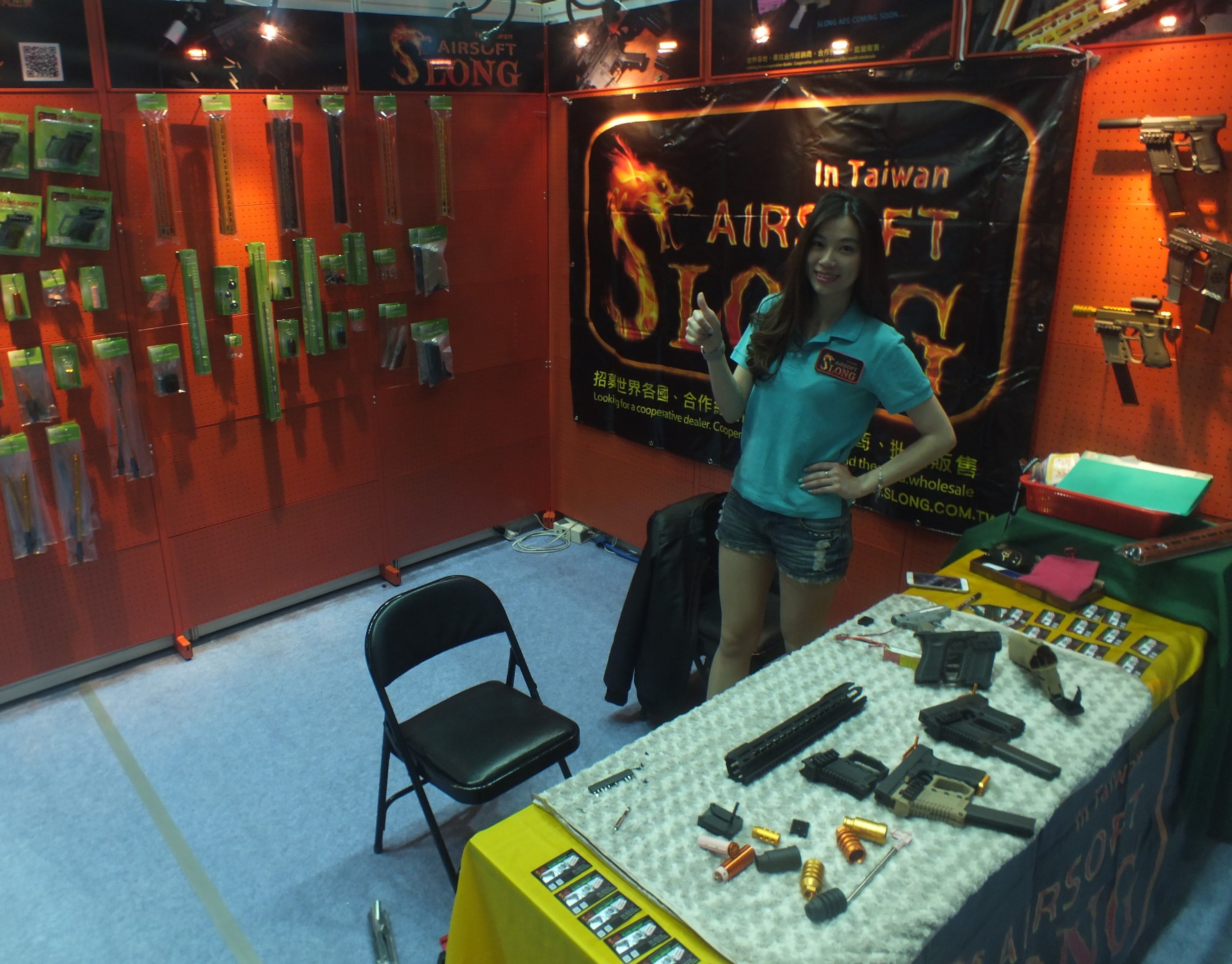 These are her 'Kriss XI' front grip modification units for Glocks and similar front rail bearing pistols - essentially a large trigger guard/pistol grip extension which mimics the magazine placement of a Vektor Kriss, but for the purposes of storing a spare magazine within easy reach. I was also discussing the materials and finishes used in her metal optional components and upgrades - largely aviation grade Aluminium with anodised finishes in various colours. It's certainly very nice to see a general trend over here for very nice ladies not only getting involved in playing airsoft itself, but running their own businesses or being very highly qualified and working in engineering or other STEM professions - certainly back in the UK airsoft and engineering are both heavily male dominated arenas.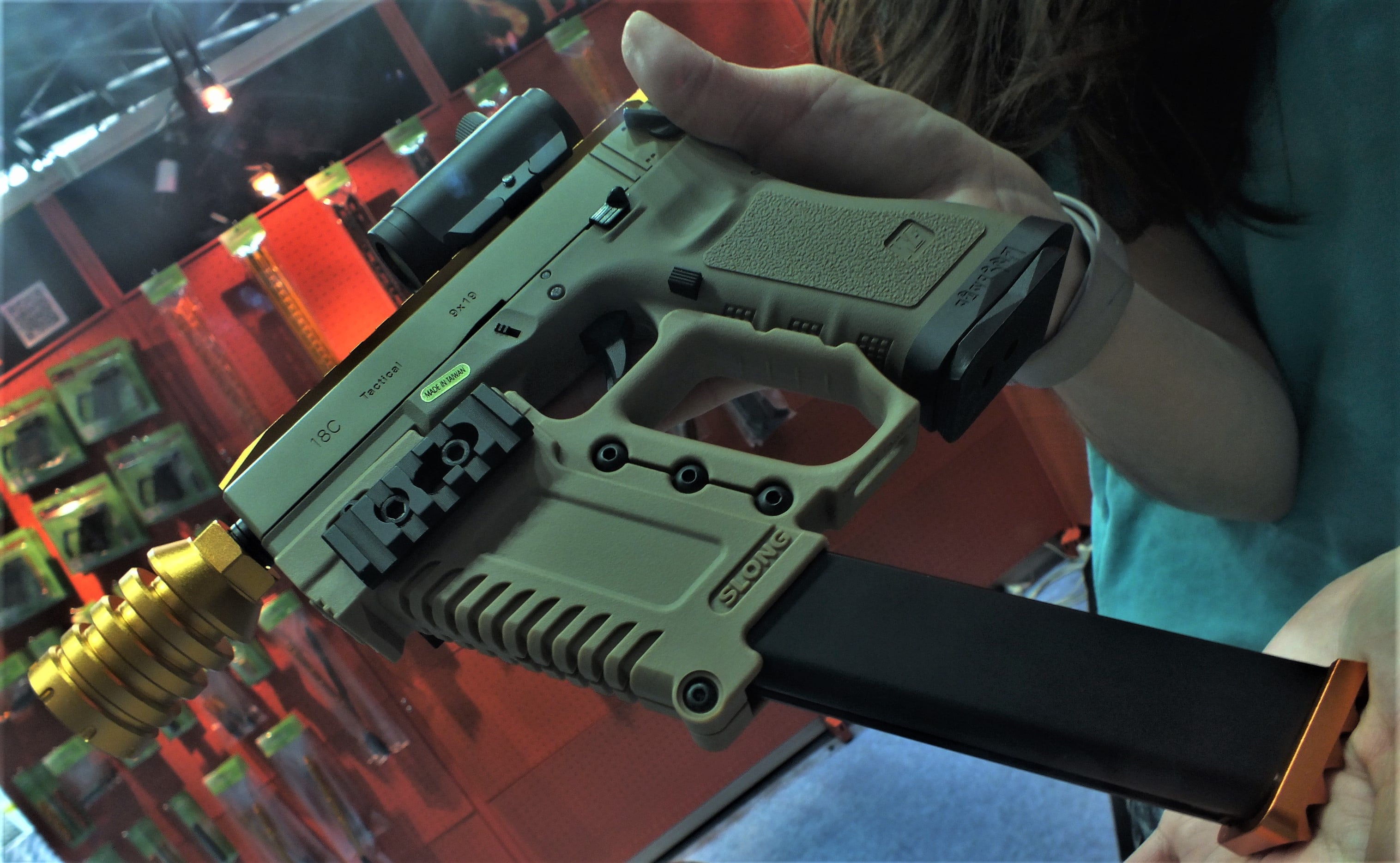 Along the back wall to the right of the stage and all following around to the competition area we passed were a variety of local concerns and QRF mag's press box/ magazine stall, as well as TMC Taipei and Gun Heaven's stalls with a variety of tactical gear and predominantly gas blowback pistols on offer.
Towards the centre from here Gungnir also had a long table display with not only their own range of equipment but an array of high quality Hawke telescopic optics which I had a look through - mildot reticule scopes mostly in the 40mm objective lens size with variable magnification available. Of course they had a rather lovely and svelte lady espousing their wares in black and white camo and a police vest, because I remember the important details, don't I?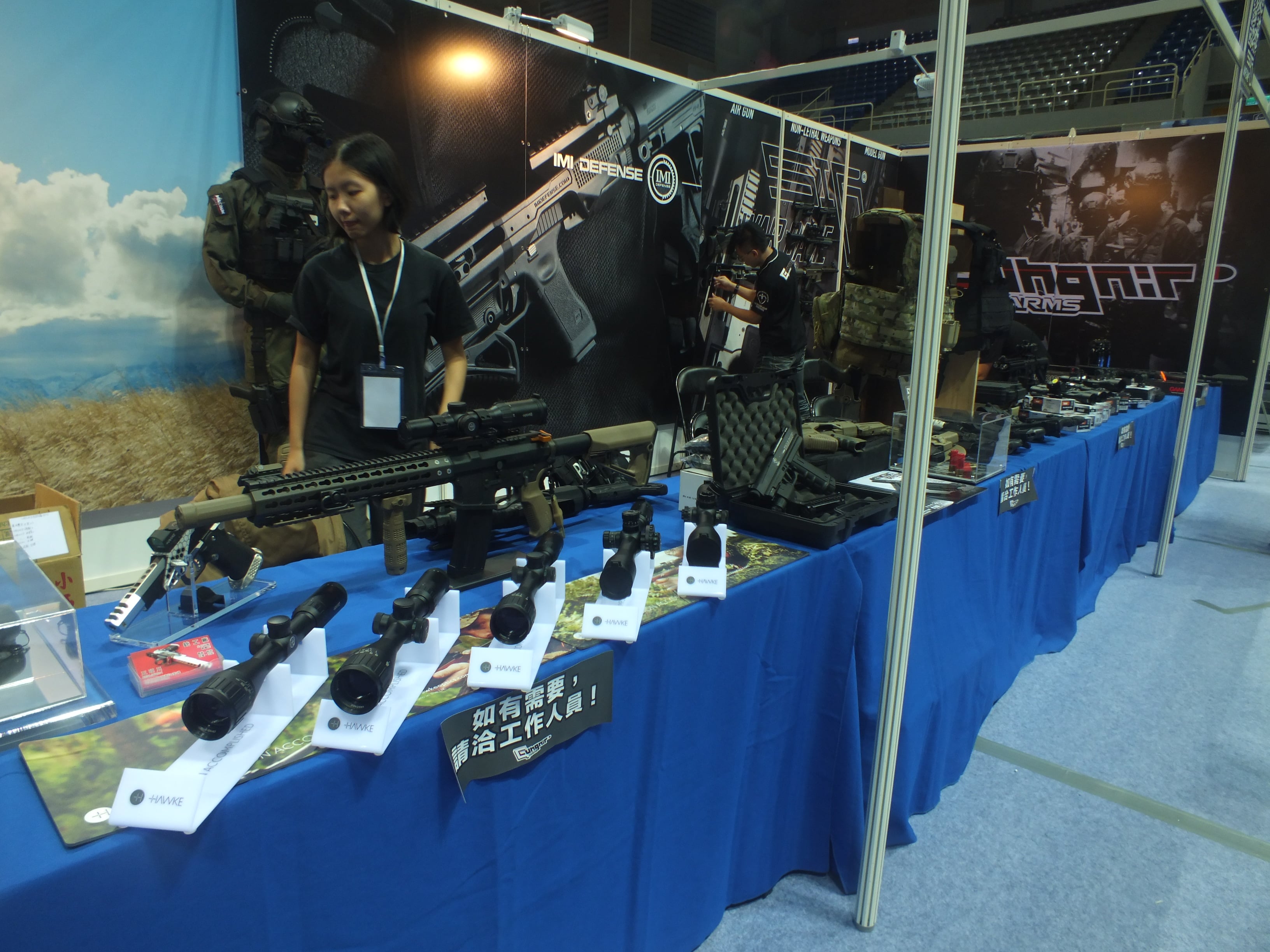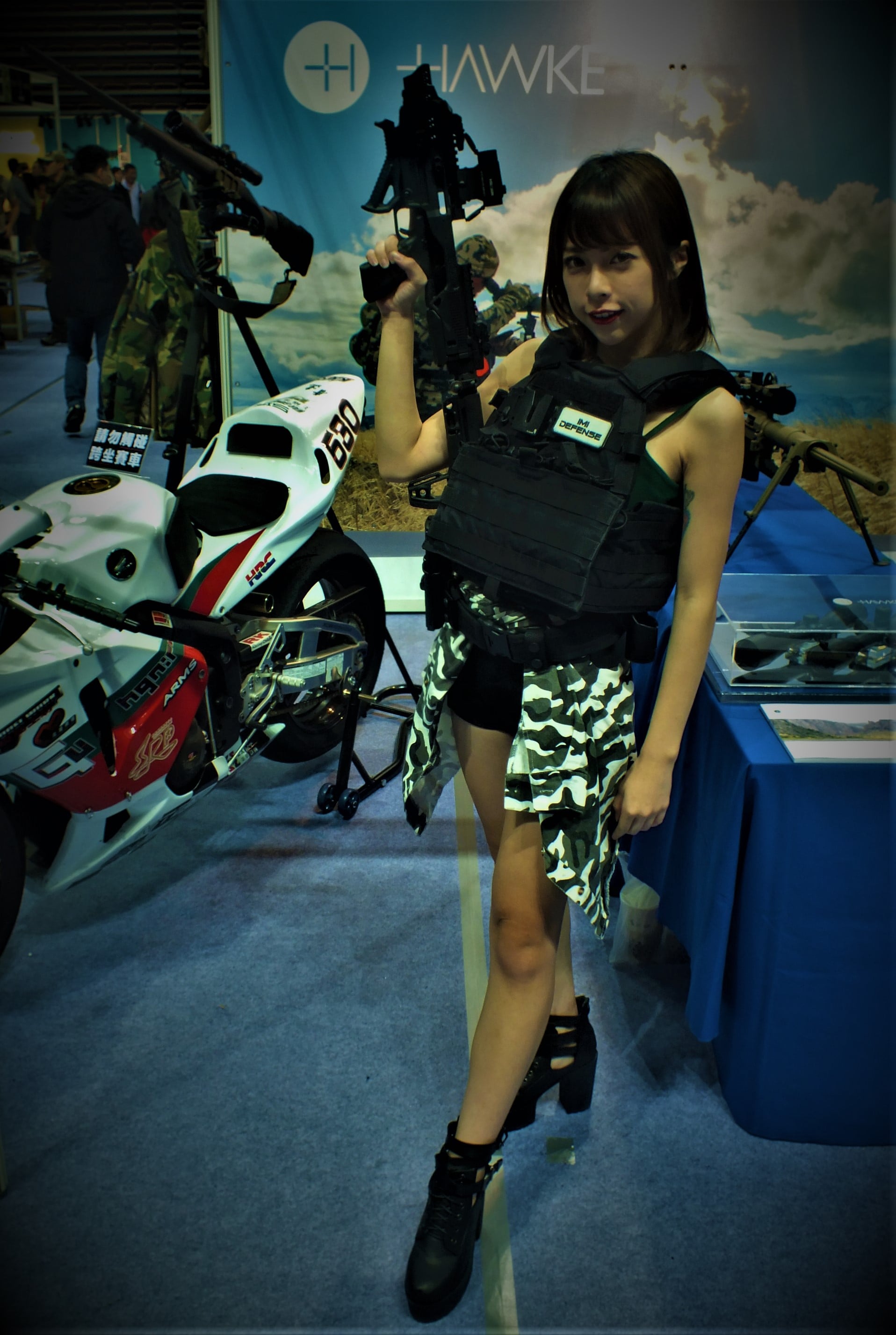 Moving further to the rear and left of the stage WE had a huge area taking up the whole side of the back wall dedicated to a vast array of their GBB pistols on show; including some of their rather unusual 'double guns' as seen in the hands of Mr Hinks in the latest 'SPECTRE' James Bond film - there seems to be a trend in real steel for turning out these pistols stacked side by side to basically fire two rounds from separate barrels at once… not entirely sure of the point of them or their appeal myself and I have huge hands as it is, but, true to form; they've been faithfully replicated in airsoft versions as well, a few 1911 styled ones and even a Makarov. They also let me dump a magazine load from their new Thompson GBB SMG which was ludicrously good fun and flails around in a manner I can only imagine is fairly close to the real thing.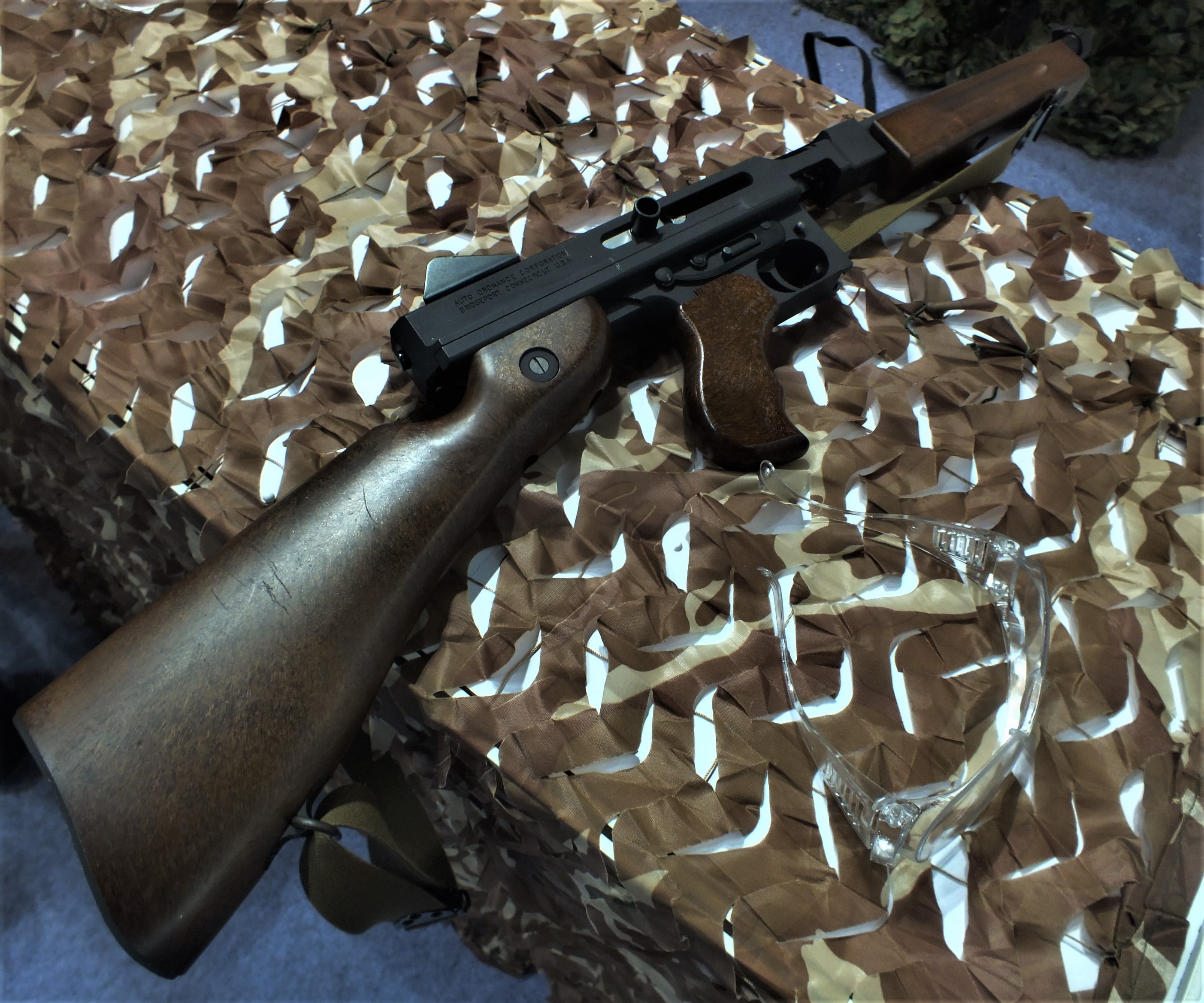 I moved along the left hand wall back towards the entrance and came across various tactical gear, custom component and carry case solutions manufacturers until I was dragged kicking and screaming, obviously, into the Wiley-X eyepro stand by their exceptionally lovely hostess who was nice enough to show me how to like and share their post to get a free T-Shirt, and then her boss saw all my camera equipment and backpack with array of not-so-local-flags and thought he'd sweeten the deal with their latest release under-armour long sleeve breathable branded shirt too - can't say I'm complaining… I needed to look into new prescription ballistic glasses anyway, can't seem to find replacement ESS lenses here yet!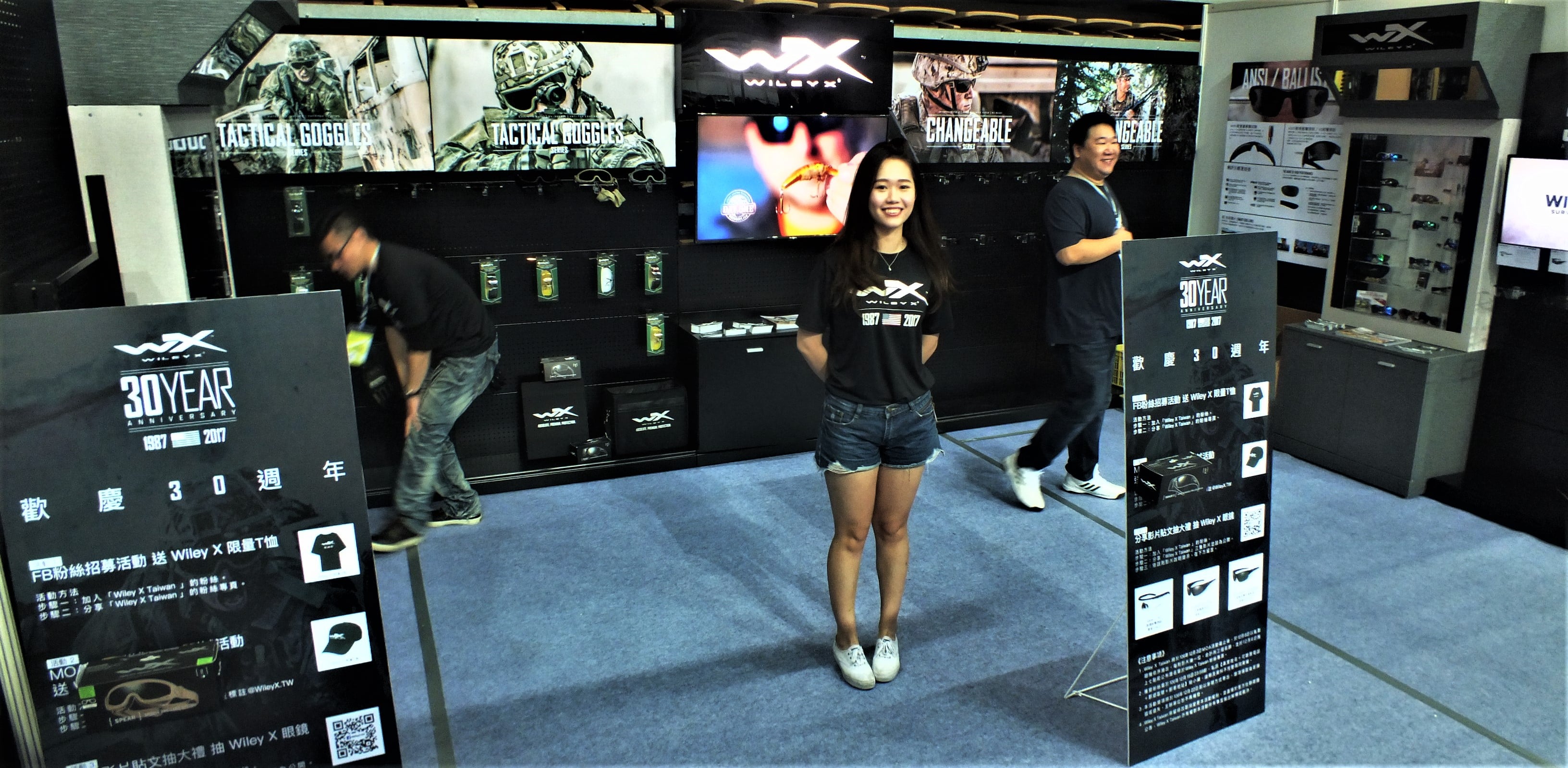 From here I spied yet more shiny toys in the hands of somewhat scantily clad hostesses at RA Tech's stall and decided it was worth looking at their wares... on purely professional grounds, of course… they had some very solidly put together gas blowback M14s with original wood furniture as well as a more modern Armalite style collapsible/ telescopic stock version. Also on show were some Armalite variant GBBRs and some of their high end CNC machined steel bolt carriers and other optional/ spares components.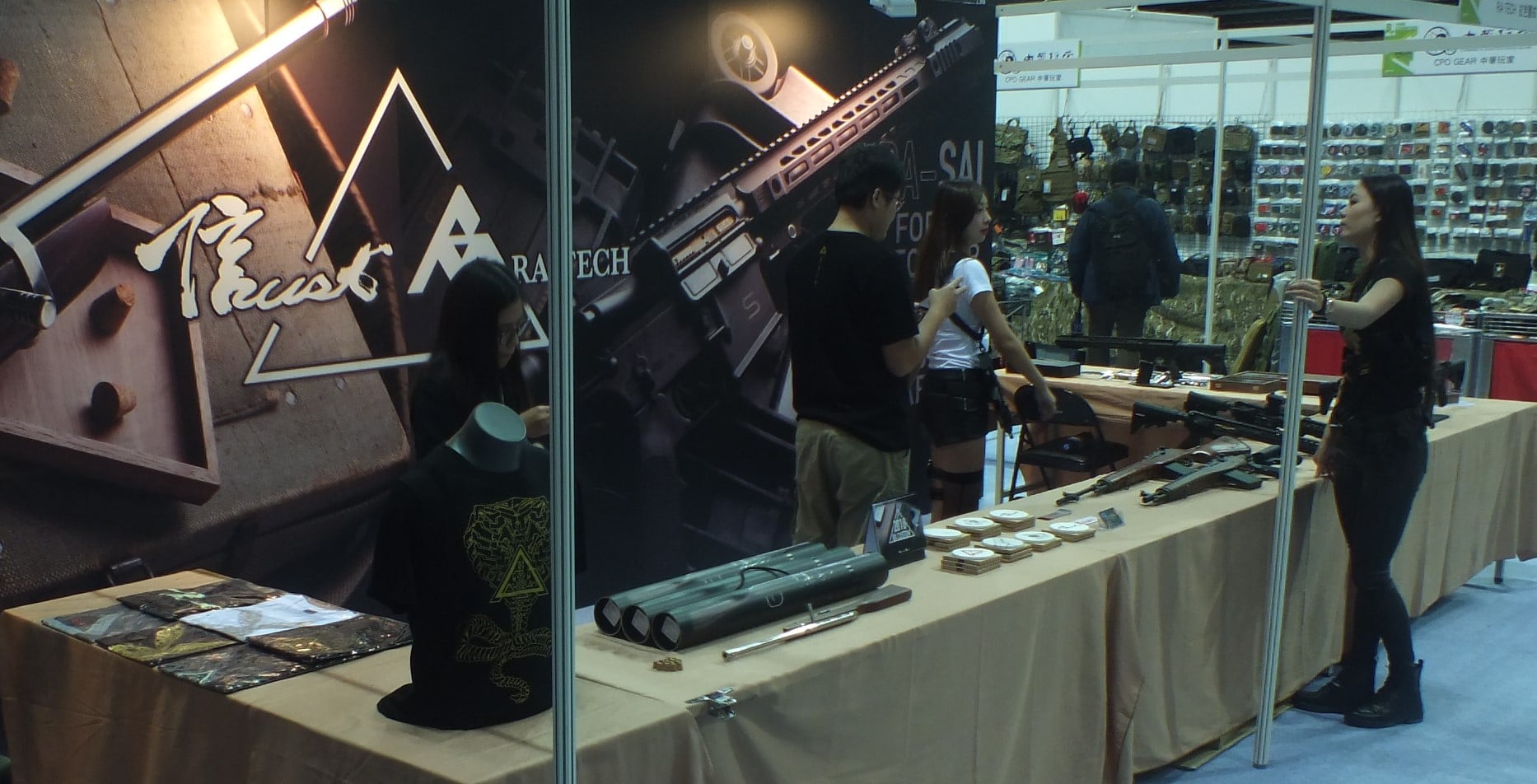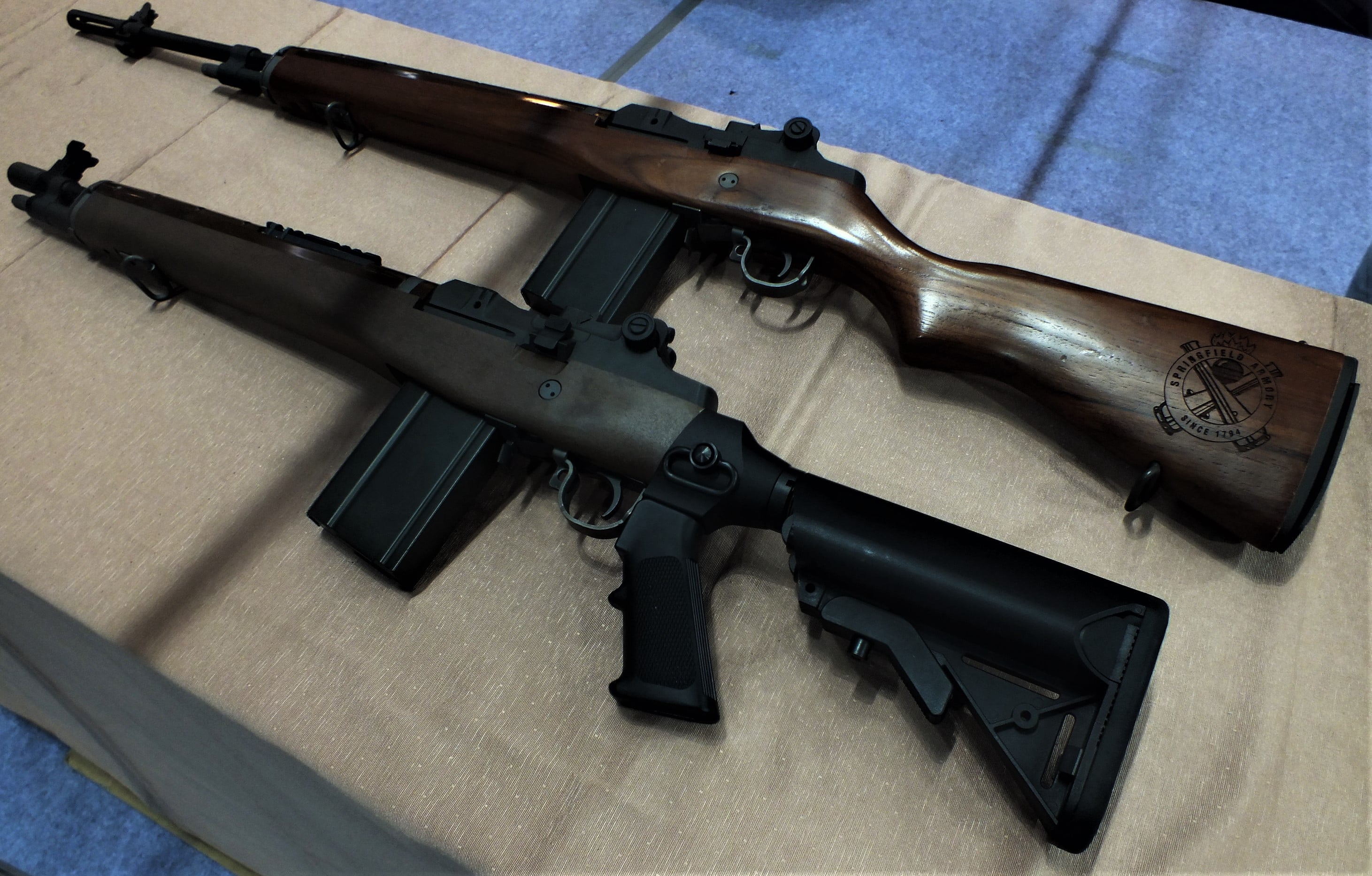 As I headed for the home straight back towards the front entrance I happened upon HFC's large stand with a reasonable array of their gas blowback pistols and their new drum magazine which can be adapted to basically any gas pistol magazine profile - if memory serves there are already at least Glock and Beretta compatible variants available with more on the way. I had a bit of a chat with yet another lovely lady representative on their stall about what I was up to over here and possibility of further networking etc - it turns out their production facilities, along with VFC's for that matter, are not too far from Xinzhuang or the place nearby where my friends I tend to stay with every so often live. So that could be more convenient feature pieces on the way as well.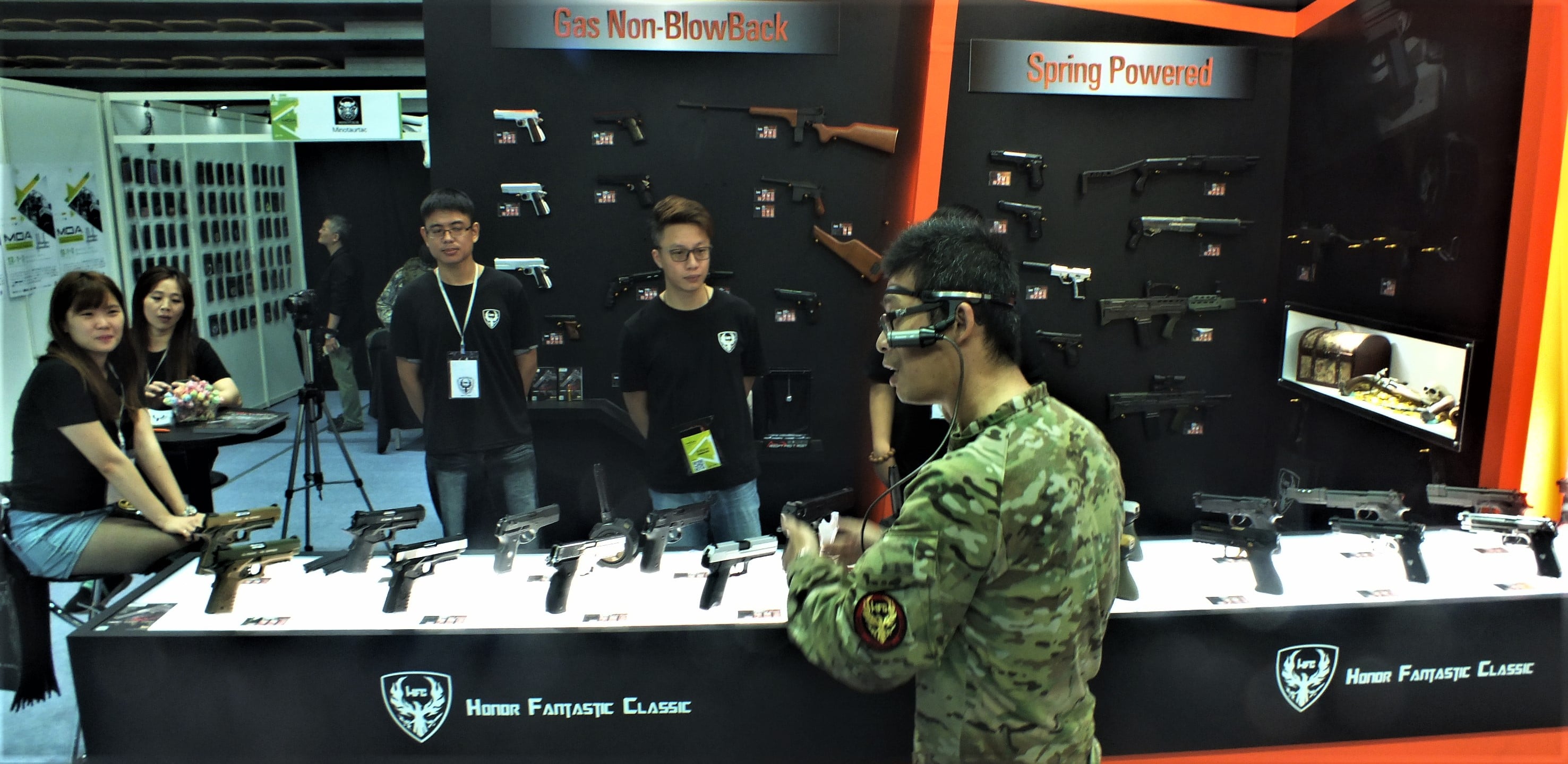 Finally, I spotted a very lovely lady I'd seen making her way in while we had been queuing - 'Valkyrie' Anny was working with Centurion's Option of Hong Kong all weekend and I proceeded to spend the next two or so hours on their stall - having seen everything else I wanted to - and got a thorough introduction to their range of available accessories for both pistols and rifles; TruGlo fibre optic collimating and tritium variety weapon sights of various shapes and ilks - the Meprolight MH3 extended pistol rear sight gives an excellent and clear sight picture of a very crisp green circle with a dot floating in the middle - it makes it almost impossible to aim off axis as the sight picture only shows centrally when you are dead on target - something I've found floating red-dot sights or other options don't help with at times.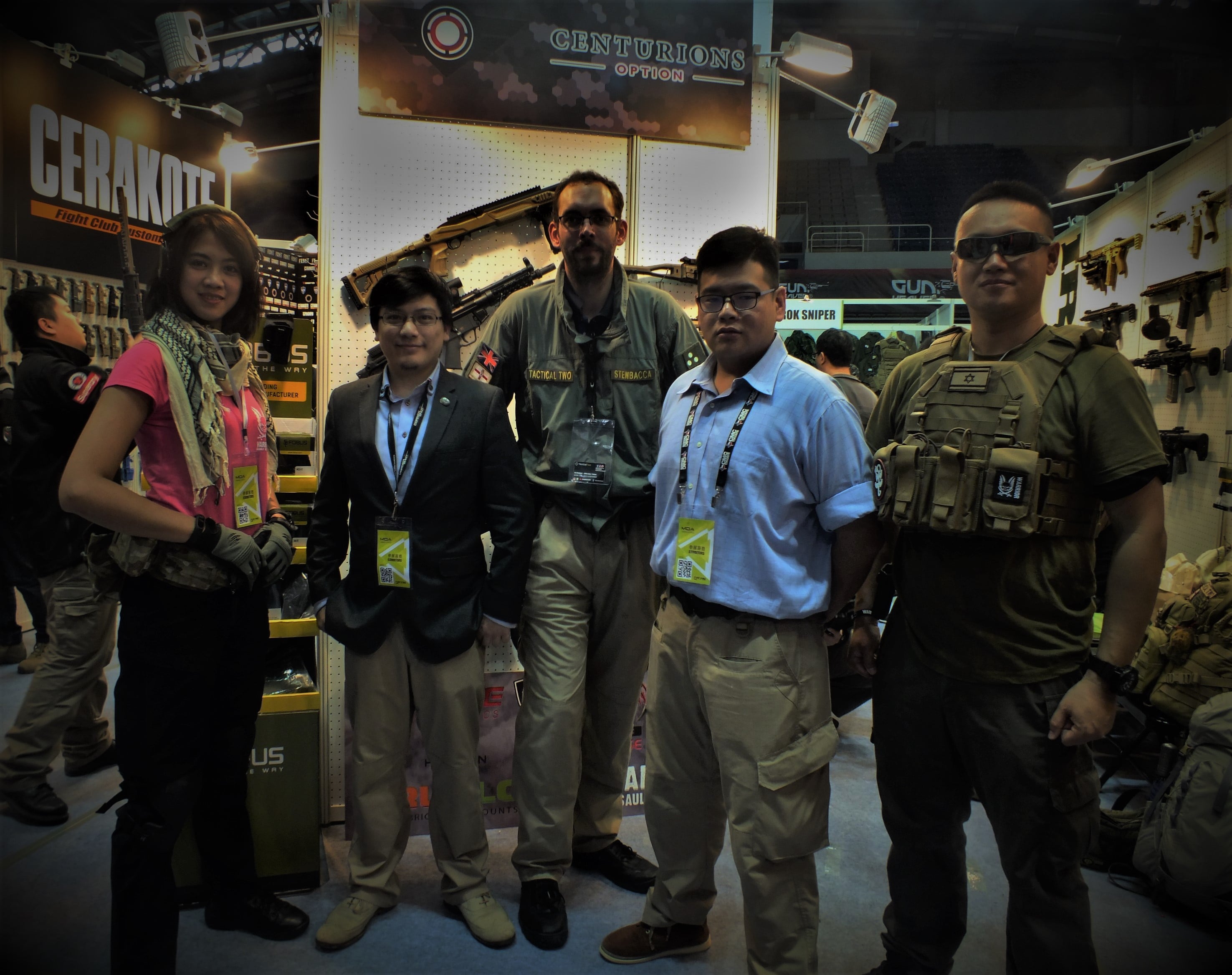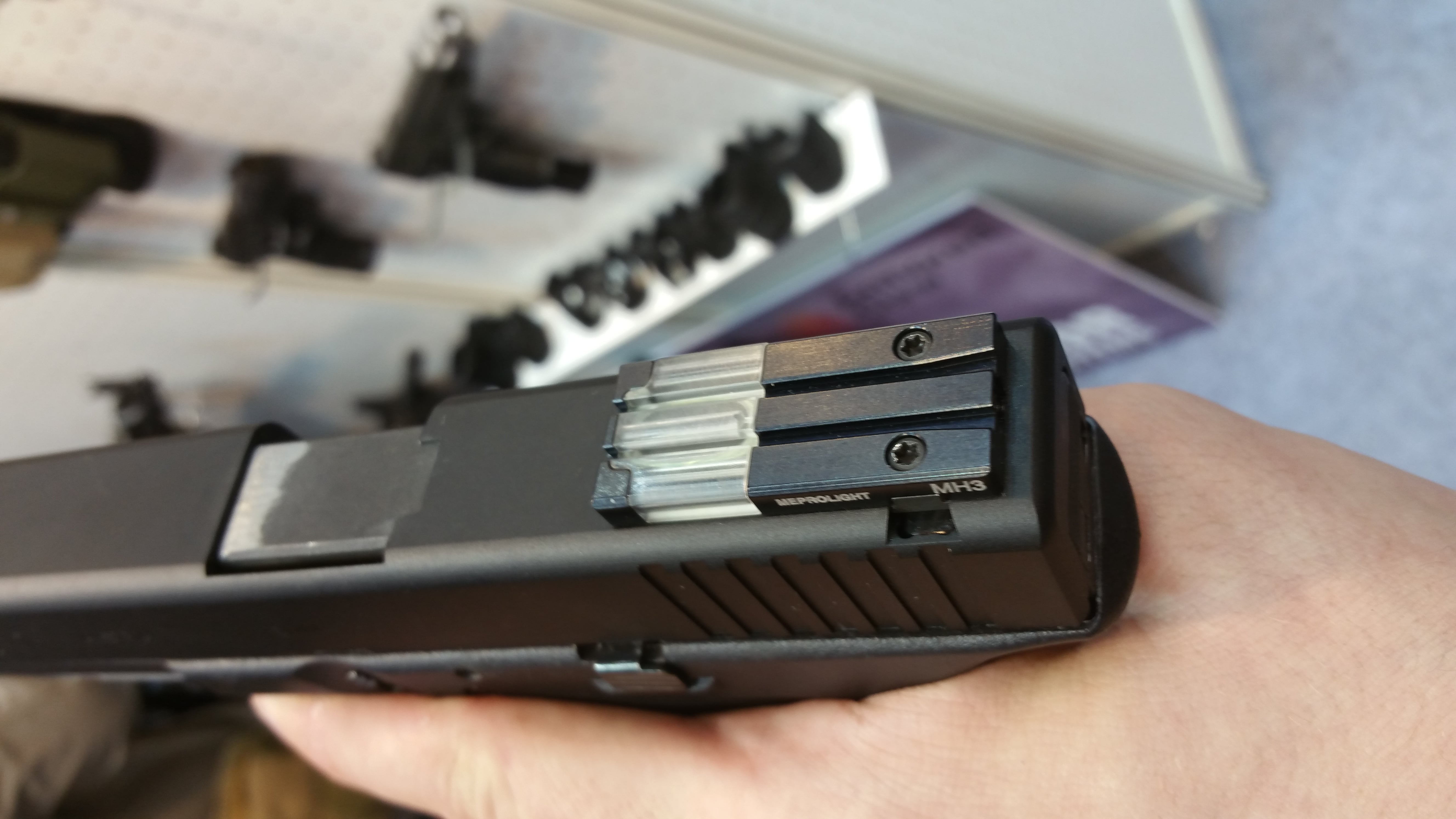 Beyond this they had they were also offering the 'Podium' bipod system on show, attached to both Armalite and Kalashnikov variant GBBRs which I was very impressed with; their MD Larry & operative Kai spent a great deal of time running through their product lines with me and explaining manufacturing processes and the company and products in general. The 'Podium' is an optional extra component which serves as a pistol grip/magazine well extension that not only guards the strong/ firing hand and helps prevent impact or damage to the lower section of the fitted magazine, but also incorporates a very sturdy spring loaded bipod which can be deployed by the simple press of a button on the heel of the grip.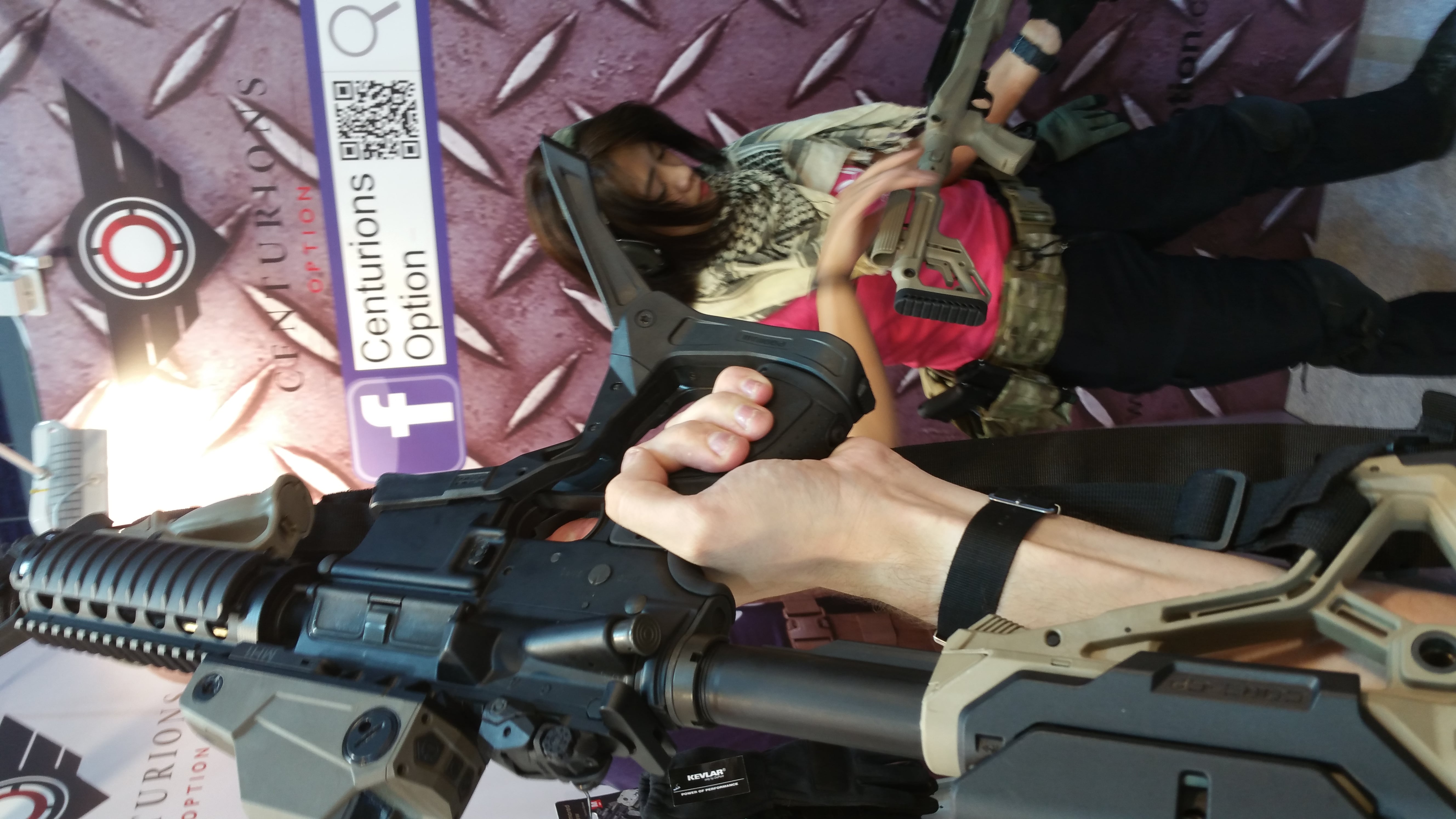 This provides a very stable platform with support right under the strong hand, allowing you to cant the rifle's body/ barrel axis up and down far more readily than with the likes of a more forward mounted bipod - such as that I used to have on my Real Sword SVD - this also prevents it being in the way in terms of taking cover or moving from behind it - as the bipod is right beneath your firing hand it is less likely to get entangled with foliage or rubble in front of your firing position. It also puts less weight of the weapon into your shoulder when prone due to its position beneath the firing hand and grip, where a lot of modern systems try to concentrate the weight of the platform - overall I was very impressed with the rugged and innovative design in general.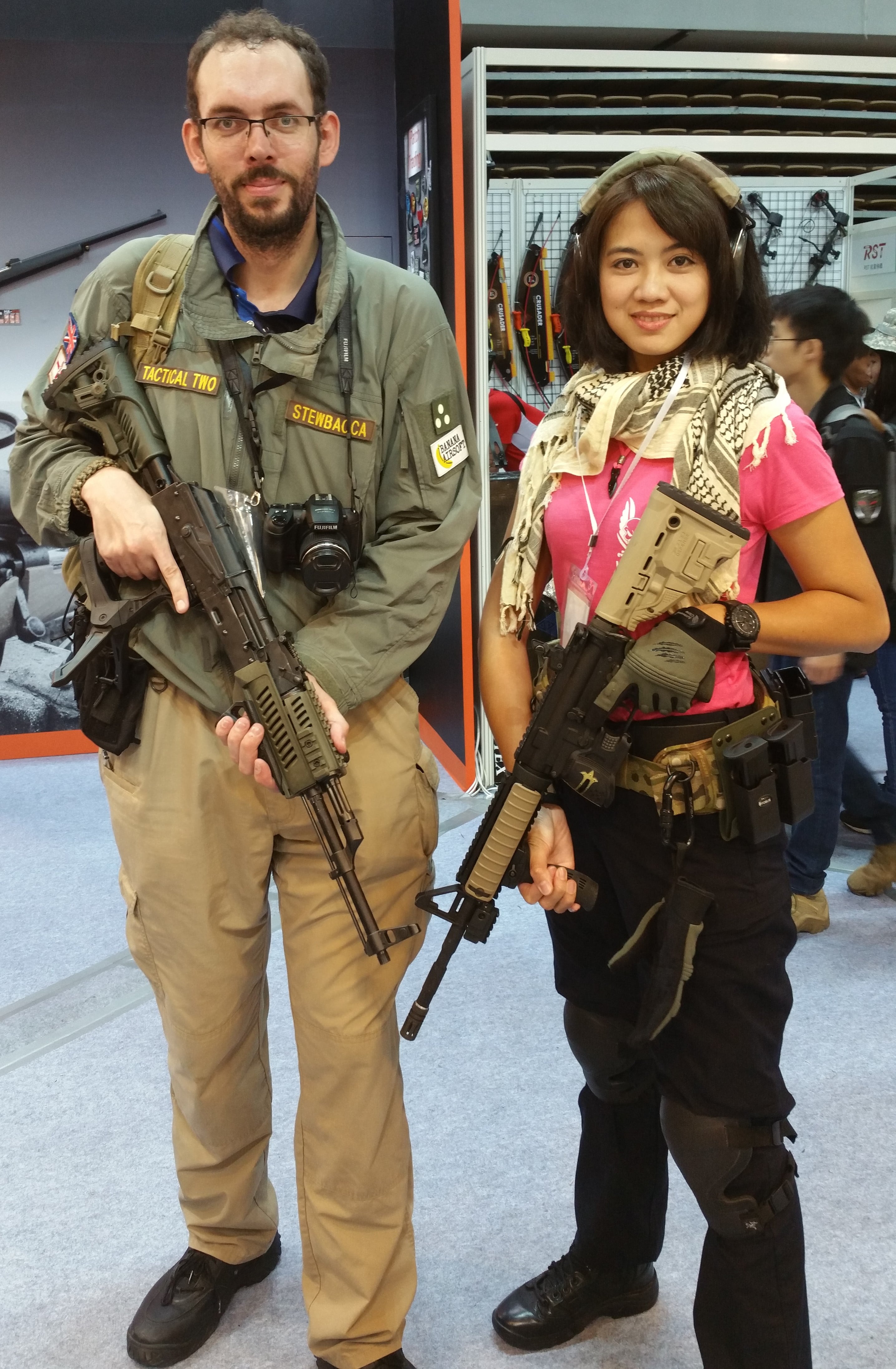 I also managed to get some video of Larry introducing the product range in more depth; despite my own scepticism regarding pistol carbine kits in the past I was very taken with their Glock compatible CAA Micro Roni which has a front grip similar to Slong and other's designs; housing a second magazine with grip retention for quicker and more convenient reloads. It has a very pleasant design layout with a great side grip for your supporting hand and thumb to comfortably sit upon and help solidly shoulder the folding stock.
Finally they had the Hartman reflex sight on offer - a very rugged looking alternative to the wide variety of other optics on the market, with broader, heavier duty feeling geometry and easy to use push button controls angled off the rear face to make operation with gloves easier without the flip up rear-sight/ back up sight of a platform getting in the way so much.
I had a great time with their team and Anny (an excuse for using my Mandarin again - and she was not only even taller than she already seems in photos - no complaints here ;) - but also very approachable and pleasant to talk to in general and good enough to introduce me and what TacticalTwo are all about to some of the other nearby stall operators to help me with networking) as well as talking about all their technical, tactical and training experiences and collaboration with Israeli forces and their training as well as the broad variety of equipment and manufacturers they had on offer.
A final mention must go to Fight Club Custom - also from Hong Kong - who were sharing the stall with Centurion's Option and had some outstanding CNC machined & Cerakote finished weapons platforms on display, with an array of high end optics to suit - Willy was good enough to run me through some of their production processes and alongside the very high quality metalwork they offer in terms of receivers and front furniture they also have high end injection moulded grips with highly detailed grip contouring - a nightmare to accomplish in moulded components! He did have to impress upon me that his products tend to rack up an impressive 2-3k GBP, but, they're very nice, and Cerakote finished… so, if you've got the money lying around then I can highly recommend them!