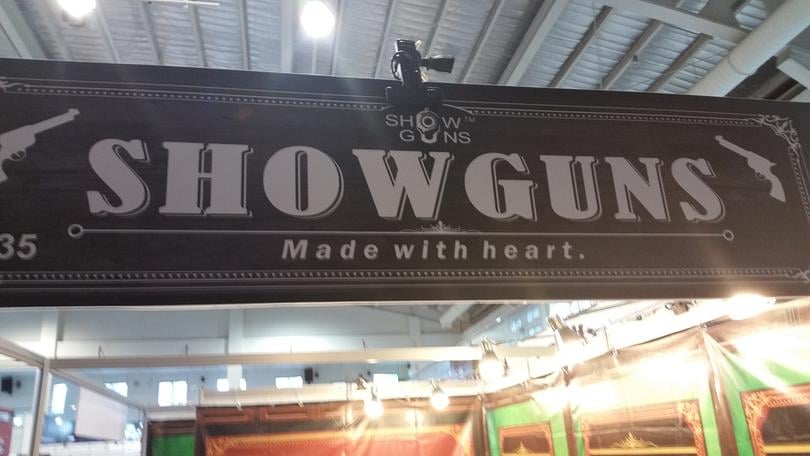 So whilst I was meandering around the 22nd Hooha Show in Taipei back on the first weekend of September, having only been here a month at the time - because of course I got involved with the airsoft scene here as soon as I could, naturally - I came across Show Guns Hong Kong.
On my first pass I was just browsing around at 'early doors' before the main rush of folks arrived to get involved. I had a quick look at their stall and saw a variety of nice looking but apparently generic items and moved on around to explore the last part of the exhibition.
I imagine Corey (Their head of Sales) must have noticed the multitude of flags and patches on my Flyye EDC Backpack as I wandered off - either that or the fact I was apparently the only handsome white guy there, besides Novritsch, of course - because on my next pass I seem to remember him asking where I was from and what I was upto there.
He was immediately interested in my investigations into the local airsoft scene and when I talked to him about my blogging activities with TacticalTwo and on Instagram & Facebook in general he was keen to see whether I had heard the name SGHK before or was otherwise aware of their products.
I had to admit I was not - on my first pass - having looked at the company name - I assumed they were producing non functioning replicas for film and television usage. This was soon dispelled however when Corey & Frankie (Their CEO) proceeded to inform me of their high quality product lines of functional, but highly detailed gas blow back pistols on offer - which in many cases have hand crafted components or furniture for a truly custom and quality appearance and collectible value.
Some of Frankie's personal work was on show in the form of some very beautiful and intricate hand carved custom wood grips for 1911/ Browning series pistols; some of their more economical models are composed of CNC machined Aluminium to save weight and cost,moving up to stainless or high grade steel models at the upper end of the range, the majority of them being Gas Blow-Back Browning pistol models - apparently of John Iverson derivation but customised and manufactured and assembled in house at their facility in their native Hong Kong.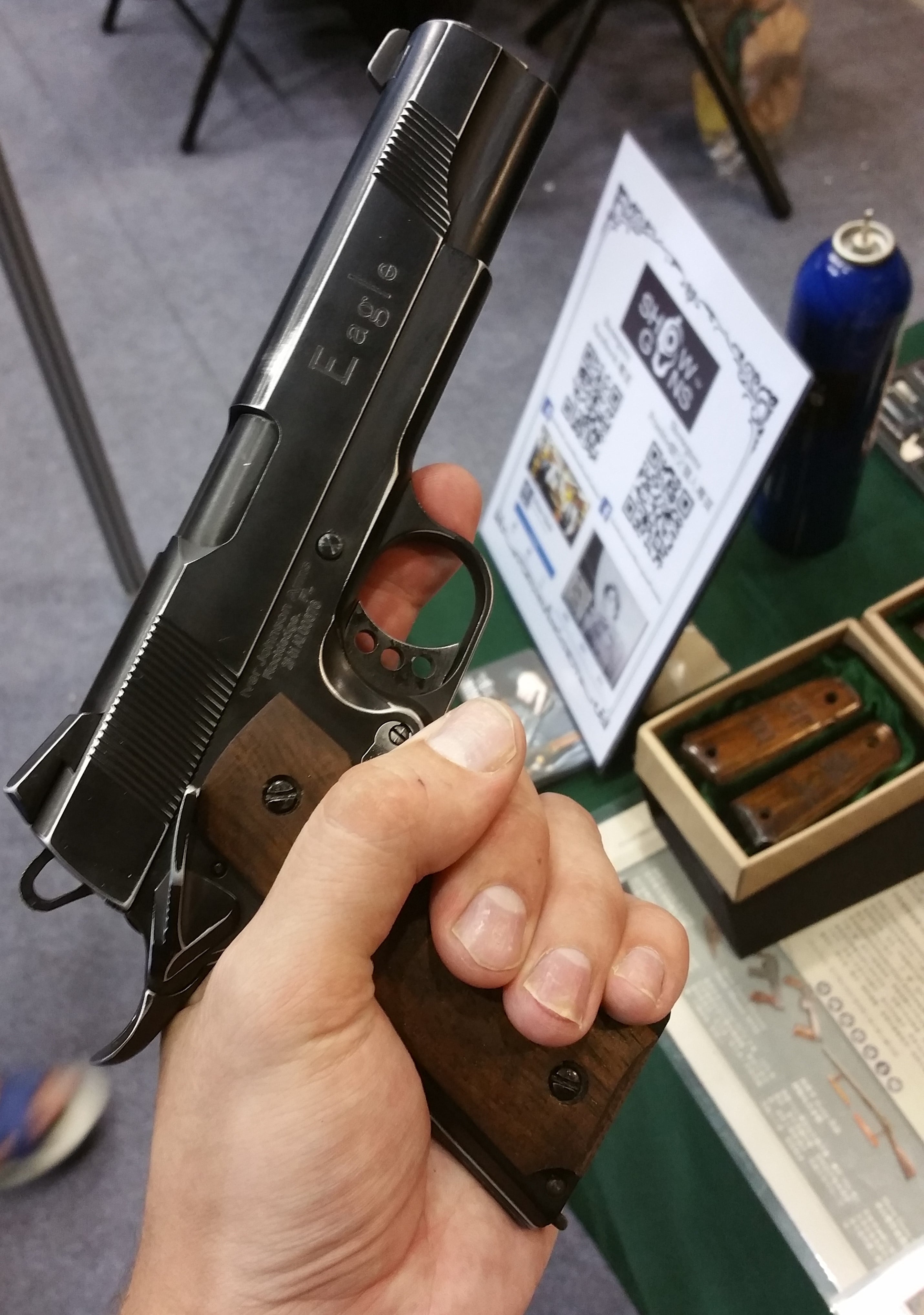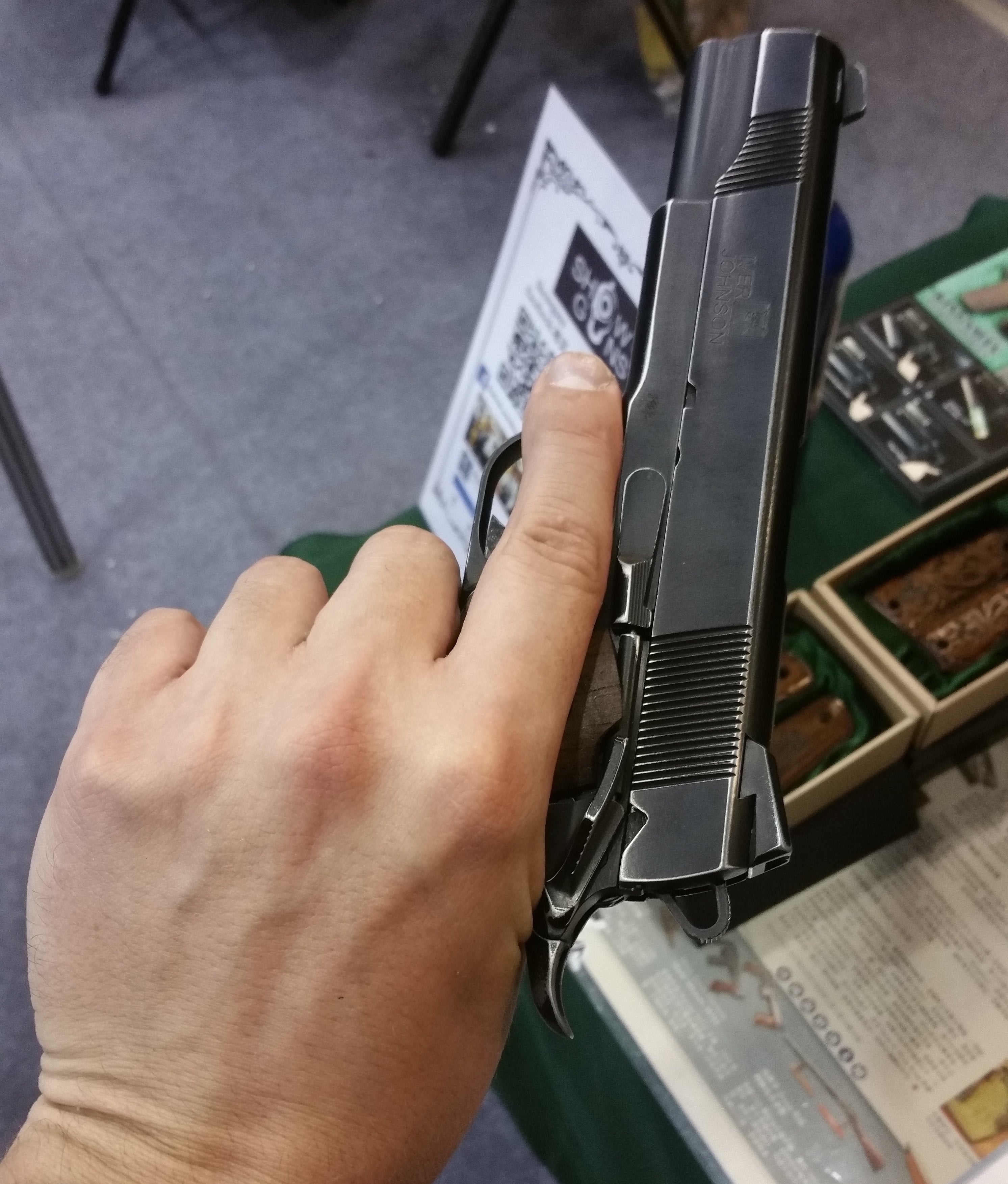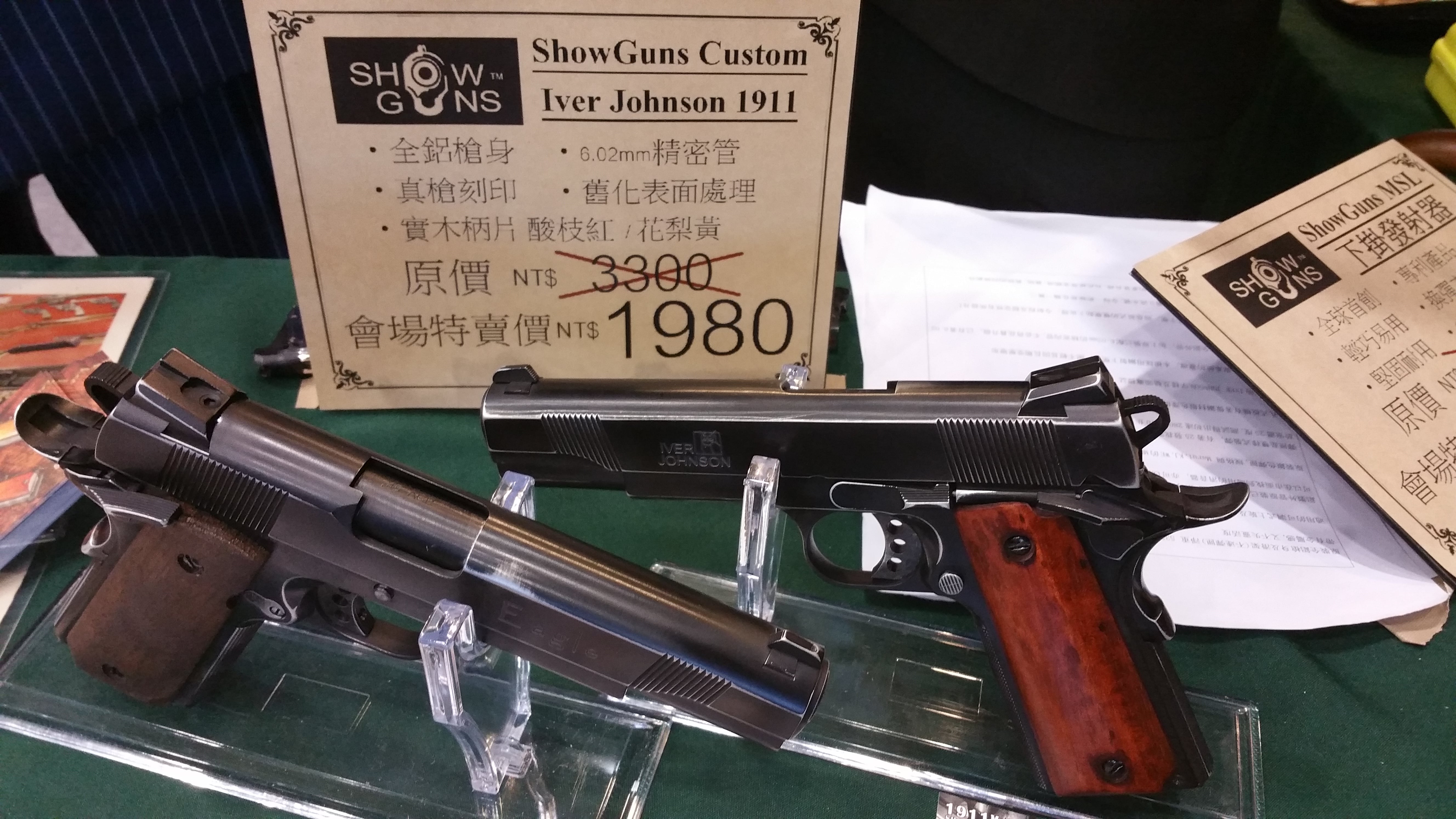 The centrepiece of their display, however, was in what they unveiled next; I'm happy to see that it is already gaining very much deserved popularity on airsoft retailer sites and within my facebook feed of friends back in the UK - their 'Kingsman' model Tokarev TT30 derived from the showpieces in the eponymous films. Not merely a GB Pistol, however, these also include their in house designed and manufactured fully functional small shell (28 bore equivalent, if memory serves) under-barrel launcher, complete with proprietary shotgun shells of multiple different casing colours, all of which fire a single load upon discharge in one blast, but can be easily reloaded and re-gassed for future re-use.
In my previous life before my 'Brexodus' to come here I spent the majority of the last 5 years sat behind a Solidworks CAD workstation as the sole design engineer of a small company, turning out precision components, as well as wandering the shop floor facility among a myriad of CNC machines and having previous experience in other facilities of an aerospace manufacturing nature in both turbines/ engines as well as hands on production of bearings for control surfaces and landing gear. The reason I mention all this, is that I would hope it would instil the idea that I know a quality manufactured product and its base materials when I see one, and more importantly; feel it.
Because Show Gun Hong Kong's output definitely fits that description; their company motto is 'made with heart' - and their products sing it pretty loudly - having gotten the chance to handle their TT30 I found it cycled as smooth as butter - no rattle or excess gaps or movement, but also not binding or grating or having the sort of 'hang ups' or 'out of battery' issues I have experienced in some of my own personal sidearms in the last 15 years of owning, operating and maintaining GBB pistols.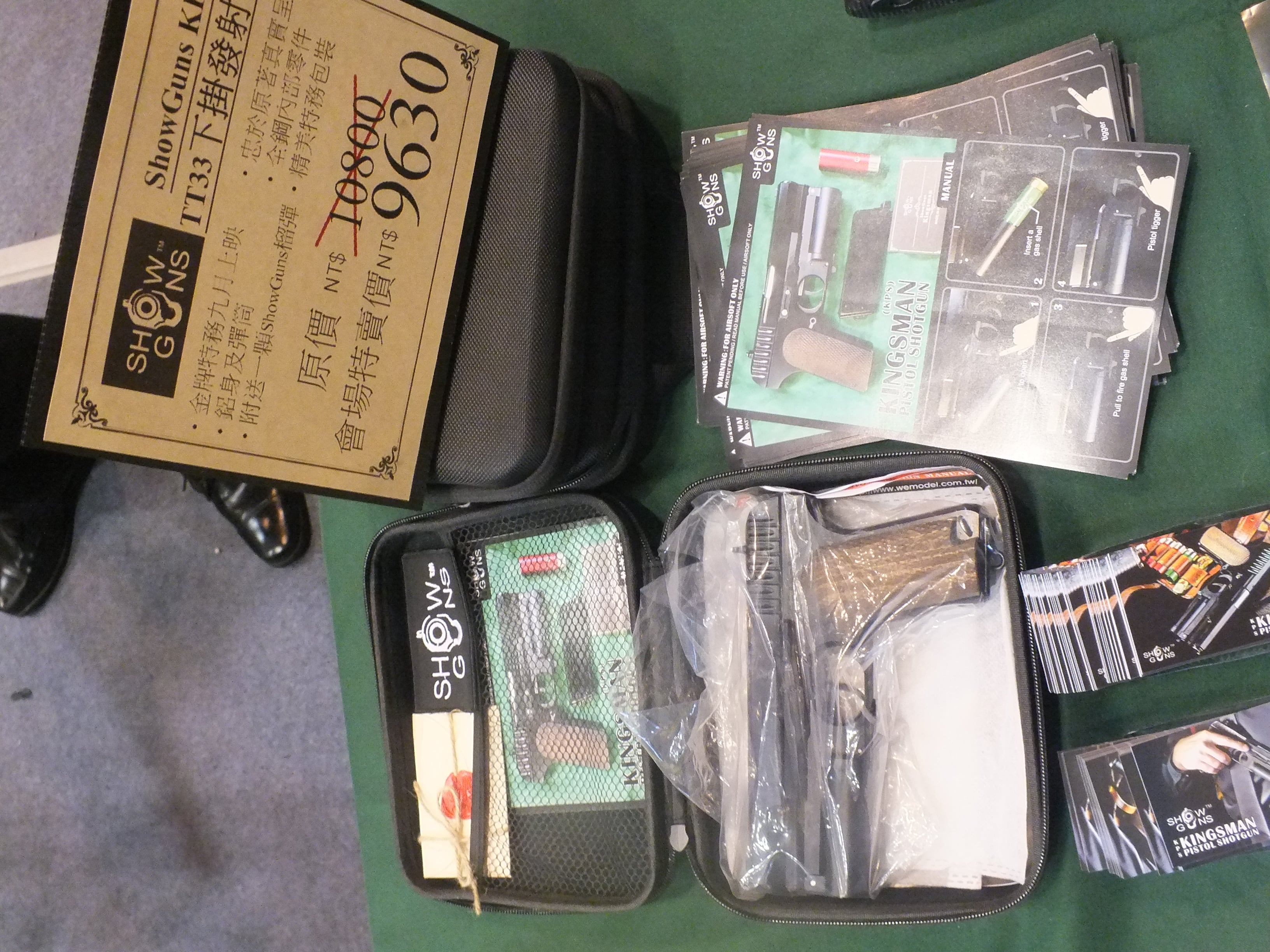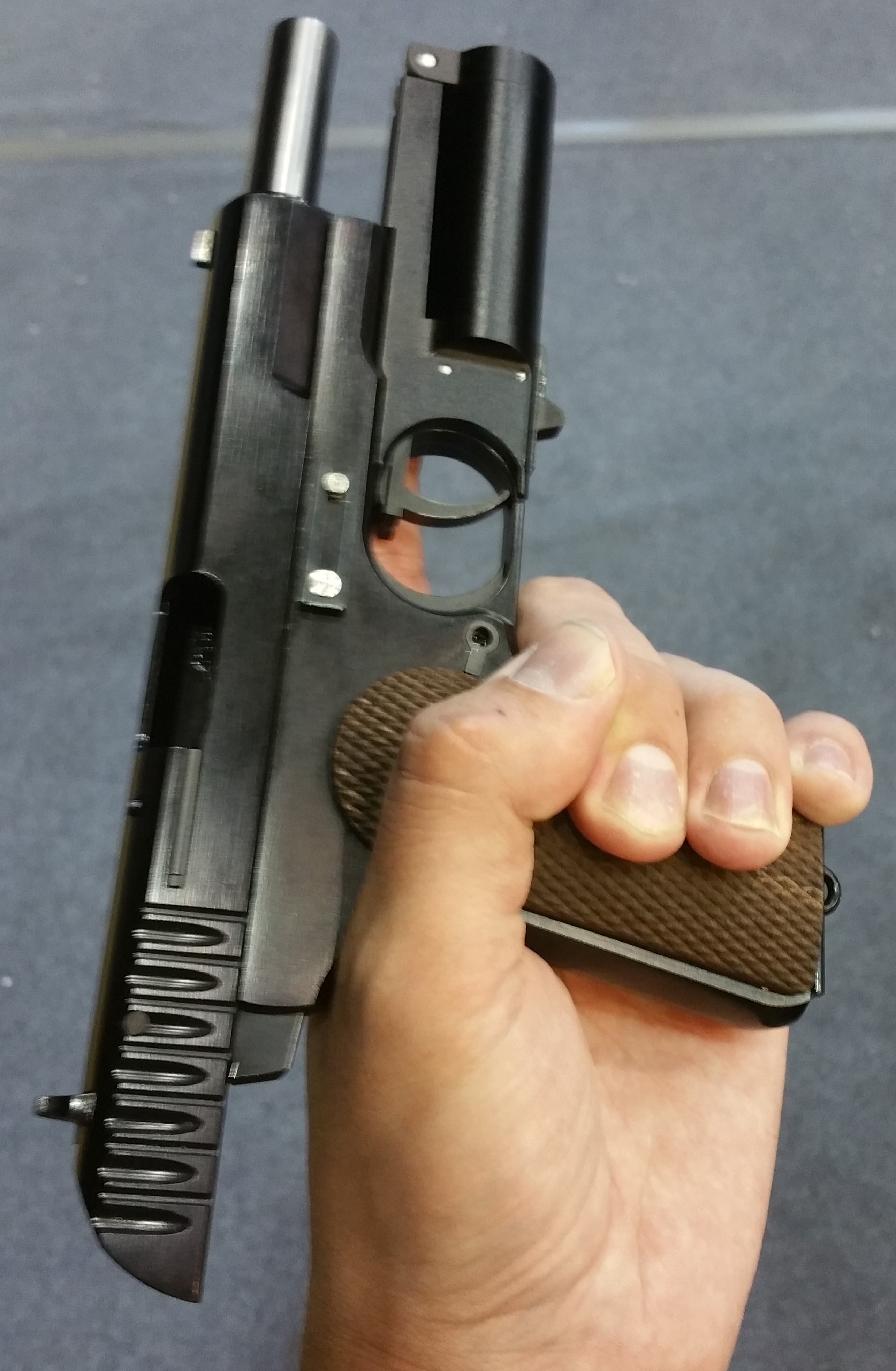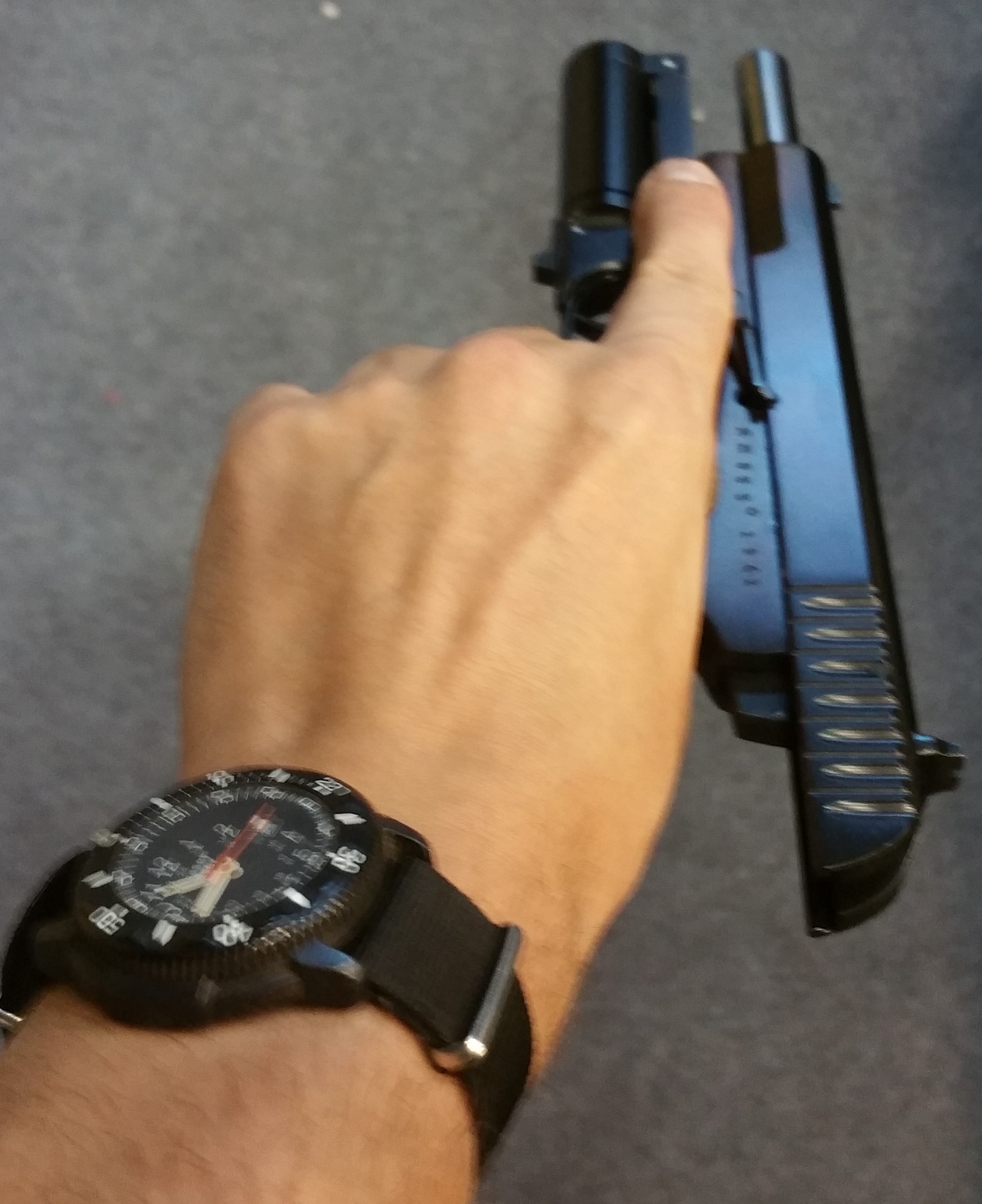 Despite the relatively small frame of the TT30 in my hands, it felt solid and fairly hefty in terms of the material weight and strength and certainly inspired confidence in their products, as does SGHK's obvious pride in presenting them and being all too happy for people to handle them and see for themselves. I'm very tempted to have one for myself at this rate, especially given the kitsch film tie in value and potential 'suit-up' cosplay/ airsoft value of such a thing, let alone the great functionality and uniqueness of the integrated underbarrel launcher.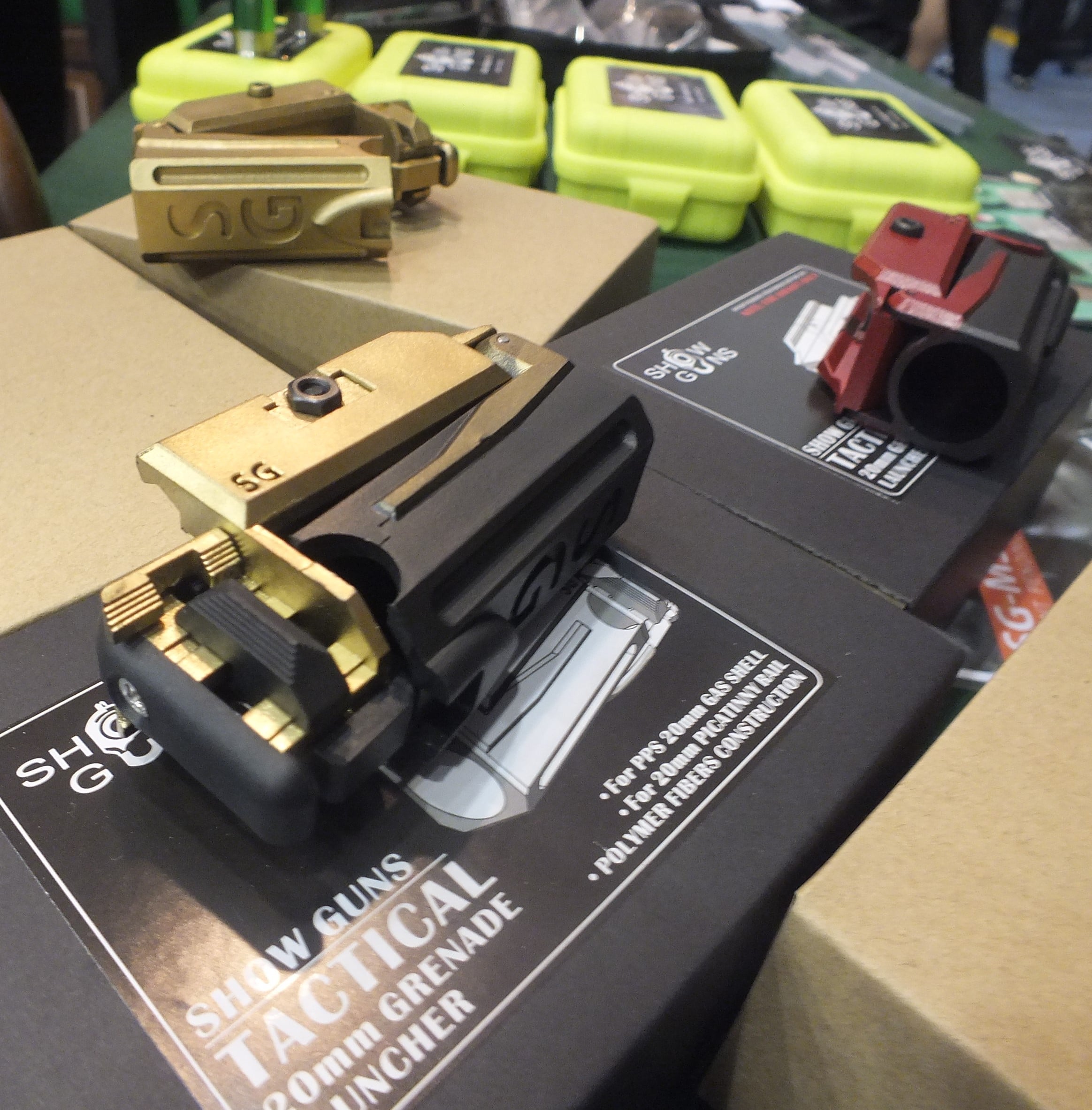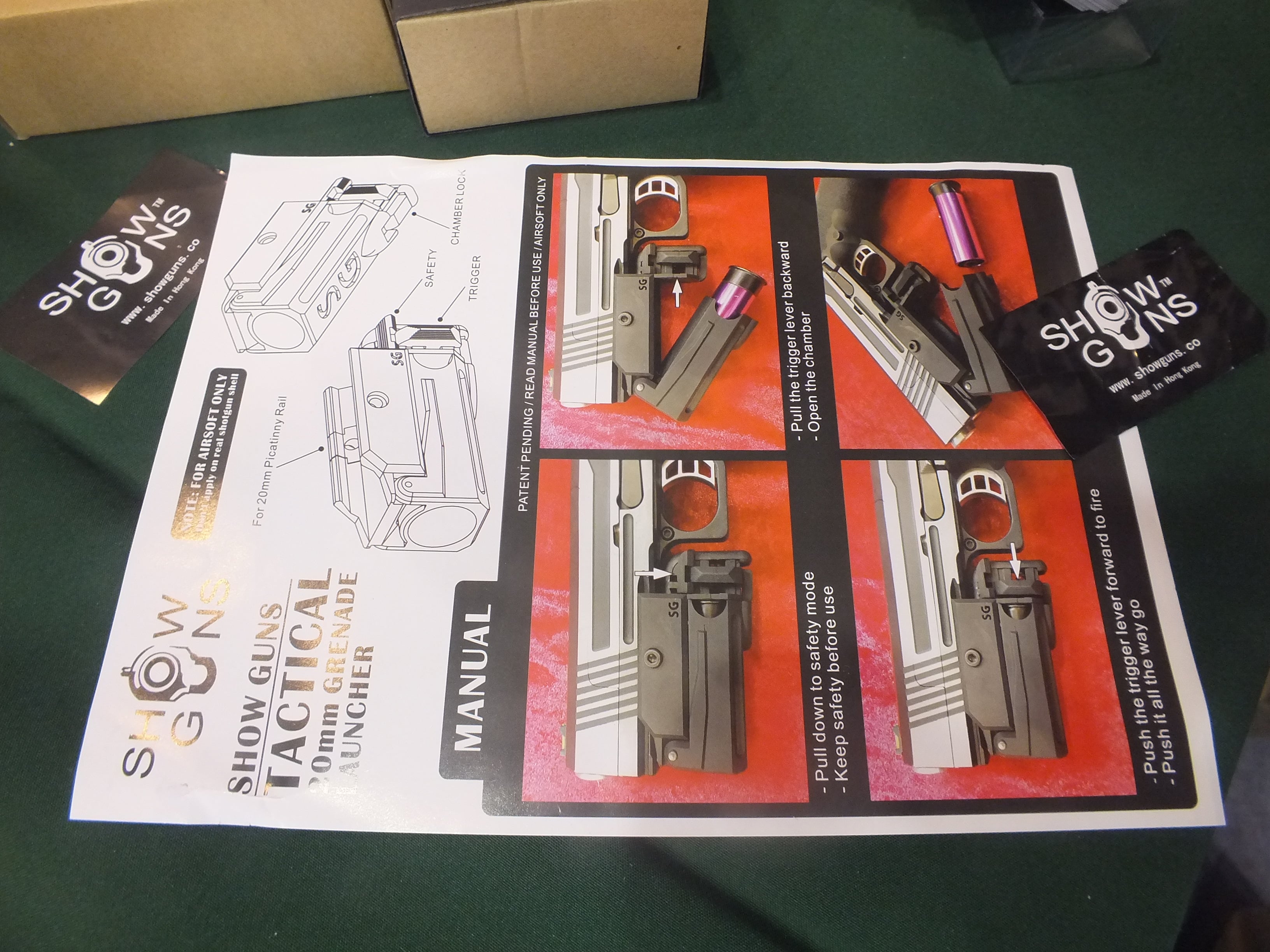 It is worth noting, however, that they also produce another model of these made from polymer but still using their same proprietary gas powered reloadable shells which can be attached to your standard fare picatinny rails for use on basically any other platform of your choice.
Besides their functional replicas, they also had some Rapid Prototyped concepts on display – the Russian APS underwater assault rifle with its distinctive double magazine design, as well as a totally custom GBB SMG based on the G5 frame but taking it even more extreme in terms of bullpup configuration than the existing SRU (also Taiwan based) Rapid Prototyped/Manufactured range of bullpups and custom guns already do. It looked like a cross between an Aliens Pulse rifle and a P90 or PDR of sorts – using the assault rifle magazine itself as a pistol grip.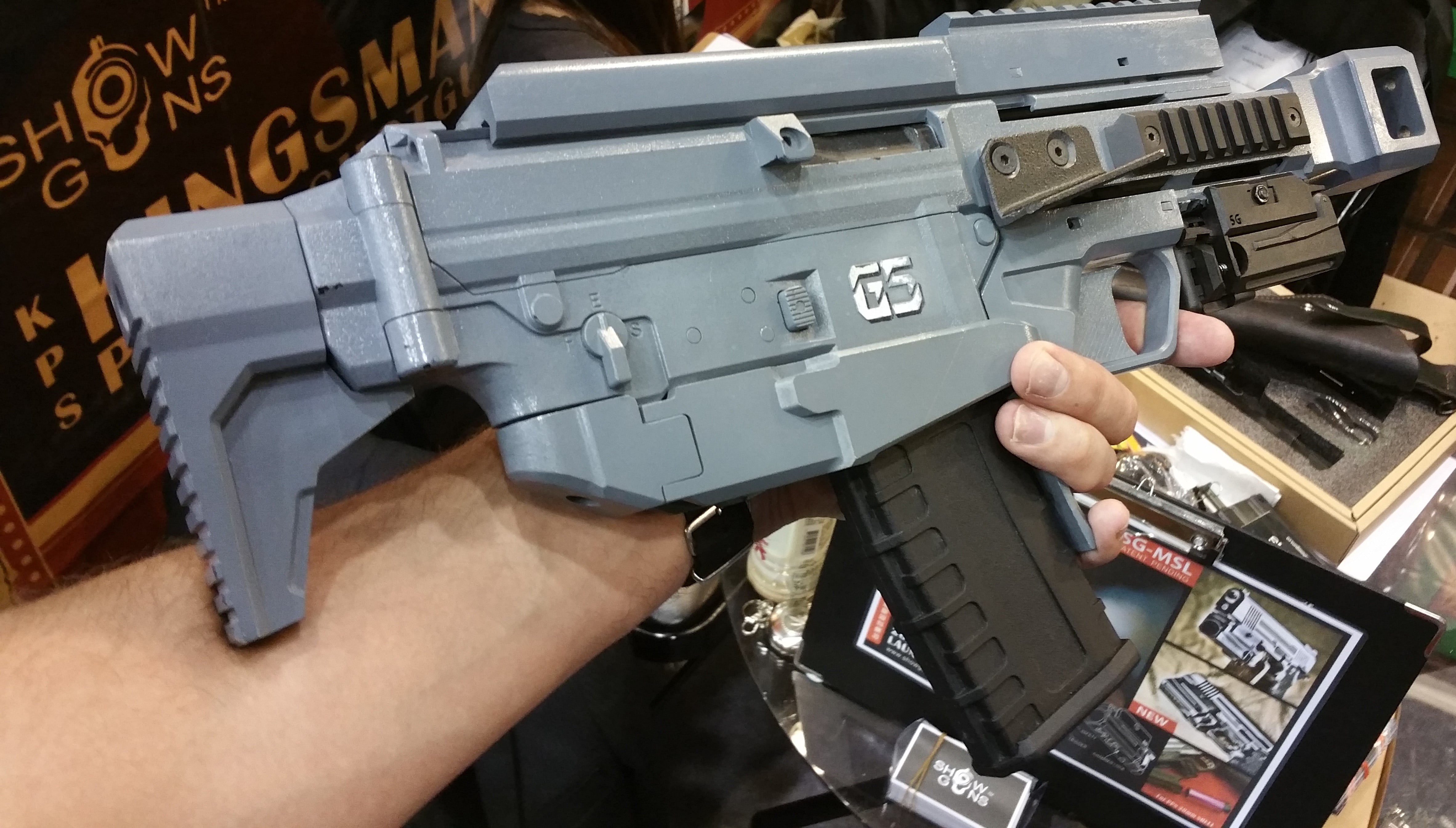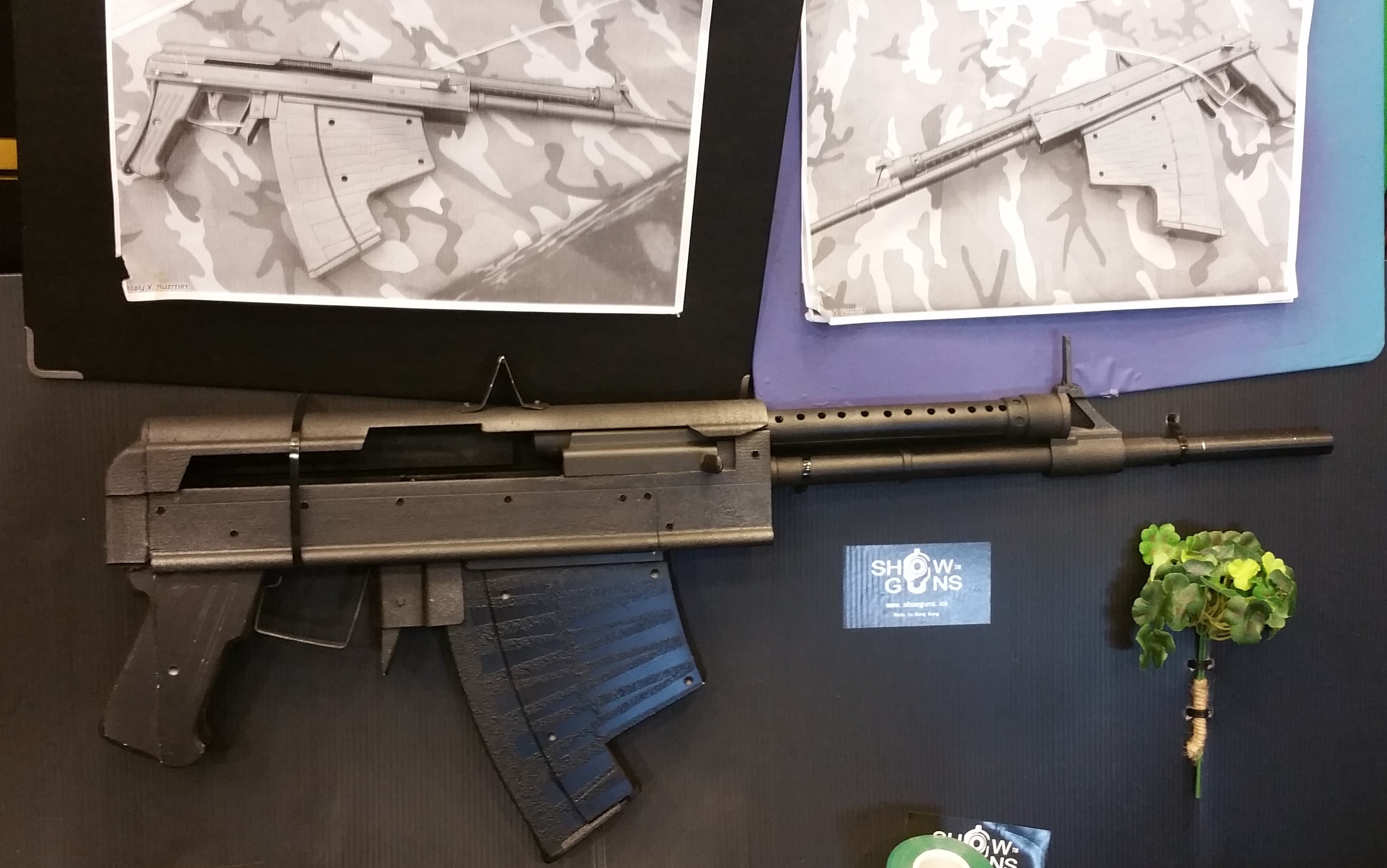 All told I'm very interested to see how SGHK's products proliferate and their brand will hopefully grow in acclaim and reach - they're turning out some very interesting products; even the ones which seem generic at first have a lot more going on underneath the skin or in their back stories and the manner of manufacture, fit and finish, compared to your more run of the mill mass market output.