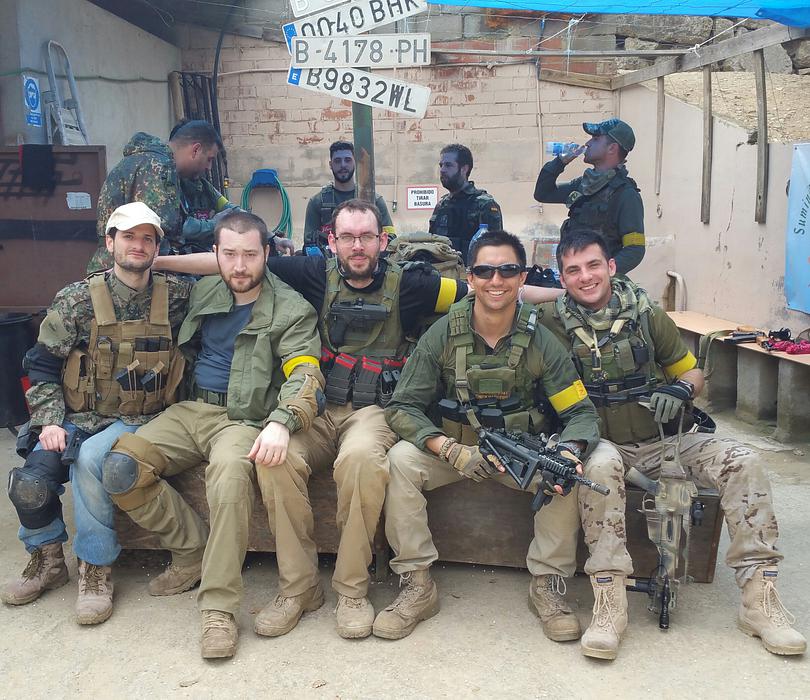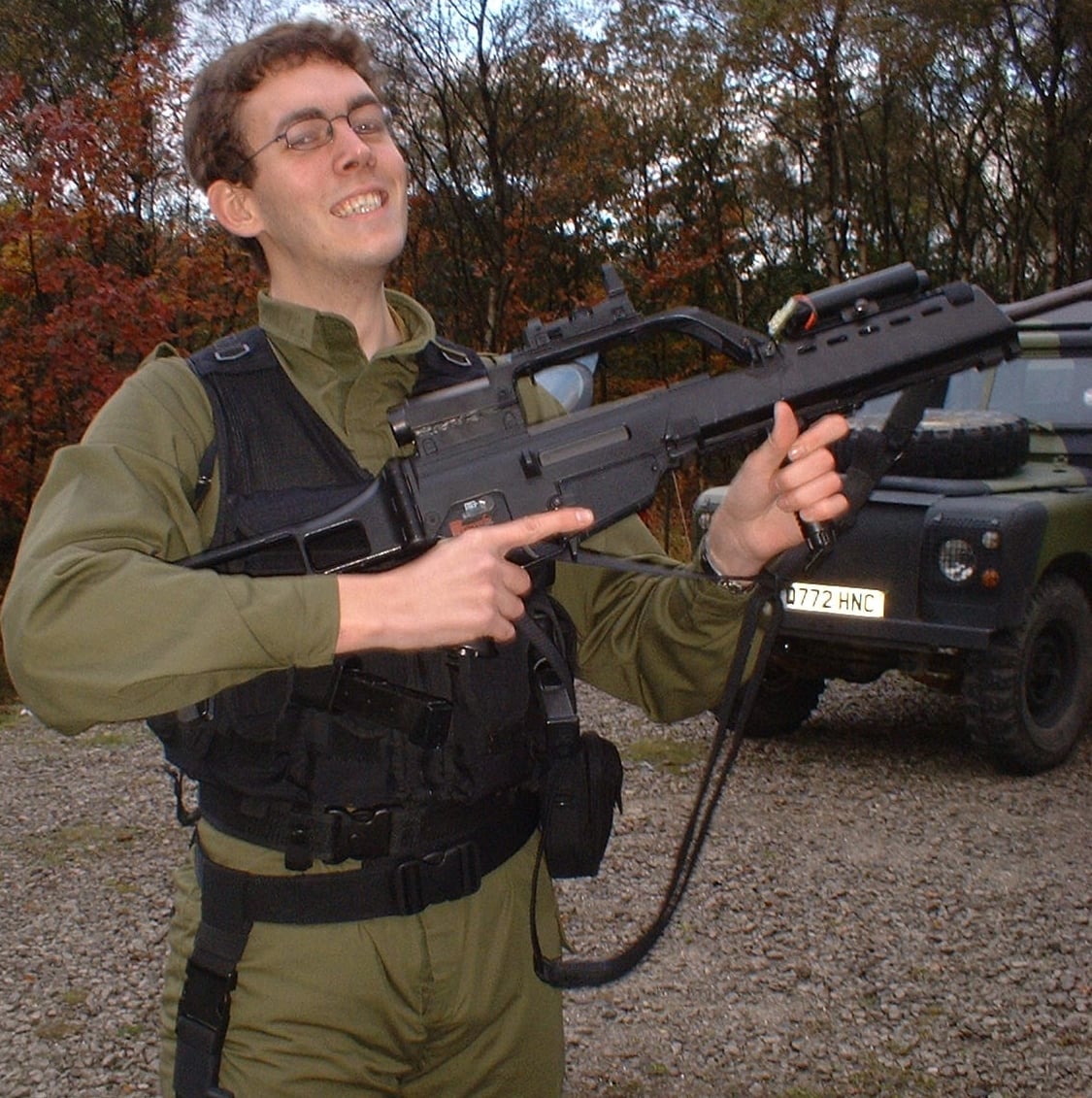 It first got me when my former Russian next door neighbour's son Vladimir let me have a go with his spring action pistol for the first time. Then I hit high school and got a Beretta M92F Springer of my own. Fast forward to sixth form and I was buying my first Gas Blow Back Pistol with money I earned from being a Prefect! I got my Marui Glock 26 and a spare long (Glock 17) mag, and started plinking ad infinitum. Then there came a Marui Desert Eagle Hard Kick GBB, a Marui M92F GBB… and the Stewbacca standard of having at least three mags for my pistols began. Around the same time I was getting a distinction in 'skill at arms' – passing my WHT (Weapons Handling Test) with flying colours and being one of the air cadets that our School Staff Instructor even said himself would be most comfortable having on a live range.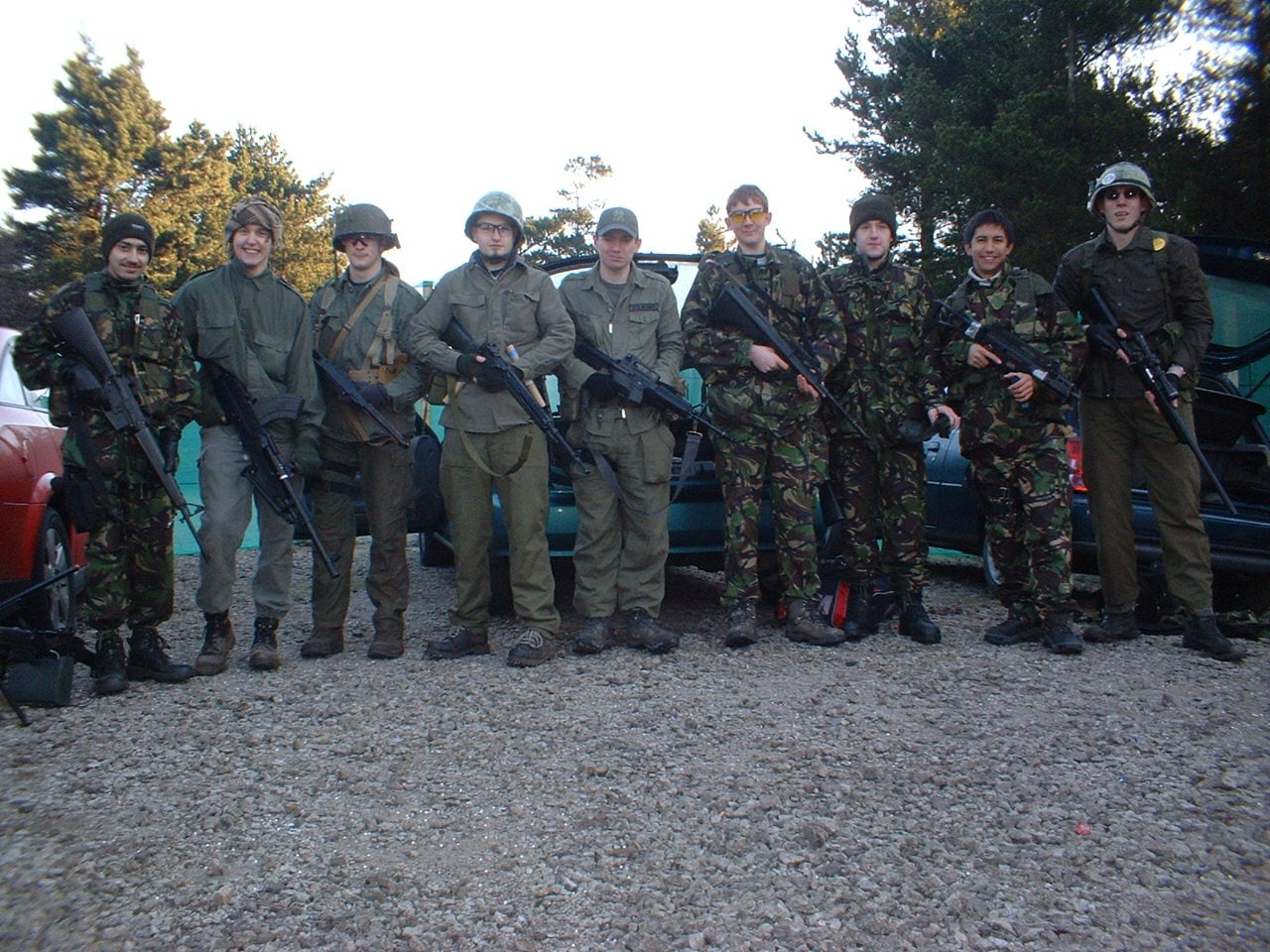 Then came Uni. After my first year I started running the TaeKwonDo club as Treasurer… on the committee training day I bumped into the original NTUSAS (Nottingham Trent University Student Airsoft Society) Committee who had just set up the team and decided I might as well put my Gas Blow Back Pistol collection to some use in the field.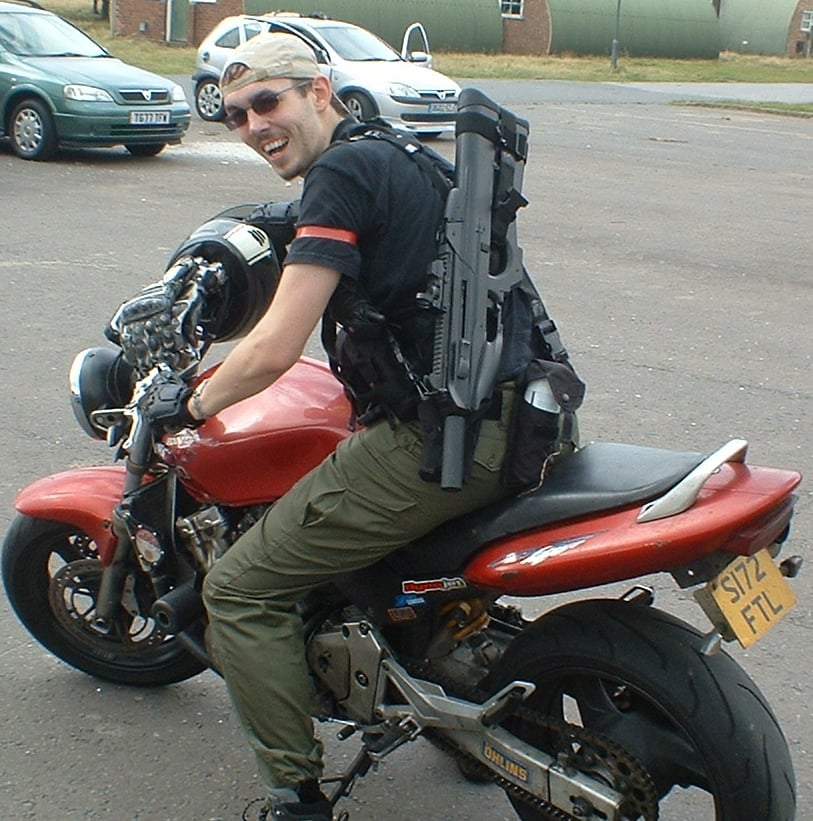 So. I signed up. I camo'd up, and I rocked up, with the first group of shooters I would come to know like brothers. October 22nd 2005 I made my debut at First & Only Airsoft in Matlock. I stood in the firebase and waited for the game on whistle, holding my mate Alex's P90 I'd borrowed and hazily staring down the sights waiting for the impending assault. My heart was beating out of my chest as they started moving in at speed and we all started picking them off. I was surrounded by a cacophony of rattling gearboxes and reciprocating pistols slides. I was loving every minute of it.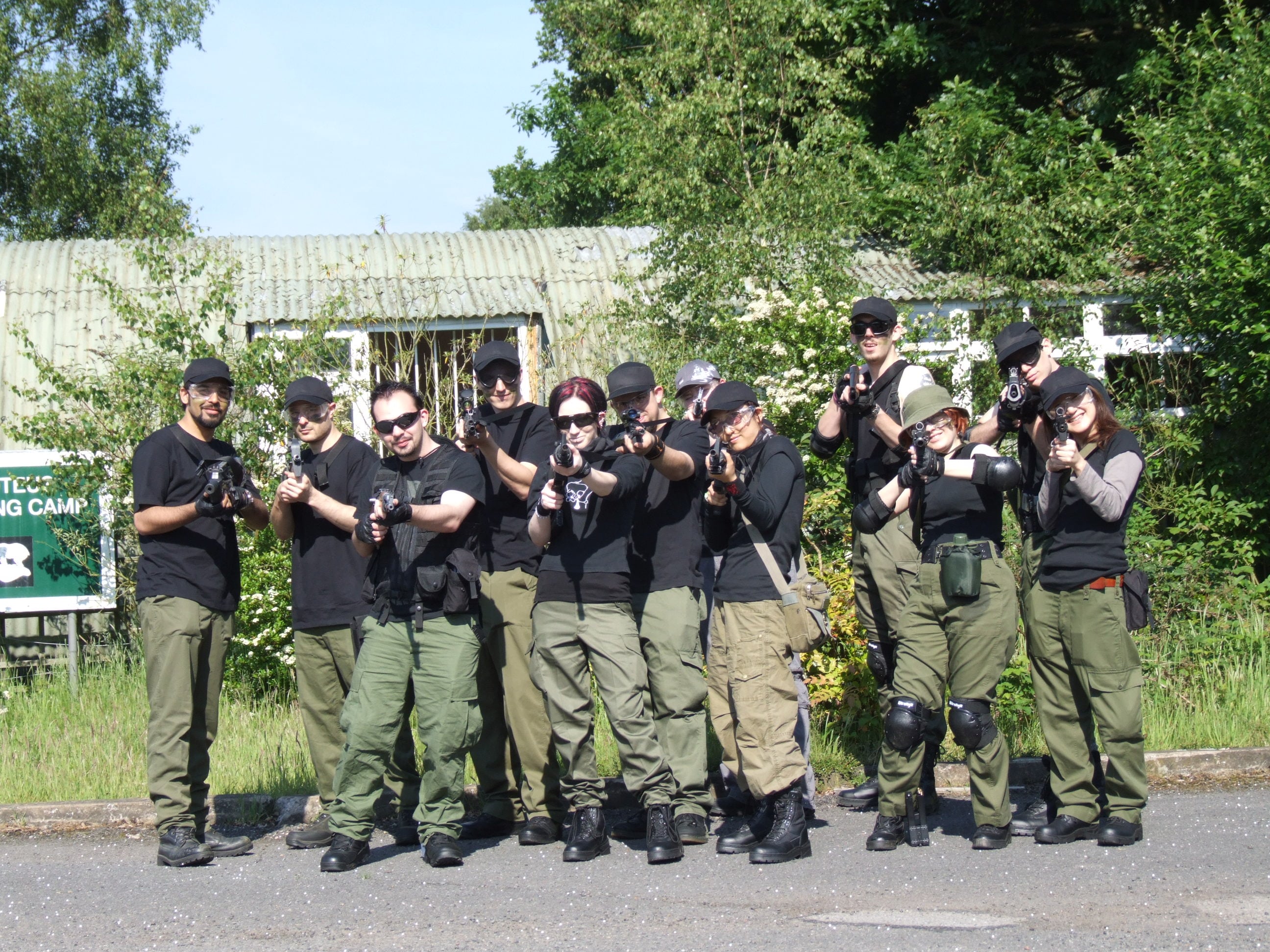 This continued for most of my time at Uni, with the advent of the VCRB my final year became semi-politicised due to the regime's heavy-handedness and my own certainty that it would never make a damned bit of difference to the real issues… it was just treading on our toes. Those were some of the glory days; importing guns and gear from Hong Kong without the red tape, and with massive savings due to the weakness of the dollar at the time.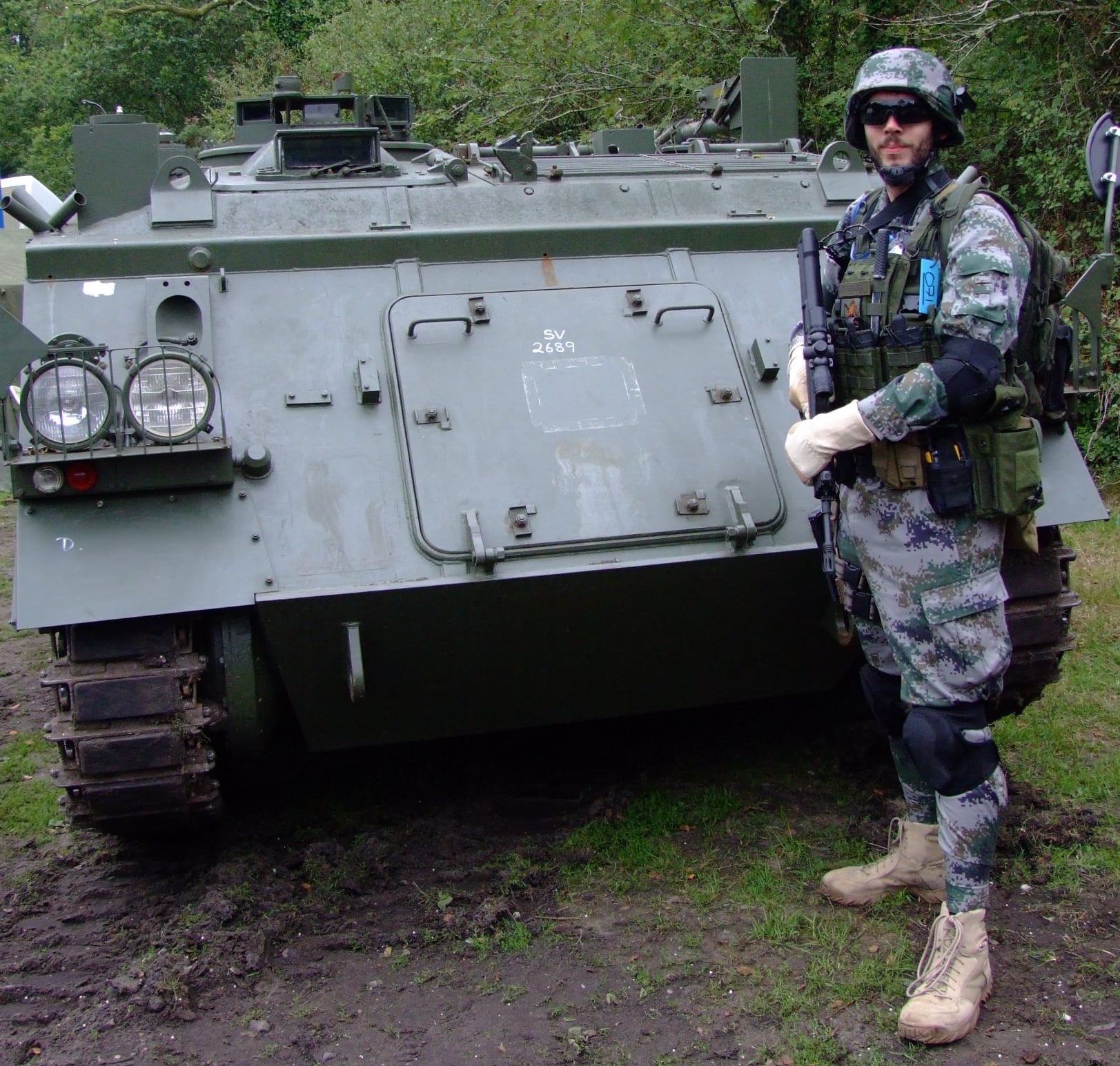 I went through countless guns and gear setups, my first AEG was a Marui G36C – I wanted a P90 and an AUG to begin with because I've always liked bullpup designs and the dual stage triggers associated with them, but was persuaded not to get 'fish guns' to start with (I had them both later anyway). After that it was a Marui M14 and an M1911 GBB for the Viet-Nam War themed Airsoft we started doing… to be honest, that almost broke me, not just the cost of all the vintage gear for someone who was still living the student lifestyle, but the weight; of the webbing, the M14 & M1911 and the M1 Helmet – I was spent most of the time, running up hills at F&O Matlock and ended up knackered before I got in the fight. I felt like ditching it off as my game was so poor at the time.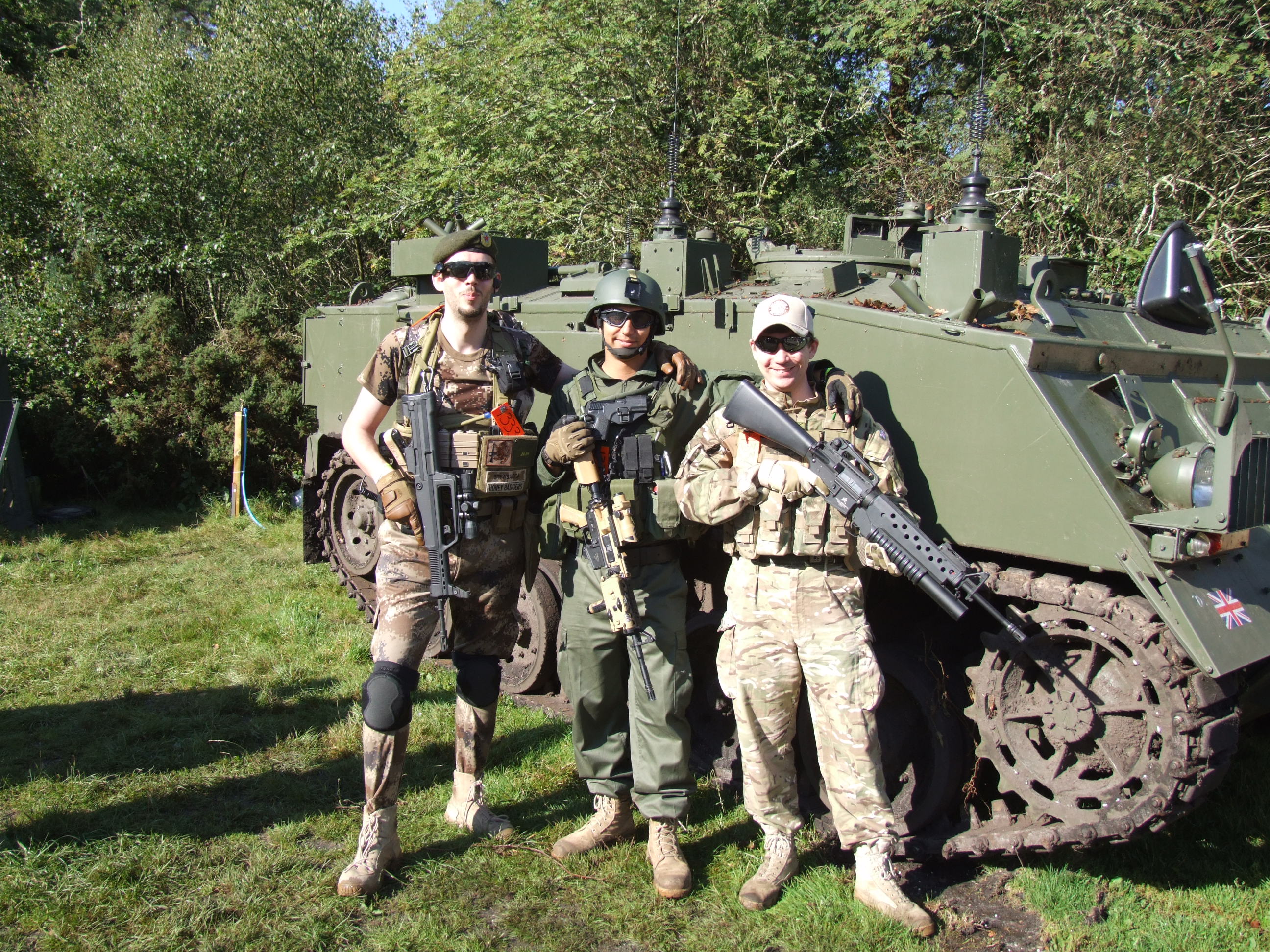 Thankfully we moved on, Proteus opened up just north of Notts on an old military training base, and we switched to more modern kit, we also dabbled in various sites around the midlands, trying our hand with different terrains and games. Over this time my core group of Airsoft bros strengthened, but I also managed to convince minibus loads of my friends to join us… and managed to arm them all with my daft amount of kit at the time – the advent of 'cheapsoft' – All Chinese Made (ACM) guns had drastically cut the cost of smaller AEG's like MP5's – which me and my flatmate had 5 of between us, and I'd built an armoury complete with multiple kit racks in our store room… it was the talk of our house-parties and a great way to recruit new people to try their hand at it alongside us!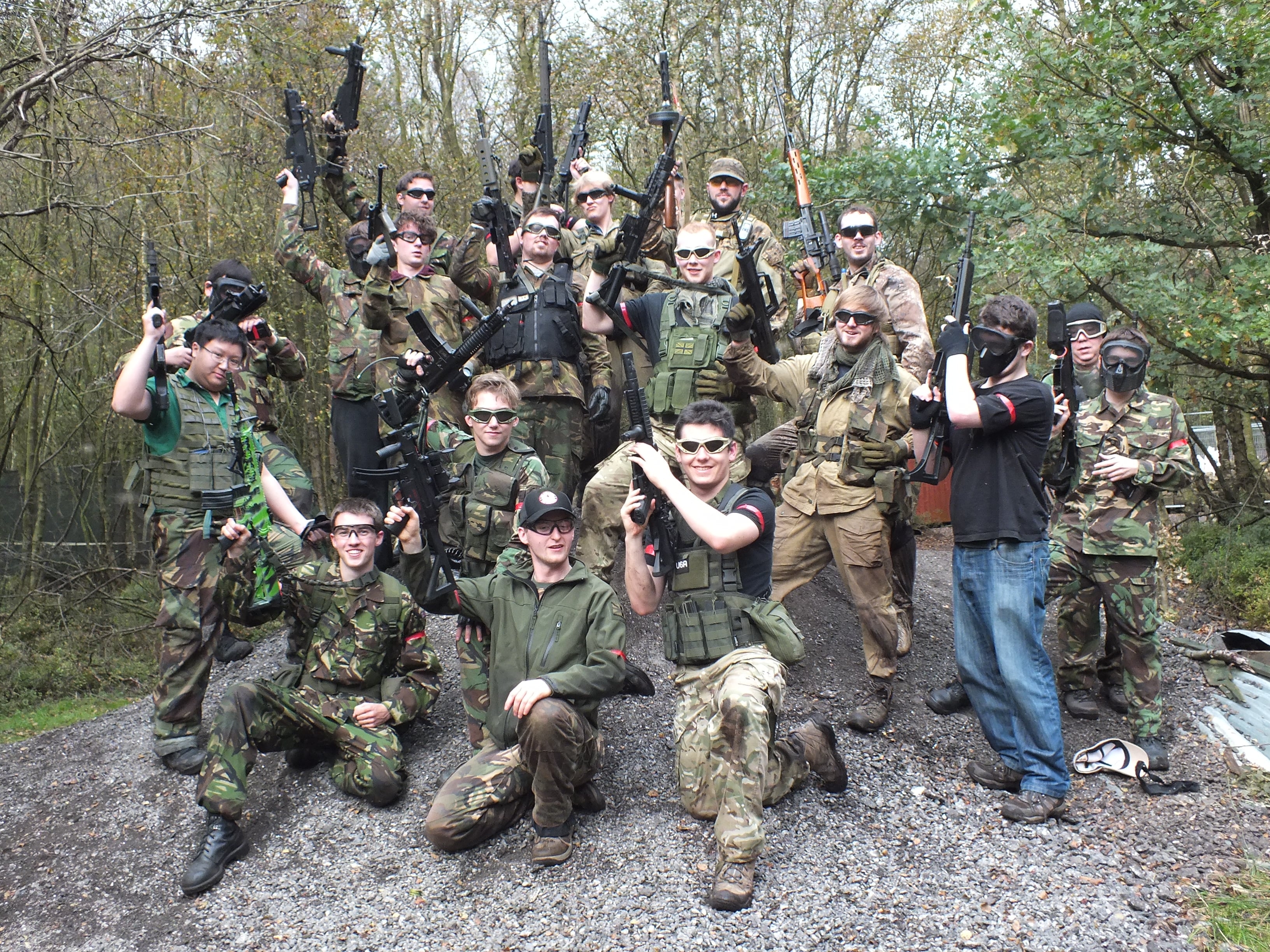 And so it was, for the next few years we migrated around midlands sites, and even got involved in some of the weekender games and the likes of Brit-Tac's Copehill Down events – awesome getaway trips to the Wiltshire plains where the British Armed forces run exercises; playing themed continuous weekend games in a FIBUA village purpose-built for high intensity fire and manoeuvre training. Most of the time we play OpFor – the 'bad guys', just because most of us have soviet bloc kit, or otherwise just prefer to play the less organised or spec ops styled easy going teams in it for the Craic. We ended up playing on 'The Others' at Ground Zero 2011, and on 'Bravo' at GZ2012 – Ground Zero is held right down at the south of England and attracts a massive international crowd of around 1600 or so people each year, split into three teams, all competing to hold ground and achieve objectives.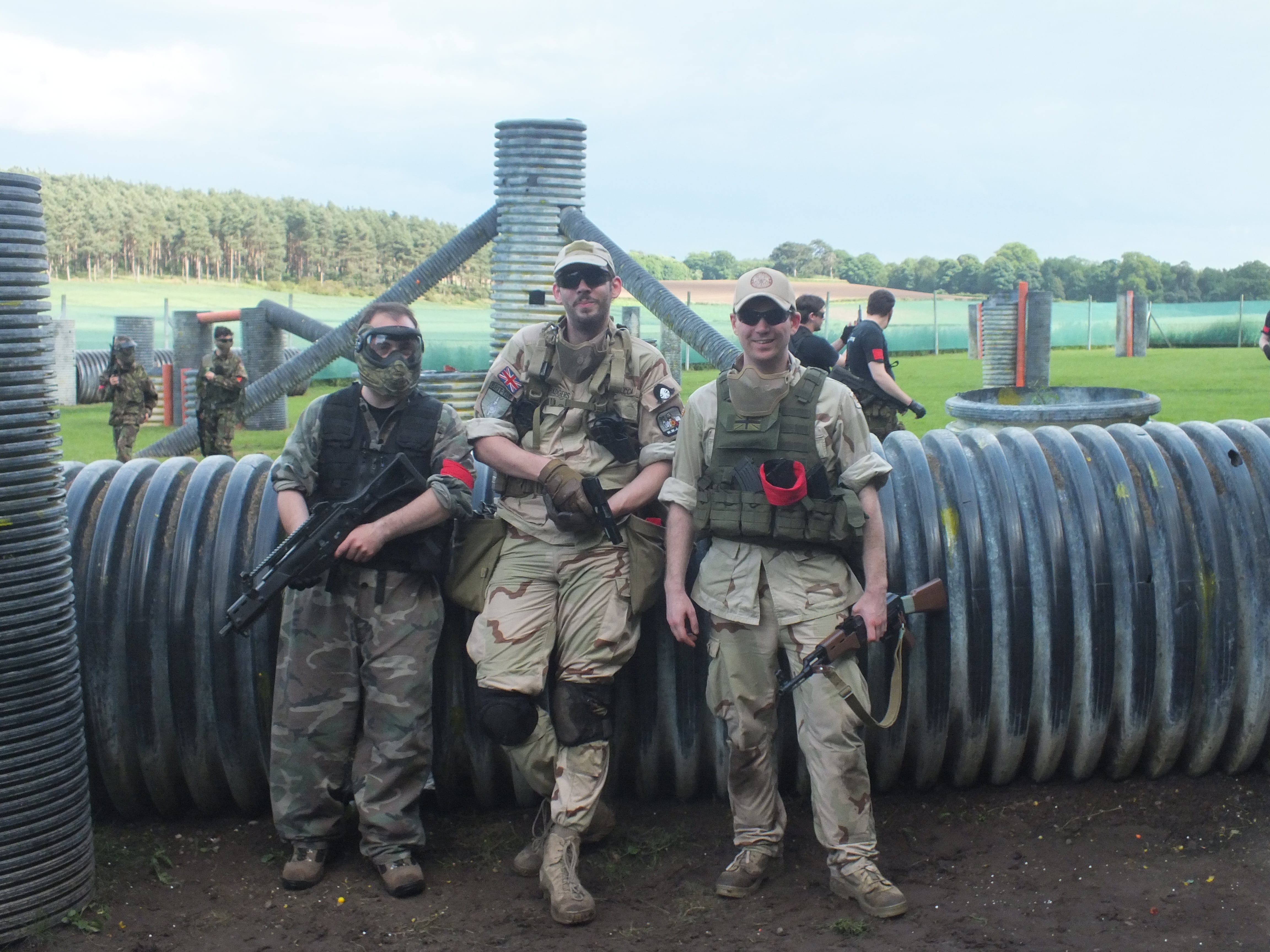 It's like Glastonbury, but with guns – a massive festival with a huge gaming arena, a large camping area where we set up Team Honey Badger HQ with our fellow players from RagTags up north and UDAT (University of Derby Airsoft Team) who usually played at Matlock at the time – it's a great atmosphere for the August Bank Holiday; a bunch of good mates having a long road trip with a few vehicles packed to the rafters with gear, guns, tents, barbecues and the all important beers for after we quit play for the day.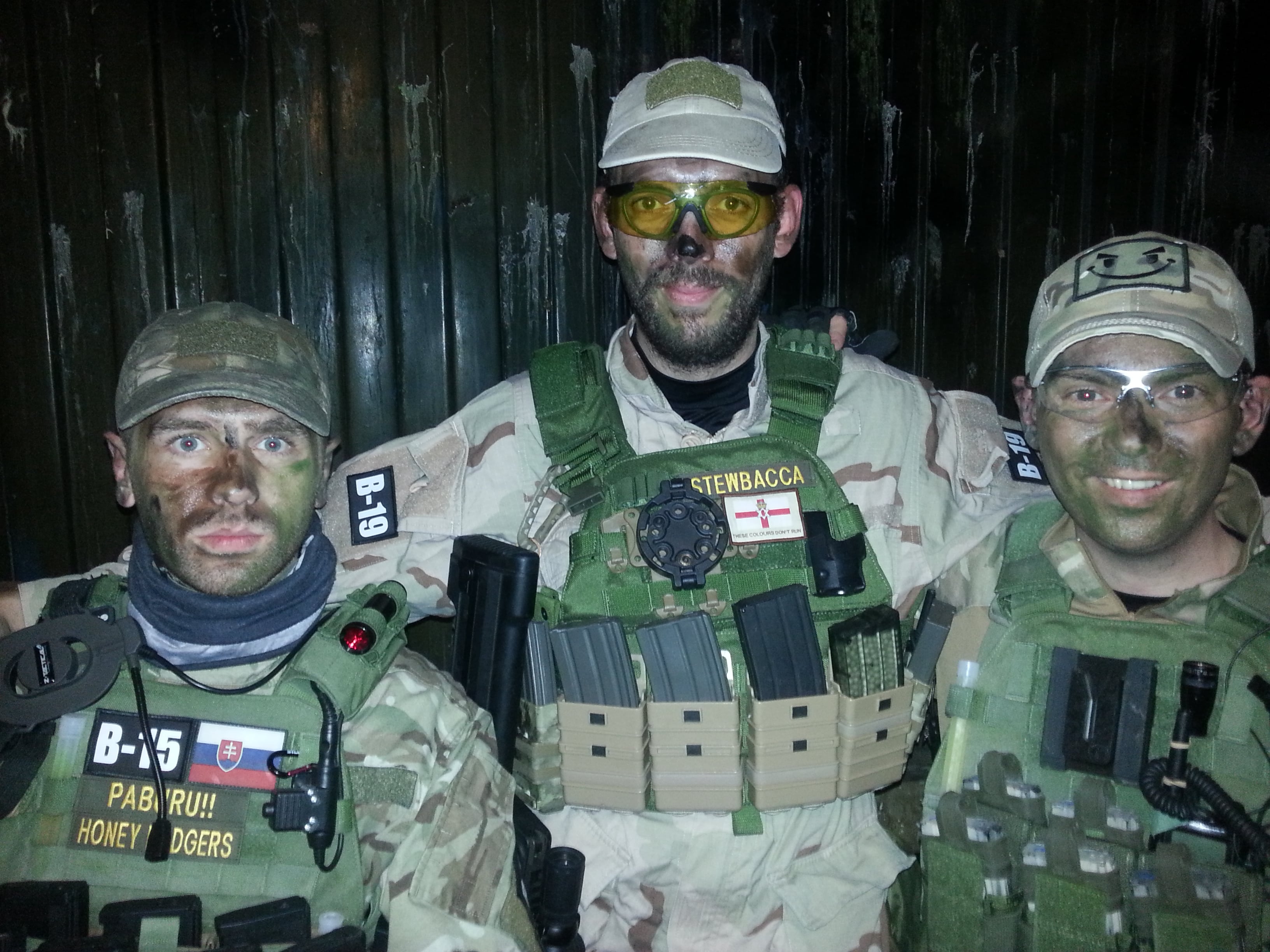 I've made so many good memories, good friends, and never really had any issues with anyone that I can think of – it's a lot like martial arts was for me too; a self-policing, somewhat misunderstood and almost semi-underground hobby which is much misunderstood by the outsiders who want to paint you as the bad guy in any situation where anything remotely gun shaped happens to crop up, but we're all still here. Despite the law changes and the red tape, the games go on, I've driven around military bases hanging out of buggies with a friend's M60 and my own AK hosing enemy infantry, I've been to Spain three times to visit my bro Handsome Dave and his teammates out there and played a few different sites in searing heat with borrowed kit – most recently on the Easter Bank Holiday just gone in March 2016 – we played 4 intense games in one weekend, and devoured some steak dinners and Patatas Bravas all washed down with ice cold Estrella's. I've even been on a tour of the mass of Airsoft Retailers in Hong Kong on my recent trip to Asia in October 2015, as well as firing a real steel M16VN and AK47 at a Cambodian firing range… the first rifles I've touched since the L98's of my RAF Cadet days… and the first fully auto live fire I've ever thrown down.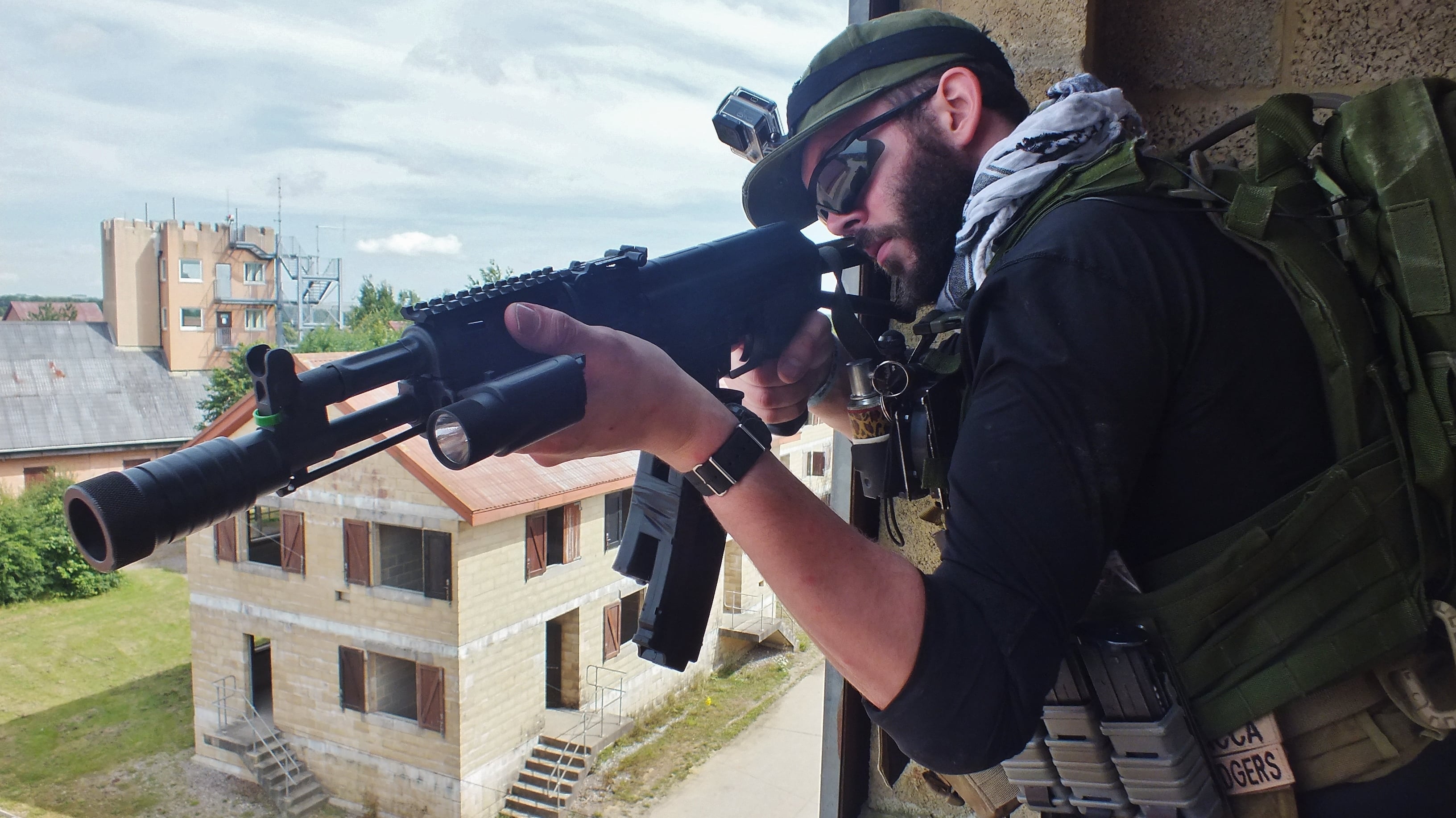 So that's the story so far; countless custom tactical gear projects, loadouts, weapons platform changeovers, shifts in playing style and largely the same core group of good mates later, and we're still at it, doing a lot of CQB gaming with new Marui Recoil AEG's and thinning our armouries down to fewer, much nicer guns, just for ourselves, and the occasional tag along We've been GoPro filming our exploits over the last couple of years, and even done some advertising work for local sites – battlefield prima donnas; always outnumbered, never outdone when it comes to posing!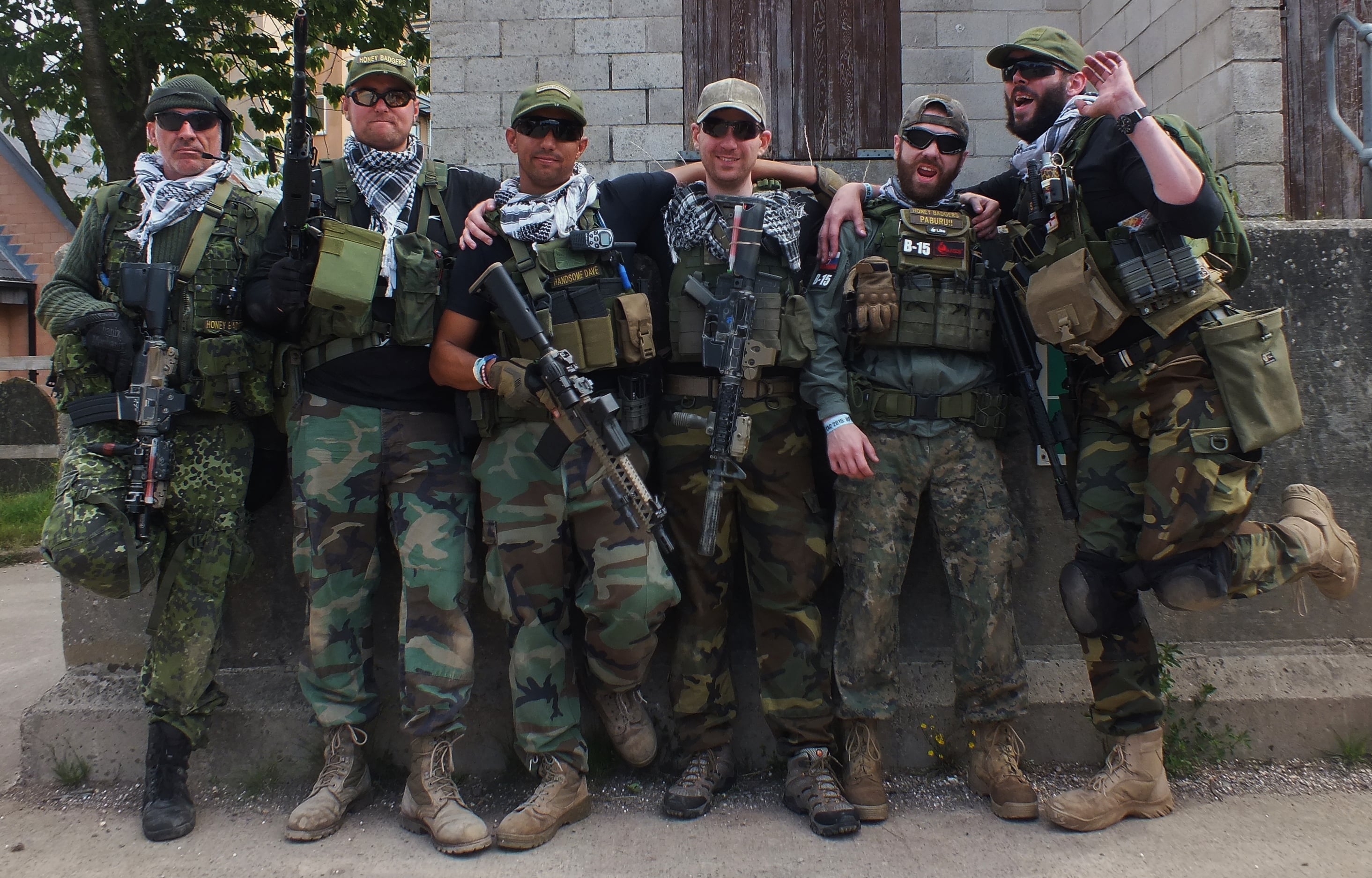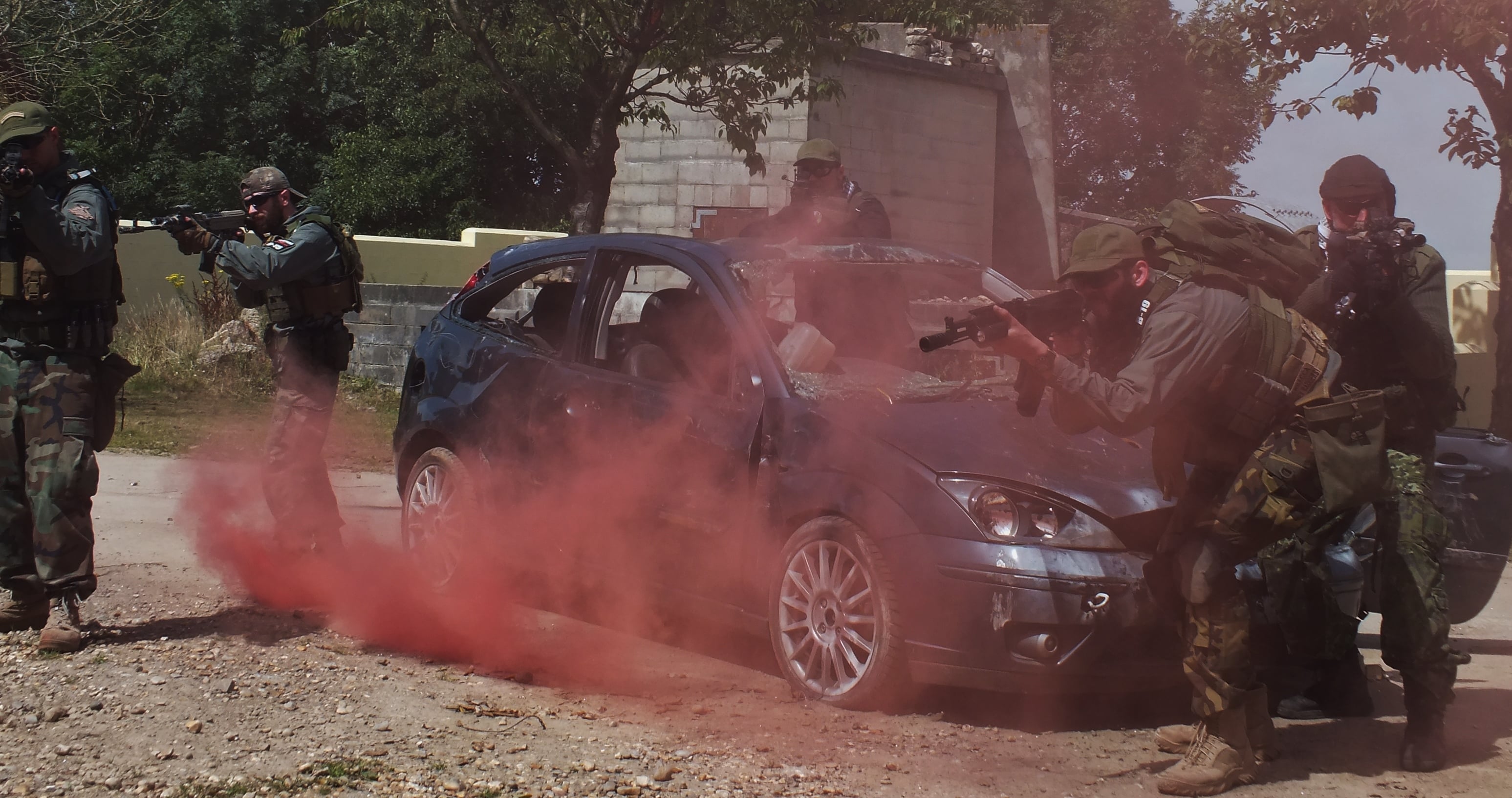 Play safe guys, see you on the field. –Stu