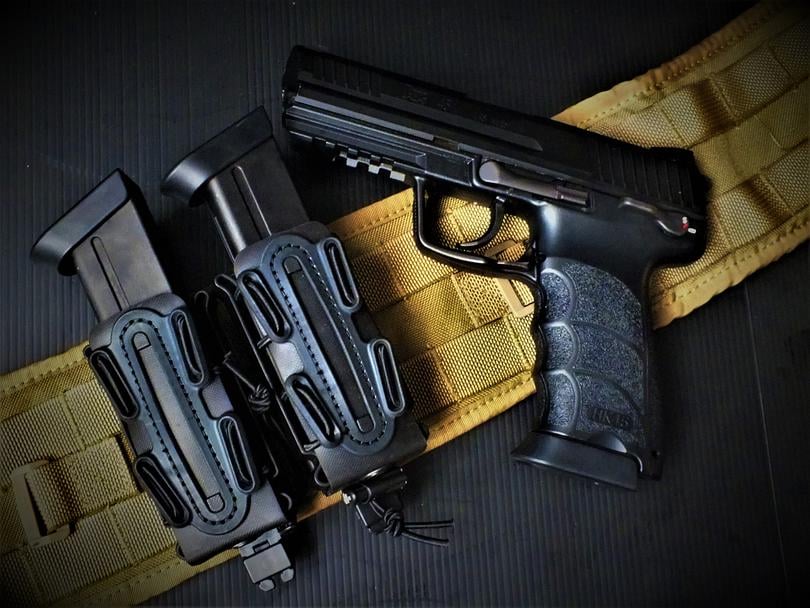 Following on from my past experiences in the UK with plastic shelled FastMags for both STANAG/M4 magazines and 9mm pistol mags, as well as my own custom modified MP7 FastMags which then served to hold my awkwardly sized Five-seveN pistol mags, when I arrived in Taiwan I immediately started exploring retailers here and getting an idea of what I would like to use and carry - trying to keep things as minimalist as possible following the upheaval it took to get here and the amount of residual kit I had to sell off or otherwise leave with friends because obviously I wasn't going to bring it with me.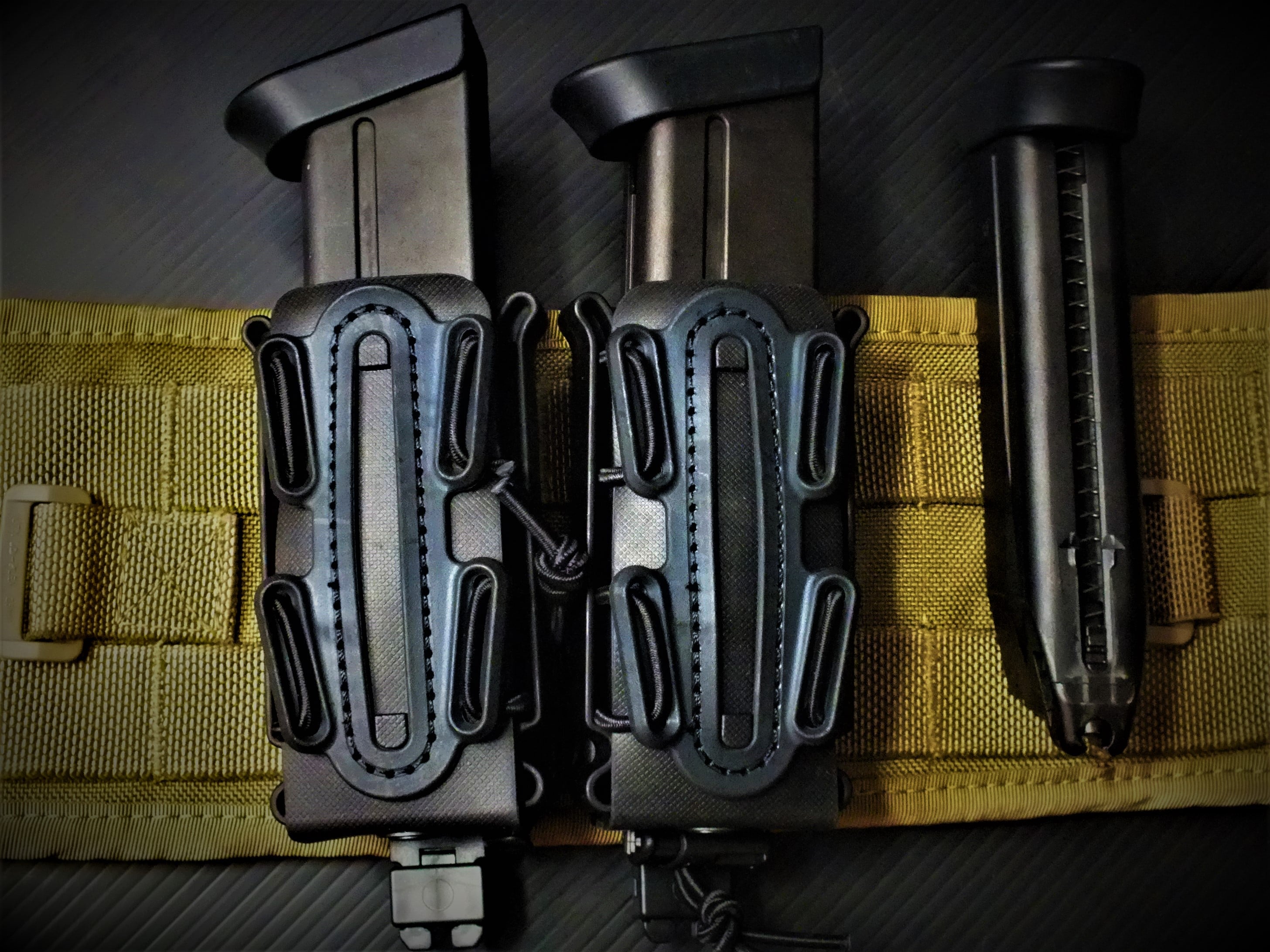 Despite having good experiences with both fabric MOLLE magazine pouches in the past as well as the aforementioned fully plastic FastMags, I decided to look for something adaptable and more cutting edge seeing as I was starting from scratch.
Having already discovered Out Tech Tactical in Taipei before I ever even arrived on Taiwan's soils, I decided to go and pay them a visit and see what was on offer. In terms of my first sidearm I had pretty much decided to switch back to trusty old Heckler & Koch models, after my maintenance experiences of the Five-seveN pistols I'd used for the last few years before leaving the UK.
Having borrowed Handsome Dave's KWA HK45 in Barcelona I was pretty hooked on that and had decided it was top of the list before I even signed the contract to even start thinking about the final move here. So I would need three or four pistol magazine pouches of some description as I was aiming for a simple and lightweight belt rig like I had used many times before.
And so it was, I perused OTT's available wares and was originally thinking of forking out a considerable portion of my paycheck for a HSGI Triple magazine Taco pouch, to cover the planned KWA HK45, as well as a possible KWA USP Compact and/or KWA MP7 with one single type of pouch.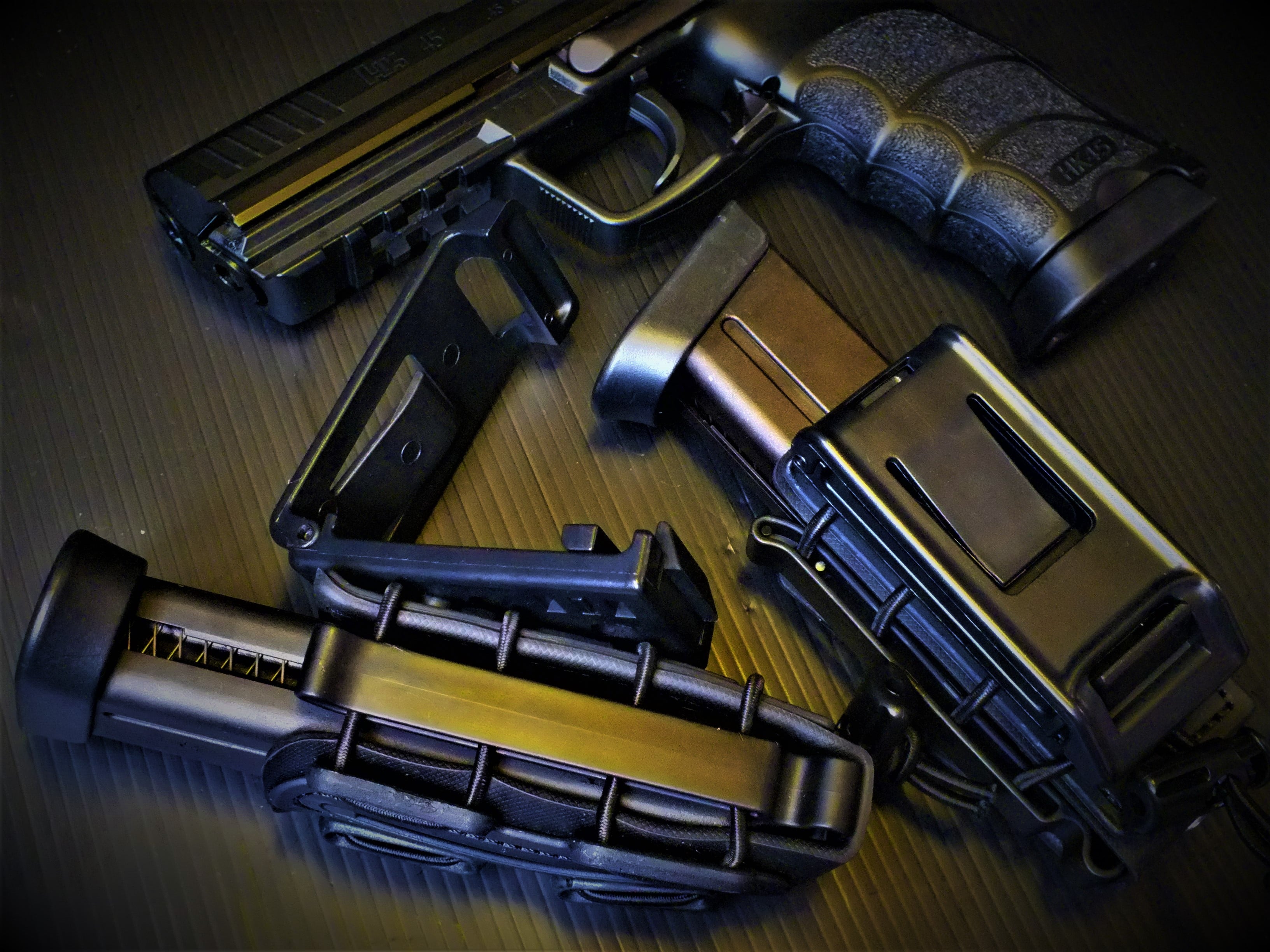 The advantage these new 'Taco' pouches have over both the previous fabric and plastic types I've used is adjustability/ adaptability. Whilst to some extent the FastMags will accommodate a slightly different sized mags with their elastically retained clamshell halves, they have a fixed width of magazine capacity from side to side due to the nature of their construction.
Similarly the MOLLE Pistol mag pouches had accommodated both 9mm and Five-seveN magazines in the past although only because they were soft enough for their perimeter shape to deform to suit both cross sections, although it could still be a squeeze at times.
Instead, the 'Taco' style pouches have the advantage of being comprised of separate retention faces/ inserts and the main front and rear bodies, all held together by a set of paracord laces with adjustable tension to enable magazines of various cross sections to be carried in the same pouches with ease.
I was, however, somewhat put off by the price of such things, and the fact the helpful sales assistant pointed out that separate pouches would be better not only in terms of adaptability or versatility in mounting options, but also the triple pouches have a common paracord, so if it fails at any one point the whole thing is buggered and you have three useless mag pouches that fall apart all at once. The would be counterproductive.
As it was, during my training week and the run up to the 22nd Hooha show here, Piotr at TacticalTwoHQ had pointed out TMC's Taipei shop to me, which I'd somehow managed to miss off my initial scouting search when I first came here in February to do the job interview and check out Taiwan as a potential new home.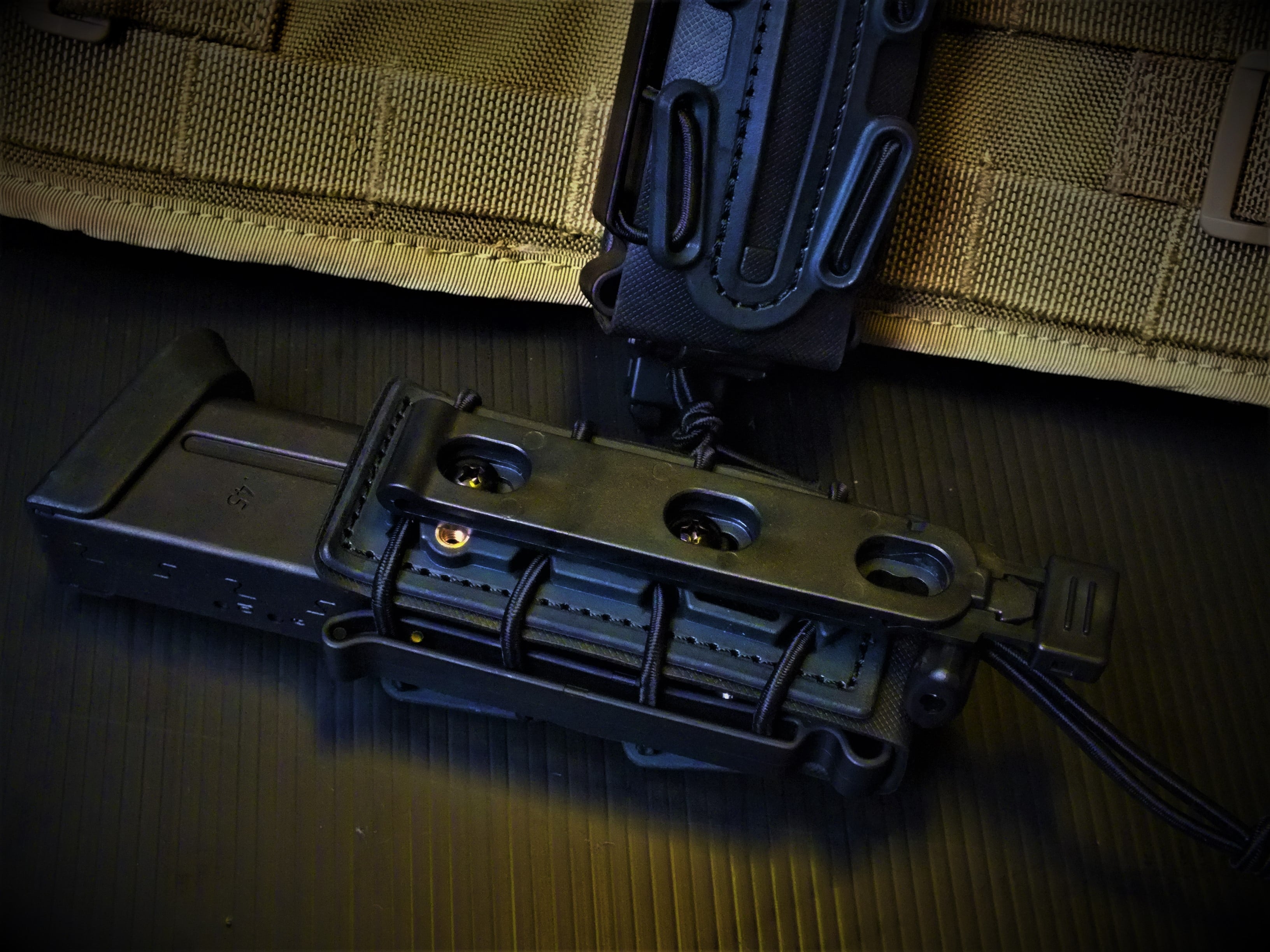 So I sauntered on down to their impressive showroom and had a chinwag with them about options. As it happened I asked about the 45 Cal compatible plastic shell FastMags and they tried searching their online stock system for them only to find they no longer stocked them/ they were being discontinued… that's when they told me they were so last year anyway and that the new 'scorpion' Gen2 FastMags were way better anyway.
'Well; they have a badass sounding name, for starters', I thought to myself, and the gents there proceeded to take me to the display cabinet at the rear of the shop and extol the virtues of the latest in their product lines. I was immediately interested in the adaptability of the pouches - in the same manner as the HSGI Tacos, they consist of separate front and back panels made of a rubbery/leathery material which is flexible and gives excellent grip for retention, and plastic retainer/ guide 'rail's at the sides, all held together by an adjustable tension interwoven paracord, allowing you to enclose the magazine in the pouch and then tighten to suit its shape or the level of retention you desire.
It wasn't until I got my first purchase of four home that I really realised their value for money - the HSGI units will cost you about NT1000 or GBP25, so four of them would have set me back a hundred quid… nearly as much as the pistol or spare magazines were going to. Not only are the TMC versions only around NT250 / GBP6.50 a piece, but they also come with three mounting options as standard in the package.
The first is the one attached via screws to the rear of the back plate as standard; a 2 MOLLE PALS depth 'ALICE' style clip, the rear section of which runs through the MOLLE loops and then meets the front section again on the other side, and is then latched back to it with the use of a sliding sleeve which requires the front plate's lower tabs to be squeezed together to release it.
The second option is essentially identical apart from the fact it is 3 PALS loops long and thus offers more security for attachment to vests or other larger panels, as well as allowing the magazine pouch to sit on the middle screw point and either the top or bottom one, thereby allowing the pouch to sit 'high or low' compared to the MOLE loops, depending on user preference.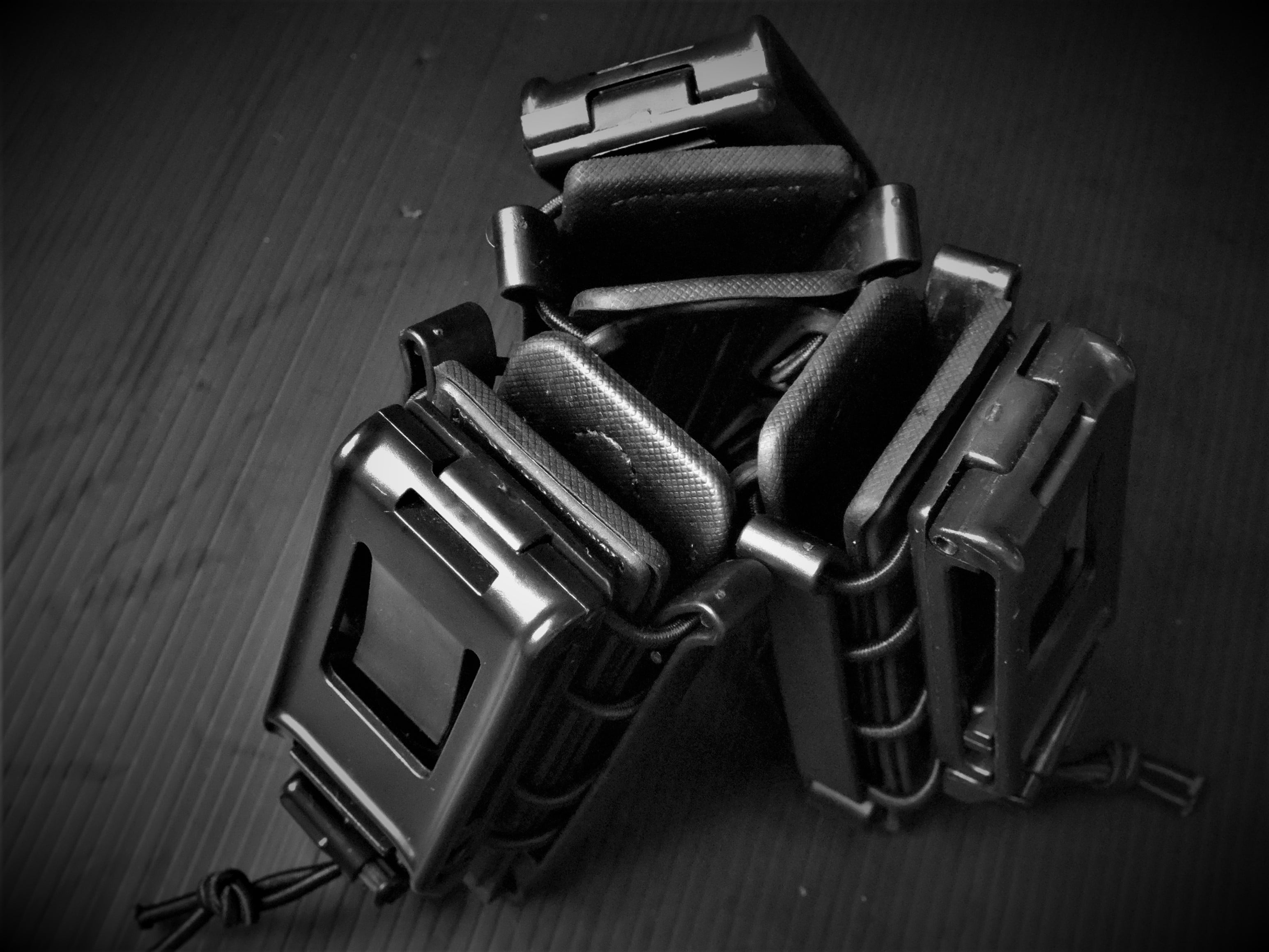 In practice I did find that while structurally sound, these ALICE style clips were perhaps too thin side to side - they move around inside the PALS loops too loosely and therefore allow the pouches to swing around when they have a heavy Gas Blow-Back pistol magazine in them, this, I found, would probably be solved by tie-wrapping two adjacent pouches together, however in the end I opted for the third included option.
This is a hefty belt clip that runs the full side to side width of the pouch itself and allows it to be very positively located and secured on various duty belts. There is an adjustable/ removable belt width adaptor block on the mounting plate which can be taken out and turned around, or removed entirely, where necessary to vary the depth of duty belt which can be accommodated by the clip.
This is then clamped securely over the belt by the 'flap' section of the clip, which then snaps over a boss on the rear static section and can be undone again by bending the flap to release it. This whole set up fits perfectly on my jeans or 5.11 Taclite Pro Pants, usually with two pouches retained on the belt between the front left two belt loops - at my 'ten o-clock' position' - and a further two further to the rear at the 'nine o-clock' or thereabouts.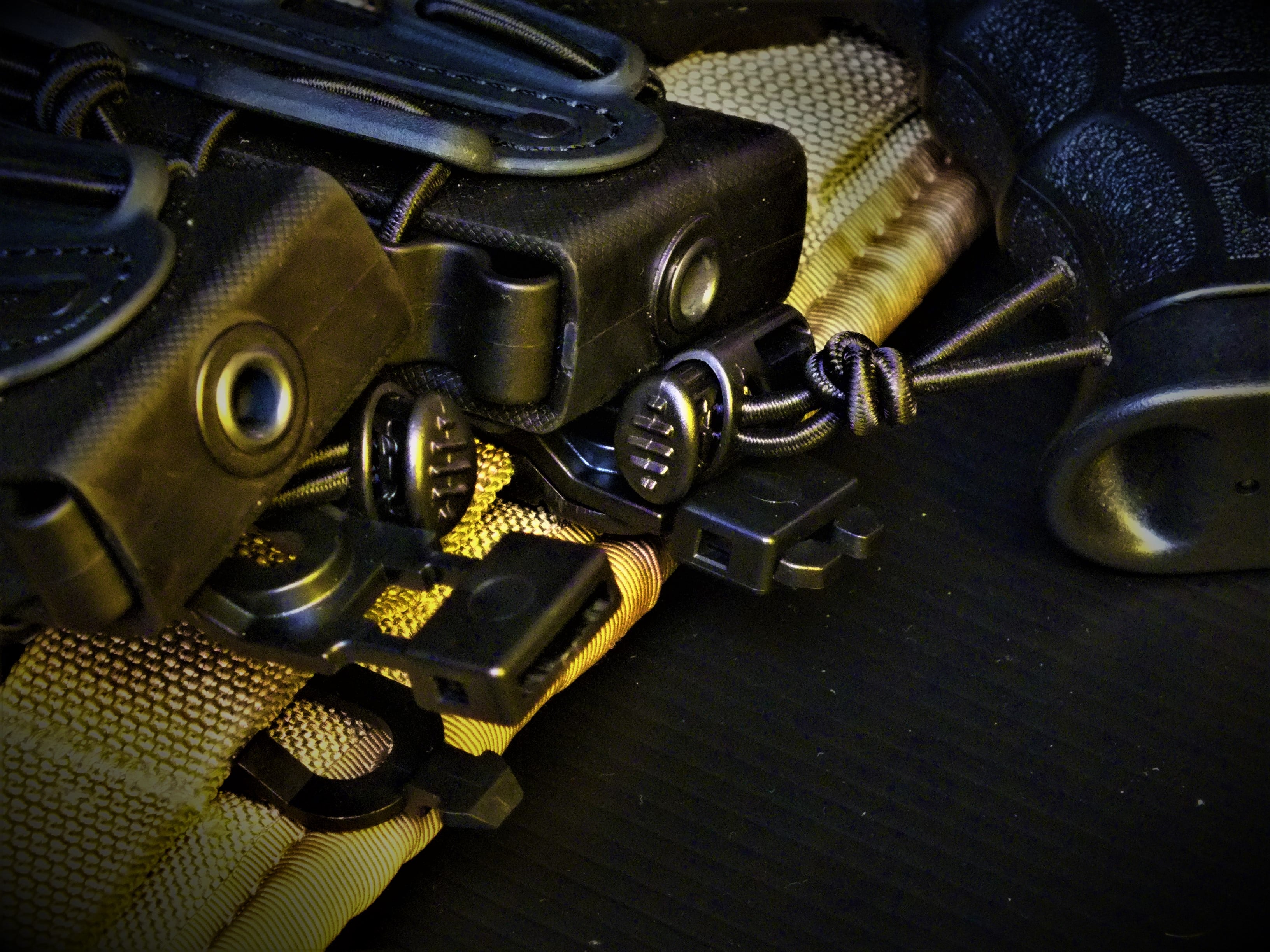 Those two pouches further back are also canted rearwards. Because my arms are quite long it can be uncomfortable drawing magazines directly vertically under my armpit/shoulder joint without it feeling really awkward. By canting the pouches backwards it makes it easier to more rapidly and instinctively motion my arm and hand into place and comfortably retrieve or replace magazines there.
That brings me neatly to one of my favourite features and the thing that really represents value for money… the third mounting option I'm using is also adjustable. The pouches are all supplied with a blanking plate which is reversible and has a radius track in it as well as single holes, to allow the tightening/ retaining screws to be placed according to preference and then the belt clip section can be angled away from the axis of the magazine pouch section itself to allow it to be canted to the belt/wearer's axis.
These really are awesome given what you get for what you pay, to my mind, and I've already seen numerous other players at Action Bunker sporting them in various colour schemes to suit their loadouts, so I can't be the only one who thinks so.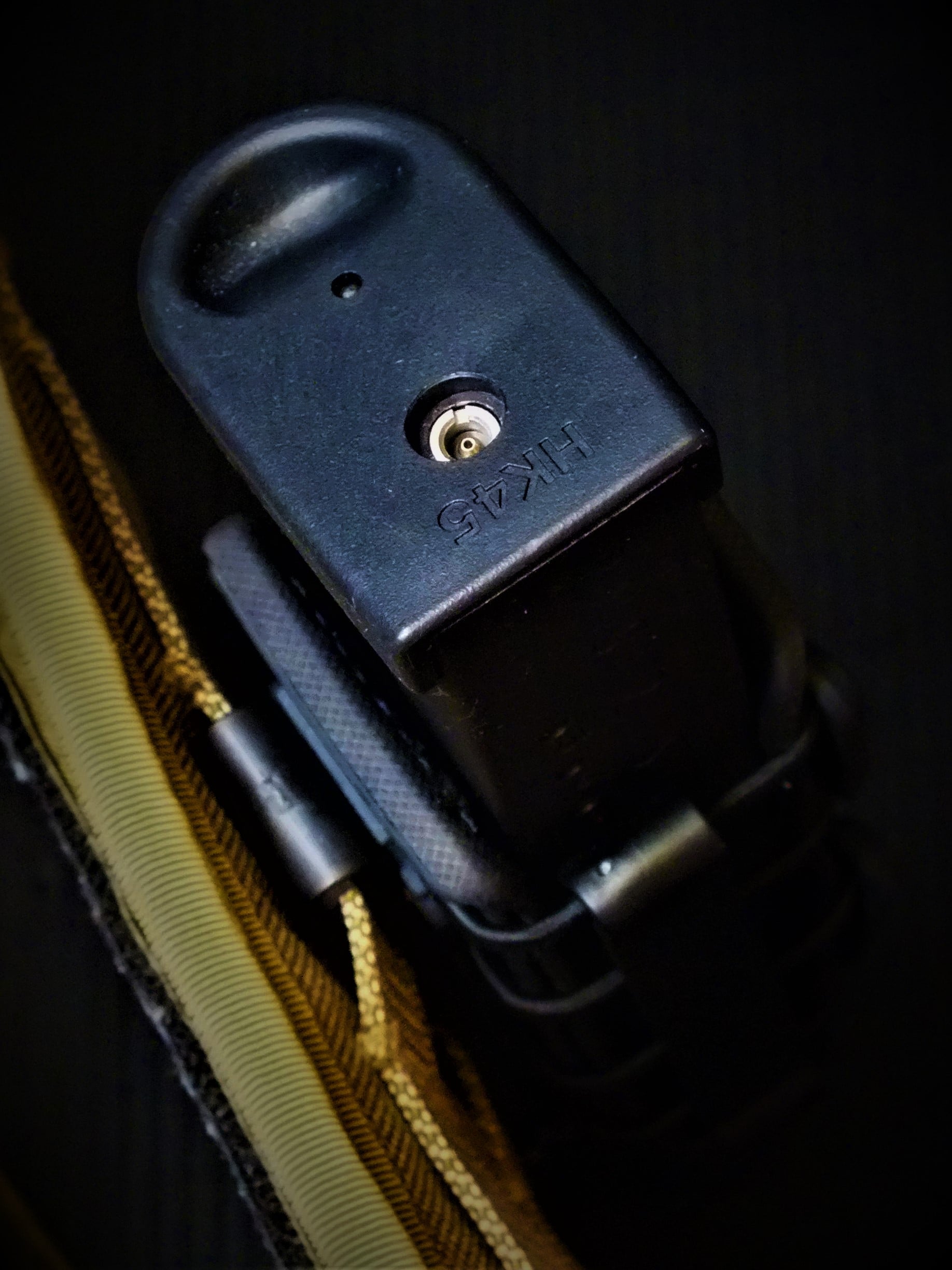 The comfort of wearing them in general, aesthetics, ease of use and good retention are all positives to my mind, it is easy to 'index' them after a little use and quite instinctively find them on your belt and feed magazines into their openings, I haven't had any magazines move around at all or otherwise experienced any retention failures thus far, so I'm extremely happy with them at this point. So much so I bought another two as I now have 4 HK45 magazines mounted on my belt, and then two other pouches for speedloaders to use on my plate carrier for ease of access to everything with my supporting hand.
Bottom line; they're cheap, but in no way crappy or a half measure, you get a lot with them out of the package as standard and they seem to be popular and are already catching folk's eyes on my Instagram feed as it is.