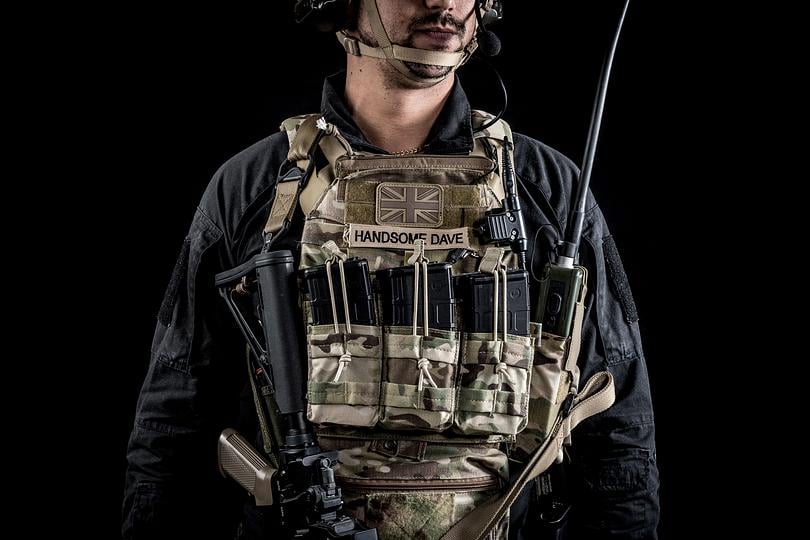 Packaging
So when we got this plate carrier, we paid very little attention to how it was packaged as we were that excited to get it out of the jiffy bag and clear plastic bag packaging. All packed nice and tightly so that it doesn't take up too much space.
Initial reaction to the product
Ok so here we go, grabbing hold of this plate carrier, our initial reaction = it's awesome! TMC once again have pulled through and not let us down at all. It even comes with hard foam fake ballistic plates that are already pre inserted into the plate compartments so it gives it a nice solid feel to the product as a whole.
Made with original Multicam material, you will not be disappointed when matching it to your MC Special Forces loadout. Going over the JPC and holding it in your hands, it's difficult to find any flaws with it.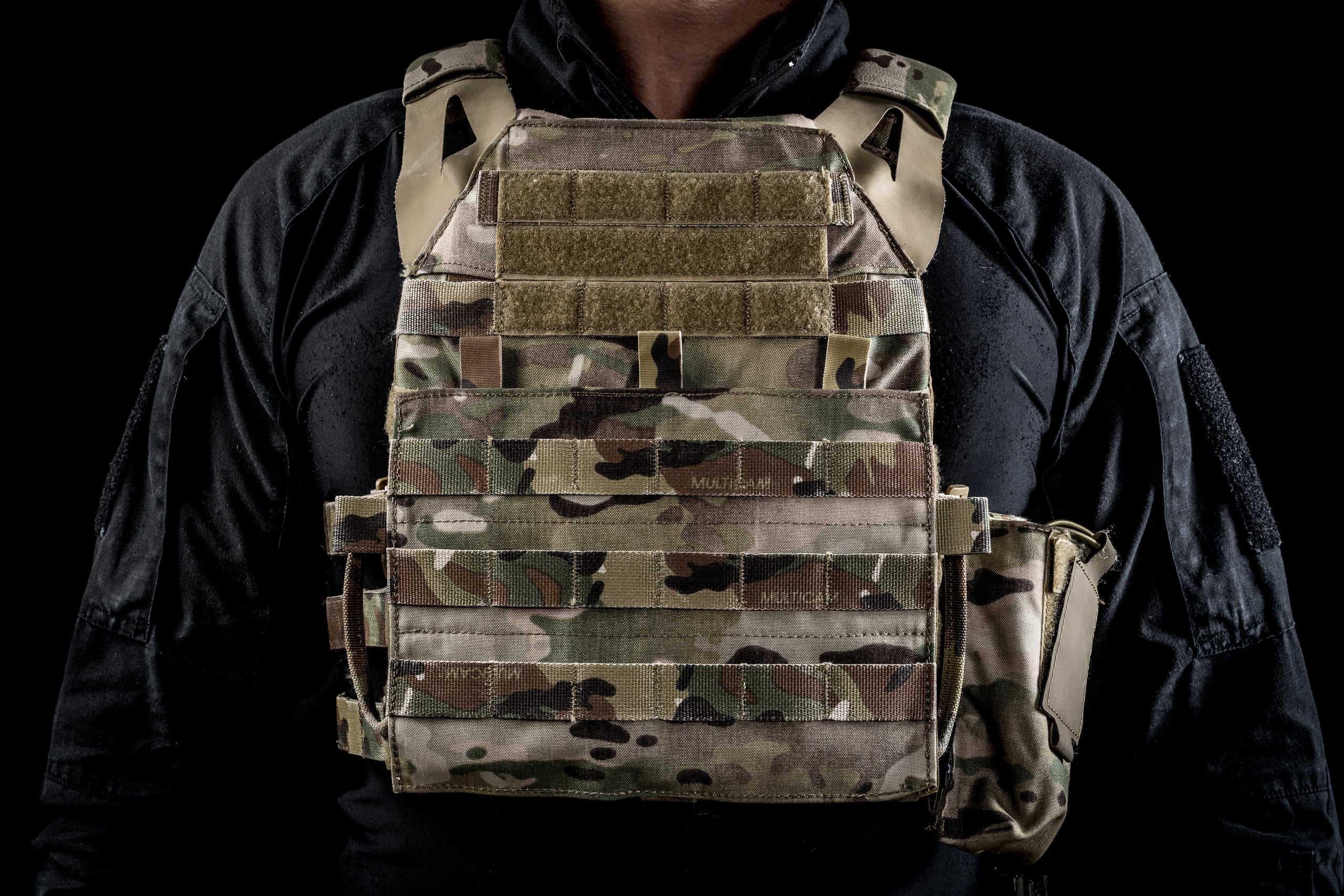 Build quality—Features and benefits
Going in depth now regarding the actual structure of the JPC 2.0. Everywhere you look, the stitching is tight. All the MOLLE loops are the same size and perfectly taught to ensure that any pouches you put on it are kept secured to the JPC.
The front panel has Velcro so it is easily lifted up to access the side panel adjustment flaps – these have got a loop fixed to it so you don't have to fight the Velcro when "ripping" it open. These then sit nice a snug and flat once the panel is closed (you might have to fiddle and adjust them a bit so they do fit really snugly). If you want to adjust additional side security straps, there are some buckles on the side of the front and rear panel that you can thread a strap through to tighten up.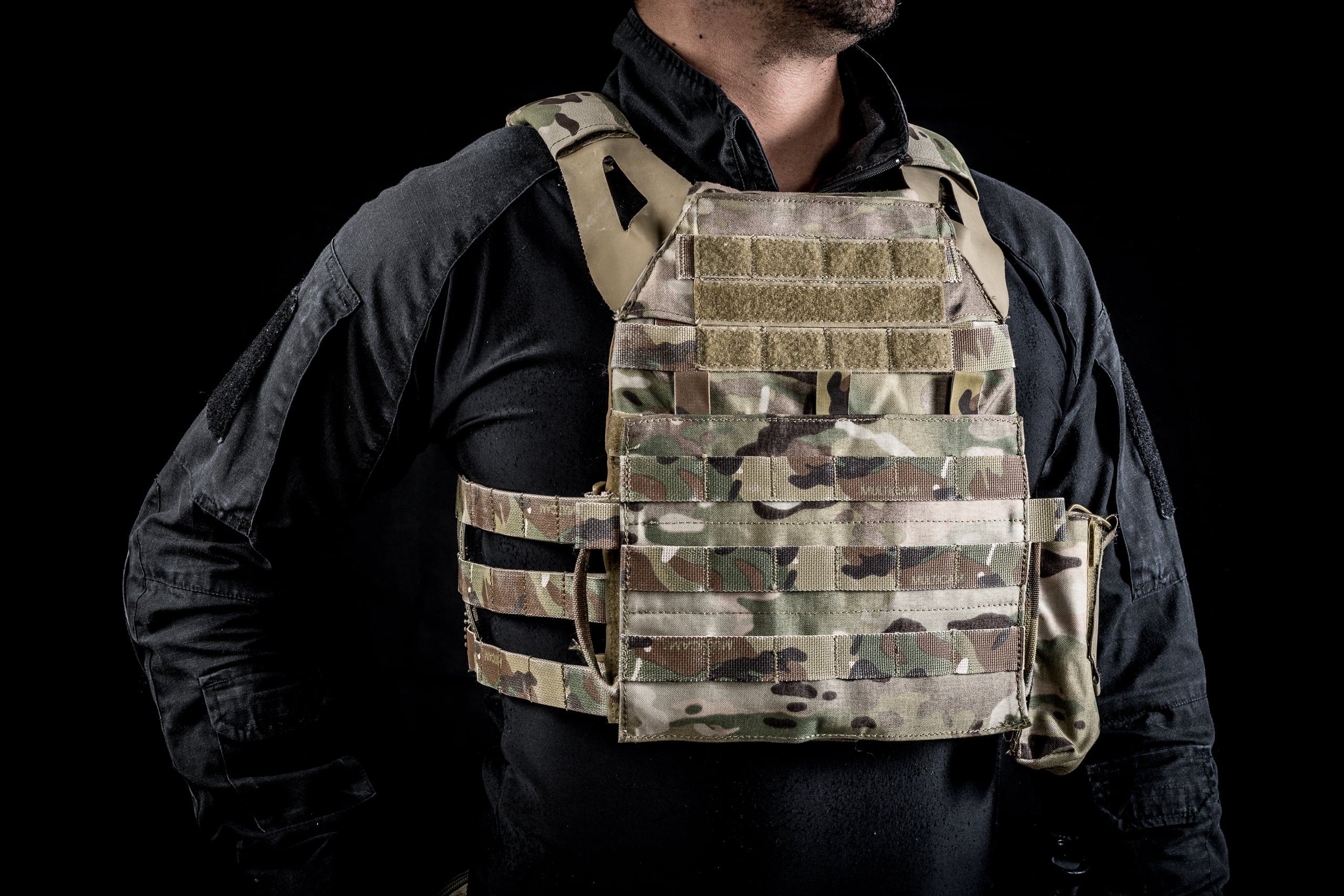 It comes with a triple M4 mag pouch as standard for the main front panel. The beauty about this JPC is that you can change and attach various different type of front panel set ups. All you need to do is tuck the panel flaps behind the soft Velcro level and they will attach themselves to MORE Velcro behind the top layer. Then you push whatever Velcro panel you have bought down and BOOM – you have your desired pouch set up installed. I removed the triple M4 mags pouch one, and attached the Rasputin UW panel (3x M4 mag pouches and 3x admin pouches).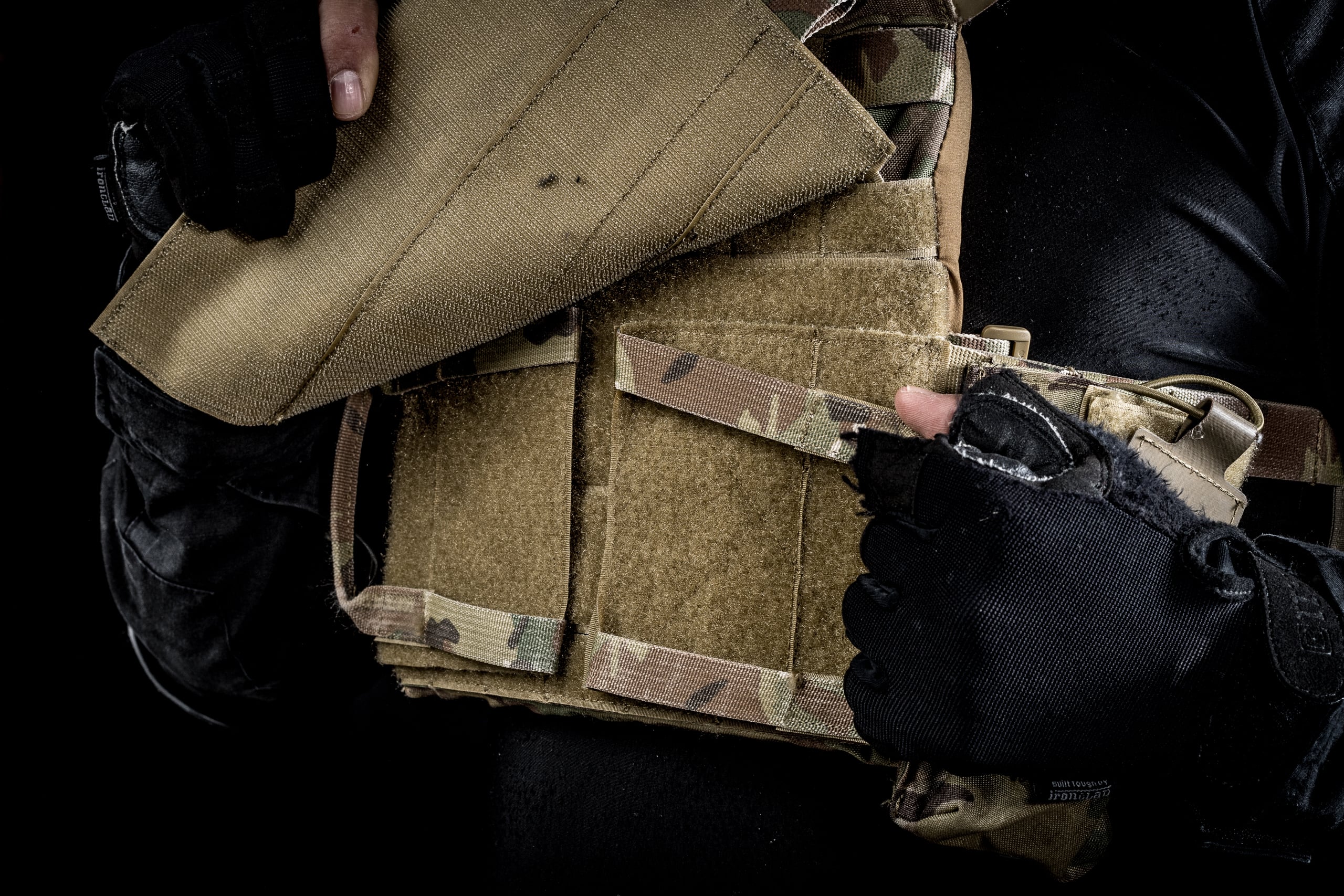 Above the front panel you have got 3 rows of MOLLE, that have 4 columns of Velcro on it. This enables you to add all your tacticool patches and what not. In my case a UK flag and the cheesy nickname of Handsome Dave (you can ask Stu Mortimer about that one). Above these 4 rows is another Velcro flap that allows you to store things behind the MOLLE itself. However, to make this even more useful I picked up a TMC Zipper for CP plate carrier that gives even easier access to this pouch – great size for an iPhone 6s.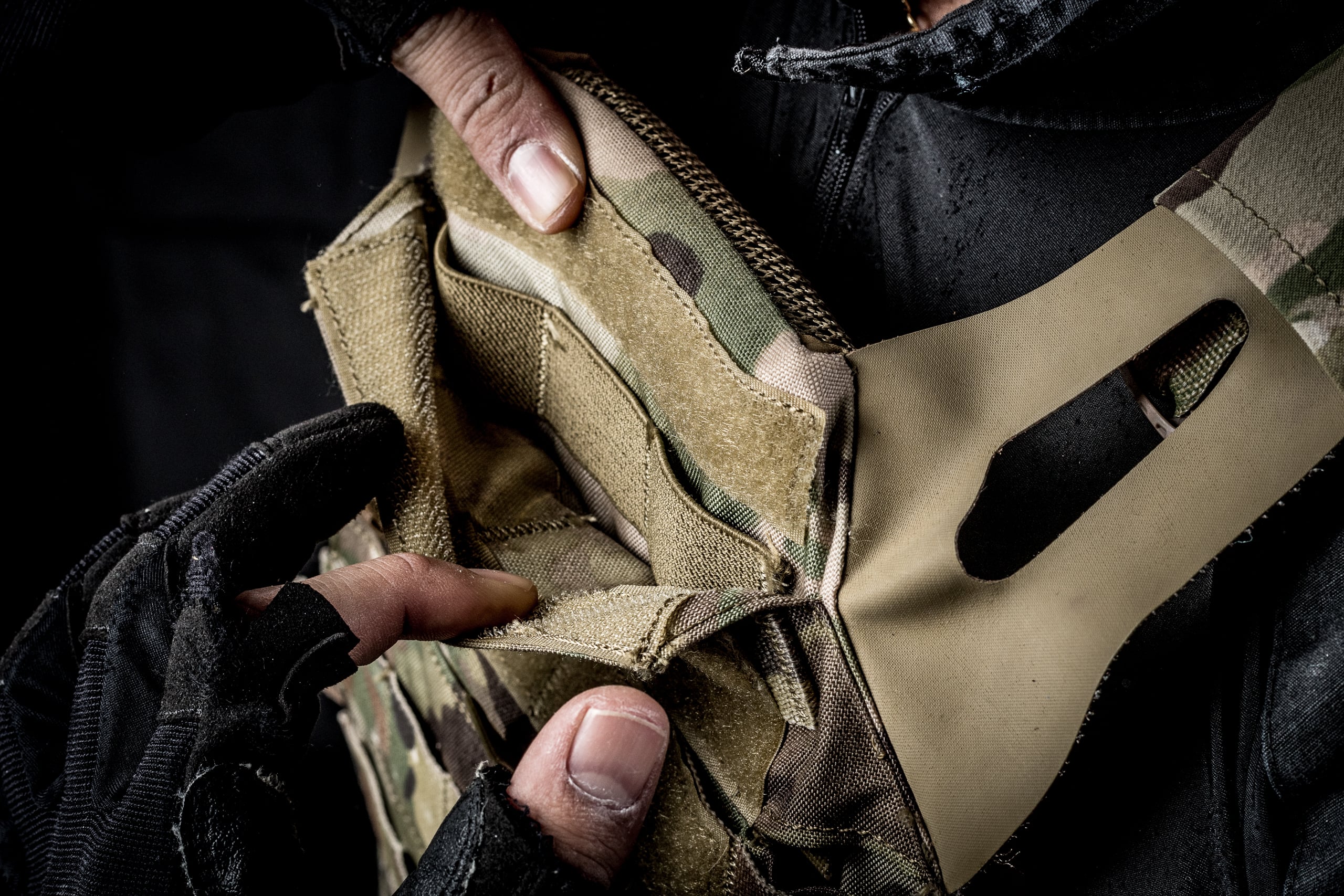 The shoulder pads are secured in place by a nice wrap around Velcro pad, which covers the shoulder strap adjustment. This will enable you to adjust the height of the JPC – really simple to use and in my opinion the easiest adjustment system out there. No long straps or anything to tuck away or roll up. Just open it up, adjust the Velcro and then wrap it back up. You can also put your comms cables and camelbak pipe under these shoulder pads to keep things nice and tidy.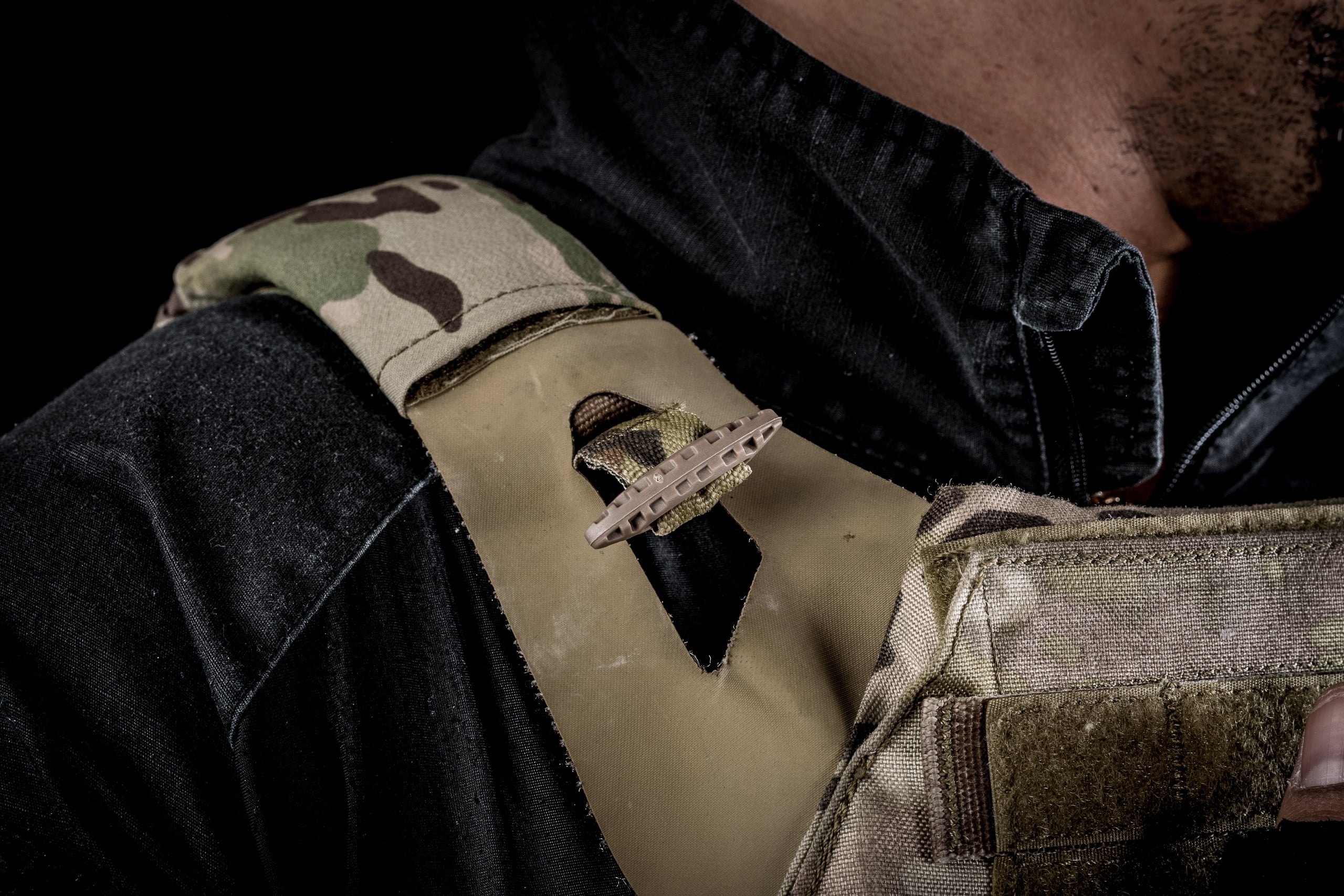 To adjust the fit of your JPC, the rear panel has the side straps held in place by bungee cord – this can be easily woven and tightened to your body for the perfect fit. They also give you a nice bit of flex and breathability – so you don't feel too cocooned up in the JPC at all. The side panels also have MOLLE loops so you can attach pouches to sit under your arms. I found that these MOLLE loops were probably the tightest of all the loops on the JPC – perhaps a bit too tight, as I really struggled to thread the MOLLE straps of an admin pouch through these loops (but hey, we ALL hate threading MOLLE but the pain is worth it!).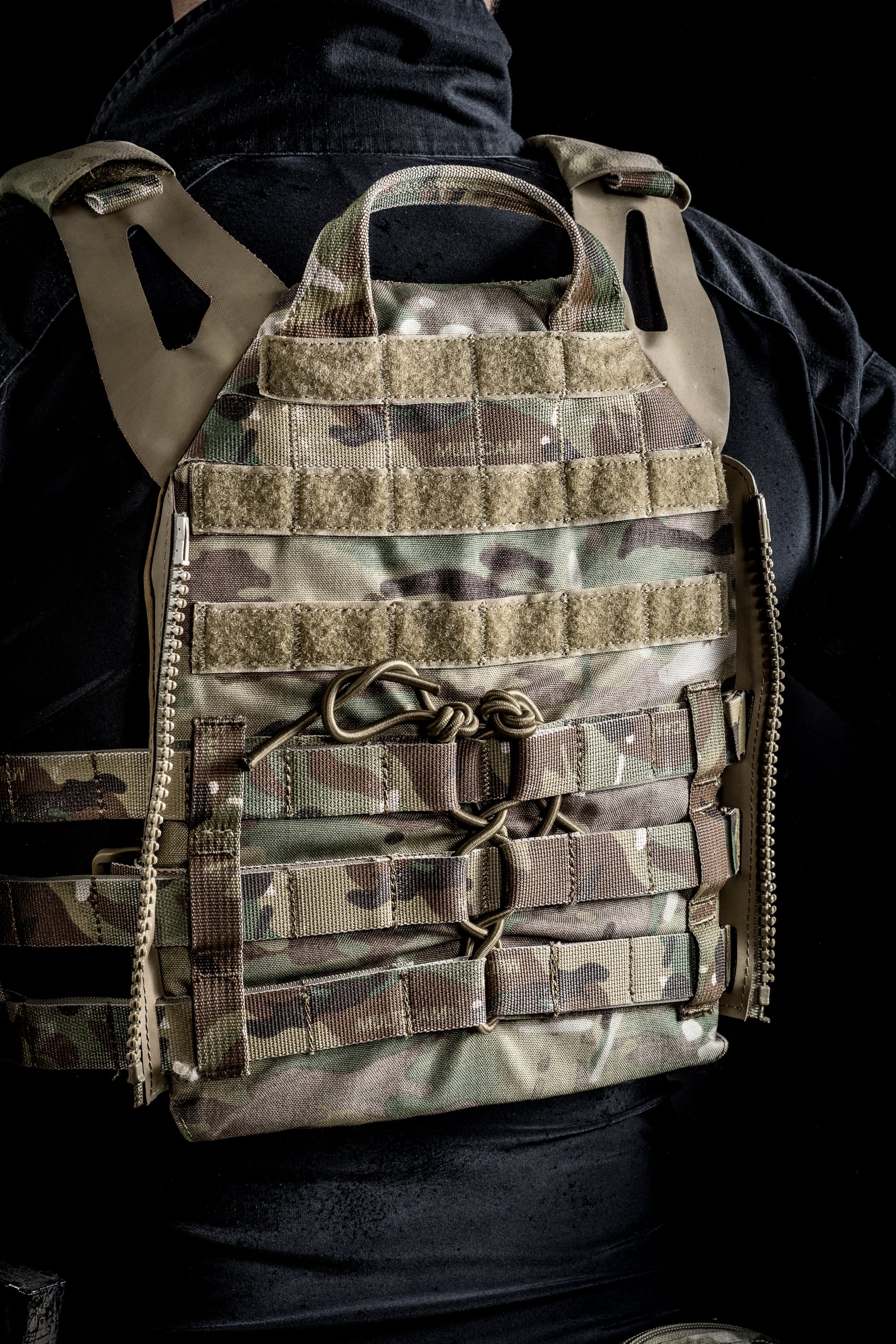 Down the side of the back panel, you have a nice zipper system. This is so you can add the various types of rear assault panels. For our JPC we added a Direct Action Gear Spitfire Assault panel. This comes with 3x buddy magazine / grenade pouches up top, access for a small camelback hydration pouch and a double zipper, padded general purpose pouch at the lower part of the panel. We've also got a review of that product on our website too.
Pros and cons
Total customisation – with the hidden vertical webbing loops on the front of the plate carrier, this system allows you to change your front panel quickly and easily to suit whatever mission you need – whether it is more mags for ammo or a combo between utility pouch and primary rounds – the options are endless!
That said, if you want a high load bearing plate carrier this one might not be the product for you. Yes, you can attach lots of pouches and what not, but there is not all that much MOLLE real estate for that sort of stuff. For that type of load bearing I would use a 6094 plate carrier
If you are looking for an uber lightweight, high speed low drag plate carrier, then this is definitely the one for you! When it comes to plate carriers, I tend to use them for FIBUA sites or urban areas. I haven't used a plate carrier in woodland for a while. This weekend just gone we organised a game at our home site – and we were on the MulitCam team. This meant I would get to use my shiny new MC JPC 2.0 and other MC pouches and accessories I had to go with it.
As you can see from the pictures I had attached:
TMC Patrol Radio Pouch
Rasputin UW panel
Rasputin ADDON fanny pack
A general purpose pouch
Direct Action Gear Spitfire Assault Panel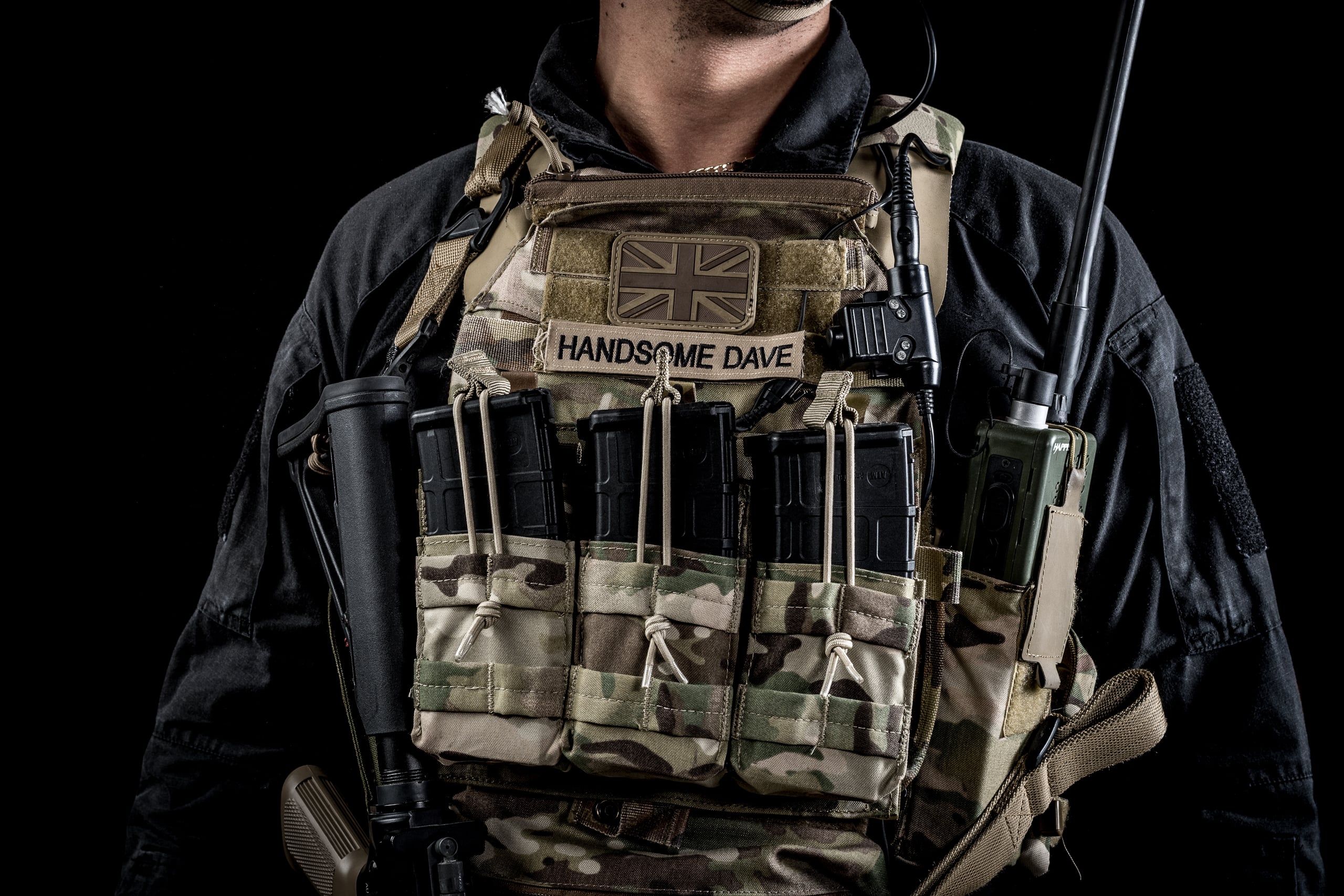 Moving with the JPC 2.0 is a little treat. You barely feel it at all. Crouching with it on, there was no snagging or difficulty in moving through the undergrowth. It held everything in place in the right way and left no rubbing marks from the shoulder pads after quite a lot of running around, ducking, diving and rolling. The Velcro tabs held the Rasputin panel securely in place and all of the MOLLE loops were nice and tight and no wobble on the pouches at all.
Conclusion
Possibly the most comfortable and functional plate carrier I have ever owned. Highly modular and customisable, as well as easy to use and lightweight. Thanks go to Weapon762 for sending us this product to review! I'm going to order some real ballistic plates and fit them in there to get as much realism out of the JPC as possible.