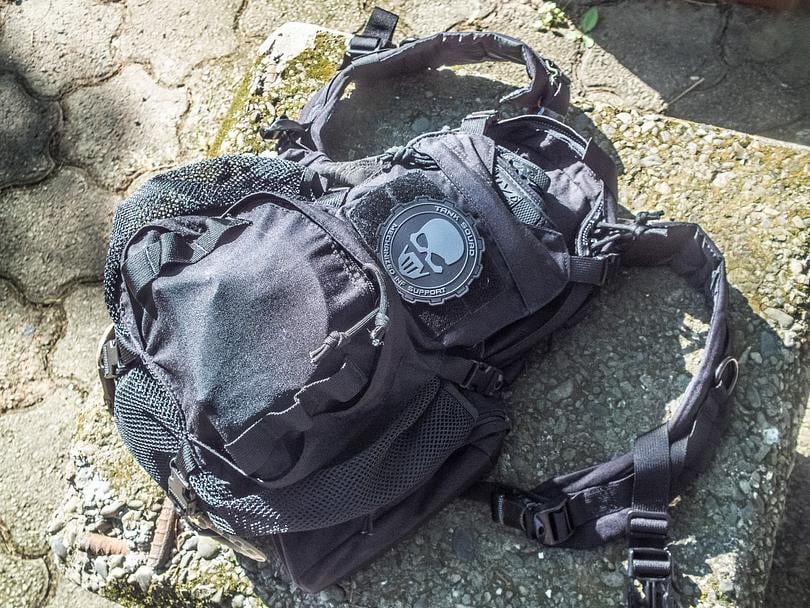 Following on from my experiences with the TMC COVRT M4 I had gotten back in early February 2018, and having contemplated how best to store and carry my KWA H&K MP7 GBB and its related magazines, I paid another visit to TMC Taipei's store and considered the smaller shoulder bags they had on offer.
Up until this point I'd largely been using the TMC COVRT M4 for carrying my WE Tech H&K G39 (G36C) GBBR, KWA H&K MP7 GBB SMG/PDW and KWA H&K HK45 GBB Pistol along with gas, ammunition, loaders, eyepro and basically everything else I needed whilst carrying my plate carrier/ rig in the freebie Poseidon drawstring bag I got from MOA 2017 because it is too bulky to fit in the TMC COVRT M4 bag, of course.
OR, I was using my trusty old FLYYE EDC Backpack to carry my plate carrier in as well as my G36C with the stock folded, the pistol and accessories bunged in all its various external pouches and the MP7 and its mags wedged in the other spaces available. Or a combination of both of these things depending on what I decided to use/ carry that day.
This evidently entailed a lot of Tetris God level repacking of bags every time I wanted to go to a shoot as well as a hell of a lot of weight and bulk involved in carrying everything, particularly on Taiwanese public transport where just being my size as it is gets me plenty of attention and/or disgruntled reactions for being so bloody cumbersome let alone if I have all of the tac gear and tacticool bags hanging off me.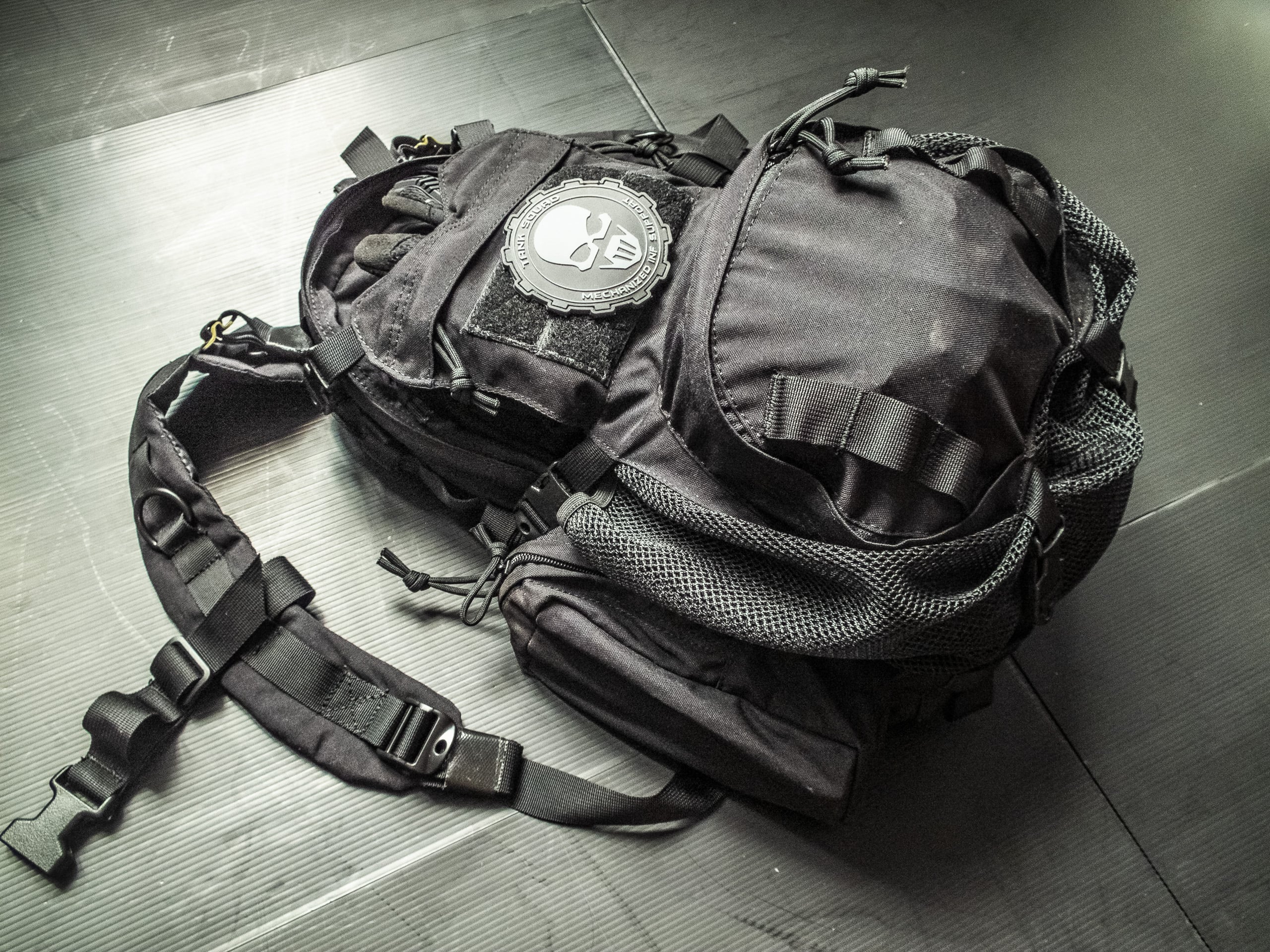 And so it was. I figured I needed a much slimmer, lightweight and streamlined solution to my equipment carriage woes, so back at the beginning of April, on the way back through Taipei from yet another Action Bunker shoot I dropped into TMC Taipei and had a chinwag with Eric about what they could offer me in the way of equipment bags specifically for smaller GBBs - luckily I had my MP7 and plate carrier etc on me that day, all in my FLYYE EDC Backpack, so I just whipped it out and started measuring its profile up against the vast array of MOLLE backpacks on their racks near the front door.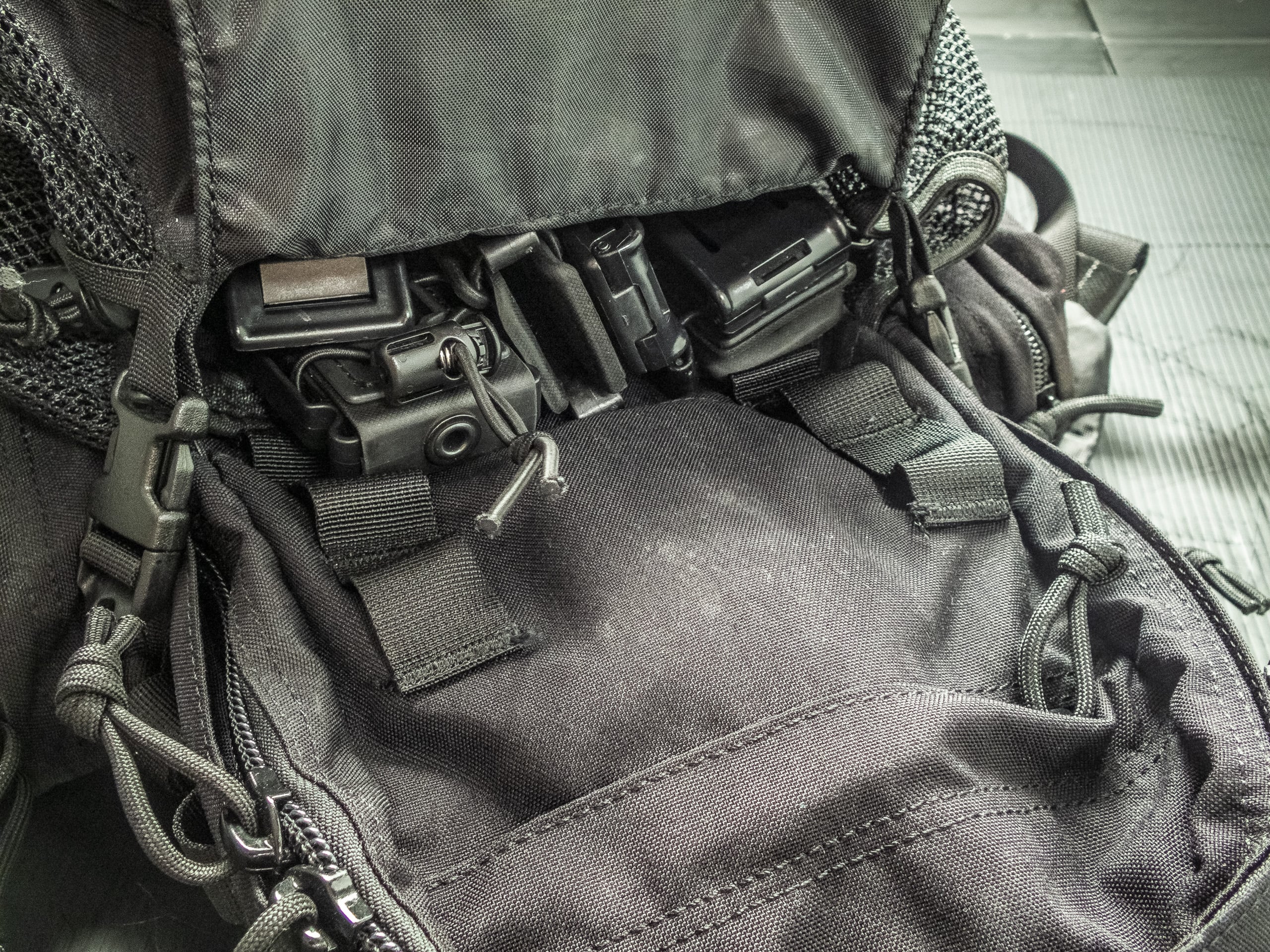 And then I saw it. To be fair I'd eyed it up on a previous visit when I first started considering the idea of making my equipment and carriage of it more modular and 'grab and go'. But anyway, there it was, the TMC Yote Pack casually hanging on the rack looking all black and tacticool. I grabbed it and saw if my MP7 would fit into it with the stock and foregrip collapsed but with the raised T1 Microdot still fitted - I don't like messing with my optics once they're zeroed. Happily, it slides into the main compartment very snugly - almost like it was intentionally designed for the gun, furthermore all four magazines fit perfectly in two pairs into the zip closure side pouches flanking the main compartment, 'it just gets better' I thought, then I realised there was an adjustable bib and netted carrier area on the rear, which would adjust enough to swallow my whole Nitecore NTC10 double pistol carry bag, or a bunch of ammunition bags and clothes or whatever else took my fancy.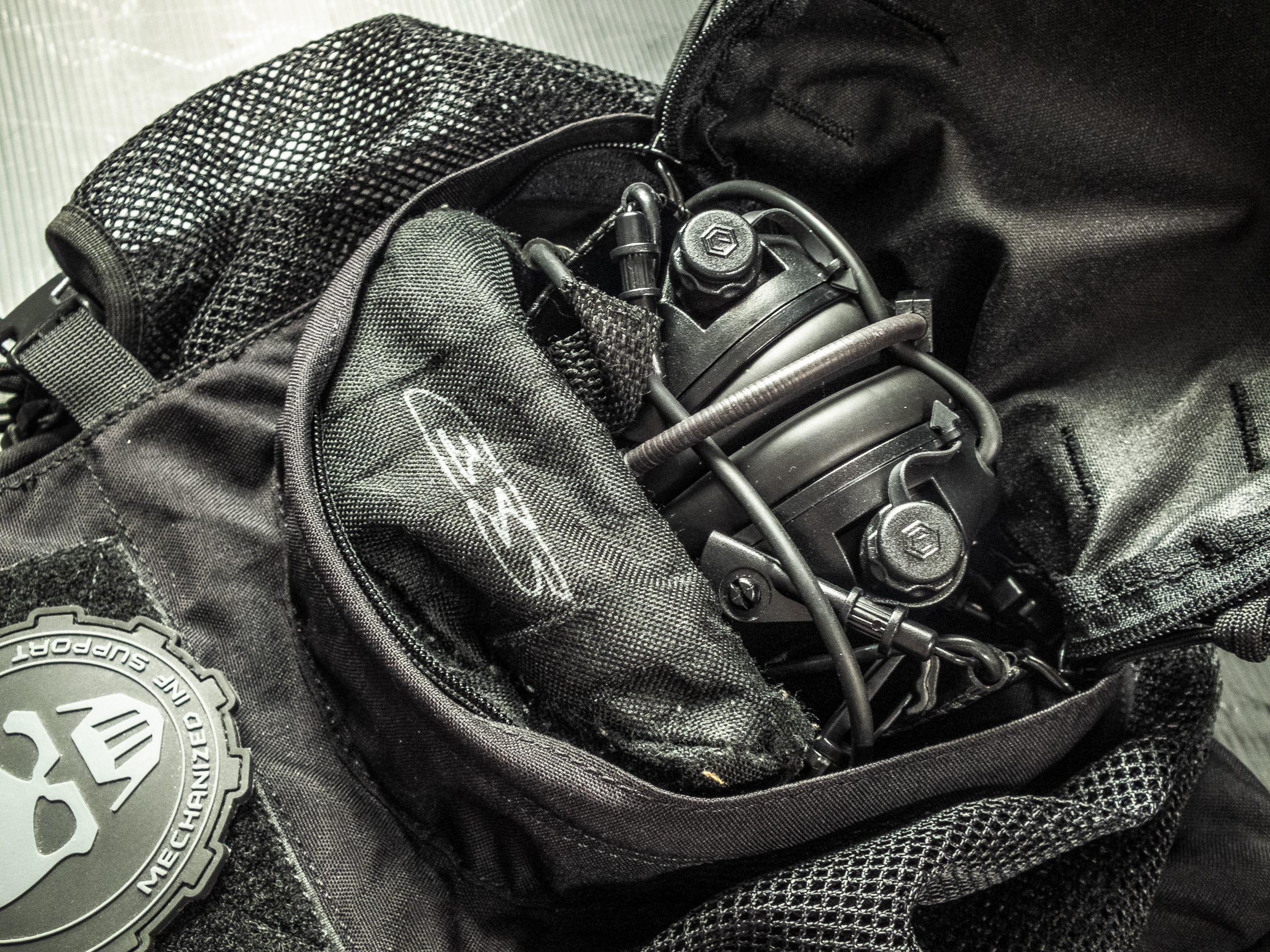 Then I tried putting my new Earmor M32 Mod 1 earpro and ESS ICE 2.4 Eyepro in the rear pouch compartment that is mounted onto the floating bib area, perfect fit for both, and my lower face mask would slide snugly into the other zip enclosed compartment above this on the main body of the backpack.
I was sold. It's absolutely perfect if you have a KWA/Marui sized MP7 either AEG or GBB, plus up to 4 magazines (you can probably fit more in the main compartment if for some reason you need more than 4! - although I manage to fit my SERPA USP Holster and 4 TMC Scorpion Gen2 FastMAGs in the main compartment stuffed on top of the MP7.
There are also plenty of attachment hardpoints or MOLLE PALS loops all over the periphery of the back and its comfortable shoulder straps, which also sport heavy duty metal D Rings on the front, so obviously I've used those for TacLinks to attach my Nitecore NTC10 pistol case to for more balanced weight distribution when carrying all my kit at once.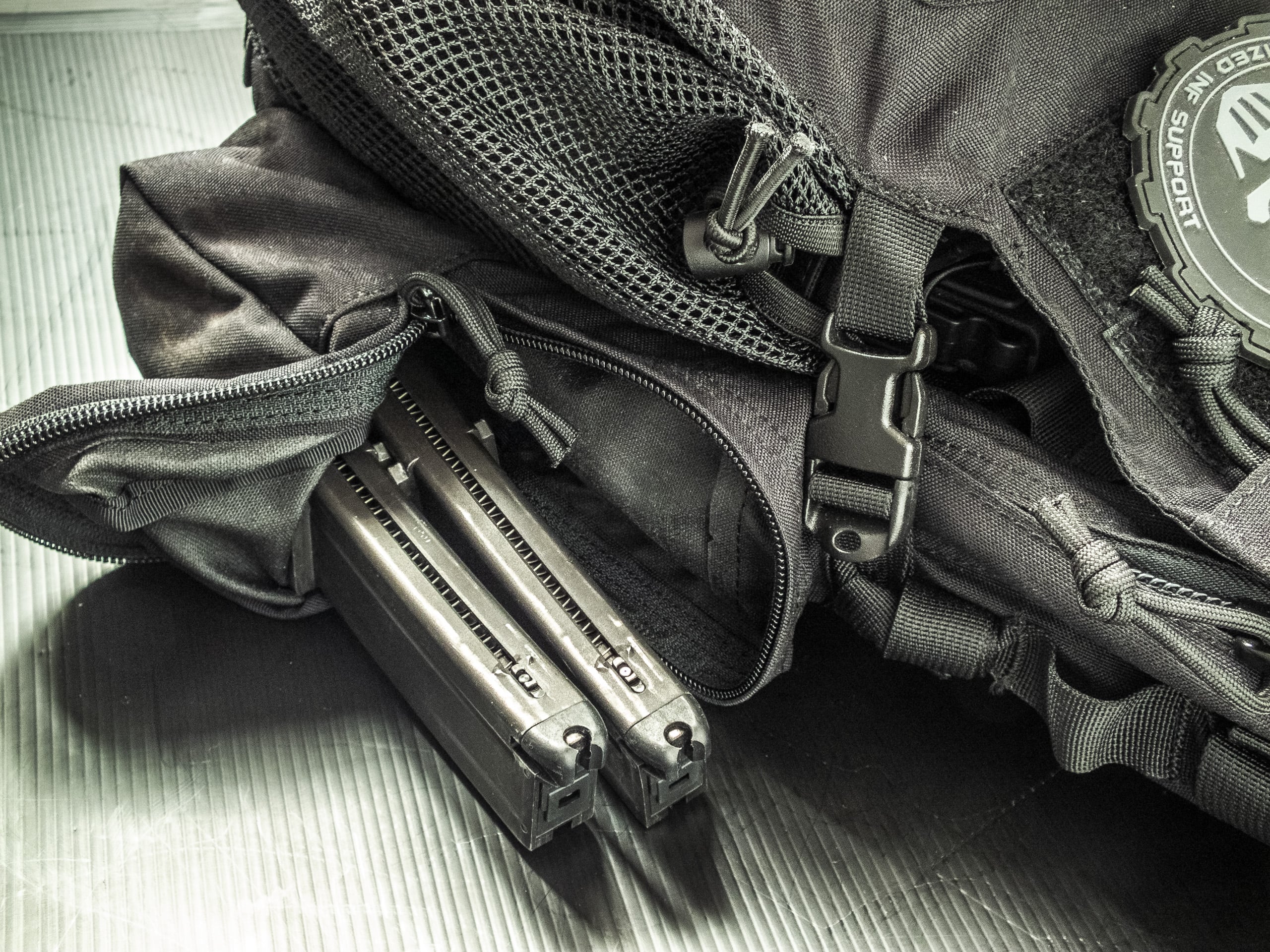 It's also worth mentioning that at the same time I decided to splash out on a relatively cheap but much more heavy duty version of the freebie Poseidon drawstring bag I had been using, but which had already started showing signs of wear - I bought an EDCGear heavy duty drawstring back with a QD clip top closure and heavy gauge drawstrings. This fits my KUI Plate Carrier (JPC1.0 style, basically) in it perfectly and allows me to hang if off the other Yote Pack's shoulder strap D Ring alongside the Nitecore pistol case, allowing me to spread the weight of all my gear nicely in front of and behind me and making it easier to keep control of things and not 'wipe people out' with it on the cramped MRT or HSR at peak hours.
The backpack is surprisingly compact and comfortable even when fully loaded, and actually sits relatively high, between my shoulder blades, thus preventing any of the weight of the MP7 and everything else pressing against the bad areas of my lower back, which is a problem the FLYYE EDC Backpack sometimes causes if it is overloaded or I'm not using the additional waist support MOLLE belt with it.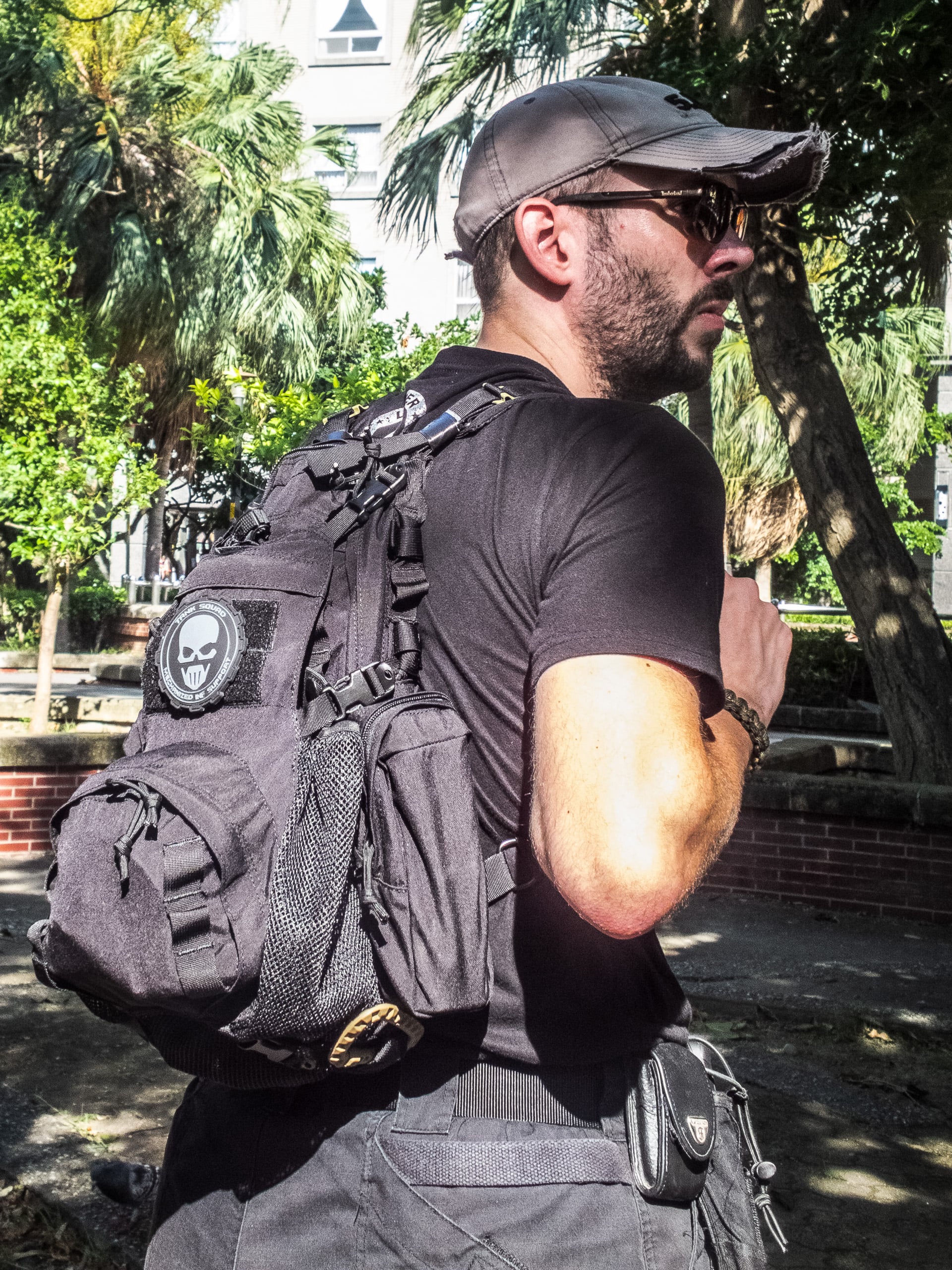 Overall I'm extremely happy with the bag, it's a perfect fit for all of my various essentials and works really well with the MP7 or perhaps even an MP9 or other similar SMG/PDW sized gun or a larger pistol or combination of pistols. It's very comfortable and distributes the weight it's loaded with nicely across your upper back and shoulders thanks to its wide and nicely padded shoulder straps, and there are so many places to latch extra things on to (Now I've taken to double TacLinking my Nitecore pistol case beneath the backpack so it sits flat across my backside and I can feel it's there, then have the EDCGear plate carrier drawstring bag slung off one of the shoulder strap D Rings at the front where I can stop it moving around and rest my arms on it.
It should also be mentioned that the bag is supplied with a plastic bag stuffed full of various additional straps and load bearing snap fit points which I've barely explored yet, but they really do give you a whole host of options and extras for your money, if you're looking for a low profile SMG/PDW/Pistol carrier I really can't recommend it enough to you - it really is very comfortable to use even with a reasonable weight concentrated in it.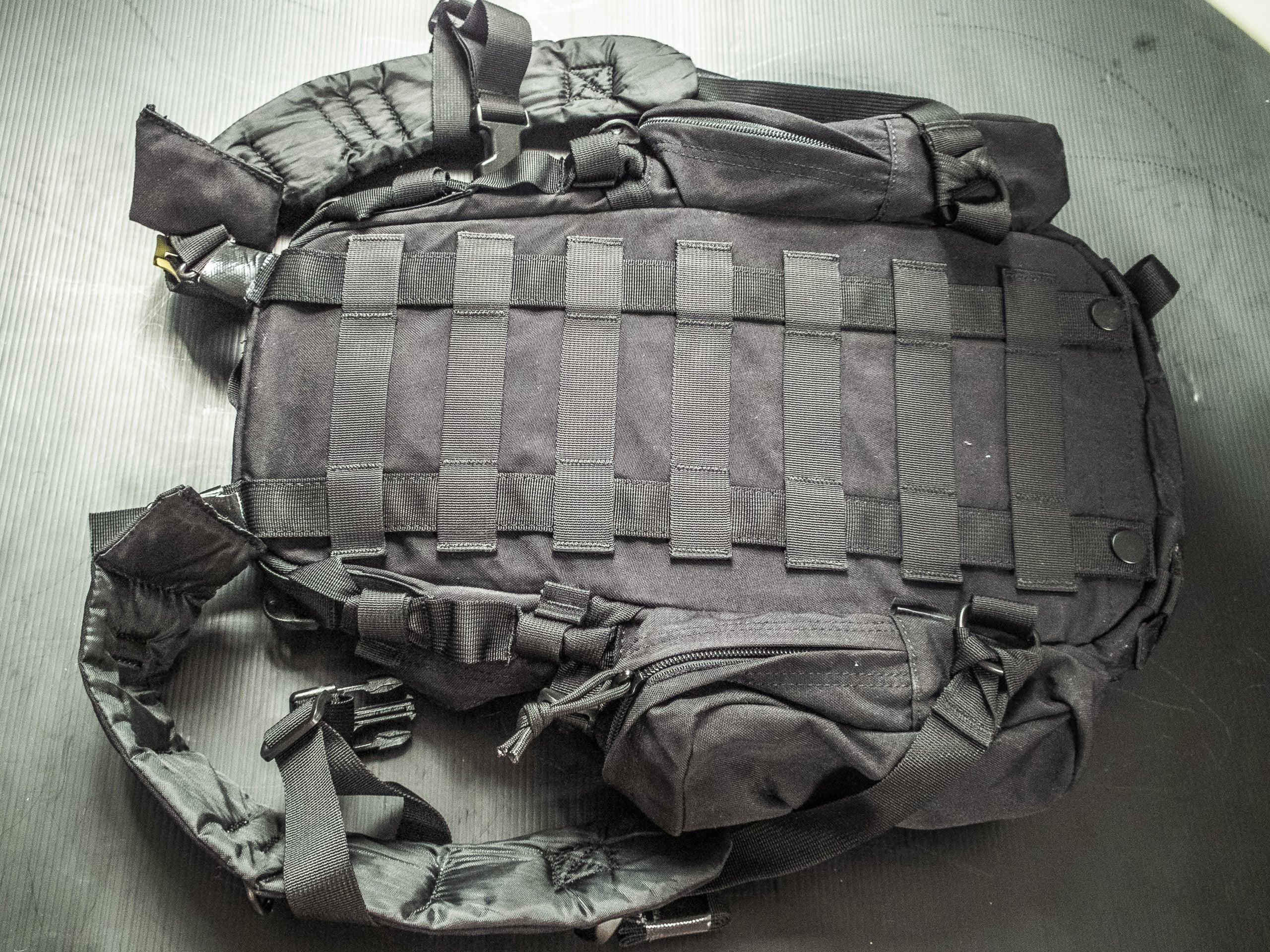 As a final note, along with the included variety of straps and attachments, the face of the bag that rests against your back is also covered in MOLLE PALS - 4 columns, by 13 rows - and has two full length snap fit straps, basically allowing you to attach the whole pack to a larger rig as essentially one big breakaway unit if you so wished, or weave other straps down the back to allow very well anchored hard points to be created at the top or bottom if you wanted to do that. There is also a zip closure compartment on the other side of this within the main compartment which allows you to remove the folding sheet stiffener from the adjoining face inside the bag, and a velcro patch affixing area on the rearmost face of the bag on top of the adjustable folding bib.