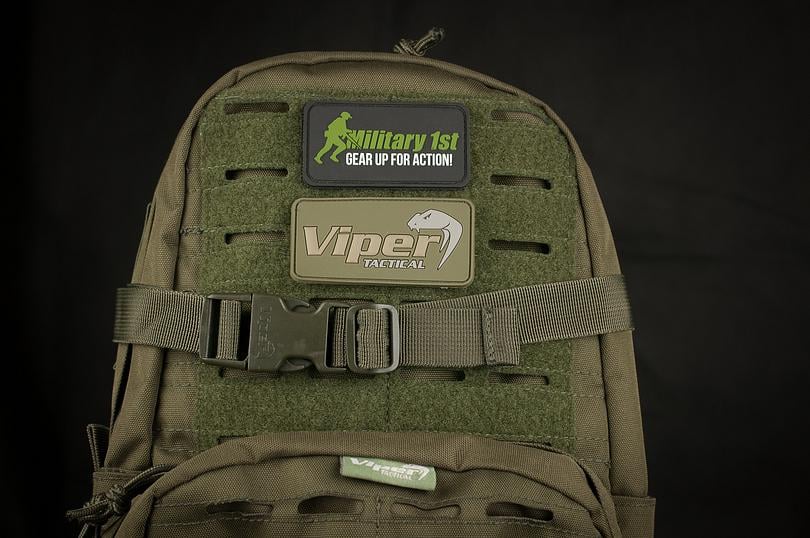 We have seen some of the Viper Tactical gear here at TacticalTwo, like the Elite Platform plate carrier. And you know what a great addition to a plate carrier would be? A day pack!
It's no secret that wearing an additional backpack over your plate carrier is far from being comfortable. Fortunately, there are solutions to that, such as the smaller Haley Strategic FlatPack or, manufactured by Viper–One Day Modular or Lazer Pack.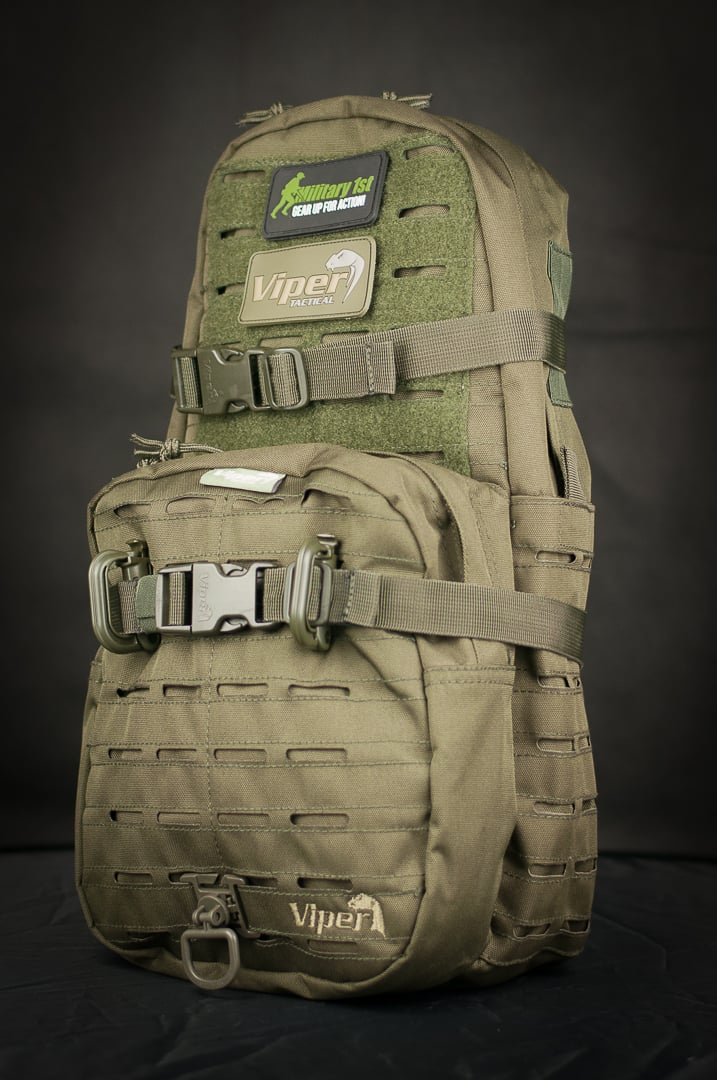 Two Very Similar Packs
Both models are essentially the same. They have near identical construction with some minor differences. One uses the old-school MOLLE and the other, Lazer, uses laser cut MOLLE webbing. They are built using 600D Cordura fabric and come in four different colours–black, green, coyote and VCAM (MultiCam clone). Their weight is more or less the same with 635g (1.4lbs) and 710g (1.6lbs) for the Modular and Lazer models respectively. The two have the capacity of around 14L.
Features
For a very small price you get a lot of feature and accessories with the product. The whole backpack consists of 2 main compartments, a large one at the back with an additional mesh pocket for your hydration bladder for example. From there you can use three outlets at the top and two on the sides to push-through your hydration hose or communication cables. The only problem is that they outlets are fairly small, which makes it difficult to push a larger hose tip through it. All the outlets are covered with elastic patches which prevents water or debris from entering the main compartments. All the interior is water resistant and is laid out with plastic foil.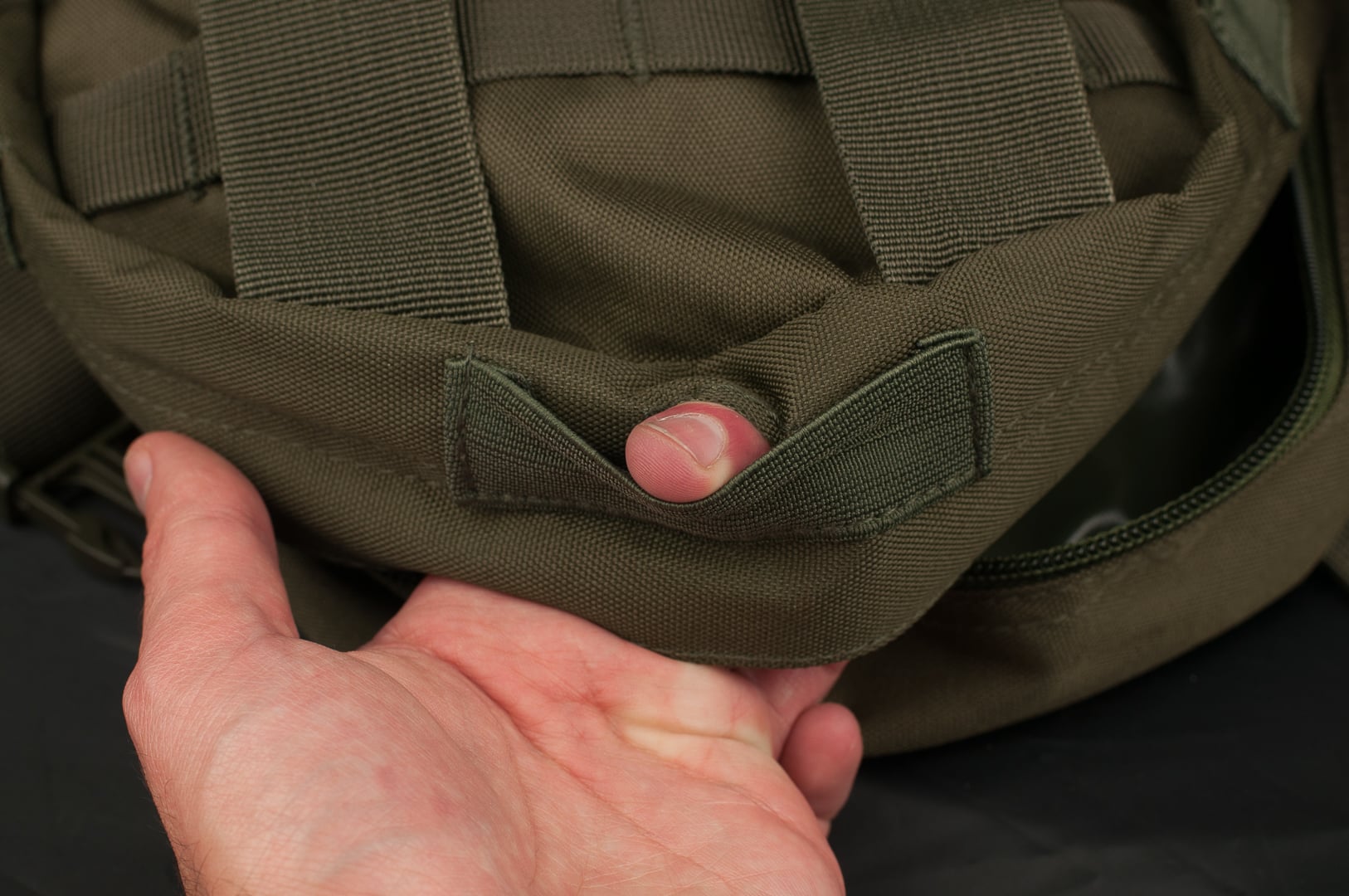 Same applies to the smaller compartment. Additional feature there is the presence of a drain grommet at the bottom.
Both containers can be compressed using two straps, which is great for maintaining a low profile when the backpack is not full. What's interesting is that outside of the smaller compartment there are two V-locks included and an additional D-lock. All of them can be moved to the desired position. It's a nice touch. They are not ITW branded unfortunately, but even the original ones are not meant for load bearing use. They do their job just fine.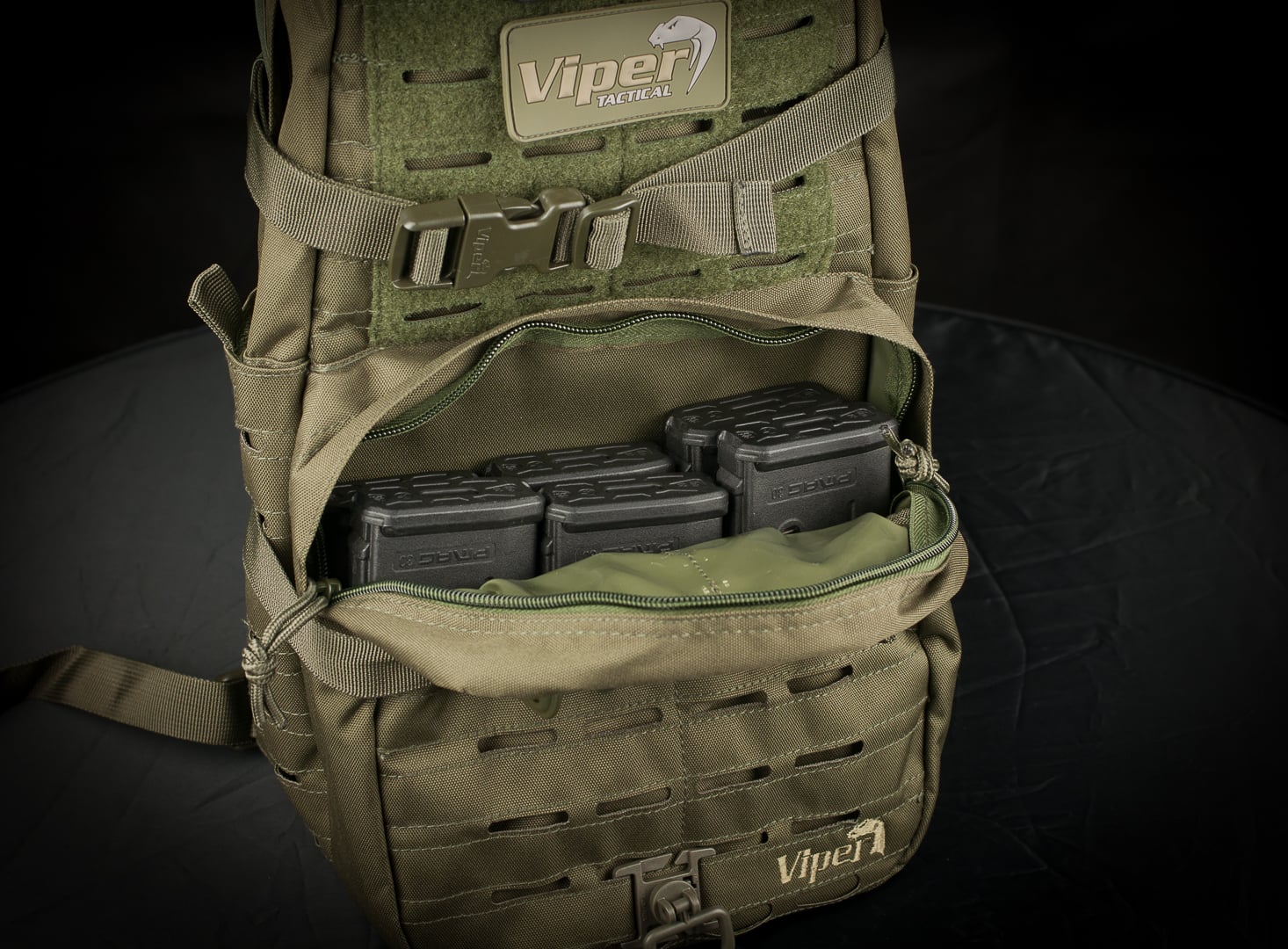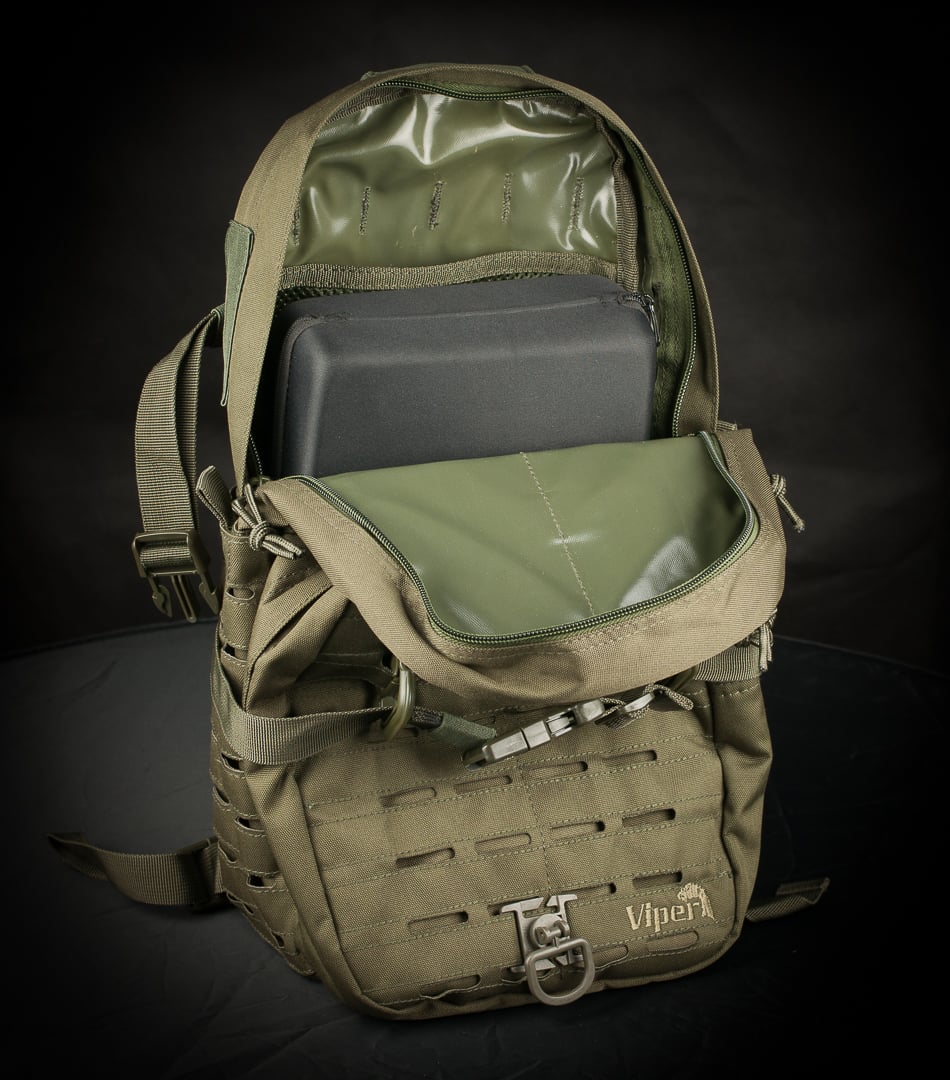 The back of the backpack provides standard shoulder straps for situations when the backpack is expected to be used as a… well standard backpack. Apart from that, the included MOLLE webbing can be used to weave it to a plate carrier or another MOLLE compatible piece of equipment. This is a pretty usual way of securing a backpack to a plate carrier and I imagine that most us will prefer this method. One annoyance is that when attached using MOLLE, the shoulder straps cannot be removed and have to be somehow hidden between the vest and the backpack. Haley Strategic FlatPack solves this problem much better, where the straps can be completely detached.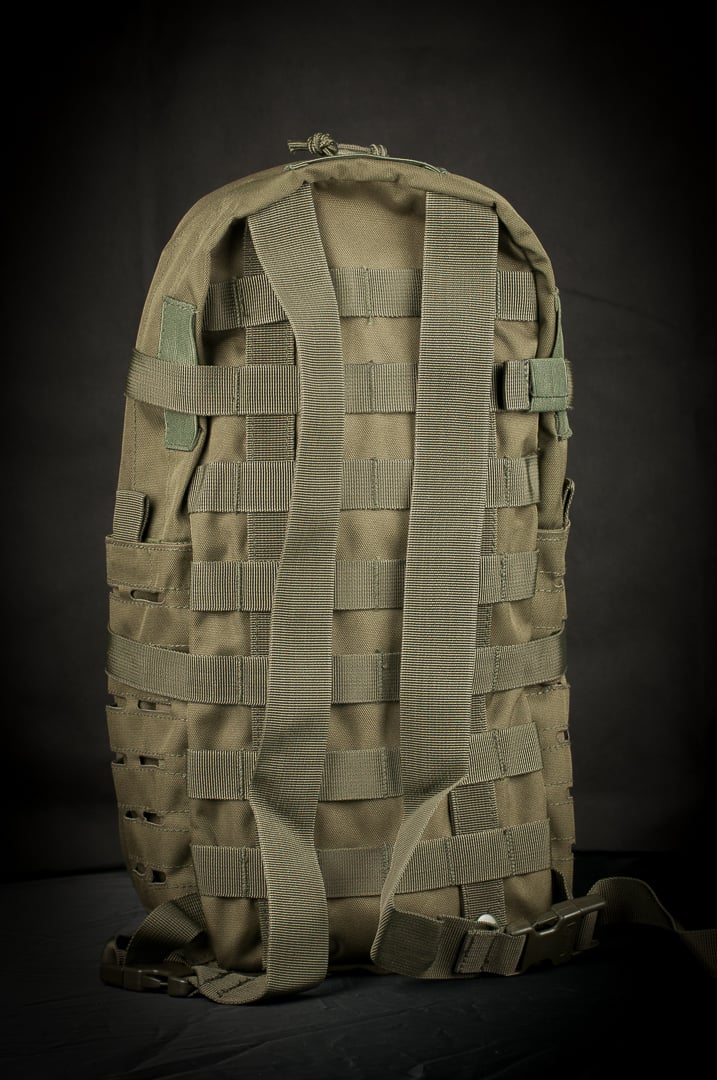 Did I mention a huge Velcro ID panels in the front of the both backpacks? It's even bigger in the Lazer version. So much space for all your patch fantasies you can imagine and the backpacks even come with a Viper patch! Both sides of the backpacks offer another set of webbing which is a perfect place to attach radio or bottle pouches for example.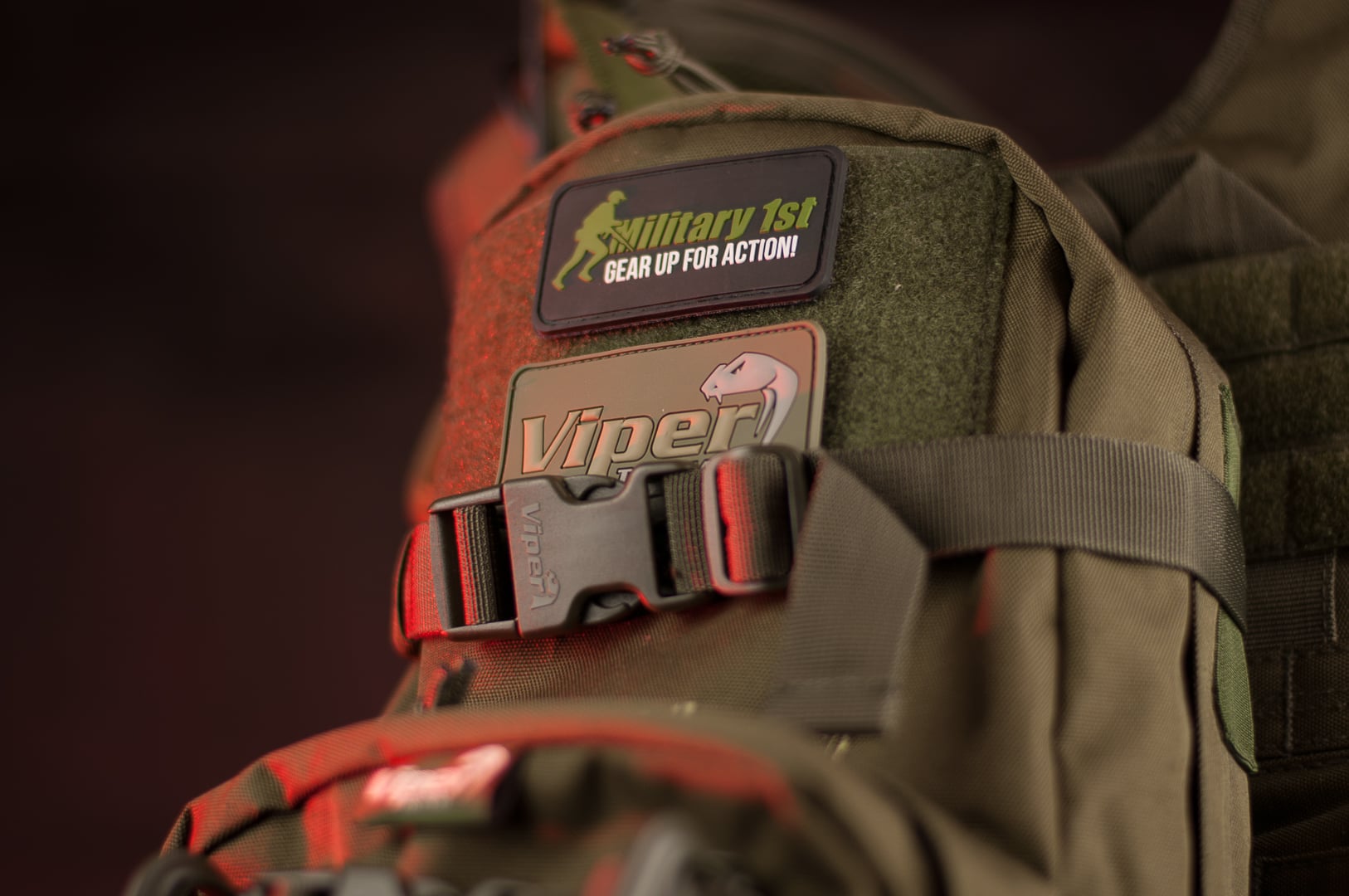 Differences
Apart from the price where the Lazer model is almost £5 more expensive the difference lies in the webbing. Lazer provides laser cut MOLLE webbing, larger Velcro ID space and another set of webbing on the top part of the backpack. Perfect for weaving a double magazine pouch. Additionally the side MOLLE on both sides act as a pocket with hook and loop closure, so storing additional tools like bolt cutters, cables or other thinner but long objects is far easier.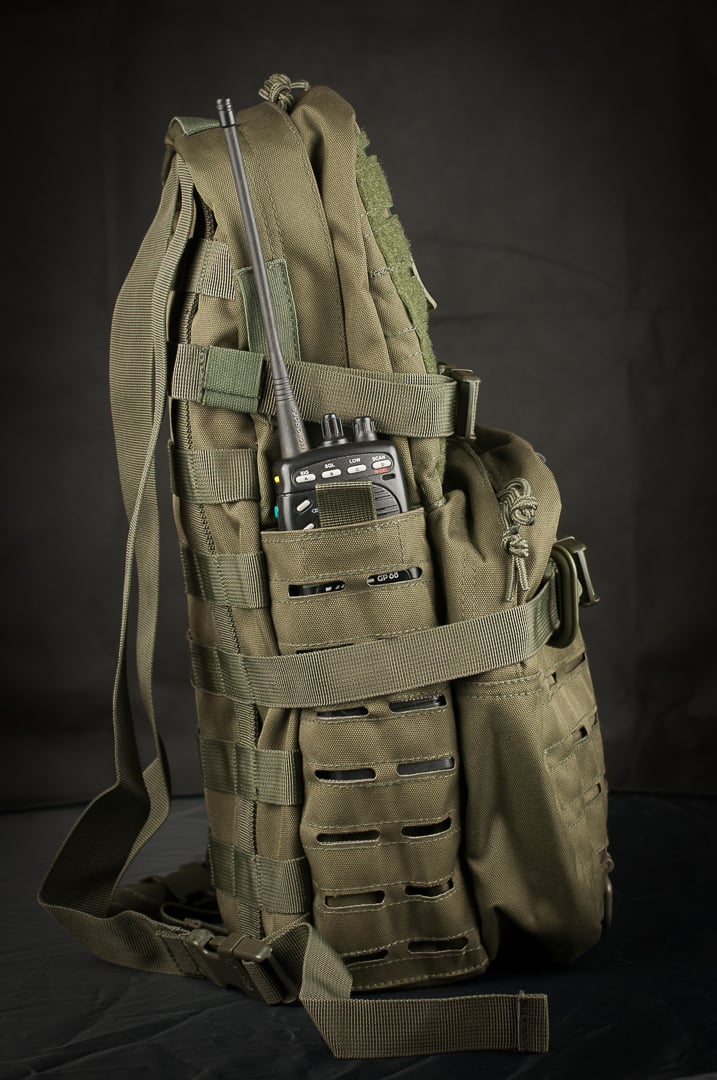 Use
The standard backpack is what you expect. The adjustable, quick release shoulder straps work just fine and it's comfortable. You are not meant to put a lot of heavy stuff inside anyway. Most of us will want to use it attached directly to a plate carrier I believe. Forgetting the little problem of "Where do I put the shoulder straps?", the backpack works as expected. I just wish it was a bit shorter. Depending on how tall you are, the bottom of the backpack could potentially interfere with the battle belt if you use one, which means that you might have to mount it one row of MOLLE higher. The ideal size in my mind is the one of Haley Strategic FlatPack, LBX Mini MAP or Pantac MiniMAP, where the bottom of the backpack aligns with most plate carriers.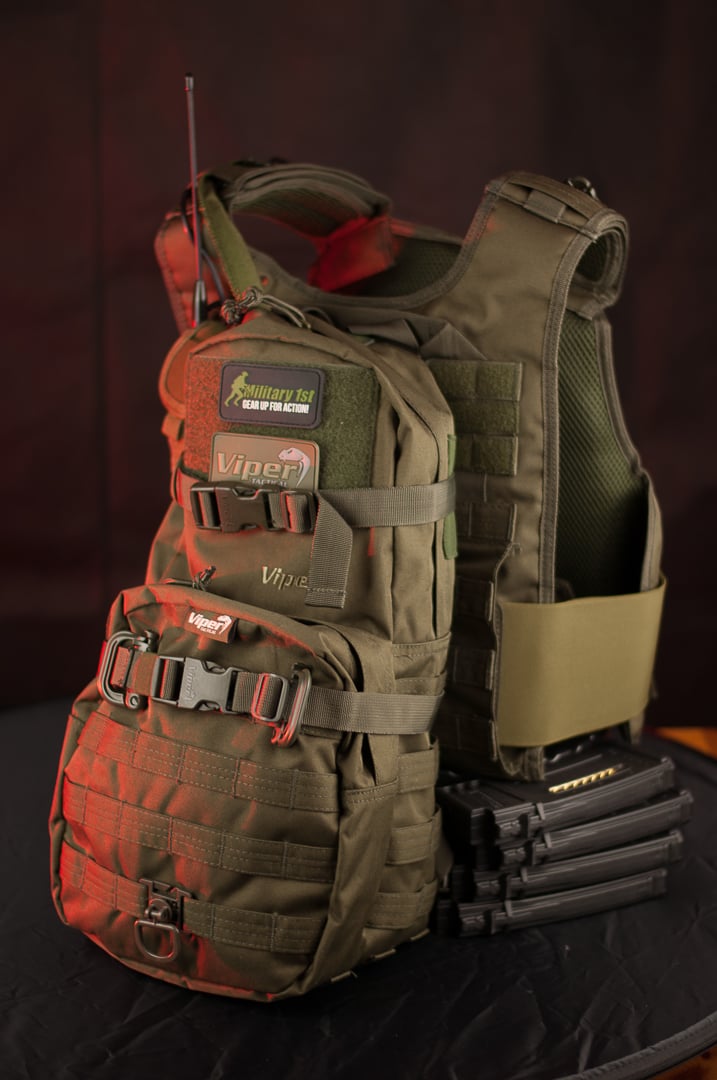 Summary
I truly believe that for this particular price point, Viper Tactical have delivered a fantastic product. It might have areas where it could be improved, but I'm sure that would also increase the price. I know there are tons of people enjoying these backpacks as we speak, and for me personally this is a great deal. The right price, weight, features and extra accessories with plenty of storage capacity make this product a very good choice if you are looking for a smaller backpack that can be attached to your vest.
Get Viper Lazer Day Pack at Military1st for £29.65 or Viper Modular Day Pack at Military1st for £24.75.