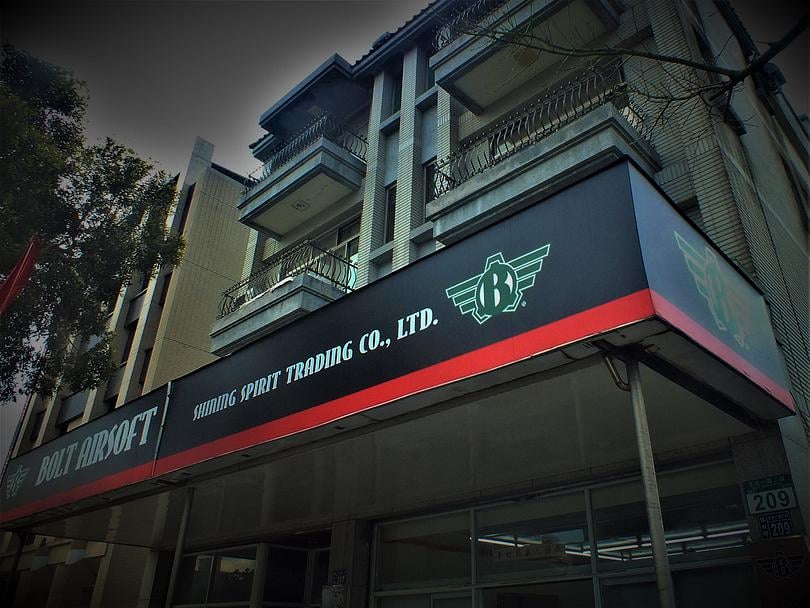 I returned from my short escape to Thailand for an old uni friend's wedding last Tuesday morning—bleary eyed and knackered from a general trend of excess drinking, partying and sleep deprivation—and managed to return back to my flat in Zhubei—North of Hsinchu, Taiwan—get showered, changed, recharge and repack my camera and laptop gear and jump straight back to it and head to Linkou, in the North West of Taipei, a few hours away by bus/High Speed Rail/MRT/Taxi.
I arrived at Bolt Airsoft's Headquarters there a few hours later and spent the next hour or so being introduced to their latest offerings in their recoil AEG range (their AKSU is in the final prototyping and production planning phases now; tabled for release in March 2018) as well as getting a better understanding and background into the company in general, its staff, operations, capabilities, existing products and long term desired direction.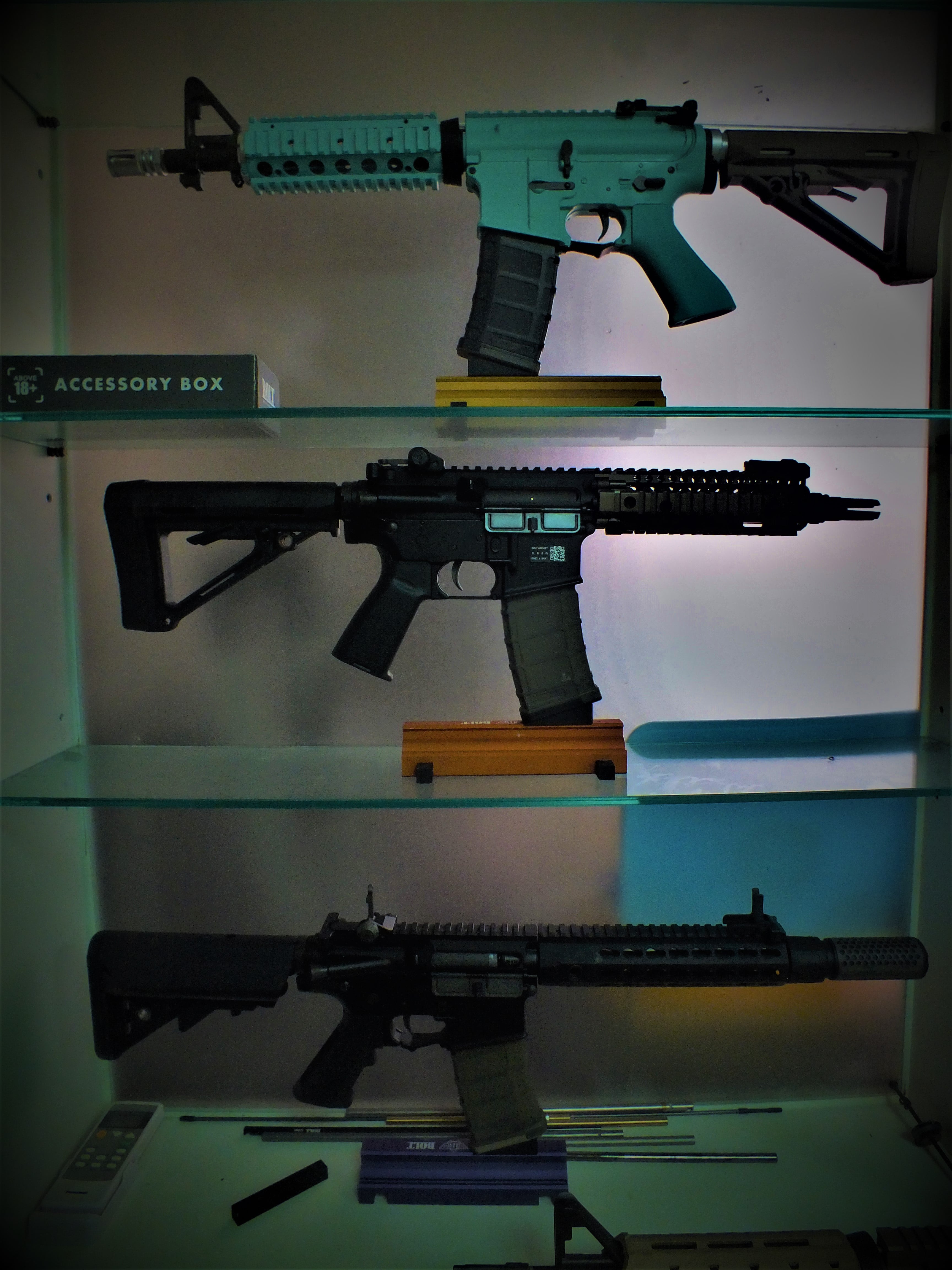 Bolt Airsoft was born out of their manager, Tomy Lee, and his nearly three decades experience of playing airsoft, as well as serving as a distributor for Japanese manufactured products such as Tokyo Marui's ever growing line of products in the past. With his extensive knowledge and understanding of both the existing products—but also just as importantly; the players, and their needs—he has lead the development of Bolt's various ranges of hard recoiling AEG's and managed to take inspiration from the likes of Tokyo Marui & Inokatsu and distill a wide range of their good design ideas into Bolt's own products, with some of his own ideas added in for good measure, along with significant upgrades in terms of materials selection and component design.
In his own words, a Bolt Airsoft gun may look very similar on the outside to the likes of a Marui or other market competitor's products, but when you take a look inside an awful lot of research and development has been used to vastly up-engineer components and extend product lifespan, capabilities and capacity for upgrades or greater out of the box performance. Under the familiar outer skin, they are a certainly a very different animal.
This is extolled in their latest prototypes for the AKSU they were demonstrating to me in their offices; two receivers packed with fully functioning internals as well as the in-house rapid prototyped/3D printed prototype components forming the basis for the soon to be finalised and fitted recoil engines—these will be incorporated above the gearbox in the AKSU and related planned family of AEGs which will inevitably follow it as the range grows out of its smallest member.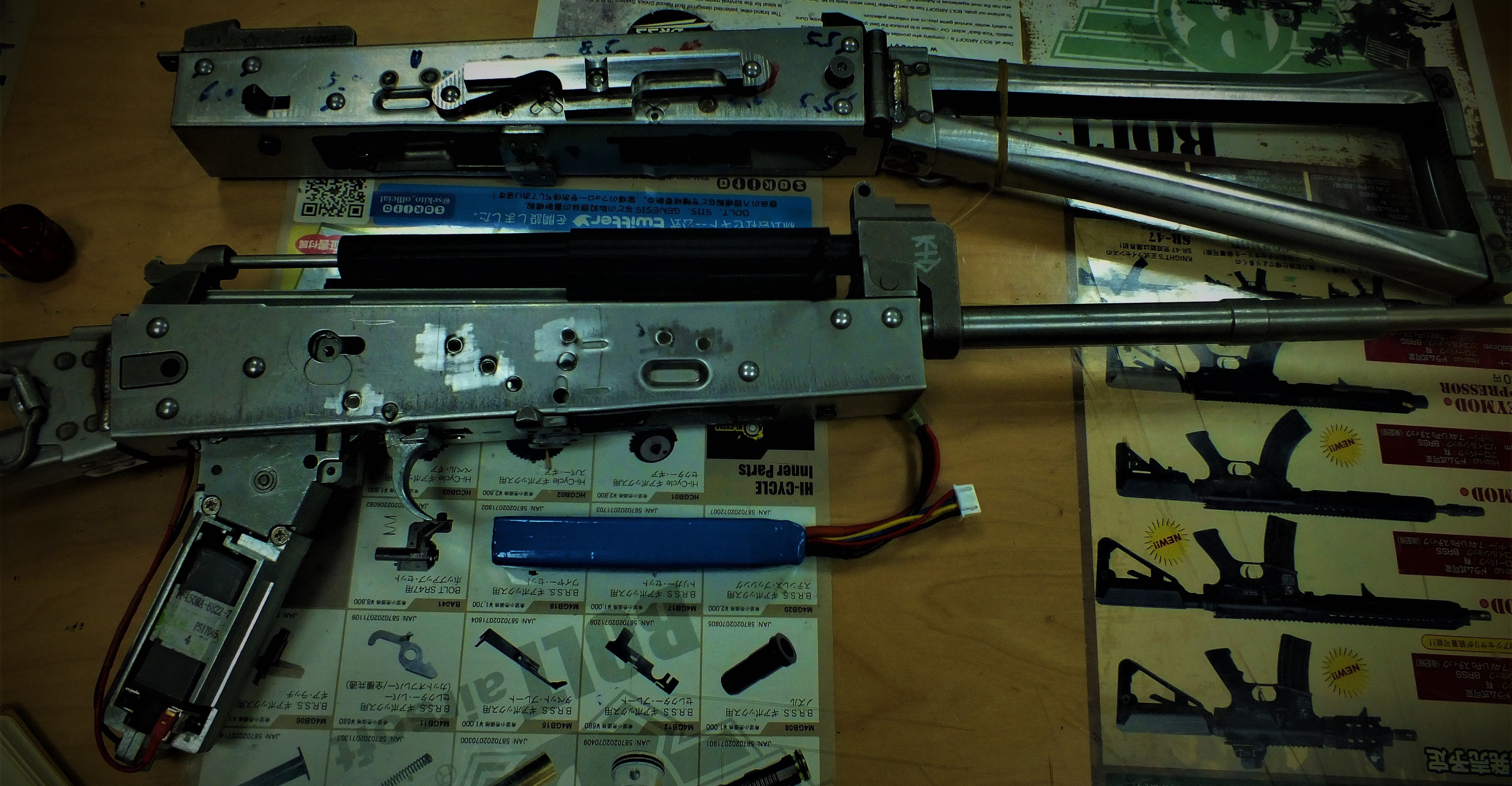 They have an impressively solid construction of pressed sheet steel (quite thick gauge, at that) with various strengthening or mounting point inserts and a barrel trunnion spot welded into the main receiver body in a very similar fashion to how a real steel rifle would be assembled. There are also videos available of Tomy standing on the receivers and stock assemblies to demonstrate their strength, he assured me he will release more later as well to better disprove the naysayers. Just the feel of the unfinished prototype is reassuring and reminiscent of a build quality I have only ever seen elsewhere with my Real Sword QBZ97 & SVD.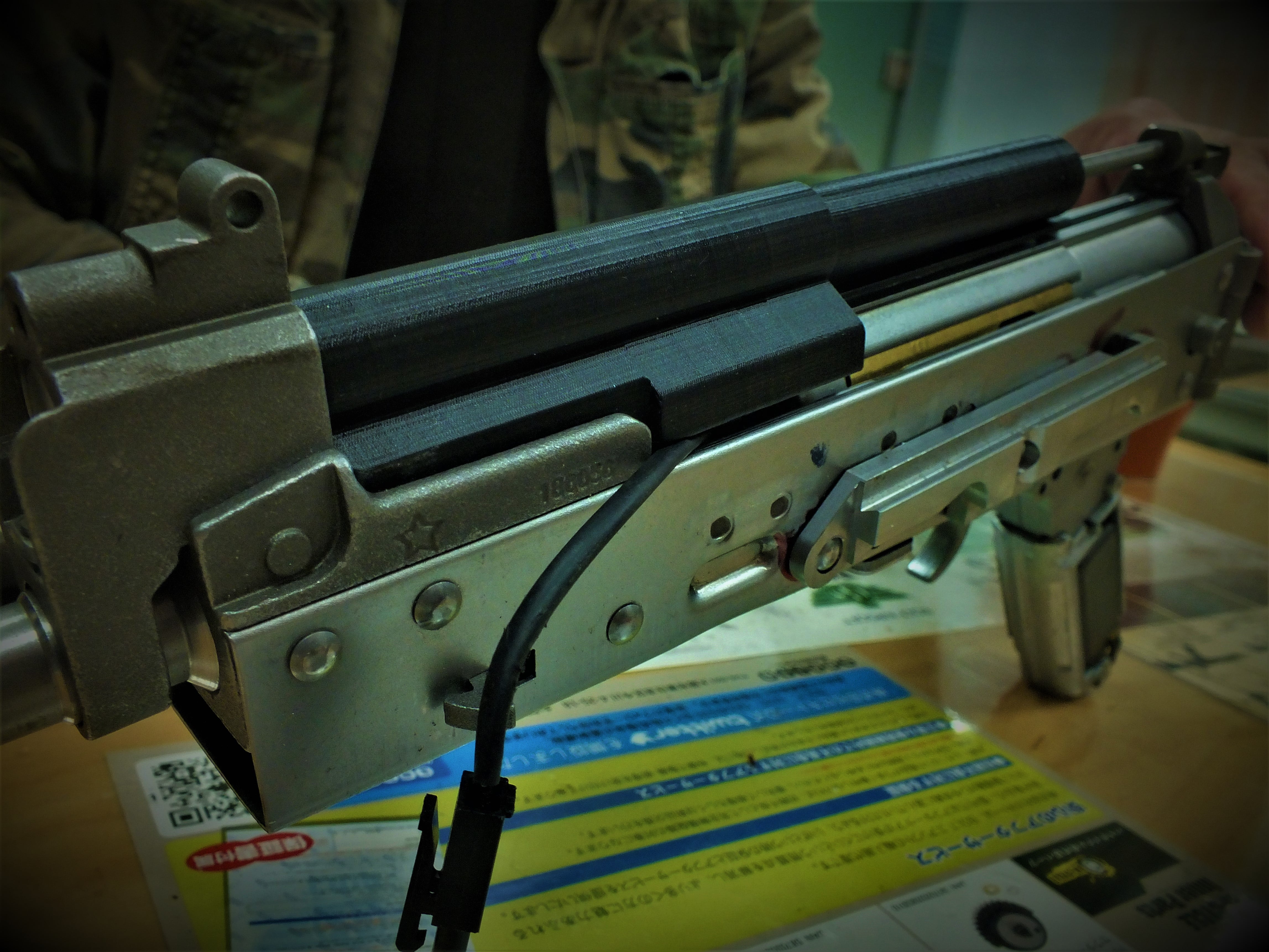 The reason for the recoil engine being moved above the gearbox in this case is obviously due to the side or under—barrel folding and skeletal stock variants of AKs in the intended range. Bolt's existing product lines of M4s use the stock tube/recoil buffer area present behind the main receiver in real steel guns to house the recoil engine; right up against the shooter's shoulder where it gives the most impact and realistic felt recoil experience.
Obviously with an AK this isn't possible as not only are there folding or skeletal stock variants, but they also follow a more traditional stock shape where the receiver rises above the downward angled and contoured stock, rather than the Armalite platform's 'straight-through to shoulder' design which a lot of bullpups also emulate—the same issue presents itself in their MP5 range with some of them having folding or telescoping stocks with nowhere to put the recoil engines, hence these also use over-barrel recoil devices.
Alongside the obvious build quality in their prototypes they also assured me they are very stringent with suppliers—Bolt have some minor manufacturing facilities on site in terms of key custom components, however they predominantly take responsibility for their own design, development, prototyping and assembly & testing procedures—leaving the bulk of their final production release manufacturing to outsourcing manufacturers specialised in mechanical, structural, electrical or moulded components, all of which come together in a Japanese styled 'just in time manufacture' methodology which minimises stock and warehousing issues.
A supplier will make an order and within 3-4 weeks Bolt's production line will have gathered and assembled all the relevant components into fully functioning and tested AEGs within tight quality controls and deadlines—a single AEG takes around an hour to fully assemble and test, and I was impressed by the workflow in their plant; multiple racks of their various MP5 and Armalite models were in different stages of assembly with some ladies assembling lower receivers with all the gearbox and electrics installed and functioning, ready to be moved on to others who would mate them to their upper receiver and barrel assemblies, whilst in other areas whole Armalite & MP5 models were stacked ready for certification and packing having just been assembled and tested.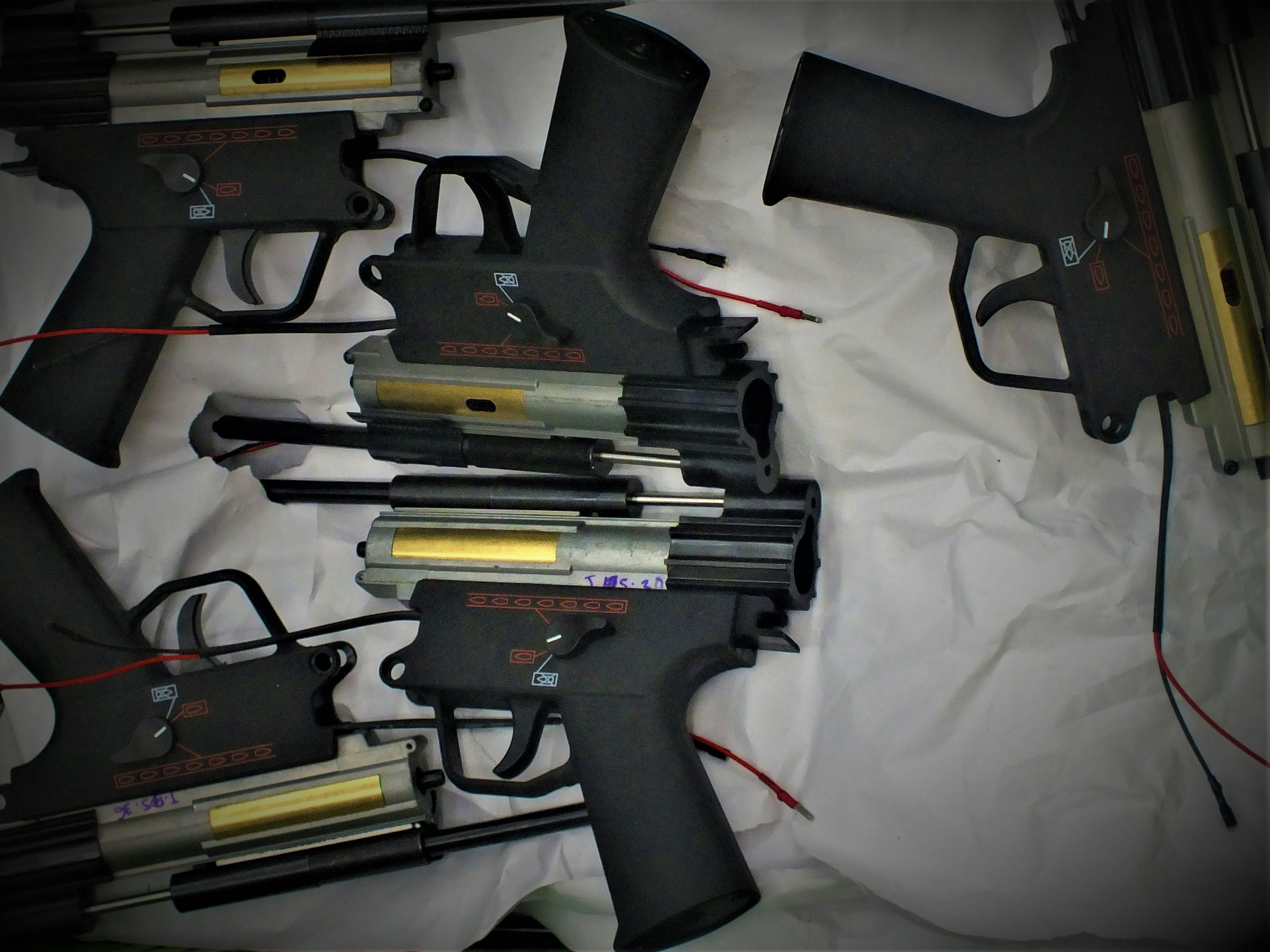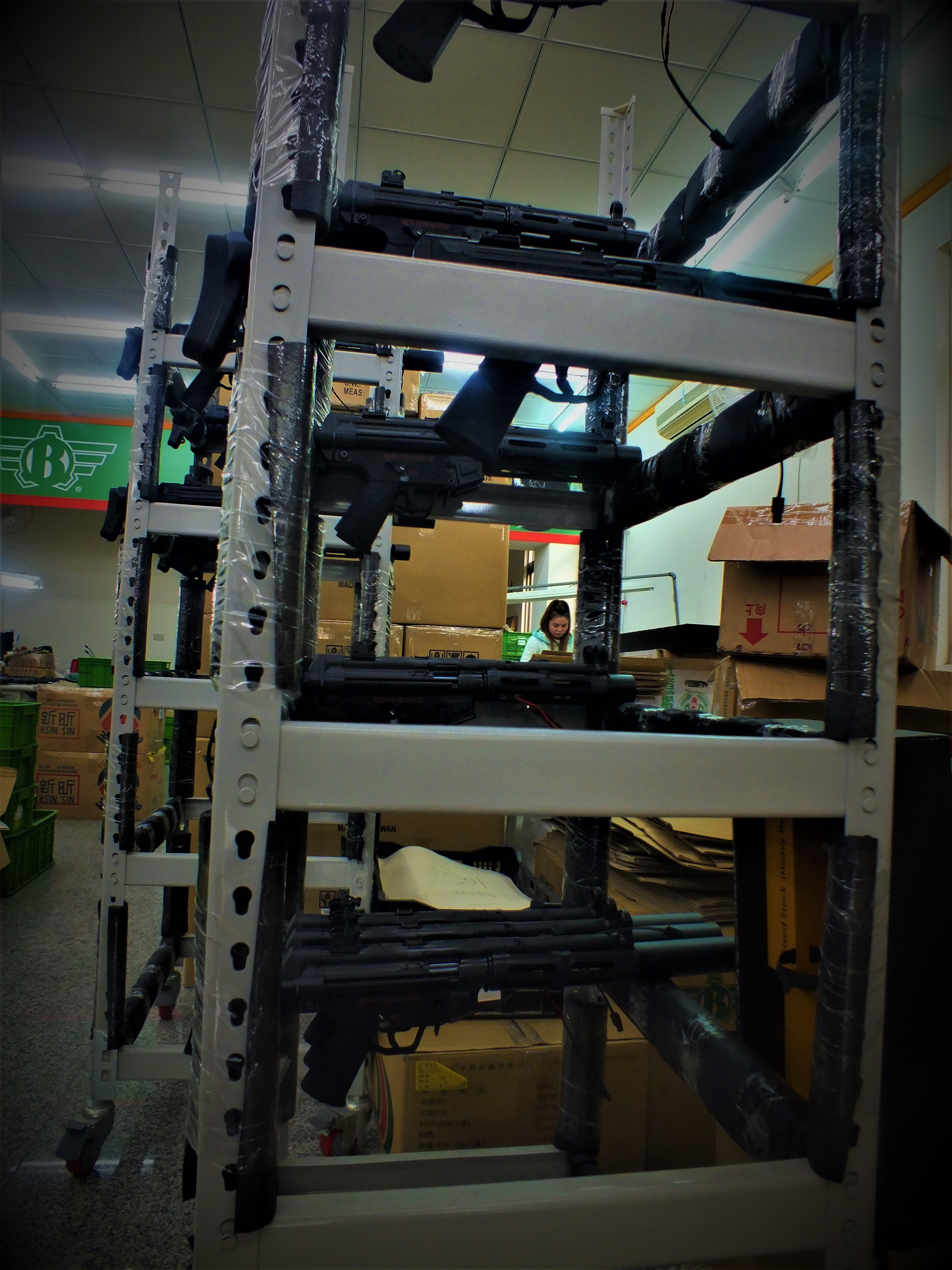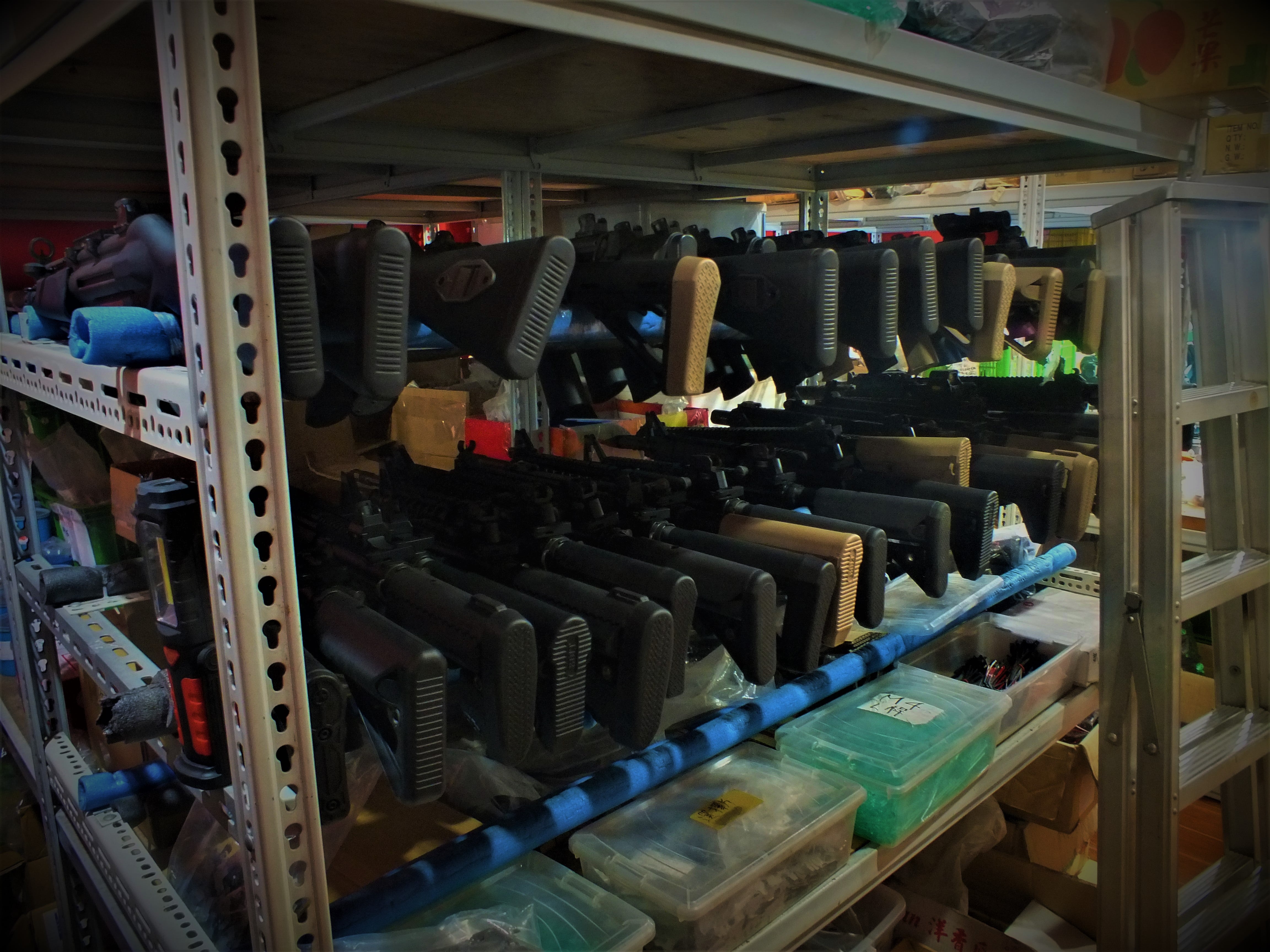 Tomy & Wilson chatted with me at length about the product life-cycle and intended direction; of course once you have a perfected basic receiver format it is easier and makes good business sense to exploit it to make as many desirable models as possible—following the intended March 2018 release of the AKSU then there are plans further down the line to introduce AKM, AK74, AK74MN AK101 and AK102 platforms to suit the tastes of the wider market.
With regards to that, Bolt tend to follow their own past experience as well as more recent market forces and feedback from distributors regarding what the players want next. Their already extensive Armalite platform series comprises nearly 50 different models in current circulation, as well as the likes of HK416D and SR25 or SR47 style models soon to be released or in development, which will allow for a wider player base to be reached as well as more adaptability in terms of mirroring real steel developments in multiple platform/magazine compatibility; with the likes of modular or interchangeable magazine wells to suit STANAG or M4/M16/Armalite as well as Eastern bloc AK family magazines. They also alluded to an interest in releasing an MP5k to their range by the end of 2018, as well as looking towards increasingly popular models such as the M14, M1 Garand and other WW2 favourites, and on the more modern end of the spectrum the likes of the MP7 or MP9/TMP.
It's also worth pointing out that their new AKSU and the AK family that will follow are largely inspired by Tokyo Marui, but will also have a custom profiled and improved magazine retention lip in the front end—as well as the general overall reinforcing and heavier construction coupled with the more visceral feeling recoil system—and will be fully compatible with Marui ranges of magazines or similar, which should reduce the headache for new and old players alike in terms of sourcing compatible magazines or using their existing preferred ones. Their installed mounting shoe is also to standard specification so any existing side-receiver rail mounts or related optics you're toting will be transferable for convenience's sake as well.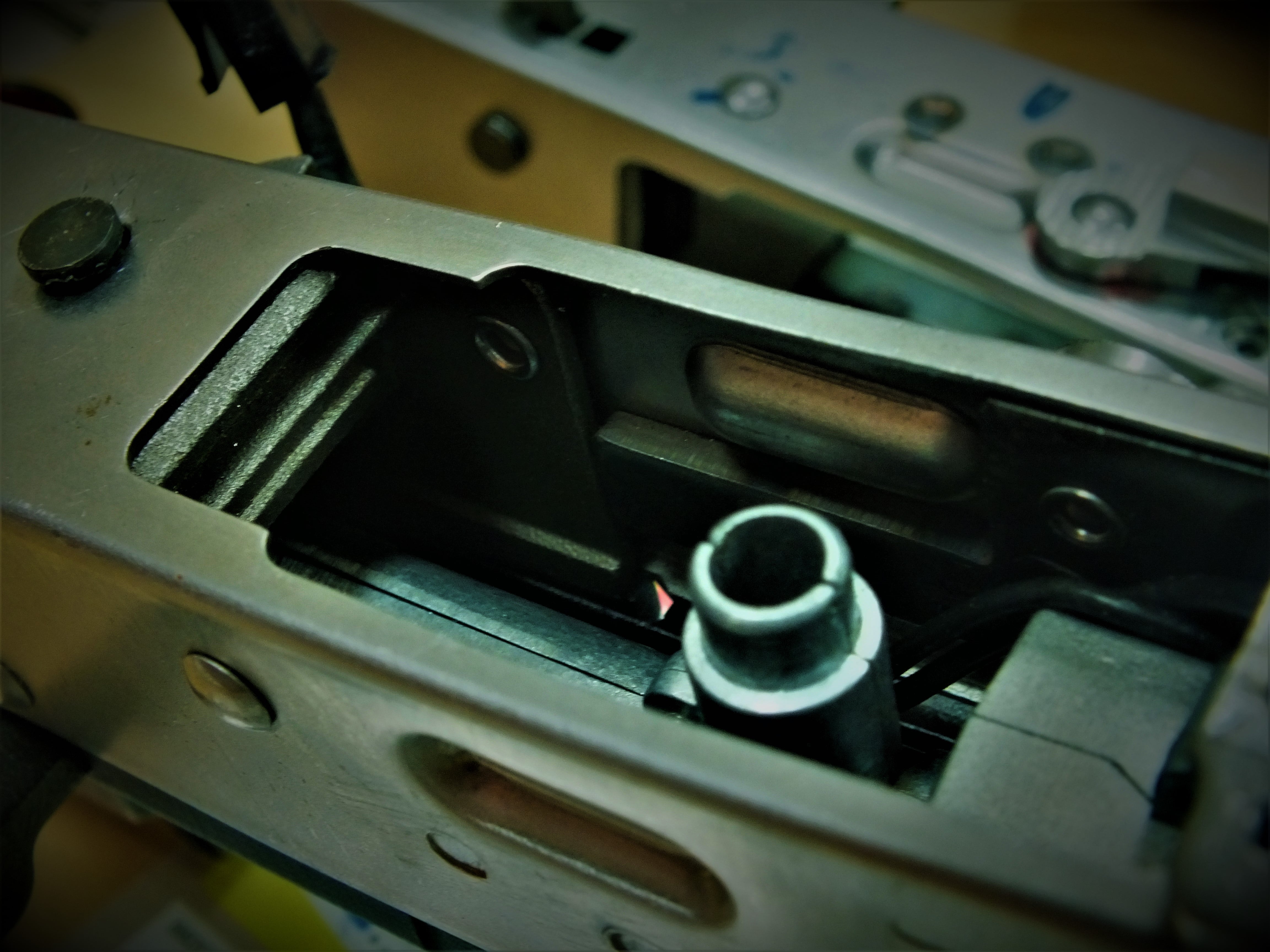 With regards to the furniture of the AKSU and following series they are even intending on using the original Bakelite style plastic of the real weapon platforms, albeit they are still working to create a more suitable composition which eliminates the inherent fragility of the earlier plastic components which used it; they did show me a fractured version from their tests, but again, they have been very open about the fact they have these issues and have found & corrected them—or will do so during their extensive research and development—prior to final production and release.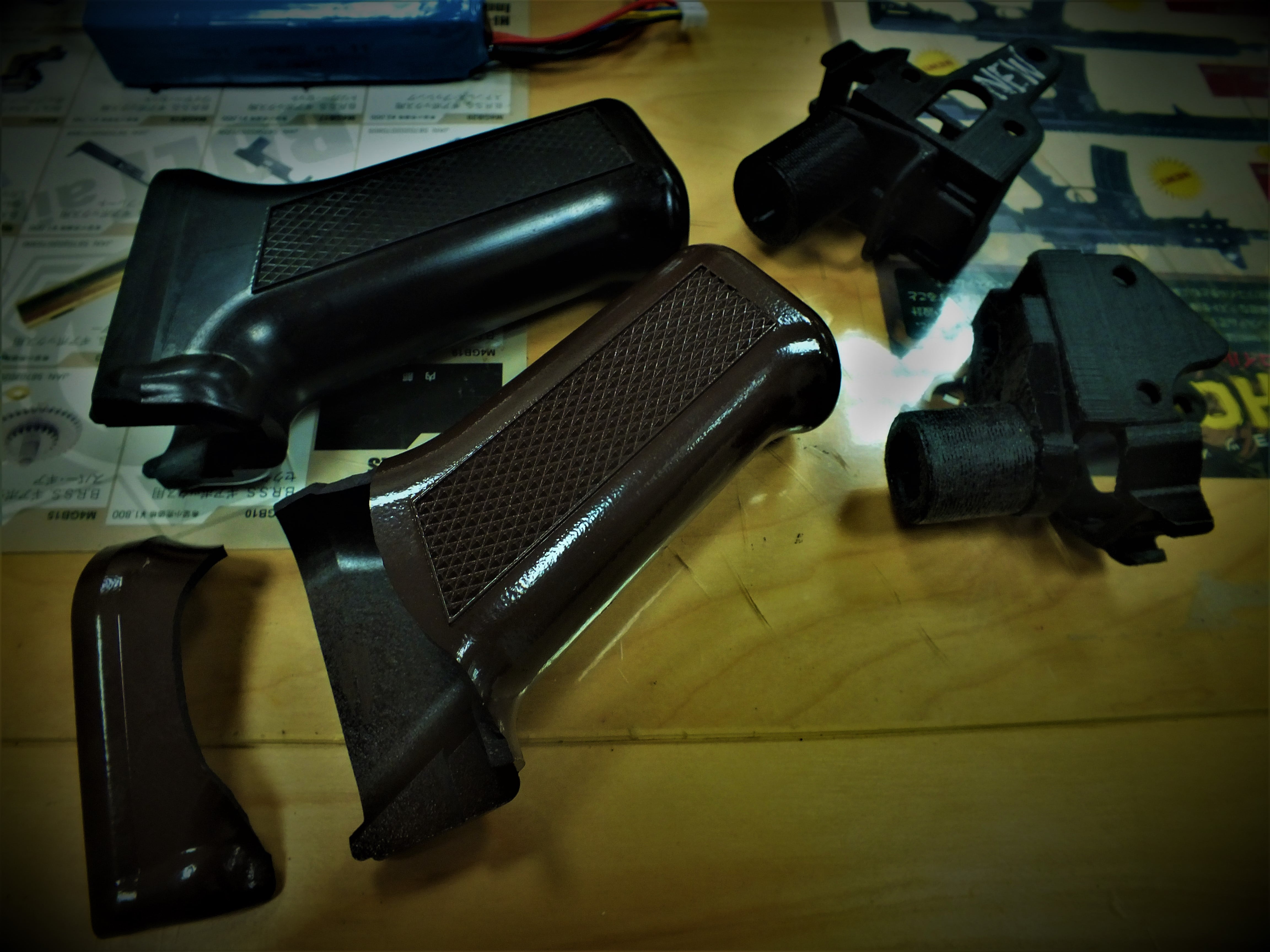 Further to this the recoil engines are capable of being isolated; in the AK series a retaining hook controlling unit will be included to capture the recoiling bolt assembly at the limit of its travel to prevent it moving if the user wishes to use the platform without it—similarly the MP5 family allows the user to employ the original cocking handle system of the real steel versions to isolate the recoil functionality—simply retract the charging handle and rotate it into its locking recess, then if at some point you want to return to using the recoil system just give it the classic 'HK Slap' to drop it back into its travelling slot and return it forward in to battery and normal operation.
In terms of operation the recoil engines feel a lot more positive than my experiences of the Marui next generation models—my old teammate in the UK owned two of their M4 variants and I myself owned their AK102 EBB which was an excellent and very accurate gun out of the box, and a joy to use, however as soon as I handled Bolt's M4 CQB and MP5A4 variants at the 22nd Hooha Show, I realised they were far more energetic and closer to reality—although perhaps the AK mechanism will not kick quite so much as the AK47 I used on the firing range in Cambodia... it might be nearly as loud though!
Despite this over-engineering, Bolt themselves recommend only using fairly regular powered batteries in terms of perhaps a maximum of a 7.4V 1100mAh LiPo with a 15C charge transfer rating, because the power consumption is actually very efficient, and anything more powerful would probably be overkill and unnecessarily increase the risk of early wear or damage to the gearbox. The larger model Armalite series with longer or solid style stocks also have a further upgraded heavier recoil engine in them which makes use of the larger space than those with a telescopic stock/standard 'buffer tube' assembly… with these units it is reported that the recoil can physically act like a real hammer and knock nails into wood if held against them!
The construction of their components was also impressive, I was handed a completed CNC machined custom piston assembly which I assumed was a rapid prototyped/3D printed mockup, but is actually a fully functioning unit—their Aluminium pistons are that light I couldn't believe they were metal! And the construction, fit and function of their gears is also reassuring.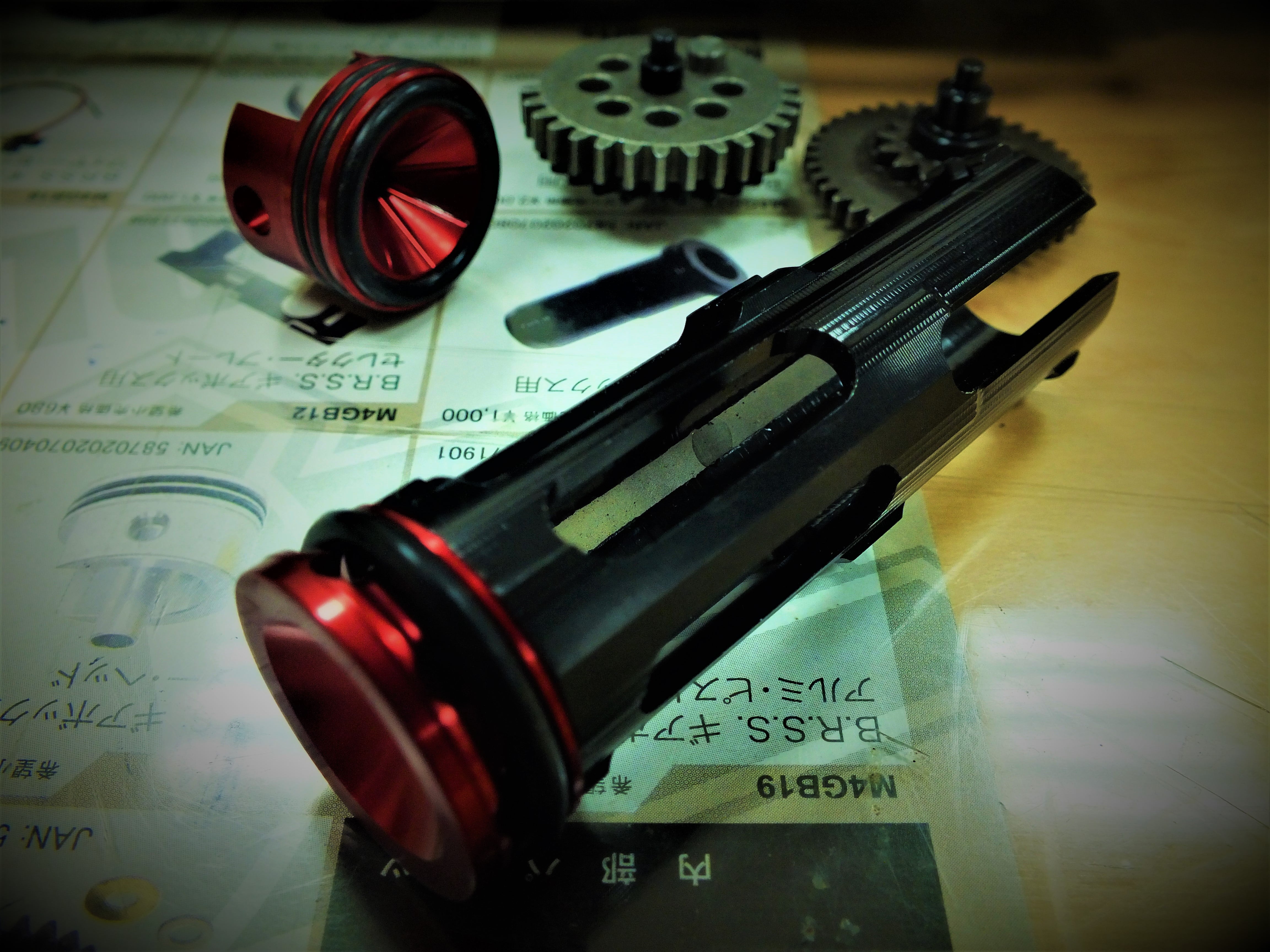 Their in-house design man Charlie is also qualified in multiple design packages and tailors their output depending on the specific nature or function of each component in question; selecting the most appropriate software depending upon whether he is focussing on moulded plastic furniture, precision mechanical internals, or structurally important receiver or frame components, to ensure the best design and manufacturability in every case—something I'm all too aware of having dealt with a similarly broad range of aerospace, hydraulic and structural design in the past myself.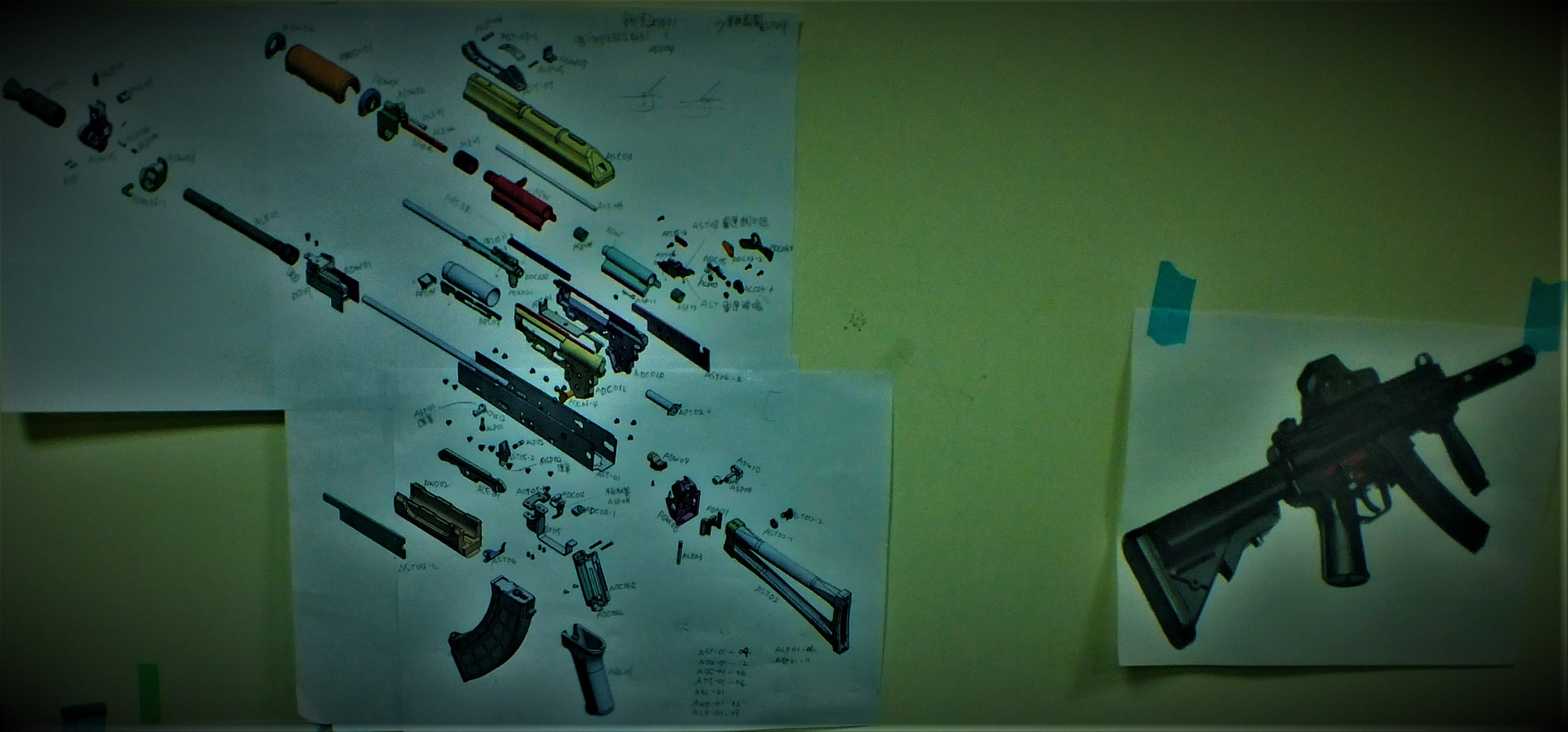 In terms of the future I talked with Tomy & Wilson with regards to potentially including MOSFET or similar gearbox control systems as standard, and suggested perhaps even using their already functioning bluetooth connectivity with their gearboxes for programmable fire mode capabilities or similar (they already have an interconnective AR application—which I touched on in my Hooha 22 feature—which allows the user to link their AEGs with mobile phones to use them as very realistic peripherals for gaming—and which is also available as an aftermarket compatible drop in unit to add to any of their existing products in circulation). At present they are concentrating primarily on developing the AK & MP5 ranges of AEGs and ensuring reliability and were concerned with the survivability of MOSFET or similar control electronics in the environment of their recoil AEG systems—and want to avoid introducing unnecessary weak links or reliability issues until such time that suitably hardened systems are available and reliable.
Certainly in terms of handling, apparent durability, aesthetics, build quality, attention to detail and sheer fun factor of the borderline deafening and bone rattling recoil engines, Bolt's offerings are pretty far up my list and on a par with Real Sword Hong Kong who I tend to see as the benchmark for such things given my very positive past experiences of falling over on their guns and breaking myself instead of my AEG's! I'm certainly impressed by what I have seen first hand at the expos and now having been shown around their facilities in person, Tomy's experience and Bolt's attention to detail are self evident in the products they are turning out.