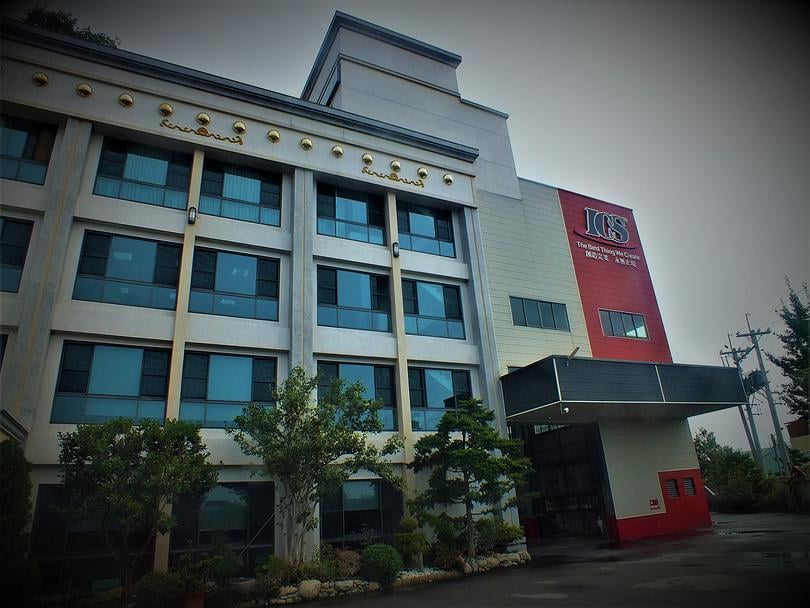 After meeting the lovely ladies Yvette & Olivia of ICS Airsoft's Sales & Marketing teams in person at the 23rd Hooha show in Taichung and being given a thorough introduction to their product lines by them it was suggested that perhaps I should pay their facility a visit and do a more in depth article about their company, its history and operations.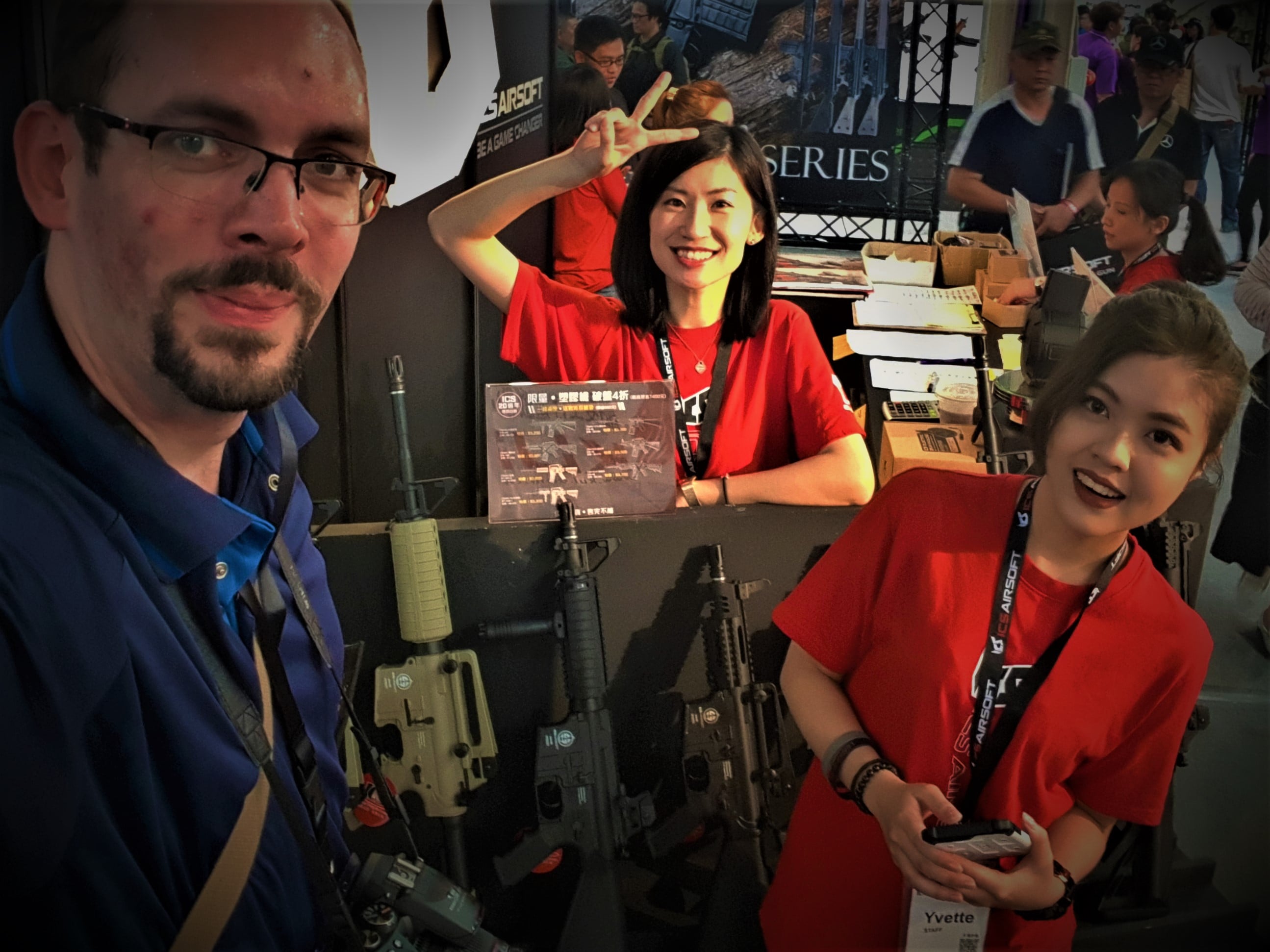 Of course I relished the opportunity, being a veteran of manufacturing industries and a colossal gun and general machine and manufacturing nerd I always love to see where and how products are designed and realised.
So a few weeks later as I finally found myself on rare time off from work during the week - just nearing the end of my first year in Taiwan I've signed on for another year and about to move to a shiny new purpose built school to continue my EFL adventure alongside my continued airsoft hobby related writings and adventures - I decided to sort myself out and get down to TaiChung and see what ICS Airsoft are up to at their global headquarters there.
After pulling a 'Kiran manoeuvre' and ending up on the wrong platform Northbound like my colleague did when we were all trying to get to the 23rd Hooha, I finally managed to get the next HSR train and arrived a little later than expected but was greeted once again by Yvette & Olivia and driven to their headquarters, nestled further North in the Shengang area of Taichung.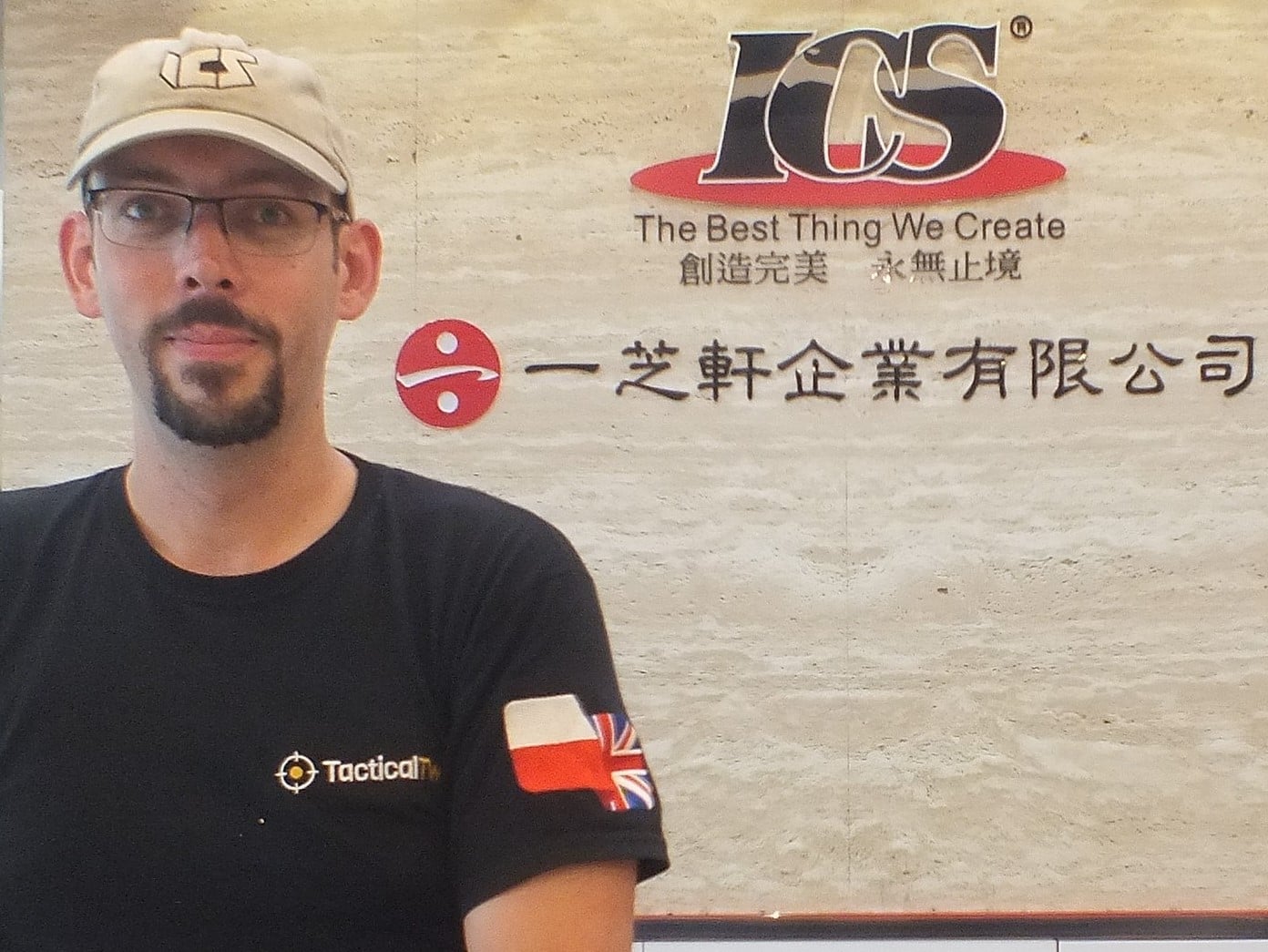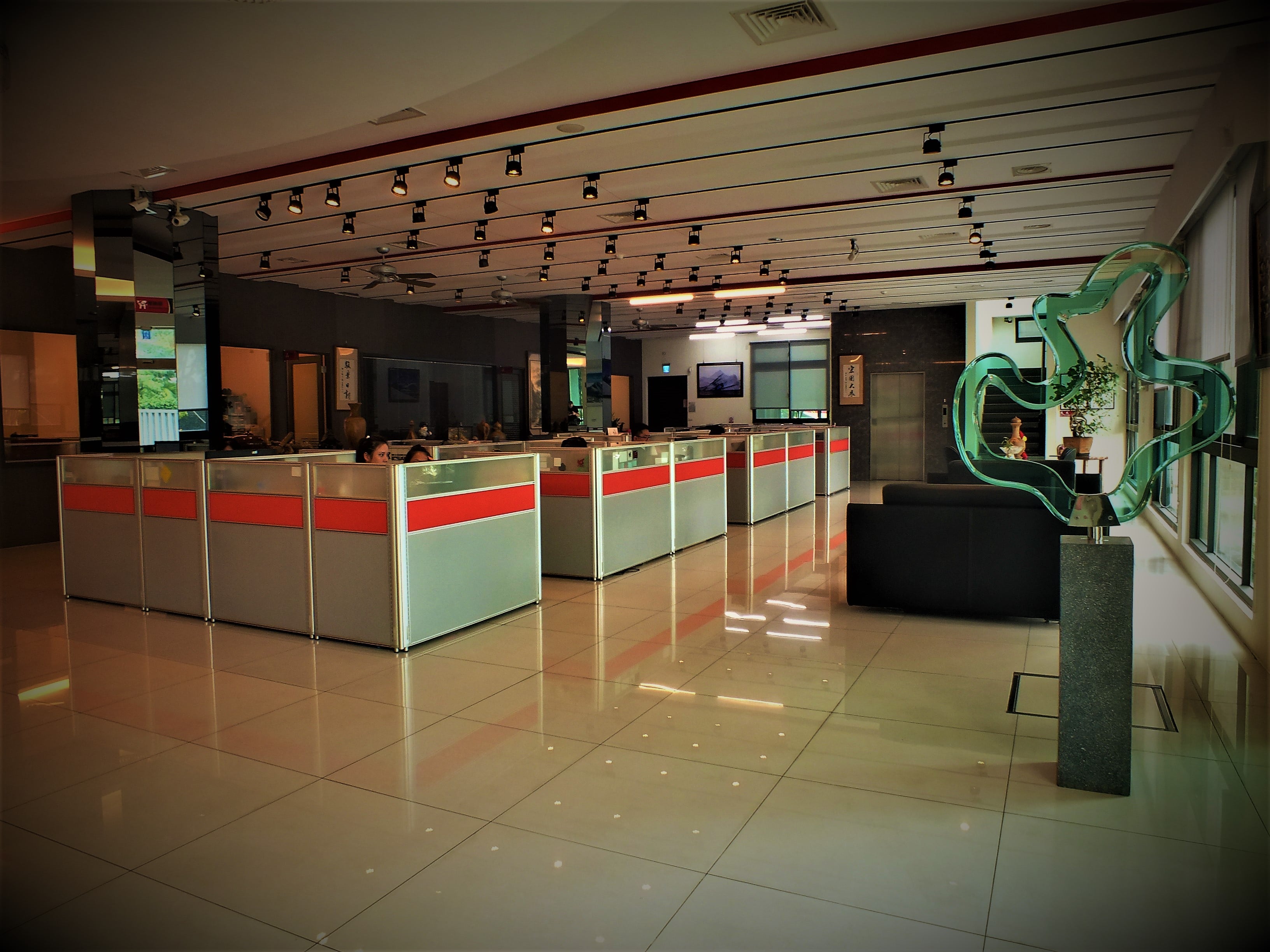 Soon enough I was being given the grand tour of the production and distribution plant; a purpose built multi floored facility encompassing everything from design, research & development, prototyping, finish machining, assembly, testing & quality assurance, sales, marketing and even the man at the top Mr Chu's private residence on the upper levels; I even briefly had the pleasure of meeting the man himself as I was being shown around - it seems he never wants to be too far away from his work, and is a large driver of the creativity & diversification behind products; taking a clear personal interest in what goes out the door.
After the initial welcome downstairs where reception, sales and marketing occupy the main open space with R&D, Q&A and the production & storage facilities radiating from their front entrance position, I was led upstairs to the impressive meeting 'war room' and showroom facilities, where new products and ideas are discussed and realised, and existing or discontinued products and the company's long heritage of involvement in the Airsoft industry - as well as its large host of local and international patents - are proudly displayed.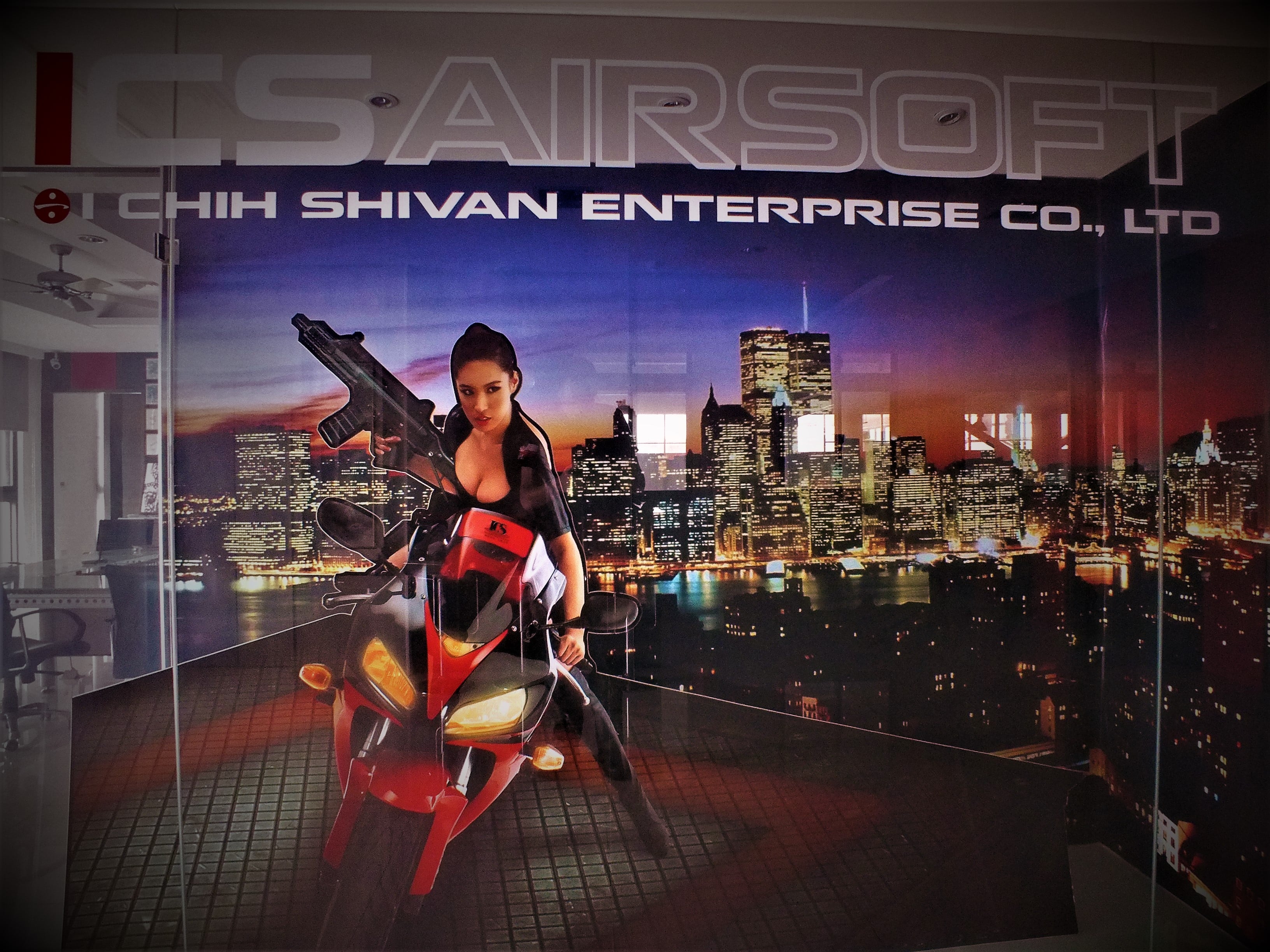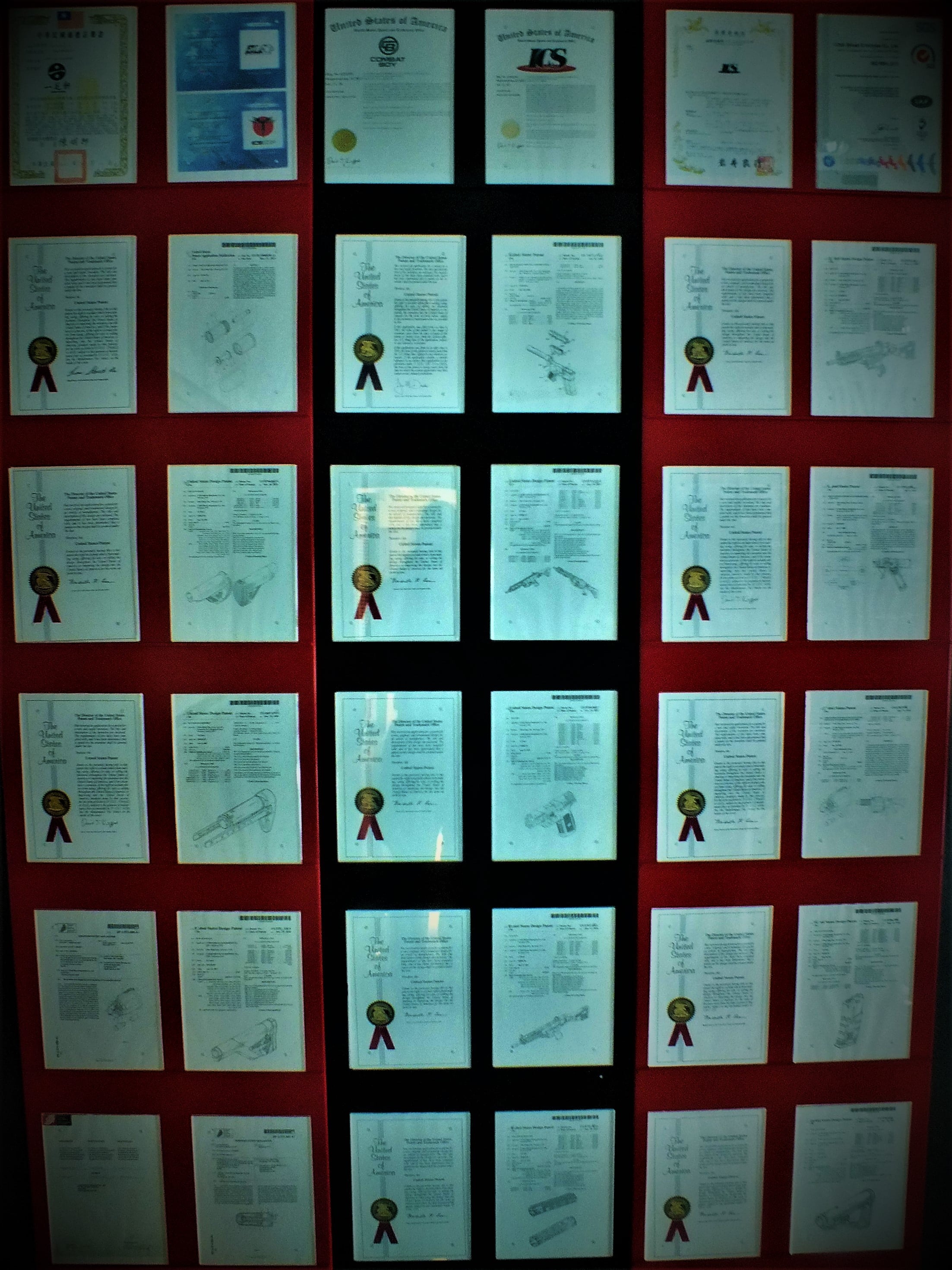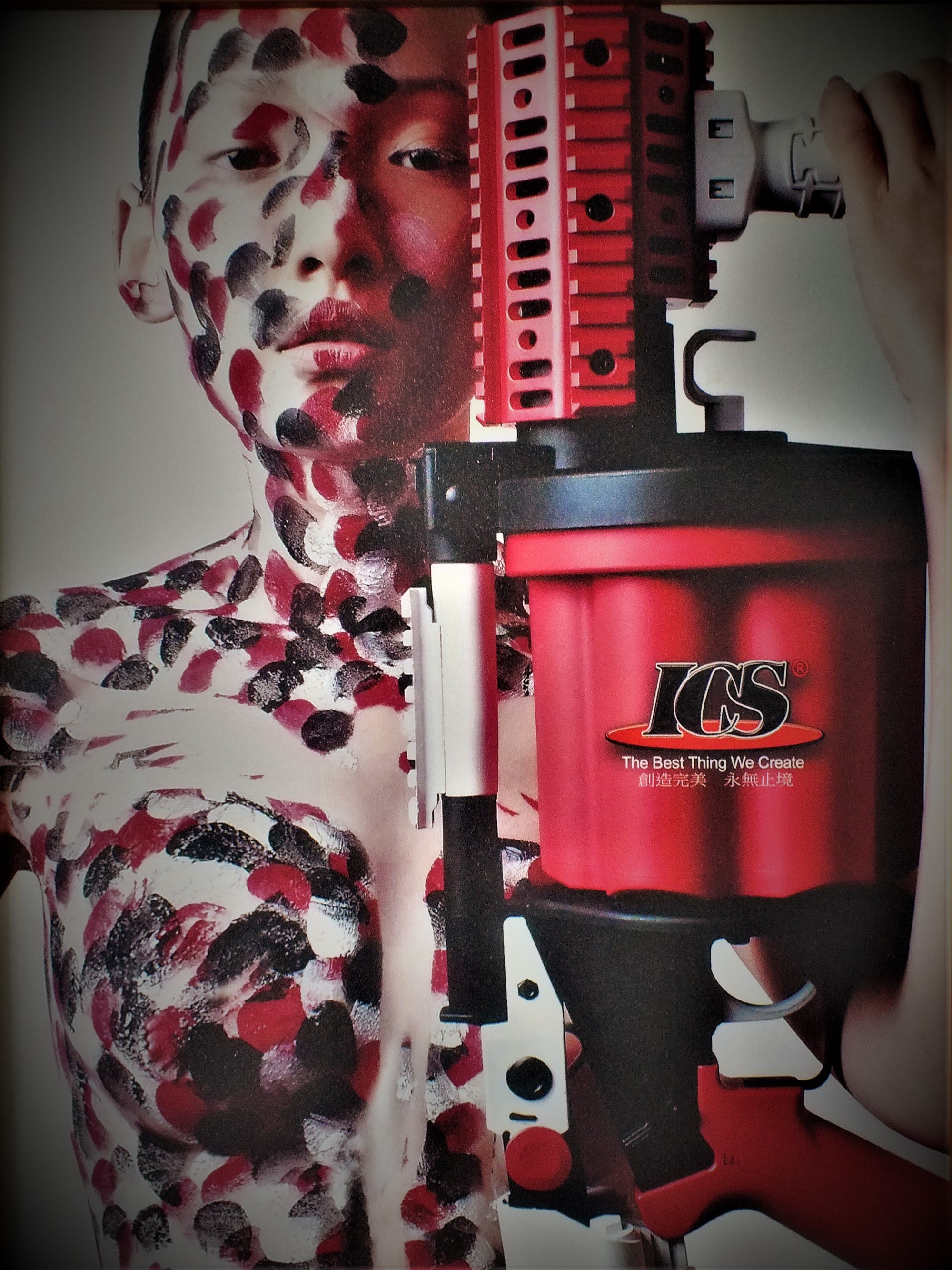 Whilst Olivia was showing me around the myriad artwork and marketing materials as well as historic company developments and the vast range of replica firearms they have developed in the distant past as well as their more recent or current repertoire Yvette was busy stuffing another nice ICS themed goodie bag full of patches, artwork, catalogues and all manner of other useful and nice gifts from their stockpiles in the conference centre.
The range of replicas dates back to the early 2000's, when I Chih Shivan Airsoft first produced their own H&K MP5 derivatives, a whole array of which were still on display in their discontinued products section, from the classic 'S-E-F' marked trigger group units of the original real steel designs back in the 1960's, all the way through to more modern variants with the bullet marking trigger groups, telescoping Armalite style stocks and integral silencer or rail variants.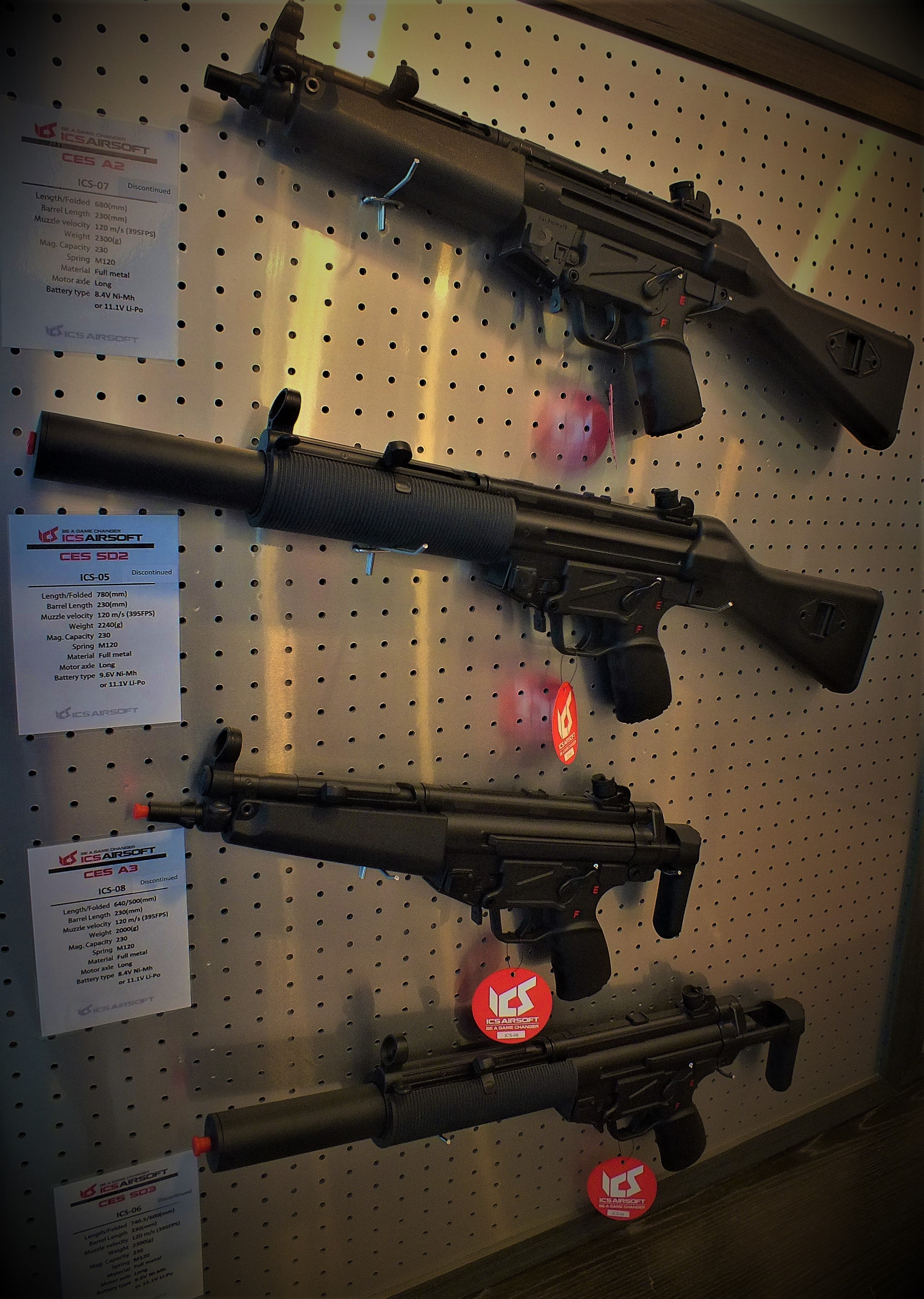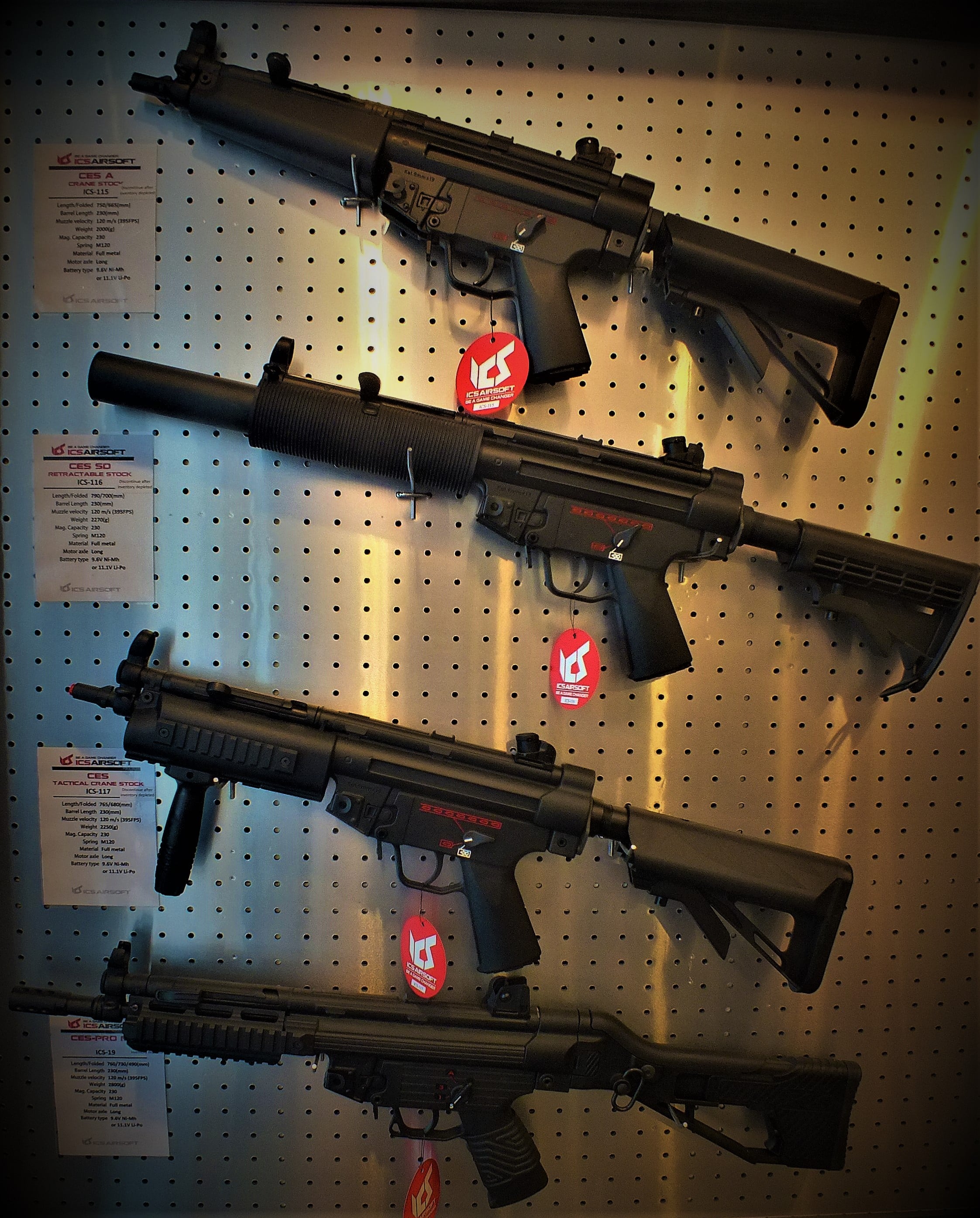 These also saw the advent of the company's now famous and widely acclaimed 'split gearbox' design - an innovation which increases the speed and convenience with which gearboxes can be stripped and maintained three-fold according to the video I was shown during our meeting, it also vastly improves the adaptability of ICS Airsoft's guns in terms of amending their output power and mainsprings to suit a variety of engagement ranges or site power limits with great ease and without the need to disrupt the rest of the gear and motor arrangement in order to do so, thus minimising potential upsets to the balance of other components during such procedures.
Split gearbox disassembly
ICS Airsoft itself dates back to 1983, when Mr Chu decided to diversify from a toy making background and become the first major airsoft gun manufacturer in Taiwan, at a time when Taiwan was still largely closed off to the West and the airsoft markets were in their infancy in general, it endured negative public opinion and pressure from the local government against itself and other competitors in an industry which was not highly regarded by officials or the public for its effective ties to armaments and conflict.
Despite the hardships and seeing many competitors close down, Mr Chu persevered, and as well as diversifying back into more traditional toy manufacture to keep the business afloat during the troubled times and political tumultuousness of Taiwan at the time, he also realised the company's future lay with selling overseas to the emerging combat sport markets.
Beginning out - as many manufacturers have - by imitating the likes of Tokyo Marui's earlier designs, the push for domestic innovation and independence and leaving their own mark on the airsoft industry drove Mr Chu and ICS Airsoft to develop their own range of design ideas and end products which started predominantly with their MP5 style replicas and moved through a multitude of Armalite platforms, as well as a few oddballs such as Kalashnikov variants, rotary grenade launchers and even the UK's L85/L86 Small Arms of the 1980's (SA80) platform.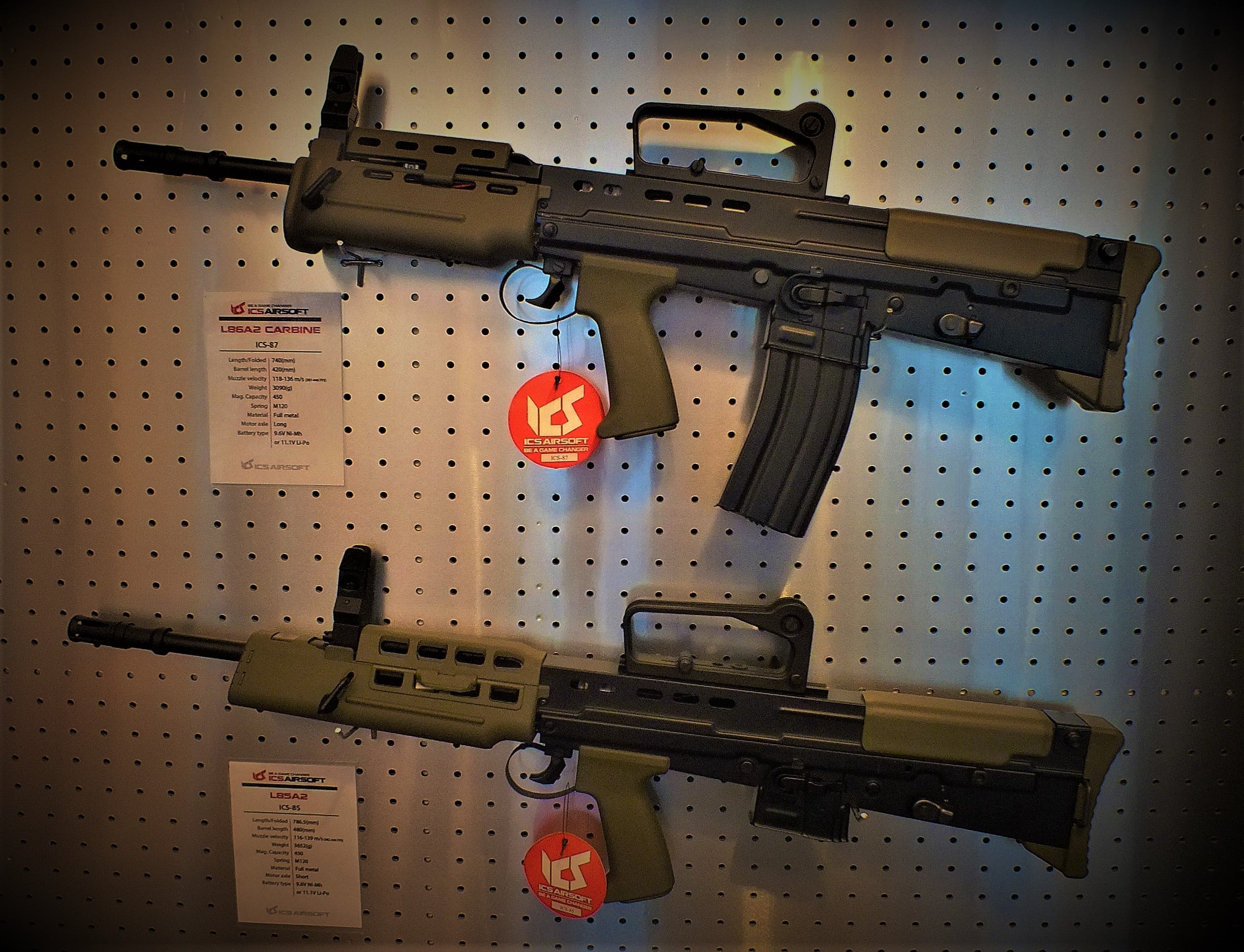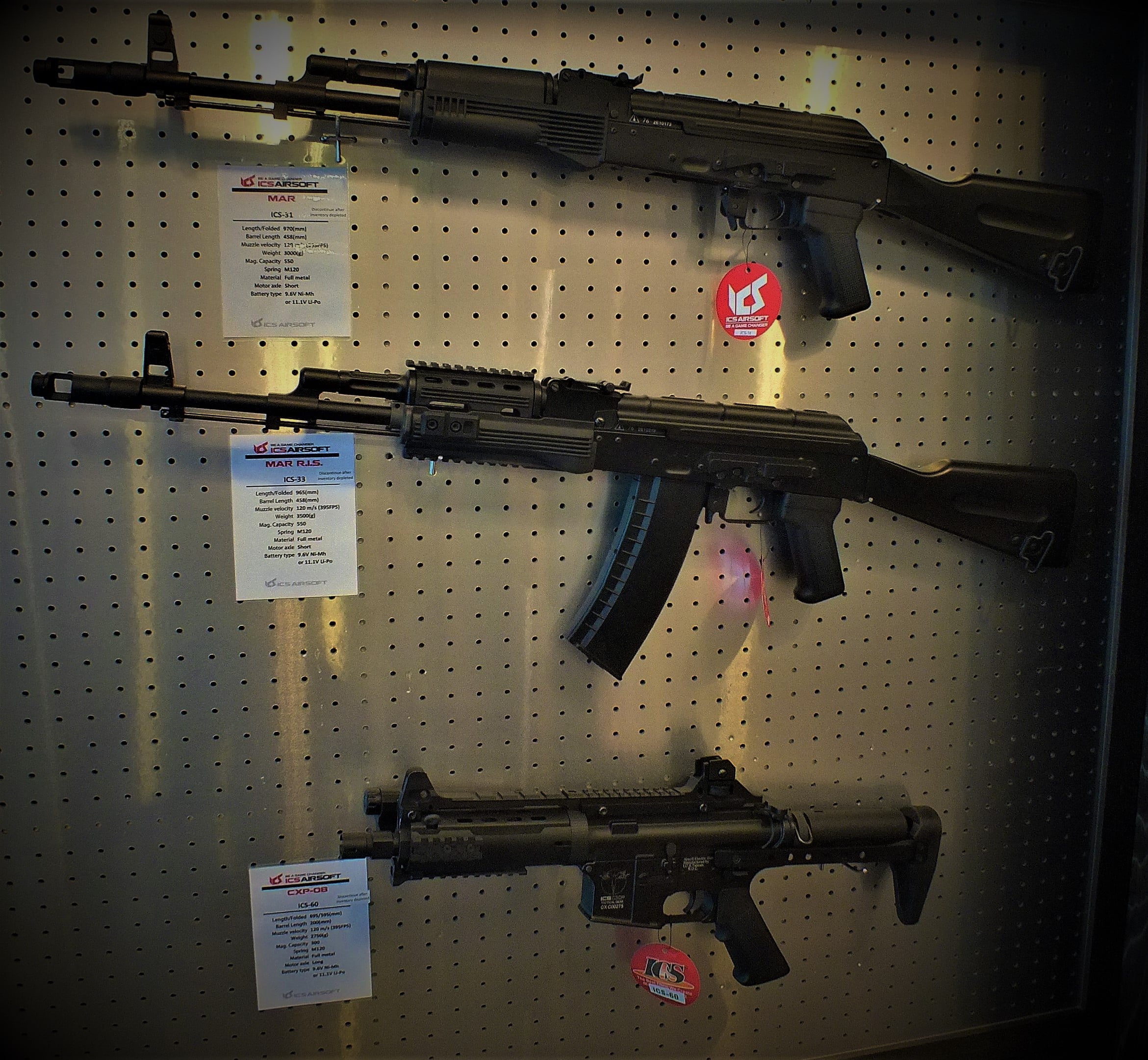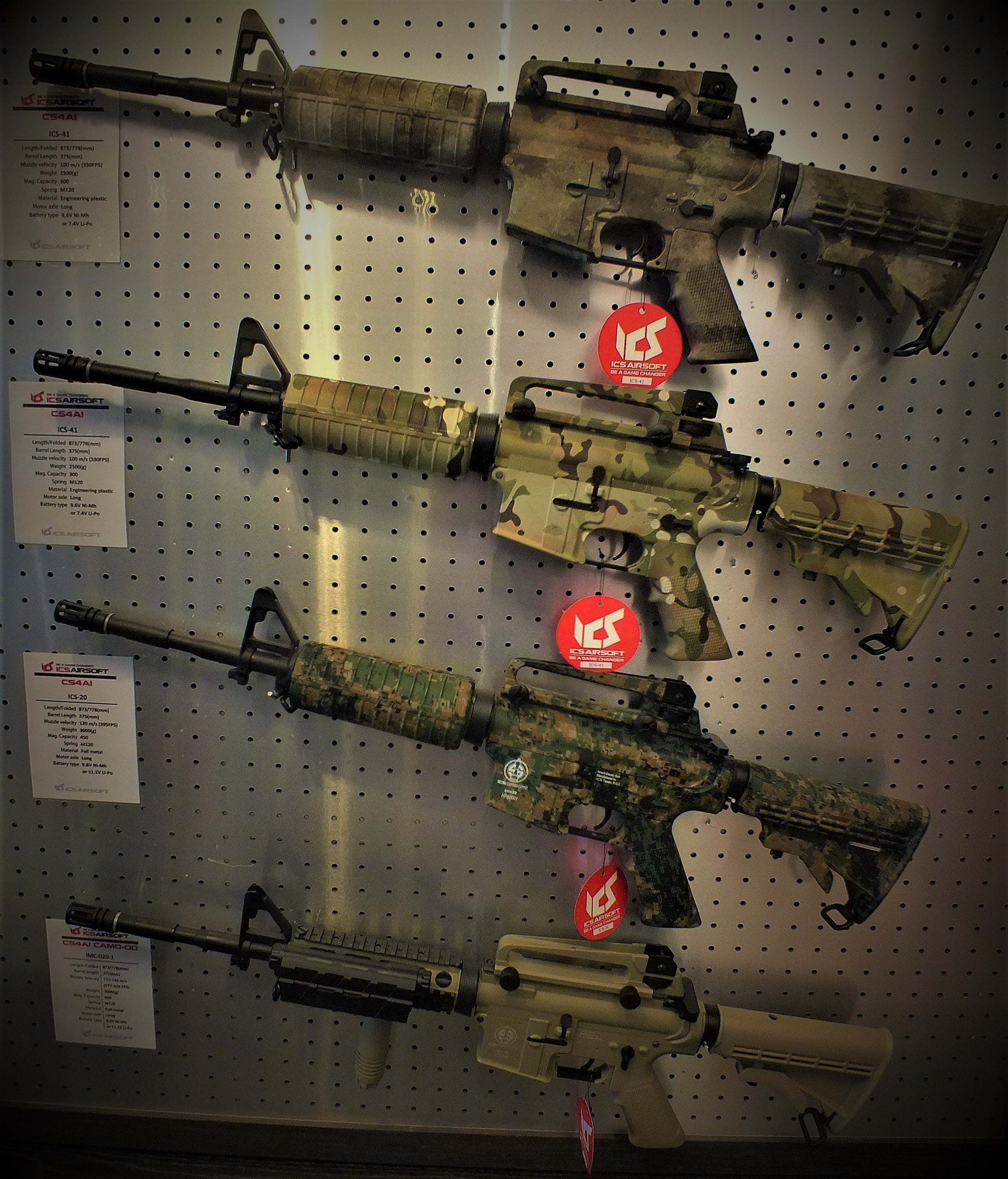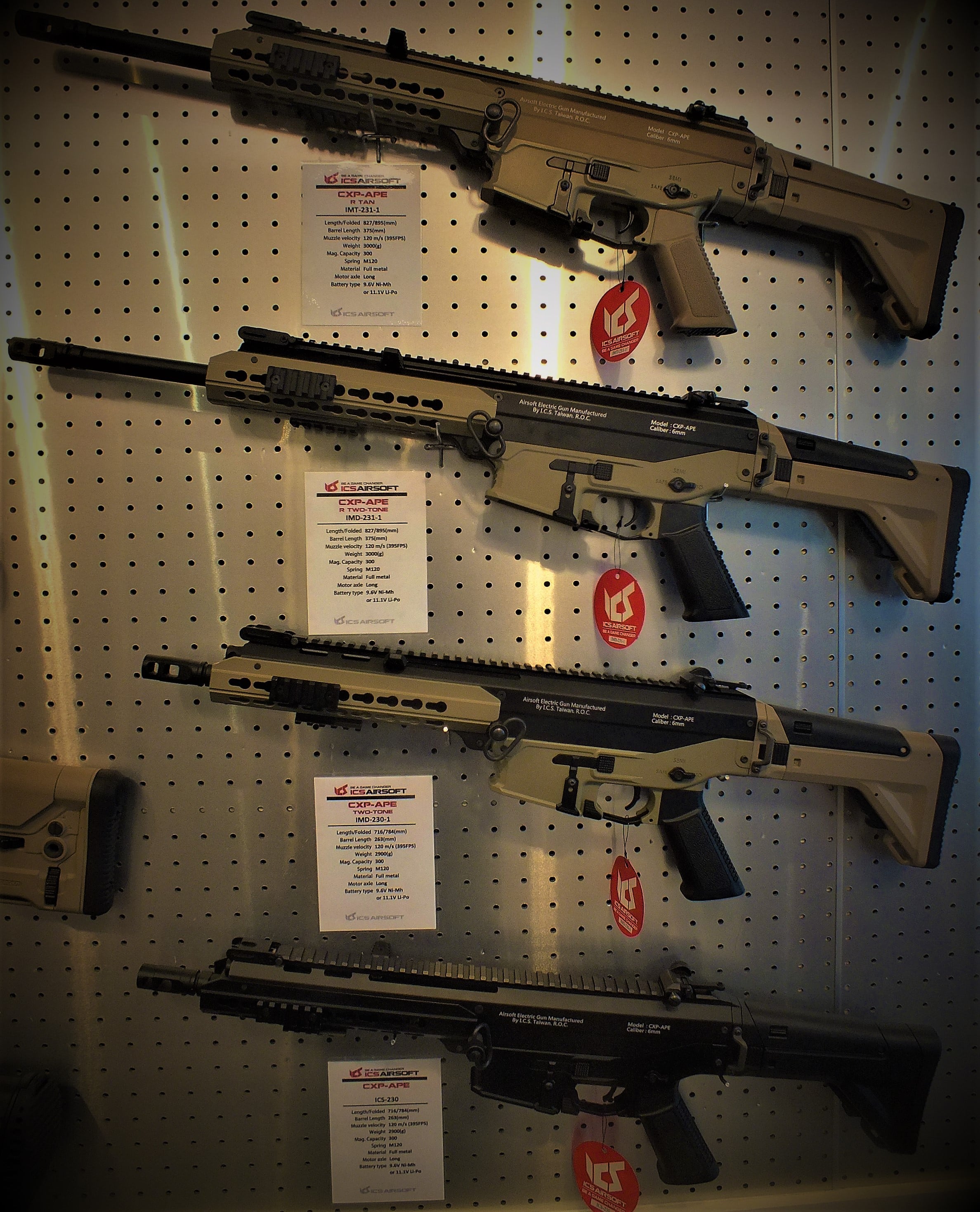 Despite their adventures through the fairly typical range of AEG replicas many manufacturers bring to the market, in more recent years ICS have been focusing more towards their own line of original creations, with Mr Chu putting his personal ideas into a lot of the CXP line - Concept eXclusive Projects; entirely original amalgamations of various real steel platforms or features into more customised answers to airsofter specific requirements.
This approach has multiple benefits; whilst the creative flair and novel features of ICS' internals - such as their longer serving split gearbox, as well as their more recent additions of their first to market SSS self diagnostic intelligent gearbox monitoring system and their Modular Assault Rifle System's approach to customising a user's individual platform to a much greater extent - coupled with more individualistic external aesthetics or functional component design give ICS a more unique appeal to end users as well as great functionality, it also affords them greater freedom in exporting their goods internationally.
A great deal of time and money is already expended by a large proportion of airsoft gun manufacturers and their umbrella licensing brokers or distributors to secure official licensing of products by the likes of Heckler & Koch, Glock, Fabrique Nationale and Sig Sauer/SIG Arms in the real steel realm; many existing OEMs have to devote a significant proportion of their efforts and end user cost to legitimise their clones of real world counterpart weapons to ensure product accuracy for discerning collectors or avid MilSim gamers alike.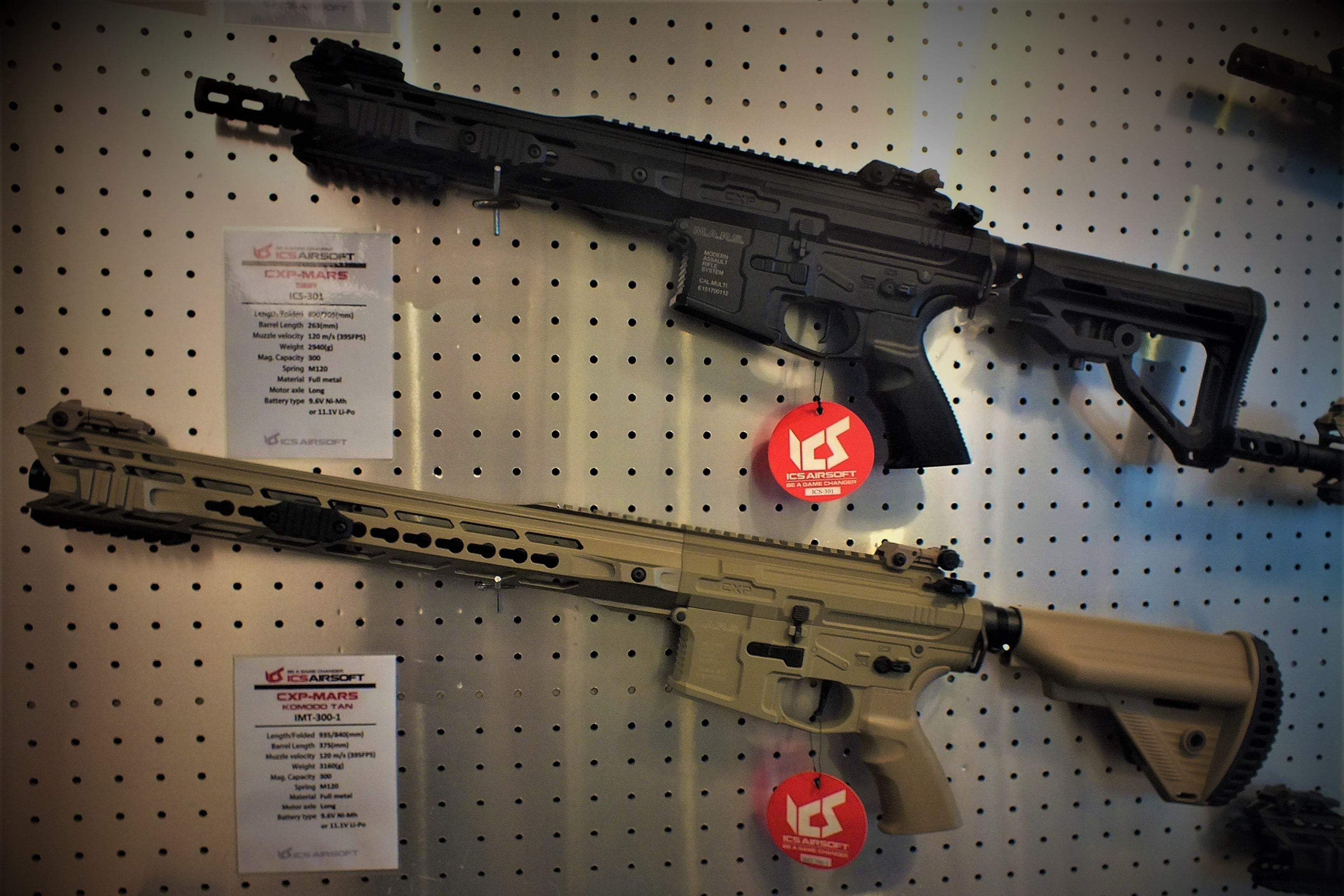 ICS Airsoft, in contrast, has more recently avoided having to deal with any such inconveniences through their focus on the CXP series of platforms and their more individual approach to design and aesthetics; because both their Armalite platform AEGs and more recent forays back into Gas BlowBack pistols both draw inspiration from a variety of real world guns without directly replicating them in entirety, as well as Mr Chu's own creative ideas, they don't have to deal with such concerns as they are no longer focused on imitating the real steel market, rather they have developed their own themes for more end user customisable products that satisfy the needs of airsofters as well as presenting something other competitors won't have produced by virtue of them not being directly derived from real guns.
This focus on in house innovation and self reliance extends to a lot of their production methods; whilst a lot of the more standard components such as electronics and fixtures or plastic mouldings are outsourced, a large amount of the finish machining and all final assembly occurs on site.
Over busier summer periods extra temporary staff are brought in to meet demand and are cross trained to ensure every member of assembly staff can accomplish every procedure required to bring a complete gun to the finished state. Normally it takes an hour to fully assemble a single rifle, however assembly is also done in a modular fashion.
Due to ICS' presence in nearly 60 countries worldwide and the inherent varied legislation or limitations upon muzzle energy and other such considerations, functional components such as the gearboxes are assembled in batches with particular spring/power ratings to suit each market, and then selected and final assembled into appropriate receivers and front furniture and barrels or other accessories are added to form a completed gun to meet a particular order or customer requirement.
This approach allows ICS to be more reactive to shifts in customer requirements, trends within their end user base or markets, and minimise production and delivery times, a finished product can be anywhere on the planet within as little as 2 weeks or as much as 2 months, depending on the shipping method the distributor or end customer is prepared to pay for, and in terms of sheer volume at least 5000 AEGs can be completed on a monthly basis in peak periods; around 50-60,000 units a year depending on demand.
Finish machining of structural components such as their MLok forends is done on site with their 5-strong cell of multi-axis machining centres, all of which seemed very familiar to me given my past in CAD/CAM, which they also make extensive use of in their design and product realisation, along with modern 3D printing and prototyping methods for product realisation and development.

Aluminium extrusions arrive at the facility as blanks and are intricately machined by their production staff and machinery into very aesthetically appealing, functional and lightweight rail mounting systems, with a great deal of material and weight being machined away to leave stylised skeletonised structures with comfortable gripping surfaces and multiple utilitarian mounting points for a myriad of accessories to suit the end user's needs.
In terms of market share, their CXP and BLE lines currently account for 80% of total sales value, largely as a result of their intentional shift towards focusing on these original in house creations, with the CXP lines alone making up 45% of sales and their Black Leopard Eye (BLE series) - currently accounting for nearly 35% of their sales, being particularly popular in North America, Latin America and Northern Europe, but also considering GBBR models to keep up with current market trends, their HOG, UK1 and MARS lines proved most popular in 2017 but already more than halfway into 2018 their CXP focus has ensured that the MARS, MMR and YAK lines now rule dominant in their best selling product lines.
End user benefits of these innovative newcomer lines include the aforementioned SSS self diagnostic intelligent gearbox, which gives useful feedback to the end user about the wellbeing of the gearbox system as well as advising corrective maintenance, protecting LiPo batteries from exhaustion or related damage and also allowing customisation of burst mode functionality in place of the basic full automatic present in many competitors products.
SSS Self diagnostic system in action
Low voltage cutoff and battery damage prevention
Furthermore their company ethics and end goals are summarised and emphasised prominently within their own marketing and even feature in their own decor at the entrance to their conference room and armoury, a reminder of the company's history and direction.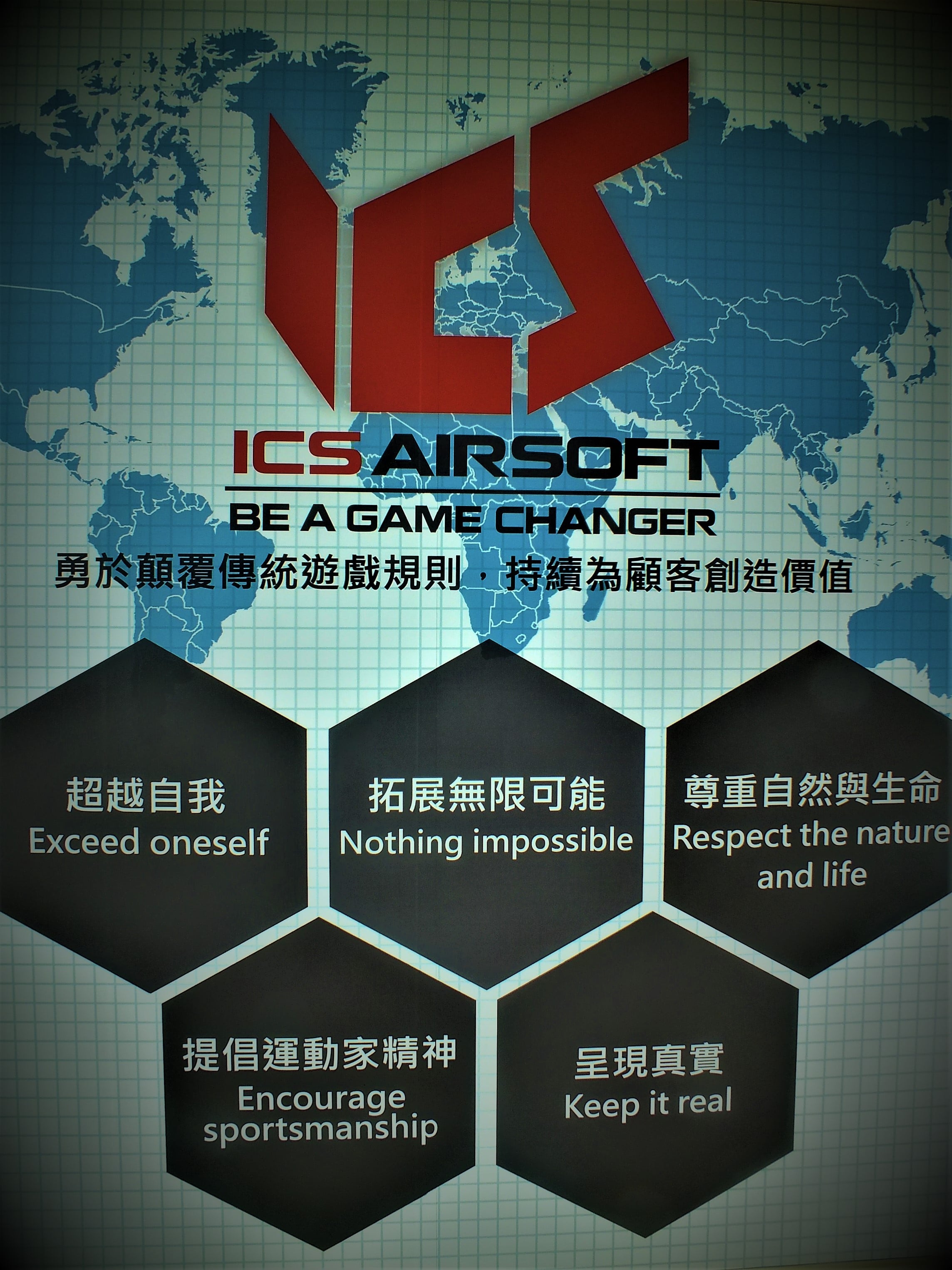 All of this ensures ICS have a wide and appreciative following in the international market, with their products finding widespread dissemination and appeal to a variety of end users, some of whom even apply to the ICS Team Captains scheme. At present over one hundred enthusiasts in over 30 countries choose to represent ICS Airsoft on their local fields or in their own media output.
Akin to a lot of online gaming scenarios, ICS Team Captains can choose their own 'class' or specialisation, and whilst these are not exclusive, and flexibility is allowed for multidisciplinary promotion, the captains can decide whether they will choose a specialisation in social media; an Instagram, Facebook, Youtube or similar platform user with a threshold number of followers and/or presence online in terms of content produced and appropriate level of representation of ICS Airsoft, its products and ethos.
Or there are special ops force captains; focused more on physical presence and product promotion at game days or larger events, where they can showcase their own personal weapons platforms and encourage other players to try out ICS Airsoft products and raise general awareness through the use of prominent product placement stands with suitable promotional materials supplied from ICS to augment their own personal platforms or collections.
Finally Intel Agents perform duties of grass roots or end user level market research and trend reporting, gathering pertinent information regarding end user preferences, needs or issues which can better inform ICS Airsoft and help tailor their products towards the ideal platform and related functionalities their end customers genuinely desire.
The whole system was recently formalised and 'gamified' to enable a ranking or progression of ICS Team Captains and present incentives for continued cooperation between these brand ambassadors and ICS, as well as its other end users; raising the profile of both the company itself, its contributions, products and the entire industry as a whole and ensuring a positive impact now and in future as per its long standing company ethos.
A final mention ought to go to ICS Airsoft's ability to collaborate with the real steel market and showcase their design and manufacturing capabilities in that arena; despite their shift in focus towards their more truly original CXP and BLE ranges, they have still managed to find time and resources to broker cooperation with real steel manufacturers to produce centerpiece ranges such as the HERA Arms CQR platform; a highly modernised and ergonomic Armalite based weapons system, the real steel variants originate from Germany, and their rigid pistol grip/butt stock combined with front grip rung and even the multiple variants of coloured polymer magazines, complete with clear rear ammunition level inspection windows are being faithfully replicated by ICS for the airsoft enthusiast market.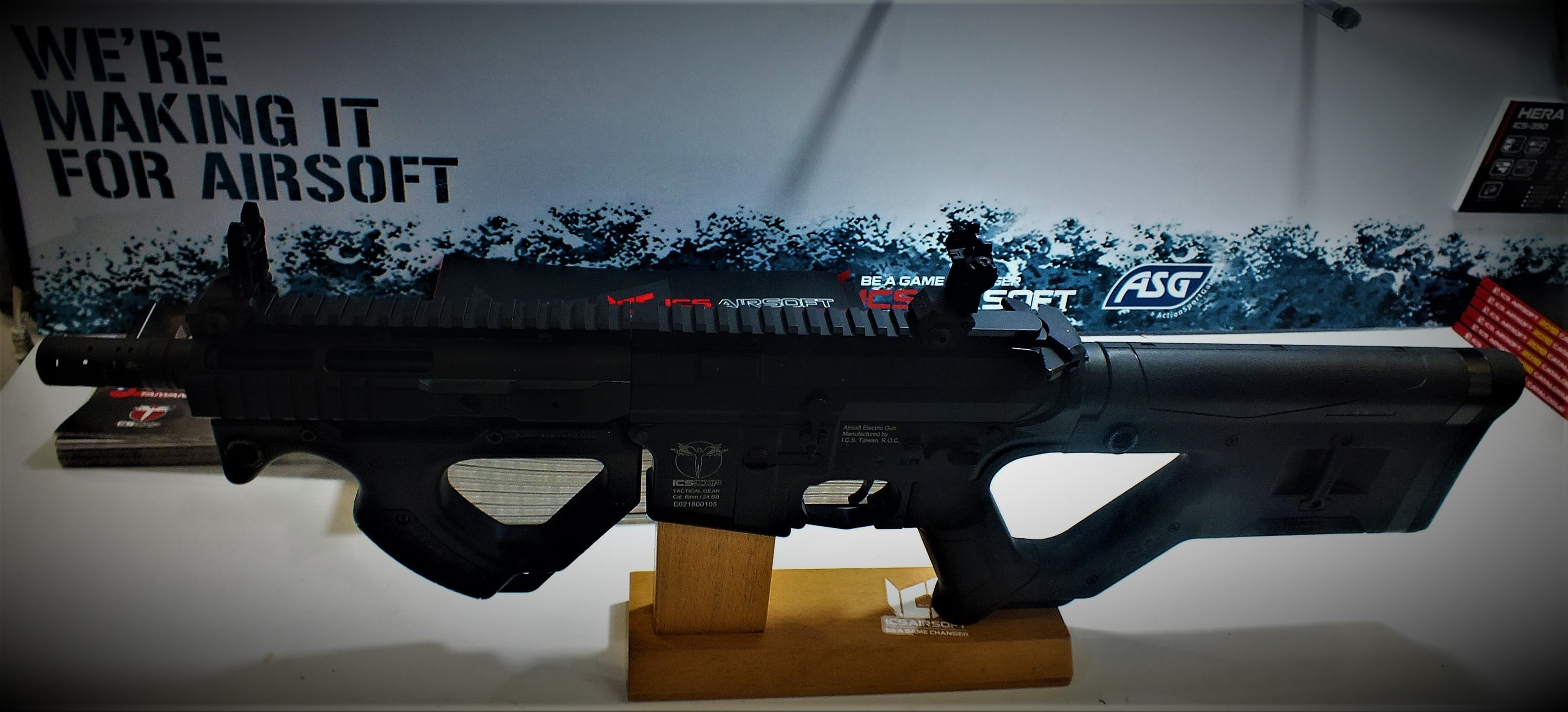 All told I had an excellent and informative visit to ICS Airsoft and thank them wholeheartedly for giving me such an in depth and informative inside look into their operations and aspirations, there are no doubt many more exciting things to come from them.