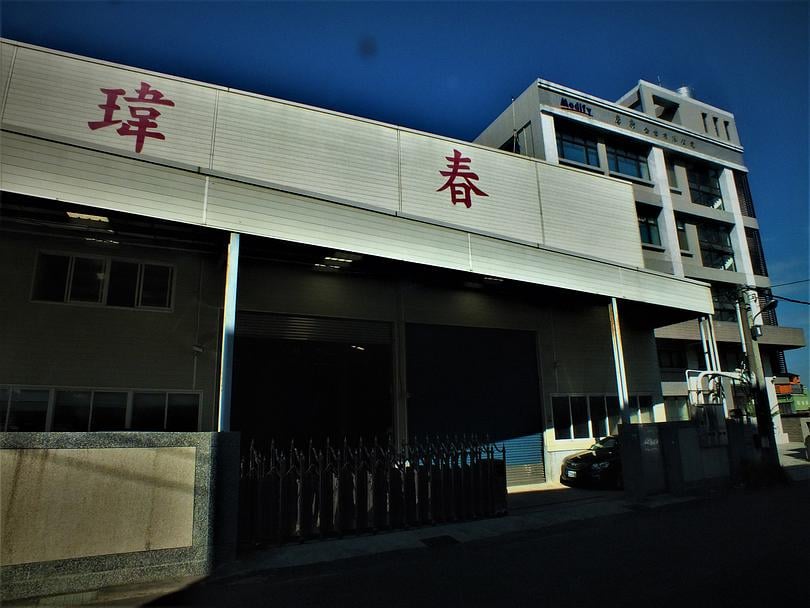 Right after my first foray into manufacturer visits at Bolt Airsoft I decided to make good use of my last day's holiday before being thrown back into the daily grind of work by taking a leisurely saunter over to TaoYuan, the city just North of HsinChu where I'm based—between here and Taipei—where Modify Airsoft are headquartered in Bade district, towards the South East of the city, right near to where BLS (Taiwan's domestic BB manufacturer) are also based, as it happens—potential further interest factory visit there, perhaps?
I got to the nearest train station with an hour to spare, so decided to have a leisurely walk to Modify's headquarters given that the weather is so nice in Taiwan recently… seriously, all my friends back in the UK are airsofting in the snow and I'm here with short sleeve shirts on in 20 degrees still. I did manage to completely ignore the directions they kindly provided at first and ended up walking to their older facility further South, but managed to find my way to the correct place just a little behind time, their new HQ is a purpose built 4 floor facility with design, marketing & administration (as well as a rooftop firing range/ party area) on the top floor, followed by assembly, testing & packing on the 3rd floor and manufacturing facilities on the bottom two floors.
I was welcomed by Kiki, who I'd already met at the Hooha 22 & MOA 2017 shows, and accompanied her to the boardroom where I was introduced to Nelson & Xiang from management and marketing respectively. Over the next hour or two we went through a detailed introduction of the company, its origins, current products and new releases soon to be on the market or otherwise in prototyping phases.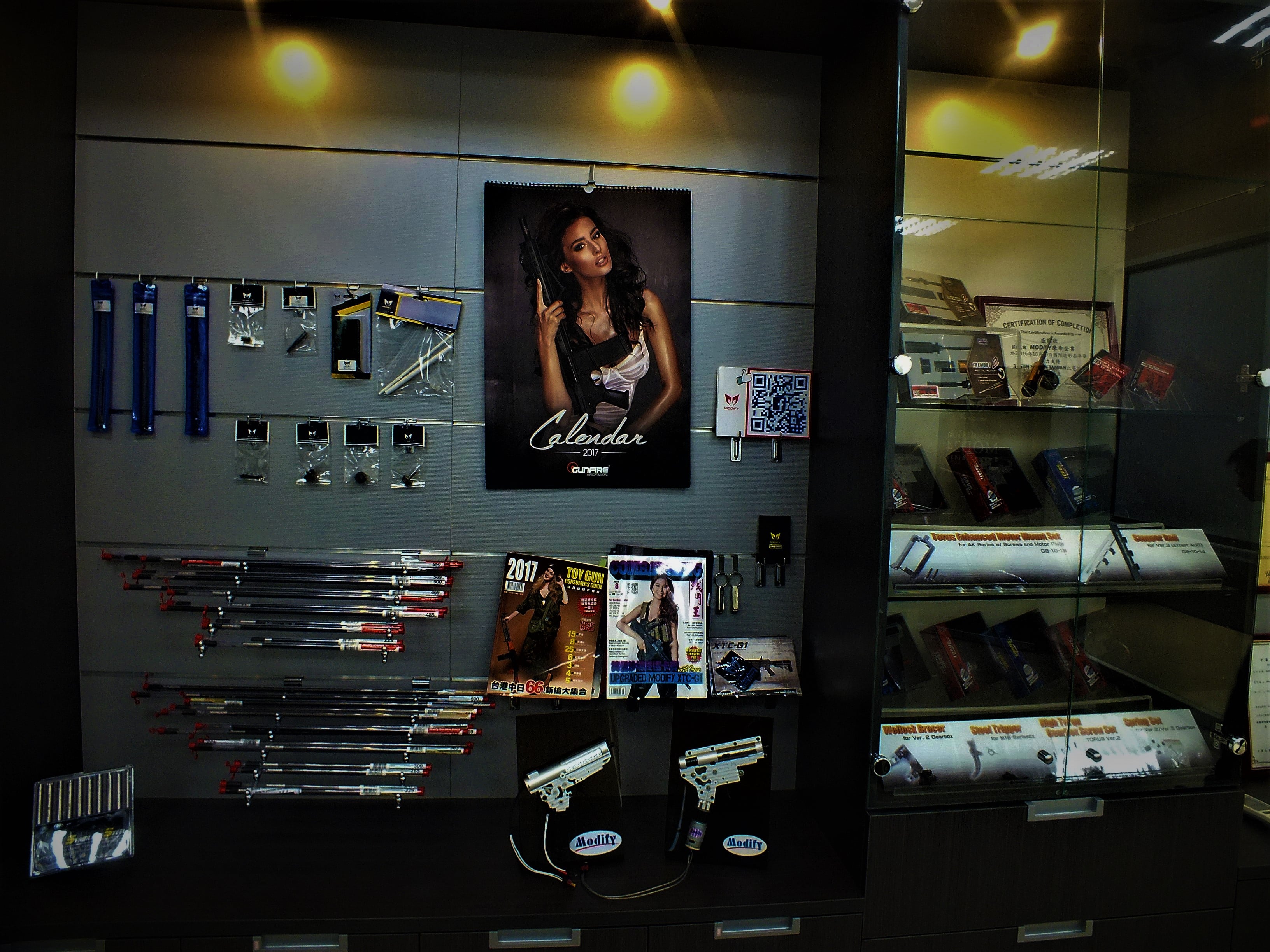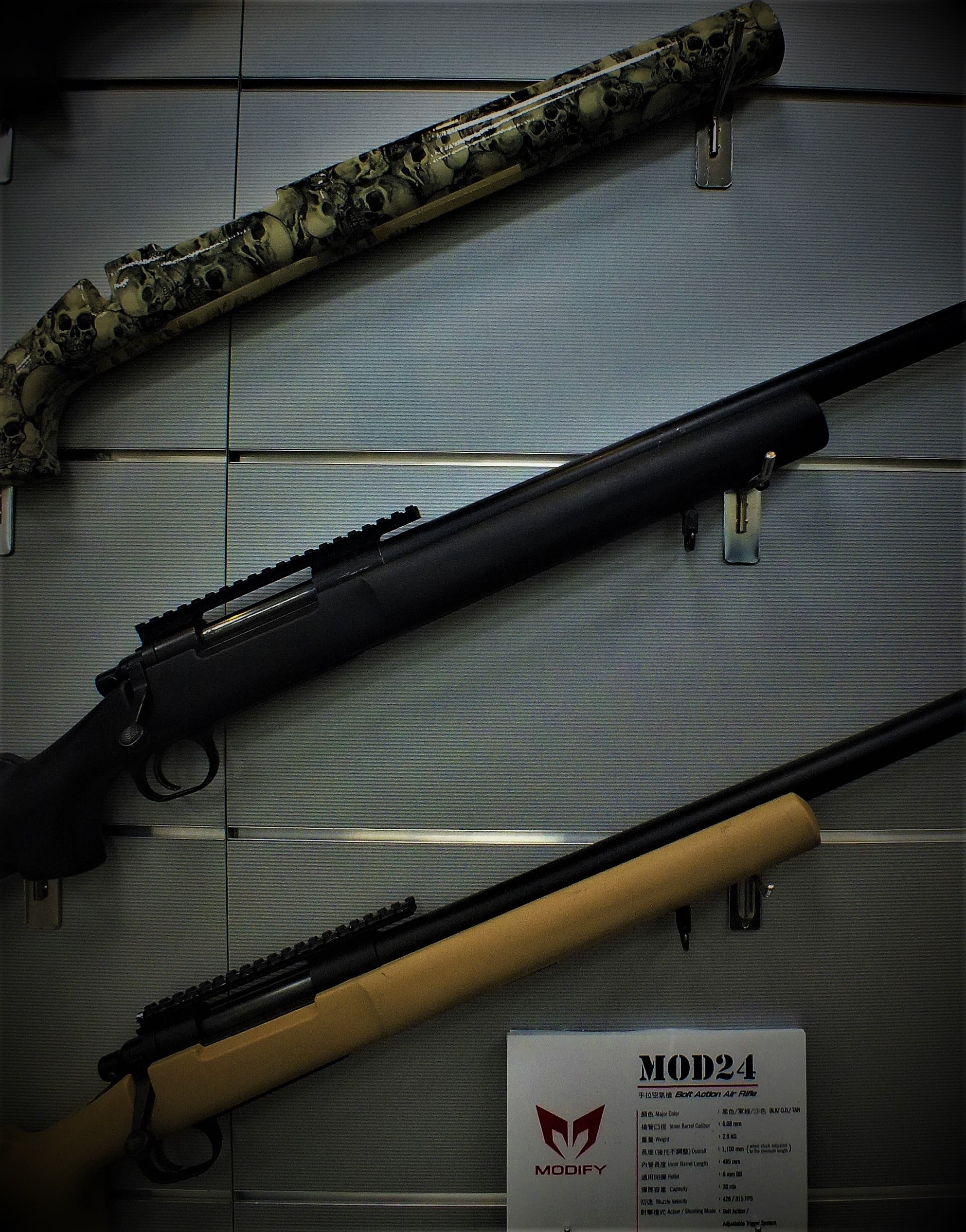 Modify has its roots in over six decades of previous precision engineering and small components experience in the horological industries; with a particular emphasis on early designs for waterproofed watch mechanisms and 'automatic' actions that employ the wearer's physical movements to wind their actions up.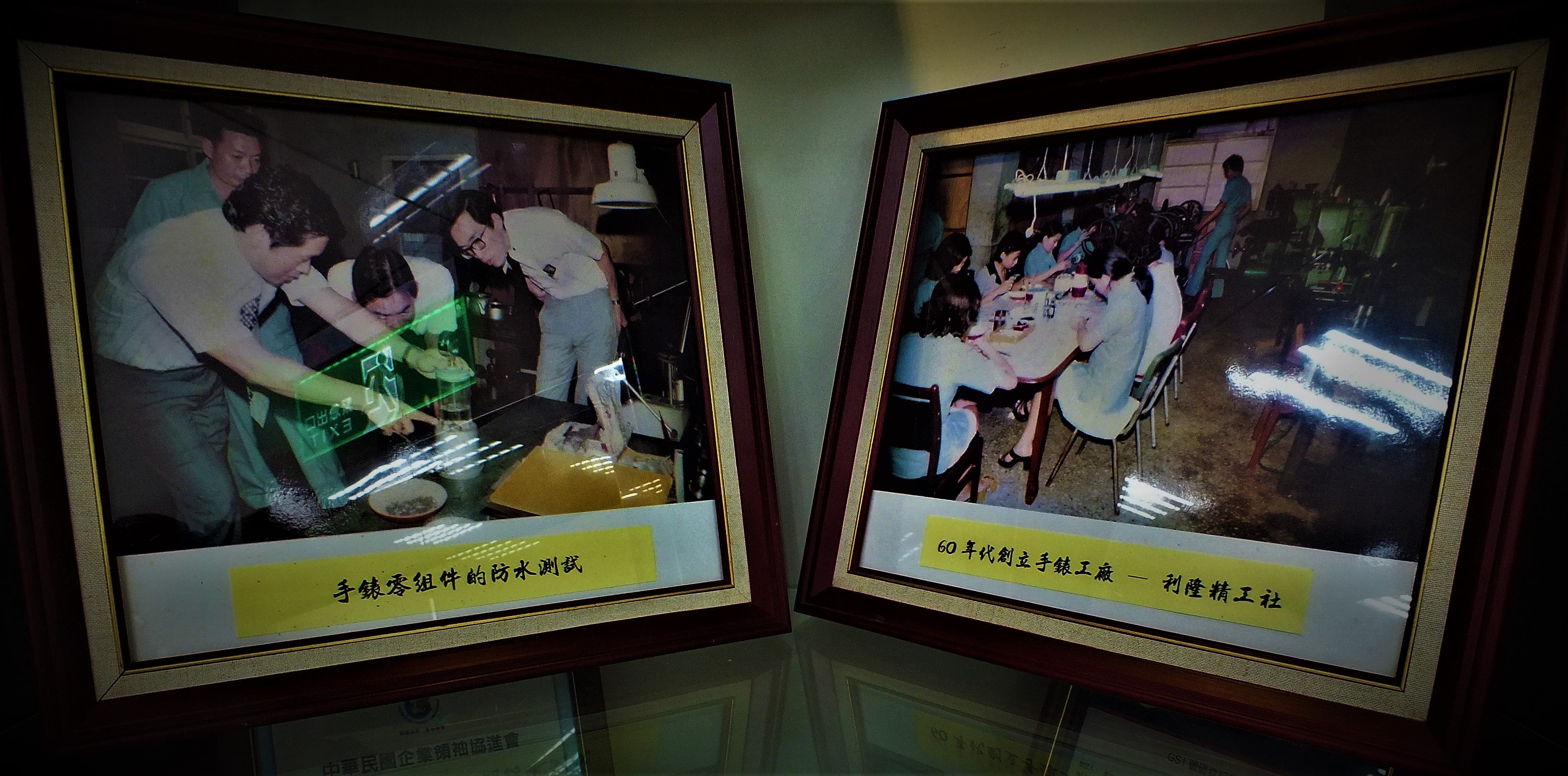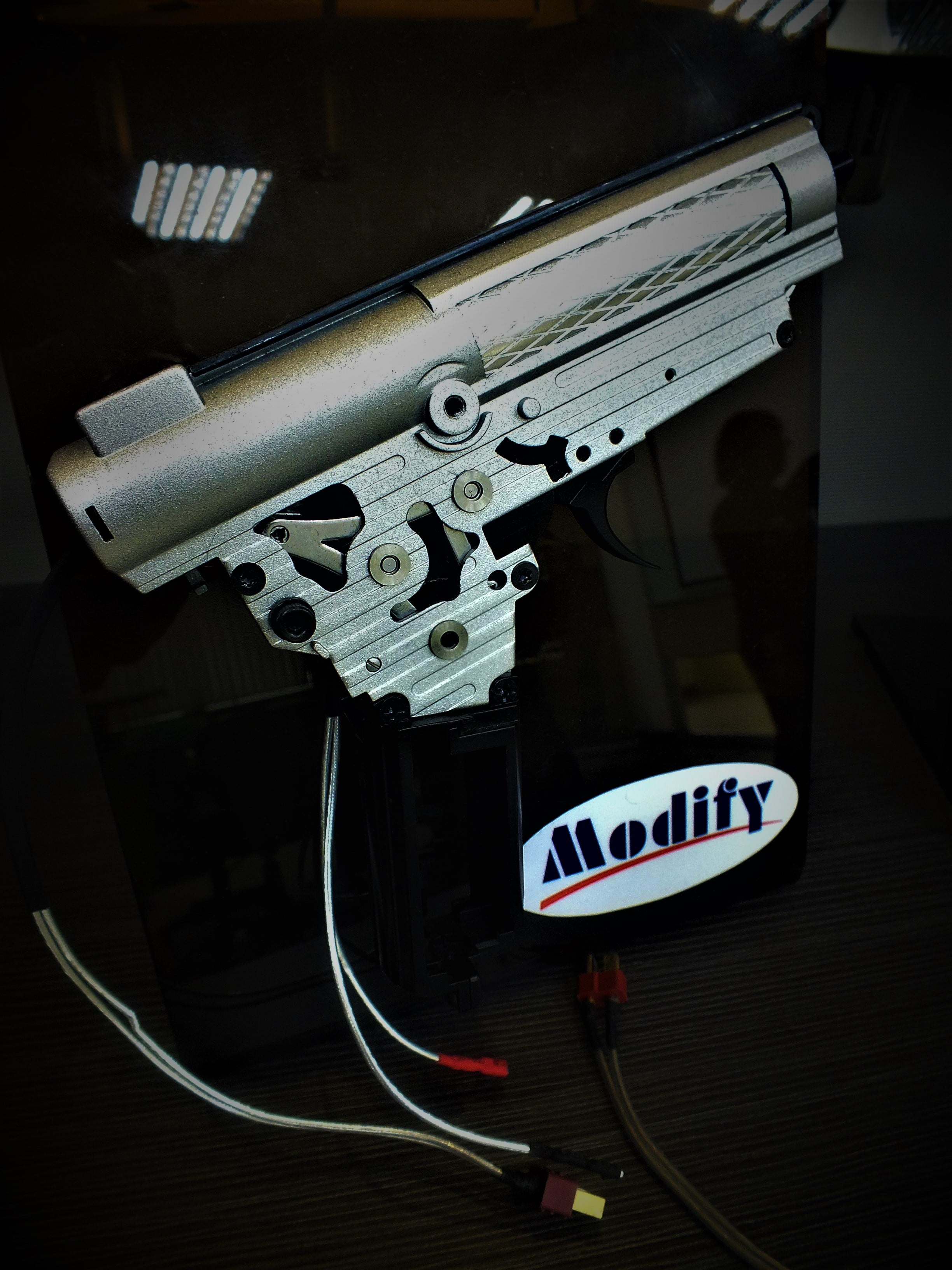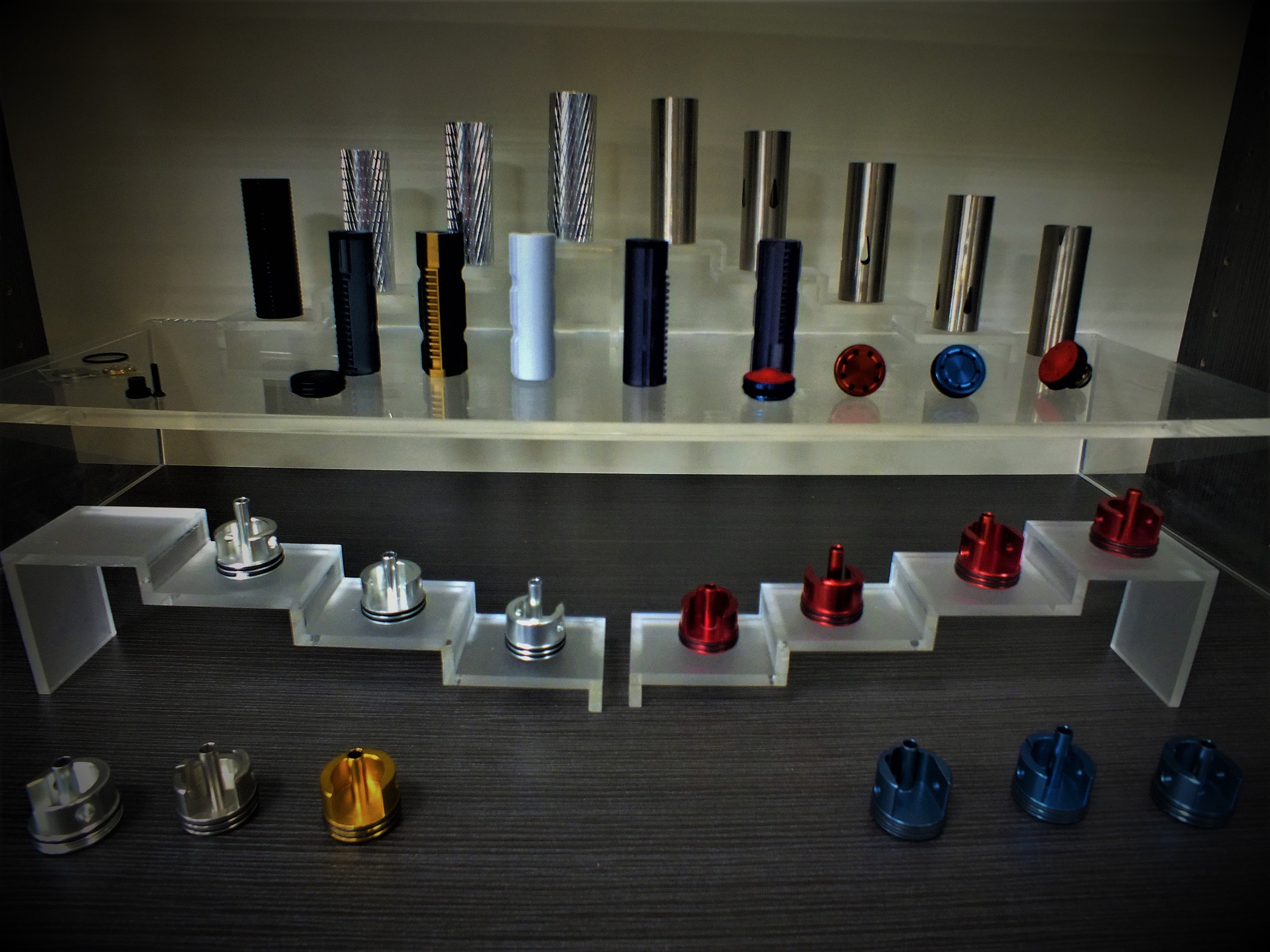 From this extensive experience in turning out high quality components Modify assessed the market needs and branched out into airsoft in 2001; producing an array of higher quality custom parts for the existing market than was currently available at the time, further along in 2004—and building on their market successes thus far—they created a new wing of the business to deal specifically with airsoft components; moving into full gearboxes, gear sets (particularly their unitised sub-assemblies with all 3 main gears attached as a single convenient drop in unit), inner barrels, hop units & buckings, and even their own range of recoil components which attach directly to the main pistons through rear openings in the gearboxes.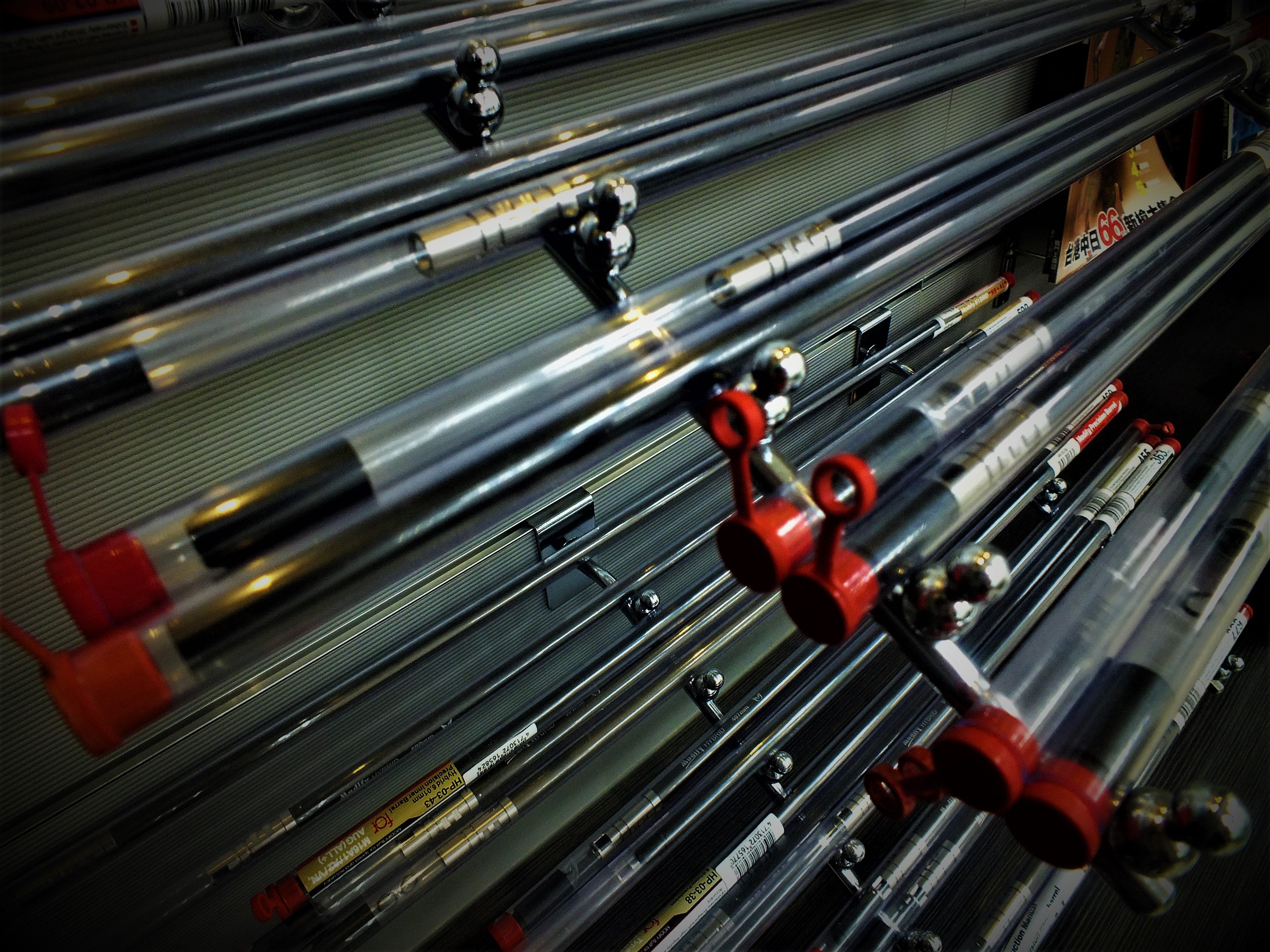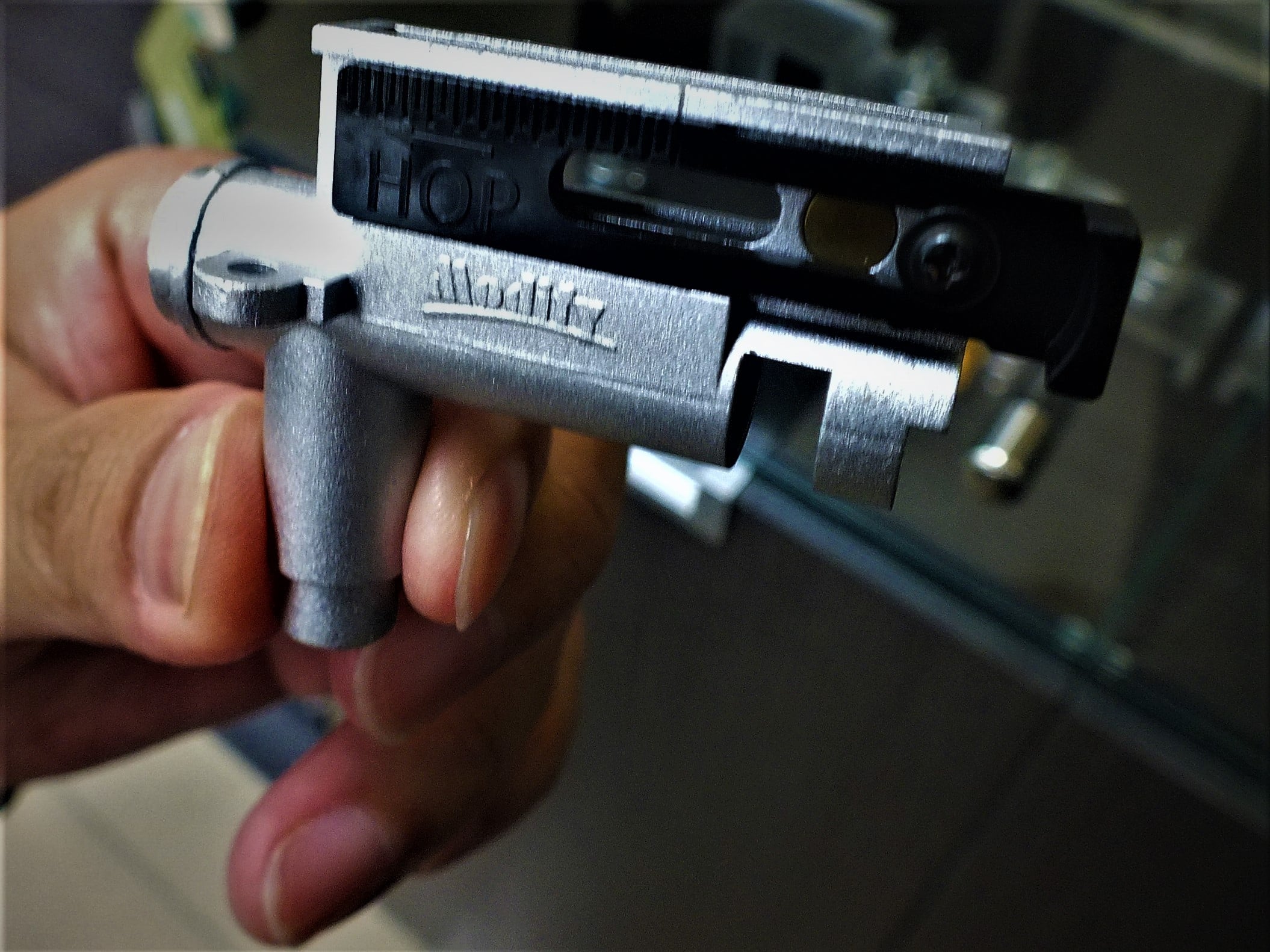 Finally in 2013 Modify released their first complete airsoft gun—a factory upgraded bolt action sniper rifle, which was intended to remove the need for players to buy upgrade components and have a precision manufactured and accurate, consistent platform out of the box. This was later released in three different models with largely the same internals and function and an aesthetic variation to suit players tastes of different real steel platforms they wish to emulate. Of course this also evolved into the well known SSG24 iteration produced in conjunction with Novritsch; I saw plenty of these being assembled later on my factory tour, and even got to have a go with one on their rooftop range.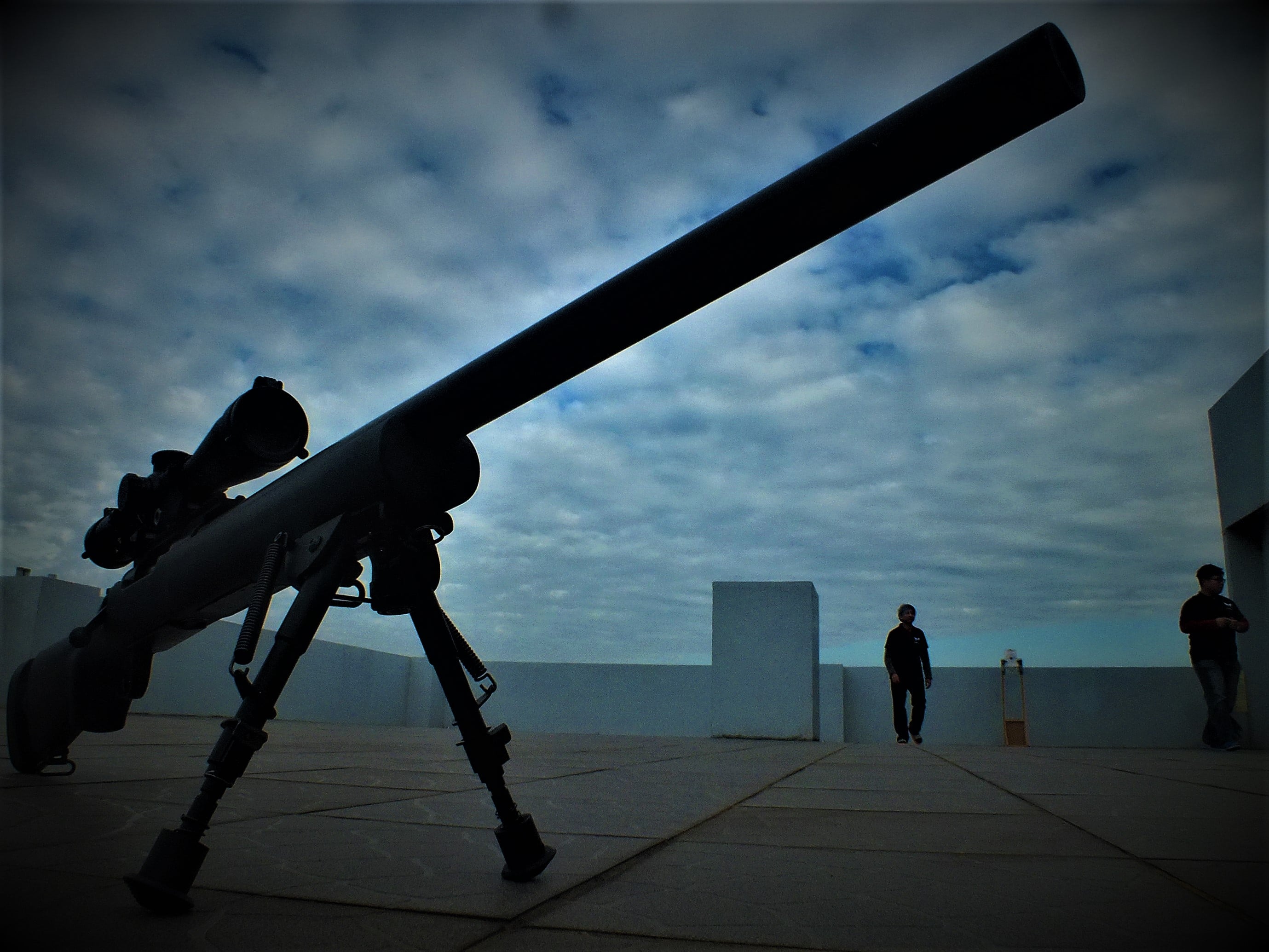 In 2015 Modify released their first AEG—the XTC-G1; an Armalite platform with a sliding/telescopic stock with large cheek-rest and accessories ready front RIS rail system, along with their own range of magazines, later in 2016 a shortened carbine version was released in the form of the XTC-CQB, and this will further be supplemented later in 2018 with the release of an XTC-PDW with an even shorter and handier overall profile.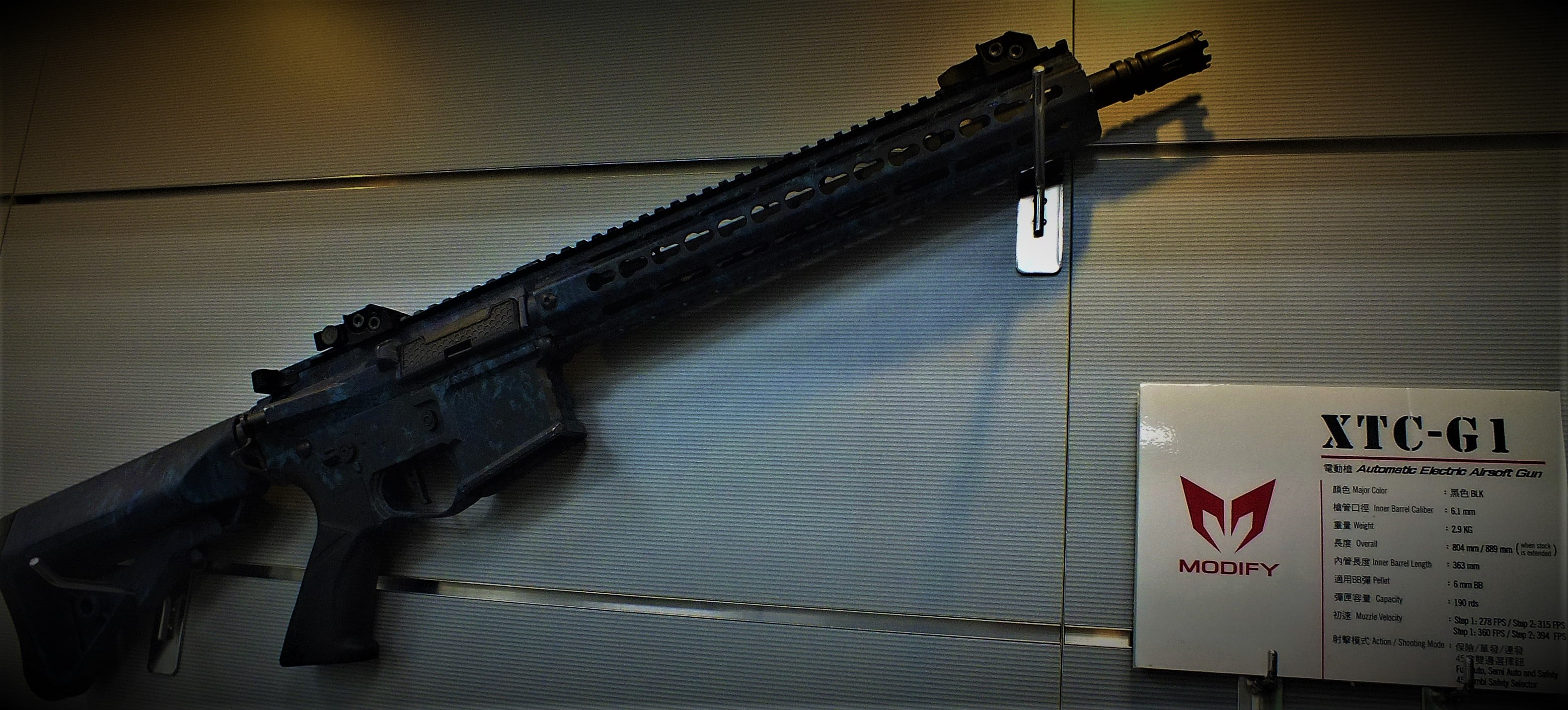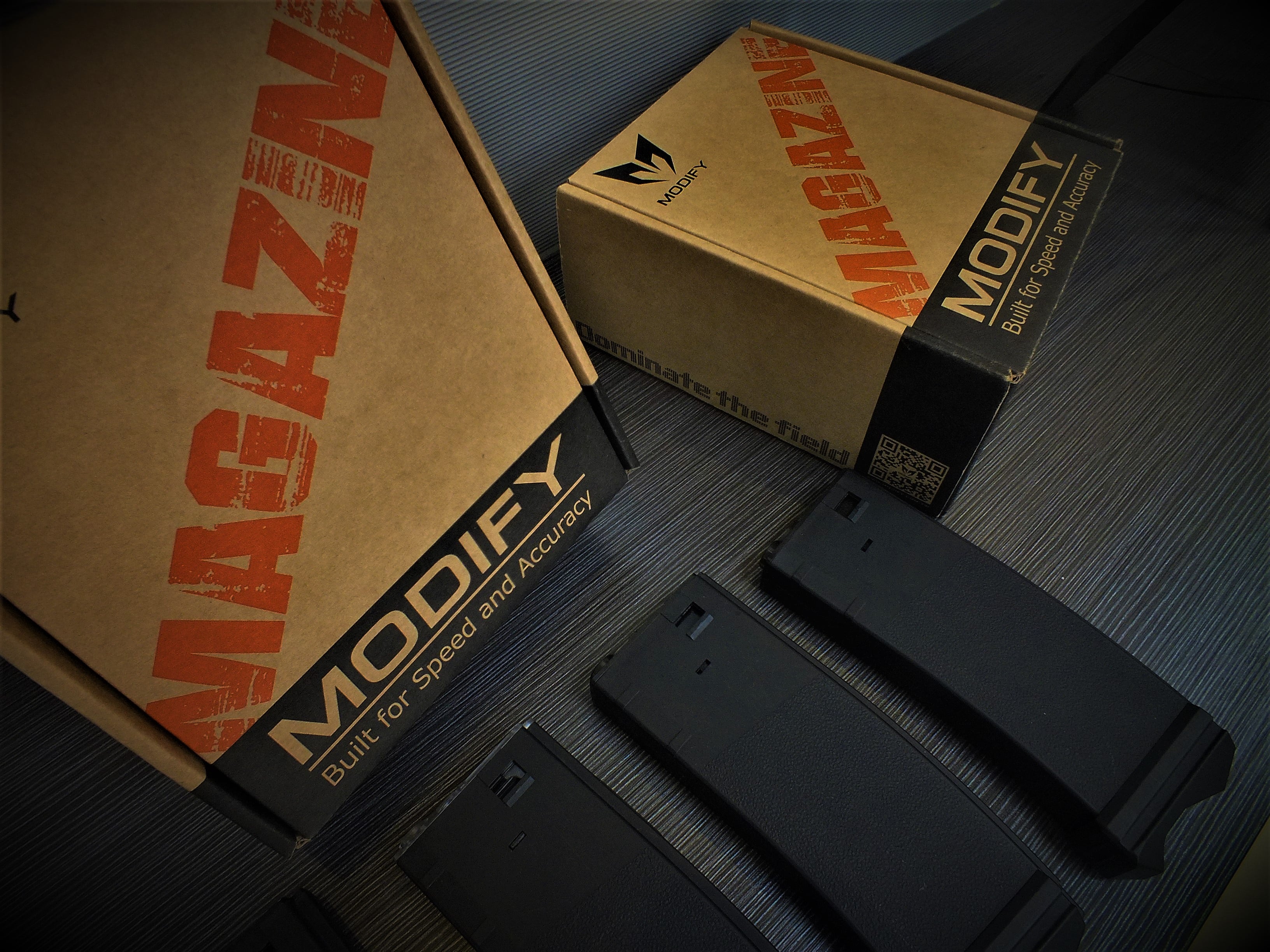 So at present Modify have a range of 3 variants of their M24 bolt action sniper rifle, and 3 variants of their AEG Armalite platform already in circulation or very near to release. But what of the pump action shotgun market? Well; they were happy to show me their latest prototype model which will be a gas reservoir powered, single shell static feed (with triple barrels/ tri-shot capability) and the usual 30 round capacity shell system which fires 10 salvos of three rounds, one from each barrel—the shells will be proprietary however and thus unlikely to be compatible with other similar systems already on the market. This should be available at some point later in 2018 and again will be developed into a family of varying length or external aesthetic systems based off the same action.
I was also shown the following company introduction video showcasing some of their product ranges and company overview and ethos.
In terms of current output, a finished gun usually takes around 10 minutes to complete (the production is admittedly divided across different sub-assembly work stations so it may be more in terms of real labour hours etc), and at present around 20,000 units in total are produced of both the AEG and single action sniper ranges respectively. All of Modify's components are made in house on their multiple 3 axis automatically fed turning live tooled lathes, or their 3 axis milling machining centres—their factory floor environment being fairly familiar to me, if not more streamlined than my own past experiences!
Thus—with the exception of specialist surface treatments applied to the components off site by subcontractors after they are finish machined, and of course any injection moulded furniture (only very large industries would set up their own polymer moulding facilities as the outlay for a machine and tooling costs for each individual mould to be used are considerable)—Modify produce the entirety of their production components and output in house, ensuring total control over manufacture and supply from raw material to finished product, which seems to be a departure from many other manufacturers. They also already take on subcontracting production work for other manufacturers, which makes sense given their original roots of supplying other OEMs and the wider shooting community with precision airsoft components from the outset.
The company itself stays true to its watch-making roots; surprisingly not a huge amount of their 30 odd staff at their headquarters are airsoft players themselves, or necessarily enthusiasts of the sport or equipment in particular, but nonetheless their dedication to ensuring a quality product ends up in their customers hands speaks for itself.
Their design team is 4 people strong and makes use of Solidworks and AutoCAD depending on the purpose or requirements of the designs, with Xiang & Kiki taking care of marketing and a 5 person team dealing with sales—as with other manufacturers stocks are kept to a minimum where possible with Just In Time Manufacturing methodologies being employed and everything being made to order in appropriate batch sizes to satisfy demand and their distributor's requirements.
In terms of new products they tend to be more reactive to the general market and analysis of it and trends in player's interests, as well as direct feedback from their distributor's or end users. A new concept or intended replication of a real-world platform will usually generate a new project—with single components usually taking 3-4 weeks from inception to production, and a full weapons platform taking roughly a year from decision, design and through to prototyping, testing and final production.
On that subject, alongside their current prototypes of pump action gas powered single shell shotguns, and the PDW variation on their existing Armalite platform, they alluded to a long term view to developing a general broader range of AEGs to suit broader tastes, with a particular interest in WW2 models.
Finally I was shown to their rooftop open air area, and allowed to have a play with both the Novritsch SSG24 bolt action sniper, and their XTC-CQB AEG, both of which were very comfortable to use—and having owned a Marui VSR many years ago and played with various other single action spring guns, I can say the attention to detail and component precision definitely makes itself felt when you cycle the working parts—even against the spring tension there is very little felt resistance, and the cylinder moves very smoothly without any of the binding or grating that I remember dealing with on my VSR.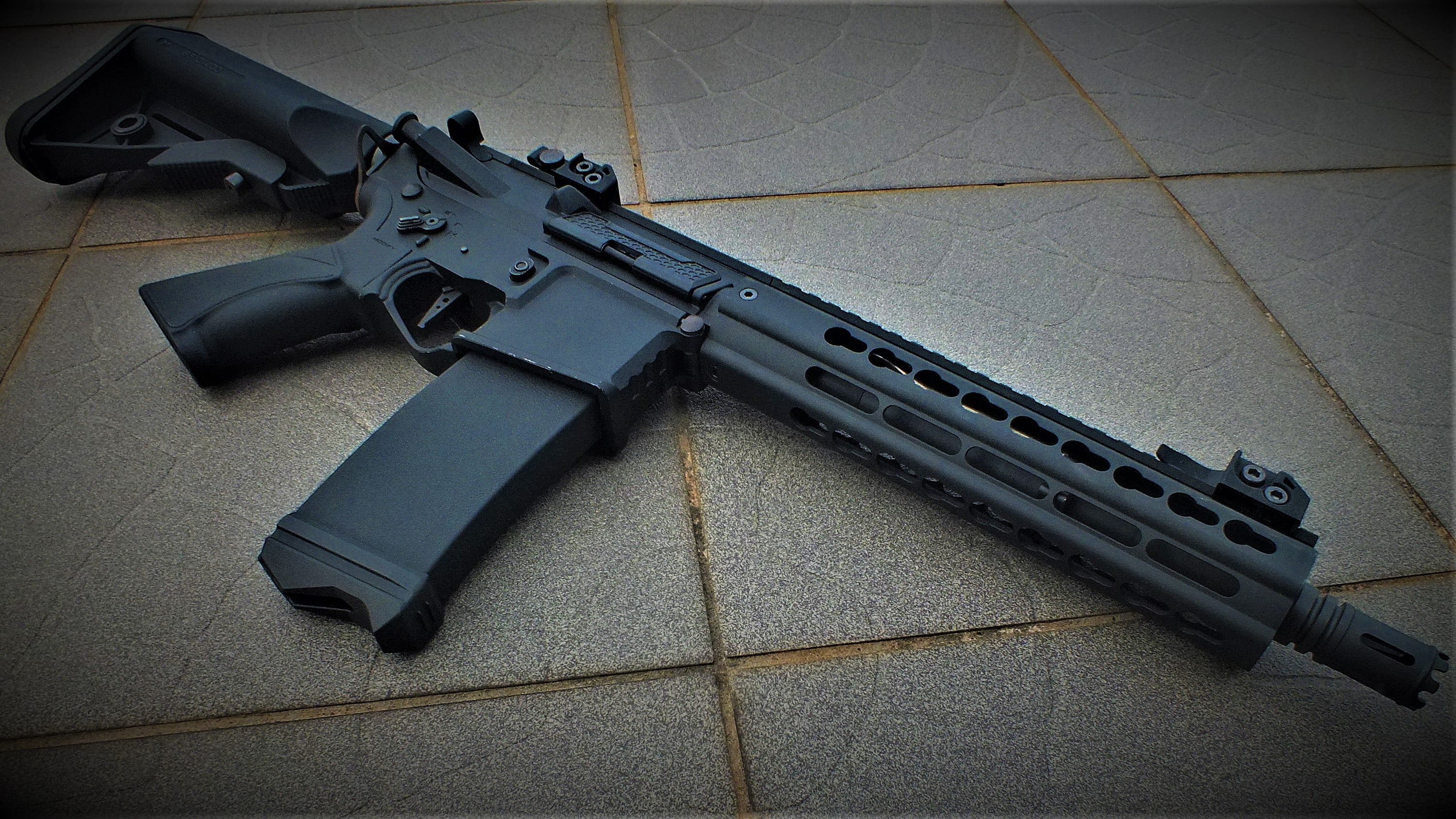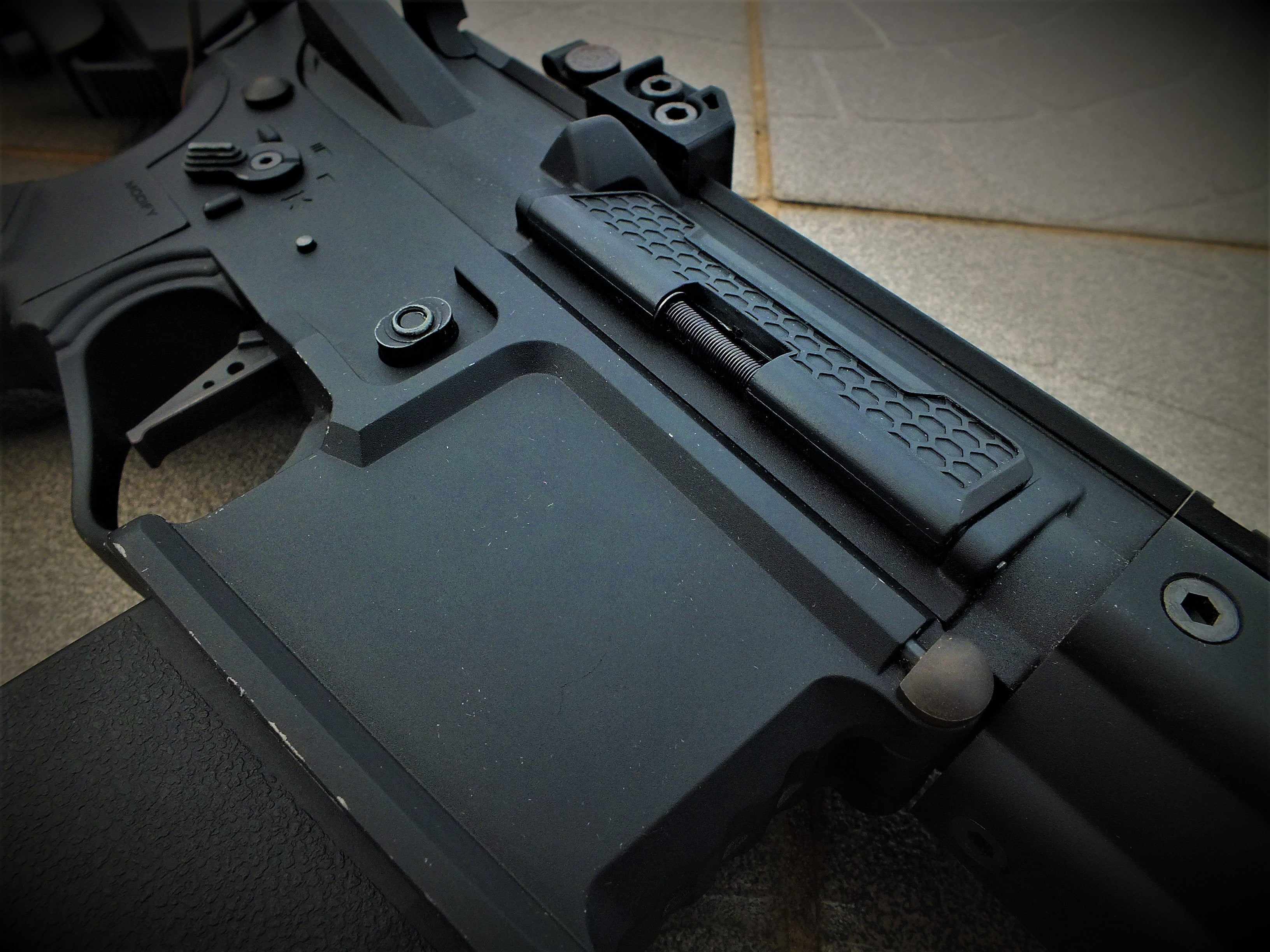 Similarly the XTC-CQB was very enjoyable to shoot and accurate despite the wind up there, I was particularly impressed by their proprietary side lever winding high capacity magazines—I rarely use hi-cap magazines anymore, but if I had to then the convenience of an external accessible winding lever instead of the usual wheel on the bottom— which is a thumb-busting exercise to use, as well as making it inherently difficult to use Magpuls or Ranger Plates for removing magazines from your tactical gear—then I would certainly be more inclined to carry and use them.